The NFL Is Terrible This Week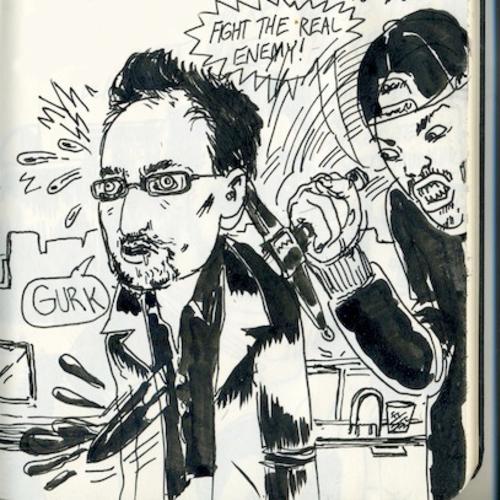 Here's a list of the games this week where both teams have something to play for:
San Francisco-Seattle
New York-Baltimore
Cincinnati-Pittsburgh
That's it. The other 13 games feature either two miserable teams flailing at each other like a bitter married couple going through the motions during an argument, or a really good squad that's already secured a place in the playoffs and a toxic, tumor-ridden failure of a franchise that can't compete against a decent team even when that team has no reason to try. If anyone gets seriously injured during, say, Buffalo-Miami, you have to wonder, "Gee, that guy got tore the fuck up and for what? A game no one's gonna remember and won't effect the postseason at all? What's the point of that?"
Then you remember that 1) The playoffs don't really "matter," nor does the Super Bowl. It's all just a silly game we made up. 2) Even as games go, football isn't exactly something to be proud of—it's fun to watch but it's not on the list of things we'd show the aliens who will one day decide whether to demolish the earth for the good of the galaxy or let us survive. 3) Are you going to be proud of any football game you watched on your deathbed? 4) You are going to die one day. 5) Everyone you know will be dead eventually, and after that everyone they knew will die, and so on and so on until humanity withers away to nothing. 6) Then the sun will expire. 7) Then entropy will win its war on the universe and everything will turn to nothing.
Here's the reasons why every single game will suck this week. Happy holidays, y'all.
THE GAMES
Atlanta (-3.5) at Detroit
WHY THIS GAME SUCKS: Atlanta seems like a weirdly boring 12-2 team, and that's because instead of dominating the league and beating good team, they've racked up a bunch of close wins against a pretty weak schedule. (If you want to bitch about how I'm ignoring their 34-0 drubbing of the Giants last week, read some stat-based Falcons bashing first. By a lot of measures, they're just not that good.) Meanwhile, Detroit, man… let's just watch some Calvin Johnson highlights and not think about the team around him.

PICK: Detroit
Oakland (+8.5) at Carolina
WHY THIS GAME SUCKS: The Raiders aren't just a lousy football team, they're a lousy football team that is taking millions of dollars from a city that can't afford it. Corporate welfare for privately-owned sports franchises is one of the hidden cancers on American society. If you haven't already, check out Patrick Hruby's excellent article on the topic at Sports on Earth.
PICK: Carolina
Buffalo (+5) at Miami
WHY THIS GAME SUCKS: Speaking of sports welfare, the Bills are basically threatening to leave unless the city gives them money to stay. This type of thing goes on all the time and is absurd—we should call bullshit on this hostage-taking behavior every single time it comes up. I'm from Seattle, and though I was bummed the Sonics left, at least the city didn't fork over a ton of cash to get the team to stay. Sports aren't important enough for governments to spend billions of dollars on, especially when a lot of sports contests are as bland as insignificant as Buffalo playing Miami in December.
PICK: Miami
Tennessee (+12.5) at Green Bay
WHY THIS GAME SUCKS: The Titans logo is hot garbage. "Hey guys, you named your team after the most powerful figures in Greek mythology, a race of huge-ass fucking goddamn gods who ate their own children. Holy shit! What's your logo going to look like?"
"Well, we decided to go with a big T inside a circle."
"What?"
"Oh, don't worry, we're going to make it look kinda like a sword and put flames around it."

PICK: Green Bay
San Diego (+2.5) at New York Jets
WHY THIS GAME SUCKS: It will get decided by some weird, awful score like 11-8 (all field goals and safeties) and all the Jets players and coaches will be sitting around the locker room like, Fuck, what a season. Everything that's written about us is just about how awful we are and how everyone's gonna get fired. I just want to go home for Christmas and see my family and then get to the end of the season. And Tim Tebow will wander from locker to locker with a bunch of Jack Chick comic books going, "Is now a good time to talk about Jesus?"
PICK: San Diego
Cincinnati (+3.5) at Pittsburgh
WHY THIS GAME SUCKS: It's a division rivalry game, and a playoff spot could be on the line but—have you seen the Bengals play? The past couple of weeks it's been all dropped passes and fumbles and sloppy play. They won last week at Philadelphia 34-13 thanks to five Philly turnovers, but that game was AWFUL to watch, like a porno where both participants are not only ugly, they're lazy as well. Here's the result of the last five Bengals drives before halftime last week: punt, punt, fumble, punt, fumble. If you say that out loud it sounds like the Bengals' theme song.
PICK: Pittsburgh
St. Louis (+3) at Tampa Bay
WHY THIS GAME SUCKS: This is a football game so it's got that going for it, which is nice. The problem is there are ten other football games going on at the same time, and I can't imagine why you'd be watching these two bland, mediocre teams go at it, unless that was part of your job for some reason, and it that case you have a weird job. As for me, I think I'd rather watch this slow-motion video of milk being poured:

PICK: St. Louis
New England (-14.5) at Jacksonville
WHY THIS GAME SUCKS: It'll be all about Tom Brady padding his stats so he looks like a better candidate for MVP.
PICK: New England
Indianapolis (-7) at Kansas City
WHY THIS GAME SUCKS: It involves the Kansas City Chiefs.
PICK: Indianapolis
New Orleans (+3) at Dallas
WHY THIS GAME SUCKS: I was thinking about going on a rant about how much I hate the Cowboys, but then I remembered that Cowboys nose tackle Josh Brent killed his teammate Jerry Brown in a drunk driving incident, and I just don't feel like bitching about inconsequential shit like how bad of an owner Jerry Jones is. As an interesting side note, North Dallas 40, the classic book and film all about the NFL's culture of drug and alcohol abuse and violence and ugly machismo, was based on the Cowboys of the 70s.

PICK: New Orleans
Minnesota (+7.5) at Houston
WHY THIS GAME SUCKS: Christian Ponder is a lousy quarterback. He also married the ESPN college football sideline reporter Samantha Steele this week. I bet they'll have beautiful children, by which I mean I would like to watch them fuck.
PICK: Minnesota
Washington (-5.5) at Philadelphia
WHY THIS GAME SUCKS: Oh, Eagles. Oh, Philadelphia. I'm sorry. I'm so, so sorry stuff like this is happening to you all the time.


PICK: Washington
Chicago (-5.5) at Arizona
WHY THIS GAME SUCKS: God, the Cardinals season was sad. Four straight wins to get the fans excited, then nine straight losses, including one of the worst blowouts in NFL history two weeks ago. This season is like that Calvin & Hobbes story where Calvin finds an injured raccoon and then tries to nurse it back to health but it dies anyway, because life is hard sometimes—to quote one of those strips, "There are many things we don't understand and we just have to the best we can with the knowledge we have." That's the Cardinals in a nutshell, all right.
PICK: Chicago
New York Giants (-2.5) at Baltimore
WHY THIS GAME SUCKS: It reminds me of a new meme called "Flaccoing," named after Ravens quarterback Joe Flacco, where dudes lie down in despair. Via SB Nation's Fumblr blog:


(Side note: The ratio of guys who participate NFL-related memes like this and guys who treat beer pong as a very competitive sport is close to 1:1.)
PICK: Baltimore
Cleveland (+13) at Denver
WHY THIS GAME SUCKS: Neither team has much to play for. Cleveland was occasionally competitive this season—I swear, they were—and they have a young team that might get better if their players are kidnapped and replaced by better players. It's true that Denver will probably have to win both of its remaining games to get a bye in the playoffs (the Patriots could catch them, and the Pats own the tiebreaker), but the Broncos play the Browns this week and the Chiefs the next. I don't think they're too worried.
PICK: Cleveland
San Francisco (-1) at Seattle
WHY THIS GAME SUCKS: This is the only game of the week that won't suck, actually. It's a match between two division rivals who are both seriously competent—the Seahawks have been on a recent tear, the 49ers have been good all year and might be the toughest team in the NFC, the two have the best total point differentials in the conference, and they're the only teams to have beaten the Patriots since September. They're playing on Sunday Night Football, the best football televising operation out there, and they're going to be in the stadium that's the loudest and the toughest on the visitors in the league. Oh, and both quarterbacks are young, can run all over the field, and might be very good for a long time. I bet Riff Raff is fucking fired up!

PICK: Seattle
Previous week's record: 10-6
Overall record: 118-96-10
Previously: The Ennui of Raiders-Chiefs