RGIII Is Number I in Our Hearts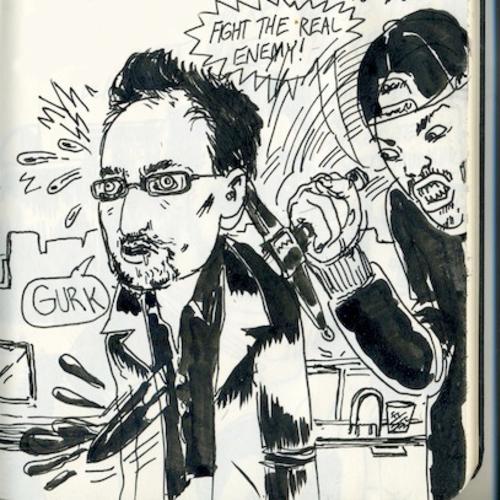 Football isn't a game for individuals. It's all about systems, formations, efficiency, the bloodless execution of game plans. The players are mostly anonymous behind their masks and pads, and their personalities are often reduced to celebratory dances. So when a player like Robert Griffin III, the Redskins' rookie quarterback, comes along and changes the way his team plays, and forces the opposing team to respond to him, it's pretty special—more special than a quarterback who is merely a good player, who merely throws touchdowns and raises the ability of his receivers. Russell Wilson and Andrew Luck are good rookie QBs, but RGIII is a fucking phenomenon.
If you want to reduce his unique abilities to two words, he's fast. There have been fast quarterbacks before (Michael Vick, Kordell Stewart, Steve Young) and Wilson and Luck aren't incapable of rushing either—but the Redskins decided to build an entire offense around his speed and his skill at misdirection. Taking snaps out of funky, multi-back pistol formations, RGIII fakes handoffs, sprints out of the pocket, makes or fakes tosses to his option man, or chucks it downfield to remind everyone he has a hell of an arm on top of everything. It's a throwback to the old style of football where running took precedence over passing, and it's a treat to watch all the fakes and tosses and options—shit that would never fly in Madden, and isn't supposed to work in the NFL—actually succeed against supposedly good defenses. On Monday the Giants held the Redskins to 17 points, but it was a game of long drives and Washington only had the ball eight times—they didn't have the chance to score boatloads of points. Afterwards, the Washington Post all but elevated the QB to sainthood, his jersey and cleats were sent to the Hall of Fame, and everyone more or less decided that here was some hype worth believing in.
This is something to feel good about in football, finally—it's fun to watch a star bring a franchise back into the public eye, and it's fun to see an offense utilize an individual's talents that effectively while running some quirky formations to boot. You had some of these elements with Tim Tebow (the Denver Broncos ran option plays sometimes, though they were less successful because Tebow isn't that good at throwing the ball), but you also had a bunch of ugly culture-war baggage to deal with. Thankfully, with RGIII there are no thinkpieces to be written, no arguments to be had with Skip Bayless, no "controversy" section on his Wikipedia page. All we need to do is watch.
THE GAMES
Denver (-10) at Oakland
Let's talk about what Oakland's past, which is way more fun than its present. For instance: Back in 1960, this undersized center named Jim Otto signed with the Raiders, who were then in the now-defunct AFL. Otto played in every single game for the team until he retired in 1974, and even learned how to be a long-snapper so he wouldn't get taken off the field for kicks and punts. He was one of the toughest, most insane players in an era noteworthy for its toughness and insanity. Otto accrued so many injuries over his career his body broke down and had to undergo 70 surgeries in his pain-filled lifetime. Eventually, one of his infections got so severe doctors had to amputate his leg—which he replaced with a $40,000 prosthetic adorned with the Raiders logo. He says he regrets nothing. -HC
PICK: Denver
Baltimore (+2.5) at Washington
As great as RGIII is, we should remember that the Redskins are 6-6 and the Ravens are 9-3. Let's not allow our sentimentality to cloud our vision as we focus on what's really important: picking football games with no money on the line for an unpopular column. -HC
PICK: Baltimore
Kansas City (+6.5) at Cleveland


PICK: Cleveland
San Diego (+6.5) at Pittsburgh
San Diego has lost four in a row. What their really "san(s)" is wins!
You could say the Chargers are really in the pits… Burgh!
"Big" Ben Roethlisberger may be coming back this week, so the Steelers offense will get back to running like "clock" work! ("Big Ben" is also a famous clock!)
When Philip Rivers plays in Pittsburgh the venue should be called Four Rivers Stadium! (I know, I know, they don't play in Three Rivers Stadium anymore. Still!)
Sometimes I want to just keep driving and driving and never stop until I'm somewhere where nobody knows about me or the mistakes I've made! -HC
PICK: San Diego
Tennessee (+5.5) at Indianapolis
The Colts are 8-4 despite having been outscored by 41 points this season—though, to be fair, most of those opposing points were racked up in blowout loses to the Patriots and the Jets. You can either say this discrepancy is due to Andrew Luck being brilliant at pulling wins out in close games, and that the short-on-talent team has rallied around their coach, who has cancer. Or you can just chalk it up to variance, which is the fancy-pants word for luck. Taking the latter view doesn't make you wrong, but it might make you kind of a dick. -HC
PICK: Tennessee
New York Jets (-2.5) at Jacksonville
Are people into watching NFL games "ironically" the way some stoners love terrible movies? If so, this is this week's football version of The Room. -HC
PICK: Jacksonville
Chicago (+3) at Minnesota
We could talk about the Bears' great turnover differential and whether that's the product of luck, or we could talk about their injuries, or we could just watch this Adrian Peterson highlight reel. Which do you think we should do?

PICK: Minnesota
Atlanta (-3.5) at Carolina
Here's a dumb story about Cam Newton being a dick at last year's Pro Bowl. Newton, oddly enough, declined to comment for it. Why he didn't want to talk to a reporter who was investigating a story about him being rude to some people ten months ago? Athletes today are such bad role models. -HC
PICK: Atlanta
Philadelphia (+7.5) at Tampa Bay


The poll on the front page of the Eagles' website asks fans "How Good Can QB Foles Become?" Take a guess at which one got the most votes. -SR
PICK: Tampa Bay
St. Louis (+3) at Buffalo
The Bills game is sold out, because a local restaurant guy in Buffalo bought all the tickets, so it won't be blacked out on television. I'd say that he should give his VIPs free seats to the game, but then he'd probably have to buy all the tickets to the Jets game on December 30 to give to his enemies. As for the game itself, the Rams' wideouts are the key here. -SR
PICK: St. Louis
Dallas (+3) at Cincinnati
Can we discuss this website? Ew. -SR
PICK: Dallas
Miami (+10) at San Francisco
Every time it's my turn to write about the Dolphins I struggle. All I can think of is Harry's post from Week 1 about their logo. (The logo is a dolphin wearing a little helmet.) What else can I add? What more do you need to know about this team? About this game? About life? -SR
PICK: San Francisco
New Orleans (+5) at New York Giants
Memorable quotes from Saints players regarding the Hornets changing their name to the Pelicans (the teams share an owner): "Pelicans is going to take a while," "Nutria Rats," and "[I'd change it to] probably like the Sabertooths or something… Maybe the Dragons." Also, defensive end Cam Jordan said he liked Roman Harper's idea to rename the NBA team the Sauce. -SR
PICK: Pelicans
Arizona (+10.5) at Seattle
The Seahawks have a cornerback who was busted for PEDs and who also played in the CFL: That's not weird, it's just a coincidence. TSN, Canada's No. 1 Sports Website(TM) has CFL before NFL in its dropdown menus: That's weird. -SR
PICK: Seattle
Detroit (+7) at Green Bay


There's a decent story here about a local kid from southeast Pennsylvania who made the Pack practice squad. (I liked this one a bit more though.) But let's talk about the most-viewed stories above. Fifty-five Cent Whoppers, Return of the McRib and More Fast Food News, was number one on Wednesday; Man's Tantrum over Slice of Cheese ends with McDonald's Worker Being Assaulted was number two. Are they related? Did the tantrum start after Man read the first article? Who's calling for stories on practice-squad nobodies? Never have I been so interested in a readership as I have been with that of the York Dispatch. -SR
PICK: Detroit
Houston (+3.5) at New England
Watch this game. It's gonna be more fun than:

PICK: New England
Previous Week's Record: 8-7-1
Overall Record: 98-85-9
Previously: Being Alex Smith Sucks