Coachella Day Two - 2 Chainz, One Triumphant R. Kelly Performance
With one out-of-nowhere performance of "Ignition (Remix)," Robert Sylvester Kelly managed to unite a field full of strangers in unity and peace. It was perfect.
Might as well get this out of the way: The big highlight of Coachella Day Two was R. Kelly coming out and doing "Ignition (Remix)" with Phoenix probably two-thirds of the way through their set. It was, without a shadow of a doubt, abso-fucking-lutely incredible.
Here's how it went down: Phoenix—already a pretty great choice to headline a festival such as Coachella, considering that it's pretty impossible not to at least like them a little bit—paused their vibes-heavy set, when suddenly they paused, and the voice of an angel began to call out: "My miiiiiiind's tellin' me NOOOO, but my BODYYYY/ MY BODYYYYYYY'S TELLINMEYEAHASSSSS."
Thus, Robert Sylvester Kelly took the stage, dressed in a low-key weird outfit that I somehow blame on Twan from Trapped in the Closet, weilding a diamond-encrusted microphone as if it were the light of justice. Phoenix began to play "1901." Was R. Kelly about to do vocals on a Phoenix song?
Fuck no.
"BOUNCE BOUNCE BOUNCE BOUNCE BOUNCE," Kellz sang out, as Phoenix changed the tempo from "French" to "Grown and Sexy," and we launched all the way into "Igntion (Remix)." I would have cried, but I had spent the entire day in the California desert and needed to preserve what little moisture was still in my body. Trust me friends, you have not lived until you are screaming every word of the single-greatest pop song of the 21st Century with a field full of strangers. Then, he did a little bit of "I'm a Flirt" because why not, and finished up with more "Ignition (Remix)."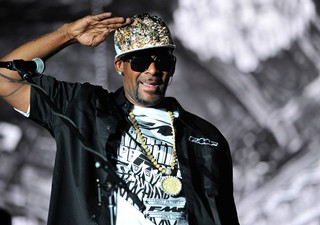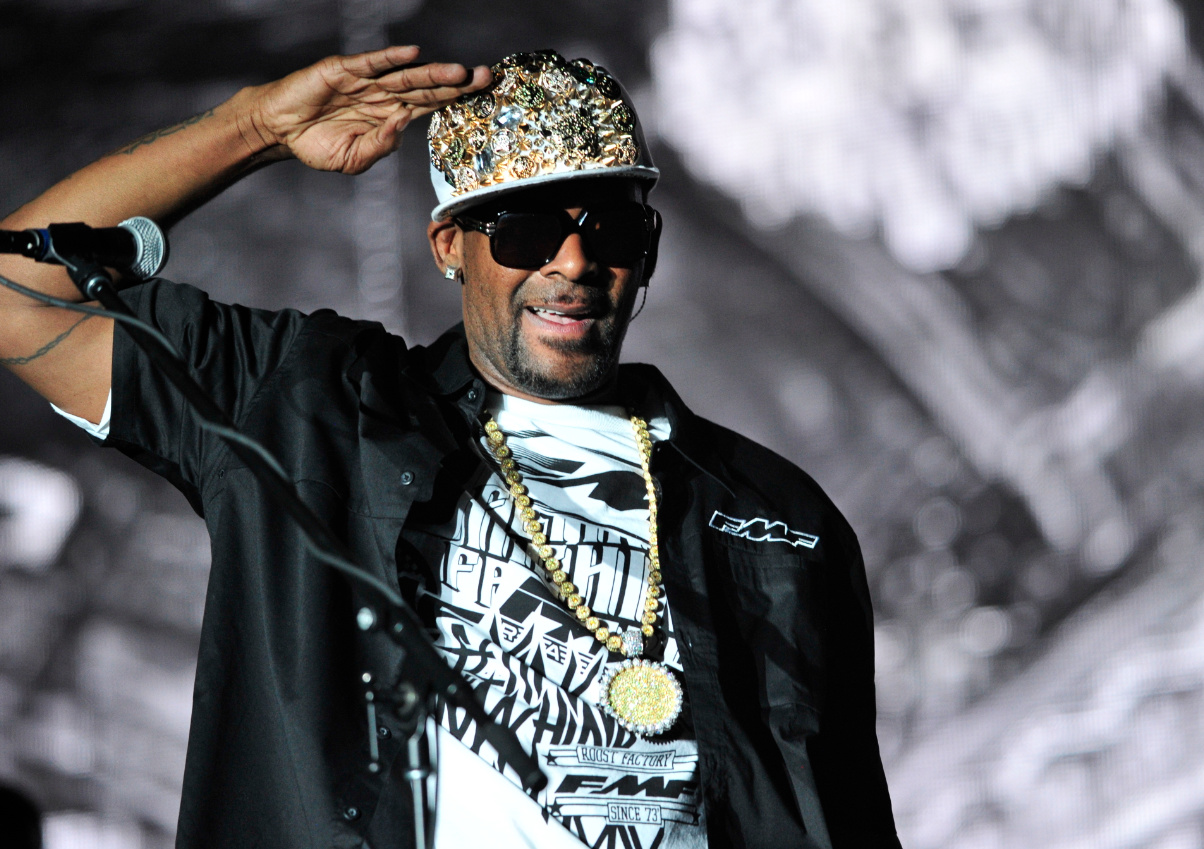 Photo by Dennis O'Regan, Courtesy of Coachella
And like that, he was gone. It was quick but perfect, and knocked the shit out of the Tupac Hologram thing from last year.
Of course, there was a bunch of other stuff that happened at Coachella yesterday, namely a performance by ridiculously popular rapper and all-time great human 2 Chainz. Seeing 2 Chainz was my highest priority at Coachella, fuck a Red Hot Chili Pepper. We were late in getting to the fest, which made getting to 2 Chainz dicey. As I was walking across the festival grounds, I heard the opening piano keys of "I'm Different," and took off in a dead sprint, leaving my girlfriend and friend behind (sorry guys). When I got to the stage, it turned out that 2 Chainz was spectacularly late and his band was just awkwardly jamming so the audience would have something to look at while Tity 2 Necklace was trying on leather pants or whatever. When 2 Chainz finally came out, it was electric. He did all of the songs that you'd expect him to and none of the ones you wouldn't (except his part on Trinidad James' "All Gold Everything (Remix), but you can't hate on a guy for jumping on the zeitgeist like that). His set was a short one, perhaps 25 minutes, but then again that's what you get when you show up late for your own set at a festival. Unequivocally, the highlight of his set was the fact that he was wearing sunglasses with flip-up lenses, which explains the nature of a 2 Chainz live show better than a setlist could. At times, he turned his back to the audience, assuming a Christlike pose, soaking in the well-earned adulation of the crowd. He should have headlined.
As for the rest of Coachella Day Two, here are the highlights: Danny Brown and Despot helped El-P absolutely destroy his sparsely-attended set, one of Major Lazer's hype men looked alarmingly like Pitbull, I accidentally made eye contact with Scott Weiland, the Postal Service played and people liked it, and Pharrell didn't perform with Pusha T which meant that Daft Punk wasn't going to show up. Of course, all of this pales in comparison to R. Kelly, who is the greatest and best musician ever of all time.
COACHELLA DAY TWO DEEP ASS QUESTIONS
Why do they only sell Heineken here?
Why does the Coachella Media Tent seem kinda sad?
How will festival lineups change once MDMA stops being the "It Drug?"
What percentage of people on the Coachella Ferris wheel were couples?
What percentage of them were on acid?
What percentage of them were couples on acid?
Why did Tyler, the Creator make that goofy face when he got a picture with R. Kelly?
Why is El-P's buzz in L.A. not like it is in New York?
Why do indie rock bands lie in 85% of their rhymes?
Why is ratting at an all-time high?
Why are you even alive?
Drew Millard has questions, and he wants answers. He's on Twitter - @drewmillard