Rich Gang – the supergroup headed up by Birdman – put out a mixtape on Monday. This is important for two reasons. One: the production on almost every Cash Money record is as sublime as a drop of D'usse Cognac in a crystal clear balloon snifter – and therefore a perfect excuse to wild-out and get faded on your local supermarket's affordable equivalent. Two: Young Thug and Rich Homie Quan feature on every track. The pair have already appeared on a bunch of tracks together - Rich Gang's "Lifestyle" (the Summer's prerequisite to turning up), "Get TF Out My Face" (a side-eye anthem), and "Pull Up" (which appears on the Rich Gang tape) - and the fact they've made an entire record together is pleasing. Fans that have spent the past year devouring the pair's respective (and heavily addictive) back catalogues will abuse their office chair's suspension system upon listening. But, even to people that haven't yet subscribed to the duo's cult, the partnership is one of the most essential things to happen in hip-hop the last few months. The last year or so has been interesting for the pair. Ever since Young Thug dropped "Stoner" last August he's been rising: appearing on tracks with T.I, performing with Lil Wayne and the rest of YMCMB, and playing on the Jimmy Fallon show. Kanye West and Drake have both been spotted wildin' out to his music. Similarly, Rich Homie Quan - who has released four tapes since 2012 - put out "Type of Way" around the same time and has since been clocking in millions of plays. He also appeared on the XXL Freshman Class of 2014 list.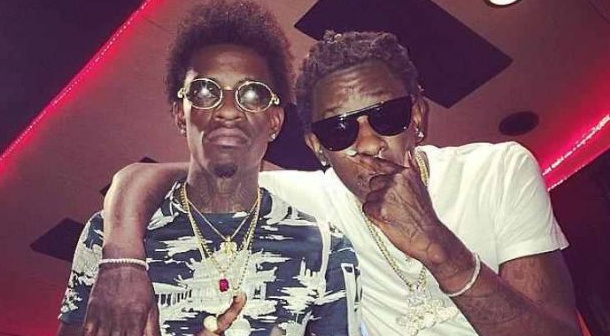 Each time a new hip-hop artist starts to pick up hype, they get labelled with phrases and tags like "innovating" or "pushing the game forward". A recurring problem for many hype-artists in the last few years, is that their overnight fame has come as the result of a Tumblr project that probably took off on Reddit (and by proxy HypeTrak and the Fader), and when push comes to shove, they just aren't ready for the pressure and expectancy that brings. And, they also usually look more like your little brother's friends, than future stars.
That doesn't seem to be a problem for Rich Homie Quan, and Young Thug. They look like rockstars, they're built on confidence, they're adults, and they do everything with purpose – which is always the most important thing to consider when deciding whether to make real art or just fart out a Wavey Garms moodboard.
We like artists that make us feel things and who don't look like us, introducing us to another world via sound and moving image, and Thug and Quan are both capable of this. Thugga looks like a Star Wars character, Rich Homie Quan
Will Never Stop Going In
, Thugga wore his hair in
Princess Leia buns on the Fallon show
, Quan will forever make you and your girl feel some type'a way. All are paramount reasons behind their success - but not the most important.
The reason why Young Thug and Rich Homie Quan can be trusted with keeping rap's flame alight long-after all the elders have given up is their sound. This is fully realised, blowing-coke from a strippers butthole, dropping stacks on a magnum, winding the suicide-doors up music – it has high production value, manages to sound familiar (sitting somewhere between Mike Will and Mustard productions) but is skewed enough to continue pushing forward. This is down to the producers that have worked with the pair – London on da Track,
Dun Deal
, Yung Carter
et al
– but also, largely, down to the pair's voices.
The group – Rich Gang, Young Thug, and Rich Homie Quan – released the first video from the mixtape on Monday. Watch it above. Listen to the voices. Relax. Pause.
Then realise that, as our
US colleague Kyle Kramer
picked up on, such smooth harmonising has never existed in hip-hop. "The pair are the next Lennon and McCartney" – if being Lennon and McCartney meant making strip-club music that can bring a tear to your eye and make you feel like you're putting cigars on ice for bae in the penthouse suite. Music that makes you feel good; music that inspires you to do whatever you have to do to maintain a life as seemingly carefree and luxurious as theirs.
This is what's important. Music should make you feel good; it can inspire a feeling and make you want to act on that feeling. It should also sound good too, and when it does both, while also pushing things forward, then you're on to a rare winner. Young Thug and Rich Homie Quan achieve all three. This is the reason that makes the two of them appearing together all the more important. The duo's music may help father a few children, but let's also hope it also continues to father rap into the future.
Follow Ryan on Twitter: @RyanBassil