What Do Justin Bieber Fans Think of Justin Bieber?
"I feel like he gives me hope"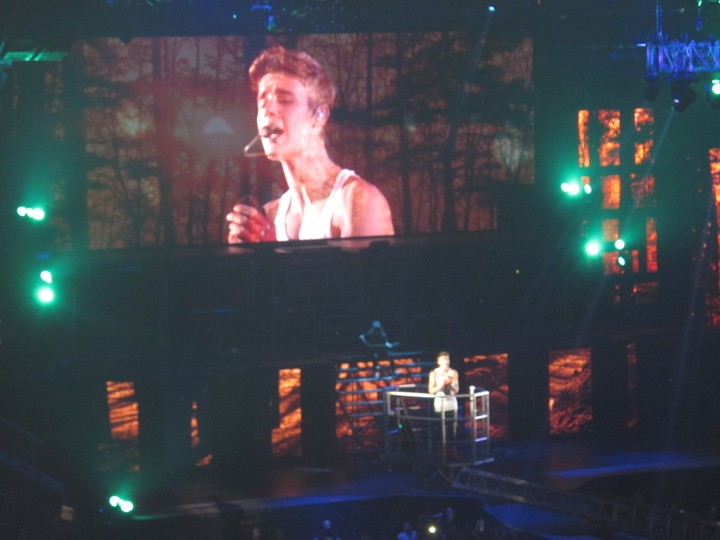 Over the last decade, the internet has redrawn the borders of fandom. To love an artist, is to exist in a constant virtual thrust toward their dynamic personal brand. Fans form task forces, fiercely defending their idols through the realm of social media, and cutting down any GQ writer that stands in their way.
The biggest of these tribes are the Beliebers, fans of Justin Bieber. For these little munchkins, the task of bigging up their self-believed reason to live, is a hard one, because Justin makes a lot of people angry. Especially YouTubers who dedicate their free time to begging God (via the comment section) to bring back The Doors, and take Bieber. However, the voracity of the hate is matched only by the force with which Beliebers bring the hammers. According to one #BelieberTwitter expert I consulted, "By some kind of skewed logic, fans feel like they have to do promo work for Justin as if they are employed by him. They're obsessed with breaking Vevo and Youtube view records. Girls make posters and post them around their town and at school. They're extremely motivated and organised without Justin telling them to do anything."
42 million of these acolytes follow Justin on Twitter. What exactly they're preaching remains as enigmatic as their chiseled white whale. Call me Ishmael. Or call the police, which some mums clearly wanted to do when I accosted their firstborn outside the show. Here, though, are the the testimonies of those who'd testify. What do Justin Bieber fans think of Justin Bieber?
Sabrina, Pilar, Cleo and Olive.
Noisey: What did you think of the show?
Cleo: It was amazing. It was the best thing ever
Why do you love Justin Bieber?
Cleo: Because he never stops believing in himself, and he's a lifesaver for everybody.
How would you feel if you were brought on stage as the "one less lonely girl?"
Olive: I would probably faint. I would cry so much.
What would be your ideal date with Justin Bieber?
Olive: Go to one of his concerts and maybe he serenades me, brings me on stage.
If you could say one thing to Justin Bieber what would it be?
Cleo: I love him so much.

Nadia, Karen, and Maia, 15.
Noisey: So you guys just met Justin Bieber? What was that like?
Karen: It was really cool, he's such a sweetheart.
What did you guys do?
Nadia: I walked in and I told him he smelled good, and he said thanks.
What did he smell like?
Karen: Heaven!
Maia: My first words to him were "Oh my god, you're real."
Nadia: I touched his abs.
Karen: He grabbed my arm!
What did his abs feel like?
Maia: Oh my god they felt like…I can't even describe. Rock hard.
What do you think he does to get his abs so hard?
Karen: Crunches.
Why do you all love Justin Bieber?
Maia: He's just down to earth.
Nadia: He really is a sweetheart.
Karen: He gets us.
Maia: The media makes him look really bad. We see the real him.
How so?
Karen: He peed in a bucket? Who cares! We all do that.
Maia: Everyone smokes weed!
What do you think of the new look? Do you miss the old Justin?
Nadia: No, but I wish he pulled his pants up a little bit.
You don't like drop crotch pants?
Karen: No.
Maia: The pants are OK, but he needs to pull them up.
What do you think he's hiding in his drop crotch pants?
Karen: What's the name…
Maia: Don't even say it….
Look, we know about Jerry [widely used fan term for Justin's penis].
Nadia: You know about Jerry?
Yeah, we know about Jerry. We're Beliebers, man.
Karen: Wow.
OK, if you could offer one piece of constructive criticism for Justin what would it be?
Maia: I'd say talk to me more. I just wanna cuddle with him.
Karen: Whats this for?
VICE Magazine.
Nadia: Is that a porn magazine?
Not exactly.

Jisu and Jessica, 14.
What'd you think of the show tonight?
Jessica: It was really good. He makes you want to be on stage with him.
How many times have you seen him?
Jessica: Seven times.
Why do you love Justin Bieber?
Jessica: Just because I can relate to him and I feel like he gives me hope, 'cause I actually want to be a singer and dancer.
What do you think of his new style?
Jessica: I like it, I think at first we all thought he was trying to be something he wasn't, but at the same time he's still trying to figure out who he is as an artist.
What do you want to see from Justin in the future?
Jessica: I want to see a different style. He has this "G" style going on. I want to see something more personal.
What's your favorite part of Never Say Never? I watched it last night.
Jisu: The part where they give away free tickets. That happened to me once.
How would you feel if you were selected as the "one less lonely girl"?
Jessica: We talk about this all the time. I would feel really happy. I wouldn't be full of myself, I would stay grounded.
If you could say one thing to Justin Beiber, what would it be?
Jessica: I really love what you've done, not only to me but to other girls. He has a really good effect, he puts a smile on our faces.
How do you think he's changed your generation?
Jessica: I've never seen a five-year-old girl go crazy over a teenage guy before. He makes young girls go crazy.

Lighters up.
[Gracie, Milah and Curtis, all 26, who I didn't get a picture of]
What was it like being a guy at the show?
Curtis: Interesting.
What brought you here?
Curtis: These ladies.
What did you think of it?
Curtis: It wasn't the best.
It wasn't the best Justin Bieber show, or it wasn't the best show you've ever seen?
Curtis: It wasn't the best show I've ever been to. I never thought I'd go to a Justin Beiber show, but it was good for Justin Bieber.
What was the best part of it?
Curtis: Honestly, going home.
Wow.
Curtis: I'm tired.
Gracie: Curtis, you're going to be quoted.
Curtis: I know, it's fine. It's OK.
So, be real. Why don't you like Justin Bieber?
Gracie: If we were out right now, he would love Justin Bieber. He would be busting moves to Justin Bieber, but the fact we were at a show….
Curtis: There are better artists than Justin Bieber.
Milah: I disagree with that.
Curtis: I think he's a douchebag
Milah: He's a child, it's OK if he's a douchebag.
Curtis: No, he's 19, he's an adult now. He doesn't have the excuse of being a child anymore. He yelled at little girls for throwing stuff on stage tonight.
Gracie: Yeah, but then he put the phone in his pants.
Curtis: He needs to pull up his pants.
So you don't like the drop-crotch style?
Gracie: I do.
Milah: I thought it was entertaining
Gracie: And 26-year-olds are telling this story. The fact that young adults are giving their two cents towards how they feel what Justin Bieber should do is actually kind of funny, because we're only six years different.
Milah: I love Justin Bieber, and the fact that someone threw their phone on stage and he put it in his pants…I thought it was funny.
Would you hang out with Justin Beiber?
Curtis: I'd hang out with anybody, man. I mean, he may be have been rude and stupid, but if we were to hang out, he might be a better guy. I wouldn't turn him down.
What would your ideal arena show be, then?
Curtis: The Rolling Stones, back in '79. [Yeah, he said '79. The other Summer Of Love.]

Fans swarm Bieb's bus after the show.
[Donna and Olivia, 19 and 20, who I also didn't get a picture of.]
How did you become a Belieber?
Donna: I thought he was kind of a joke, and then me and my friend got free tickets to see the movie, and we left thinking this kid is amazing. I kept following and he's just really wonderful.
What do you think of the new look? Do you miss the purple Supras era?
Donna: I think he looked like a douchebag back then.
Olivia: I like him now. The drop crotch pants are not OK, and neither is the weird gas mask stuff, but I think Justin six months ago is prime.
How would you feel if you were selected as one less lonely girl?
Donna: Oh god, I would lose it.
How would your boyfriend feel?
Donna: He'd be really mad. I feel like I'd just melt.
Do you think Justin needs a day off?
Olivia: I think he needs a few weeks off. He is very talented but everything he's doing and his acting out, although it is typical teenage stuff, it's distracting people. Him throwing fits, showing up to the stage two hours late. Like, everyone smokes weed, it's a thing, but he does have younger fans and his parents aren't going to take them to shows.
Is it a tough time to be a Belieber?
Donna: Not when you're like 19 or 20. Its probably tough if you're an eight-year-old right now.
if you could say one thing to Justin Bieber, what would it be?
Donna: Fuck me.
Follow Ezra on Twitter @ezra_marc
Read more on Bieber:
Justin Bieber Is The Rockstar We've Been Waiting For
Justin Bieber Got Caught Smoking a Blunt This Weekend (And It Made Us Like Him)