Composite by VICE Staff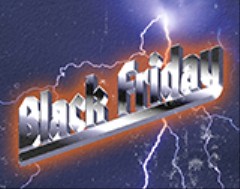 All the mega monster Black Friday and Cyber Monday sales and deals, in one place.
Ah, it's that time of the year again.The time when all good, spicy children hide from their families/Santa in clothing racks at the mall, and White Elephant parties make everyone cry; the time of the year when we wonder what kind of gift we should give that cousin who is really our uncle, and plot out how to avoid that dude from high school who grew up to become a "local, cherished thespian" when you go home for Thanksgiving. We can't help you with all of that, but we can help you with some of it, because we can help you sift through the best Black Friday deals that would make great holiday presents. 
Perhaps you're gift shopping for someone you love in a horny way, or a platonic way, or a Gone Girl way. It's really none of our business, but it is our business to make sure that you're getting the best Black Friday deals, deals, deals on home decor gifts, streetwear gifts, electronics and tech gifts, and more. Whether your budget is under $30 or full Daddy Warbucks, here are some of the best Black Friday promotions to shop right now to get a leg up on your gift giving. 
This best-selling shiatsu massager
This is like owning a magic snake [rips bong] that works out all the kinks and knots in your neck and back, wherever you go, with all those heated deep-tissue rollers. It's beloved by everyone from gamers and WFH folks to wellness sleuths and grumpy boomer dads. 
A puffer that feels like a hug from a better mother
Are you from New York, even? This Alpine puffer jacket is the kind of 'fit you can wear to the family function, or parade down the dirty midnight streets. It's just that versatile (and well-insulated with goose down) for whatever adventures your giftee shall embark upon.   
This Dutch oven will become a family heirloom
Everyone dreams in shades of Le Creuset Dutch ovens. Seriously. Our mother still won't give us her orange pot, and when we asked a bunch of men what the best gifts they've ever received were, this oven-safe kitchen staple was a proud headliner. The eight-quart beast is on sale right now, which means you can present it to your loved one by Trojan Horse-ing yourself inside. Take pix. 
Candles for unicorn LARPing
Imagine the dinner party ambiance they'll cook up with these beautiful HAY candles flanking their guests. Each waxy rod has been artisanally twisted into a festive, horny spire that will illuminate their faces in a flattering, but moody light reminiscent of the sexiest/scariest corner of a Hieronymus Bosch painting. And why stop there? All the highly aesthetic housewares at HAY are 15% off, so snap on the gloves and get in there. 
Noise-cancelling headphones for under $100
Ah, the joy of swapping out your crusty earbuds for a pair of noise-cancelling, wireless Sony headphones. They make everything from cleaning around the house to the work commute so much better. This pair normally costs almost $200 because it holds a 35-hour charge and has great sound quality, so you can blast the techno rendition of Michael W. Smith's Christian rock classic "Awesome God" until the rapture is nigh. 
They're an aspiring grill master
Not a task to be taken lightly. A great grill is the gift that keeps on giving not only to your giftee, but to anyone lucky enough to be invited over for some bone-licking, BBQ-sauce-slappin' fun weekend shenanigans. (Oh, and also for BBQs.) Bonus points for finding a grill that's red, the universal color for love/Guy Fieri.   
Their identity is built around streetwear
They already own a pair of summertime Tevas—or whatever their ideal, socks-and-sandals normcore combo may be—but have they tried Timberland's boots on for size this winter? Not only does the heritage outdoors gear company hold a deathgrip on New York culture and memery, but its ankle boots will give your boo some soft-toed, high-traction curb stomping protection.   
Happy shopping, and don't forget to fill their socks with eggnog.
---
The Rec Room staff independently selected all of the stuff featured in this story. This story is being continuously updated to reflect new information and hot deals.