Walter Schafgans / EyeEm
Every time I visit San Francisco, I am increasingly shocked at how the city is getting dirtier and more disturbing. Recently, while staying at an AirBNB in the Castro (a "nice" part of town), two nights in a row I discovered human shit on the front steps. The second time it was all over the wall of the house too. Whenever friends tell me they're visiting San Francisco for the first time I always advise them not to pack their open toed shoes. The sidewalks are full of hazards like human shit and used syringes.
Litter is nothing new for the city by the bay, and certainly not surprising for any bustling metropolis. But today it has become a public health hazard, and is costing the city of San Francisco millions in constant cleanup and hamstringing businesses with lost tourist revenue. A walk down Market Street reveals well-heeled finance executives, techies wearing $300 sneakers meant to look like unfashionable dad shoes, a heroin user shooting up in plain view of tourists, and an abandoned pair of sweatpants full of shit.
Human waste is everywhere in San Francisco. It's a byproduct of the city's large homeless population—almost 1 percent of the citizenry is homeless. The increasing amount of homeless people is the result of a lack of housing—and what houses there are can be shockingly expensive. Tent cities are scattered throughout even the toniest of neighborhoods in San Francisco. Another reason the city has so many homeless people is because San Francisco is a minimally brutal place to be homeless. It doesn't freeze or get super hot, so you can be outside all the time. Plus there's plenty of social services available for the homeless. The city of San Francisco takes pride in letting all her people live with dignity.
But that doesn't mean that the homeless have a place to shit with dignity. In homeless encampments—which can be found on city sidewalks; under bridges; in local, state, and national parks and on the side of the highway—residents will often use a bucket to do their business. Of course, these are prone to spilling out into public walkways. Sometimes there's no bucket or no open Starbucks, leaving alleyways and sidewalks to become the dumping ground. The San Francisco Department of Public Works has a $60 million a year budget line just for street cleanups; half of it goes towards cleaning up human feces, needles, and other trash caused by homelessness.
The problem of human shit in San Francisco has become so endemic, one local programmer used 311 data to make a heatmap of human feces on city sidewalk. Jennifer Wong, a lifelong resident of San Francisco, created Human Wasteland as a way to visualize the problem of human feces in the city. Like many San Franciscans, Wong doesn't see feces as the problem. It's homelessness that is. She wanted her map to spark conversation about how to best help the homeless.
"Homelessness has been a constant in San Francisco, but income inequality has only grown. I would love to see more permanent housing-focused legislation introduced," Wong says. "What's important is the underlying issue—that those experiencing homelessness lack essential resources such as bathrooms. I believe that the one true solution is a housing first one."
In the Human Wasteland map, the hardest hit area is "The Tenderloin," an area of downtown San Francisco between Civic Center and Union Square. This area is flanked on all sides by tourist destinations—hotels, the Moscone Center (a major convention site), museums, Grace Cathedral, to name a few. Tourists have taken notice of the misery spilling out into city streets. Walking from their swank hotel to a convention, to dinner, and back to the hotel, they are likely to see many homeless people, but also several mounds of human shit and used syringes littering the sidewalk. The local NBC affiliate surveyed 150 downtown blocks and found more than 300 piles of human feces and more than 100 needles.
Hoteliers, restaurateurs, and convention businesses have taken notice and demanded that the City of San Francisco stop the growing tide of filth in the streets. First-time visitors to San Francisco are shocked to see it. Some conventions have said they will never return to San Francisco because of the desperate situation. Why should it matter, though, that some lame insurance salesman from Topeka thought San Francisco was filthy and won't return? Tourism is a $9 billion dollar a year industry for San Francisco (generating $725 million a year in taxes for city coffers), so business owners are insisting on some real changes lest they lose millions in revenue every year.
Rachel Gordon, spokesperson for the San Francisco Department of Public Works, explains all the ways the city is trying to keep the streets and sidewalks clean. Adding more public restrooms (called "Pit Stops," a program developed in 2014) is a priority, but one that also comes with plenty of challenges. Gordon says public restrooms must be staffed if they are open, otherwise they will get misused. Unstaffed restrooms get trashed, turned into sites for drug dealing, and sometimes become popular locations for shooting up. And so they are staffed, mostly by former prisoners getting back into the work world, Gordon tells me. They are paid $16 an hour (minimum wage in San Francisco is $14) and have chance for advancement in the organization. There are 18 Pit Stops located in nine neighborhoods; they get used 300,000 times in a year. That's tons of shit that doesn't end up on sidewalks.
---
Watch this from VICE: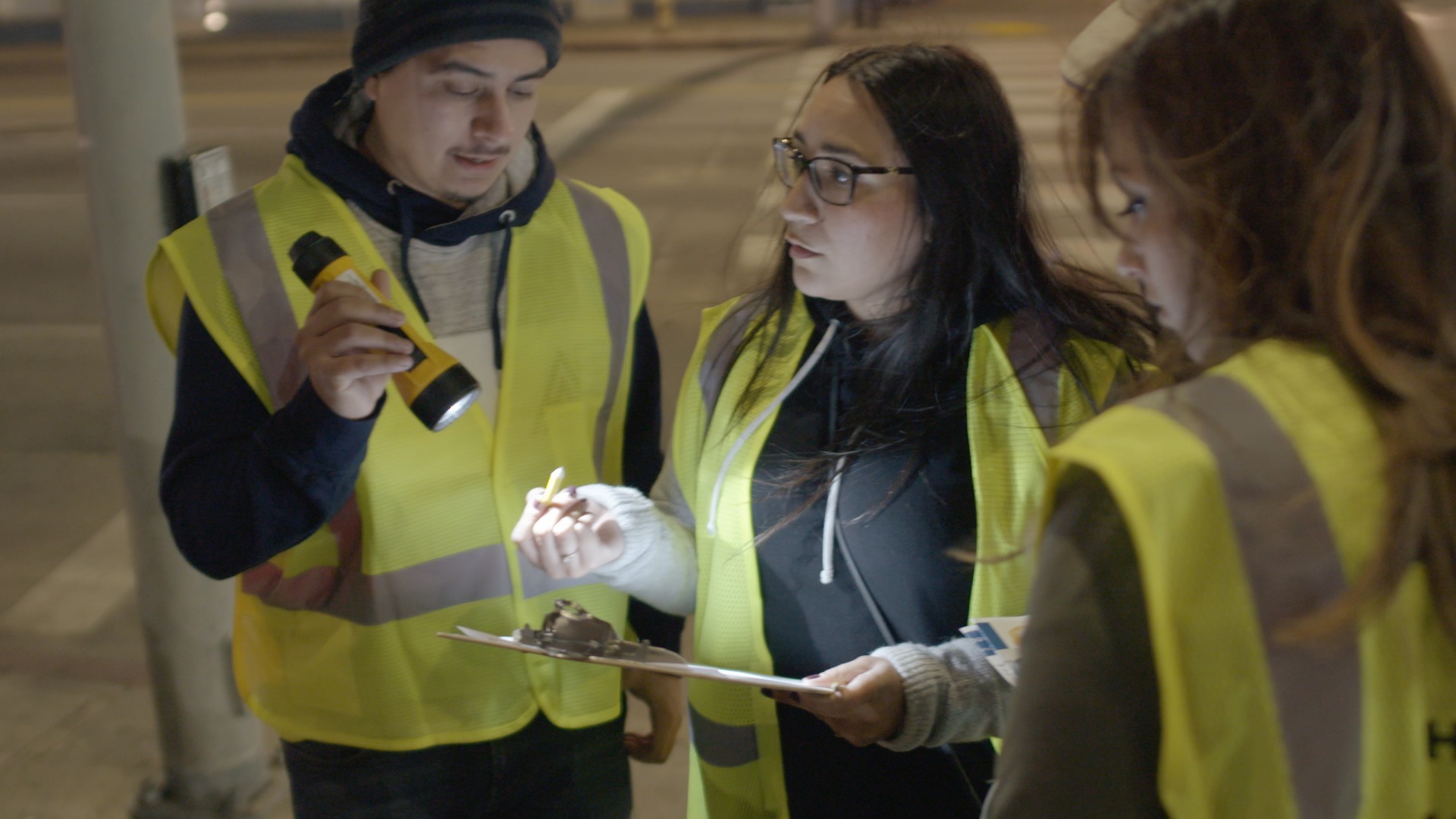 ---
The San Francisco Department of Public Works has become a leader in human feces removal, with other cities experiencing similar problems turning to them for advice. City workers, who wear disposable hazmat suits, start off by coning off all the piles of human feces on a stretch of sidewalk. The piles are then removed via shovel, and then the sidewalks are pressure treated in order to be sanitized. Otherwise, human feces can leave a stain which can still cause health problems.
In the NBC investigation into San Francisco's filth problem, UC Berkeley public health researcher Lee Riley said "The contamination is…much greater than communities in Brazil or Kenya or India." He warned that when human feces dries, some pathogens like rotavirus can become airborne. These conditions can be exceptionally dangerous for children, who in San Francisco must be taught to avoid even most innocuous remnants of a poop pile at all costs.
Also, the state of California is in the middle of a hepatitis A outbreak. In 2017, almost 600 people in California contracted the disease, with 20 dying from it. Hepatitis A is a virus that affects the liver, and can be spread through contact with human feces. This makes cleaning up feces all the more challenging—more training, equipment, and precautions necessary to avoid getting sick. Gordon says that Department of Public Works employees receive bloodborne pathogens training as part of their standard job orientation. Employees are offered free Hepatitis A and B vaccinations, but workers can not be required to be vaccinated.
Elsewhere in San Francisco and California, some public workers aren't so lucky. Steve Crouch, director of Public Employees International Union of Operating Engineers, Unit 12, Local 39, has filed an OSHA health and safety grievance against CalTrans (the organization operating state highways in California) over the cleaning up of human filth and feces. His members are responsible for cleaning up the bridges and highways leading into the city of San Francisco, such as the Golden Gate Bridge, and are employed by the state and not the city. Crouch says this is truly a statewide problem. His employees, who took jobs to build roads and fix bridges, are now being made to clean up homeless encampments statewide. What's worse is that Crouch says his union members are not given proper training and tools to do this work safely.
"Picture this. It has been raining for the past five days. The homeless, in droves, start seeking refuge under the overpasses and bridges to stay dry," he says. "But after so much rain, there are no dry spots there anymore. The ground is soggy and the homeless begin urinating and defecating in the muck." He says there is used toilet paper on the ground, used feminine hygiene products strewn about, and used condoms being stomped down into the mud from the foot traffic. "It looks like someone took a dozen or so porta-potties and dumped them upside down and then sent our CalTrans members in there to clean it up."
His demands are very clear: The Caltrans workers should have training on bloodborne pathogens, be properly vaccinated, and be provided protective clothing and respirators if necessary. The encampments should also be decontaminated before entering.
Crouch agrees that addressing the state's homelessness problem is key to cleaning up this mess. But with more than 100,000 known homeless in California of all different backgrounds and needs, there's no "one size fits all" solution. He believes that some homeless people don't want conventional affordable housing and praises a project in Oakland that used "Tuff Sheds" as a form of subsistence housing—a room, a cot, and a lock on the door—as a means to get people out of the most dire of conditions.
Back across the bay in San Francisco, Gordon thinks that in addition to assisting the homeless, the city needs to change the attitudes towards sanitation that many residents have. She has lived in San Francisco all her life, and takes pride in her city. If she sees garbage in front of her home, she will pick it up, instead of leaving it for a public worker to clean up. She says every year, 70,000 new people move to San Francisco (and 60,000 move out), and they have a "maid service mentality" where they believe someone else will clean up after them.
"If people are not deeply connected to the city, then they won't take care of it," Gordon says. "We want them to love San Francisco."
Sign up for our newsletter
to get the best of Tonic delivered to your inbox.