L: Twocoms/Shutterstock
Drake has released a statement on the blackface photo that PUSHA-T used as the cover of his latest diss track, "The Story of Adidon". The photo, shot in 2007 by photographer David Leyes, was widely criticized online after being used by Pusha. Drake has now issued a statement via Instagram that clarifies the image's original purpose. Read the statement below: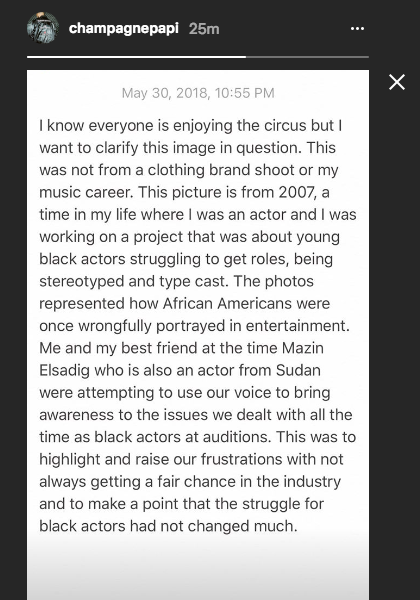 This statement comes after a week of absolutely brutal shots from both Drake and Push. (But mostly Push.) After making reference to Drake's ghostwriter Quentin Miller on his DAYTONA track "Infrared," Drake fired shots back at both Push and Kanye on the diss "Duppy Freestyle." King Push delivered a shattering blow yesterday when he unleashed "The Story of Adidon," a track alleging that Drake has a secret child. The cover of said track was Leyes' blackface photo. Push then called into 'The Breakfast Club' to address a beef that he's now referring to as 'surgical summer,' saying that "everything is fair game" in this beef. Now, Drake's issued a press release on it, because he's Drake. Should we have expected anything different?
Shaad D'Souza is Noisey's Australian editor. Follow him on Twitter.
This article originally appeared on Noisey AU.