When he first came into the league, Toronto Raptors guard Fred VanVleet wondered at times if opposing players even knew who he was.
"People were probably like who the fuck is this kid, coming into the game, picking us up full court," VanVleet told VICE Sports. "I don't look like an NBA player to most guys."
VanVleet, who went undrafted in 2016 out of Wichita State, now leads Toronto in fourth-quarter minutes. When the Raptors made their first American national television appearance of the season earlier this month, they were led not by DeMar DeRozan or Kyle Lowry, but by VanVleet, who scored a career-high 22 points off the bench as the Raptors blew out LeBron James and the Cleveland Cavaliers.
Two nights later, Toronto's second unit led the team back from a 27-point halftime deficit against the Warriors, falling just short in the fourth quarter in a 127-125 loss.
At 31-14, the Raptors are the second-best team in the East, and are once again led by Lowry and DeRozan. But they've reinvented themselves on offense, with a modern emphasis on ball movement and three-pointers. After losing Cory Joseph, Patrick Patterson, DeMarre Carroll, and P.J. Tucker this offseason, Toronto needed to replenish its depth. They acquired 30-year-old C.J. Miles in a trade, but Masai Ujiri ultimately decided to bet on internal improvement from the secondary core that took him years to build.
Toronto's second unit—which includes Norman Powell, Delon Wright, Jakob Poeltl, Pascal Siakam, and VanVleet—has both been the engine behind the team's success, and a metaphor for Canada's team constantly being overlooked by casual NBA fans. The Raptors are in the midst of the best prolonged stretch in franchise history, yet fans continue to believe that the team's lack of exposure in the United States has motivated everybody—from refs, to the media, to the league itself—to write them off.
That feeling is exactly what has connected the Raptors bench. They've grown closer over two-plus seasons of practices, summer leagues, offseason workouts. They've watched each other fall in and out of the rotation, and on and off the roster, slowly building mutual respect, the respect of their more established teammates, and opposing players.
Miles, the veteran of the group, saw quickly just how close the second unit was, and believes it's a huge reason why the Raptors bench have, per NBA.com, the third best net rating in the league behind only Golden State and Houston, outscoring opponents by 6.3 points per 100 possessions.
"You play better and harder with guys that you really enjoy being around," Miles told VICE Sports. "It's a brotherhood, a friendship. When you've got guys that you lean on and would do anything for off the floor, it's going to be the same thing on the floor. It's not even a thought. It's an instinct."
The current Raptors bench began to take shape three years ago, when the team selected Wright and Powell 20th and 46th, respectively, in the 2015 draft. The two quickly bonded as teammates at summer league. Each had played all four years in college. Powell, a reserved personality, was surprised to find that Wright was his equal in terms of demeanor.
"He's just a kid from Los Angeles, always wearing skinny jeans and Vans," Powell told VICE Sports. "I would always have to pick the restaurants we were going to because it never mattered to him where we went. He was more chill than I was, which was weird."
Wright's relaxed approach didn't always strike the right chord with scouts, who wondered when he was being recruited out of high school whether he was trying hard enough on the floor. "That was the furthest thing from the truth," Wright told VICE Sports. "I'm able to make more decisions when I'm playing at my own pace. Once they started watching me more, they could see what I was doing. I'm glad I never changed the way I played."
There was one time when Wright was particularly emotional during college—when Powell tripped him on a drive to the basket in a game between Utah and UCLA. Wright confronted Powell during the game about the incident. Powell claimed it was an accident. When the two became Raptors teammates, Powell finally revealed that he had done it on purpose, to throw Wright off his game. "I knew I wasn't crazy because I always thought he did it on purpose," Wright said.
Powell felt slighted with how far he fell on draft night, and made a statement as the only rookie to be named to the All-NBA Summer League first team in Las Vegas in 2015, which helped to earn him a three-year contract with the team.
"I was overlooked," Powell said. "There were all these different variables about my game that made people think I wouldn't be a good player in the league."
In each of his first two seasons, Powell has become a local playoff folk hero. As a rookie, he helped lead the Raptors to a fourth-quarter comeback win in Game 5 of the first round against the Indiana Pacers, just as the team was staring at a potential third consecutive first round exit. Last year, Powell scored a career-high 25 points in Game 5 of the first round against the Milwaukee Bucks, which helped put Toronto ahead 3-2 in the series.
While Powell started 42 regular season games through his first two seasons and made his mark in the playoffs, Wright appeared in just 54 games in his first two years, playing behind Lowry and Joseph in the team's point guard rotation, and rehabbing from shoulder surgery. He admits it was frustrating at times, but Powell's playoff heroics motivated him. "It was really inspiring," Wright said. "That's what I envisioned myself doing when I got my chance."
In his third season, Wright has gotten the chance to play a bigger role on the team. He's averaging 8.9 points in 21.7 minutes per game, both career highs, and proving himself to be a steady influence for Toronto's second unit. Recently, he posted a career-high 25 points, along with 13 rebounds, five assists, and four steals in a win at Chicago. Powell, who has struggled this season, was the happiest teammate for him afterwards. "I just want to see everybody be successful," Powell said. "If my boys are out here killing it, I'm happy for them."
The additions of Poeltl, Siakam, and VanVleet at the start of last season further strengthened the second unit. Poeltl, taken ninth overall in the 2016 draft, is the first Austrian player in NBA history. Siakam, taken 27th overall in the same draft, is one of three active NBA players who were born in Cameroon, along with Luc Mbah a Moute and Joel Embiid. The two have become best friends off the court, and developed a chemistry on the floor.
When Siakam and Poeltl are on the floor together in the fourth quarter, the Raptors have a +13.9 net rating and are allowing opponents to score just 90.1 points per 100 possessions, per NBA.com. (Toronto, as a team, allows opponents to score 103.1 points per 100 possessions). Siakam and Poeltl have both logged more fourth quarter minutes than starting power forward Serge Ibaka this season.
"For Kyle [Lowry] and DeMar [DeRozan] to be able to trust us, we have to show them that we're trustworthy," Siakam told VICE Sports. "I think that's what we're trying to do this whole season."
---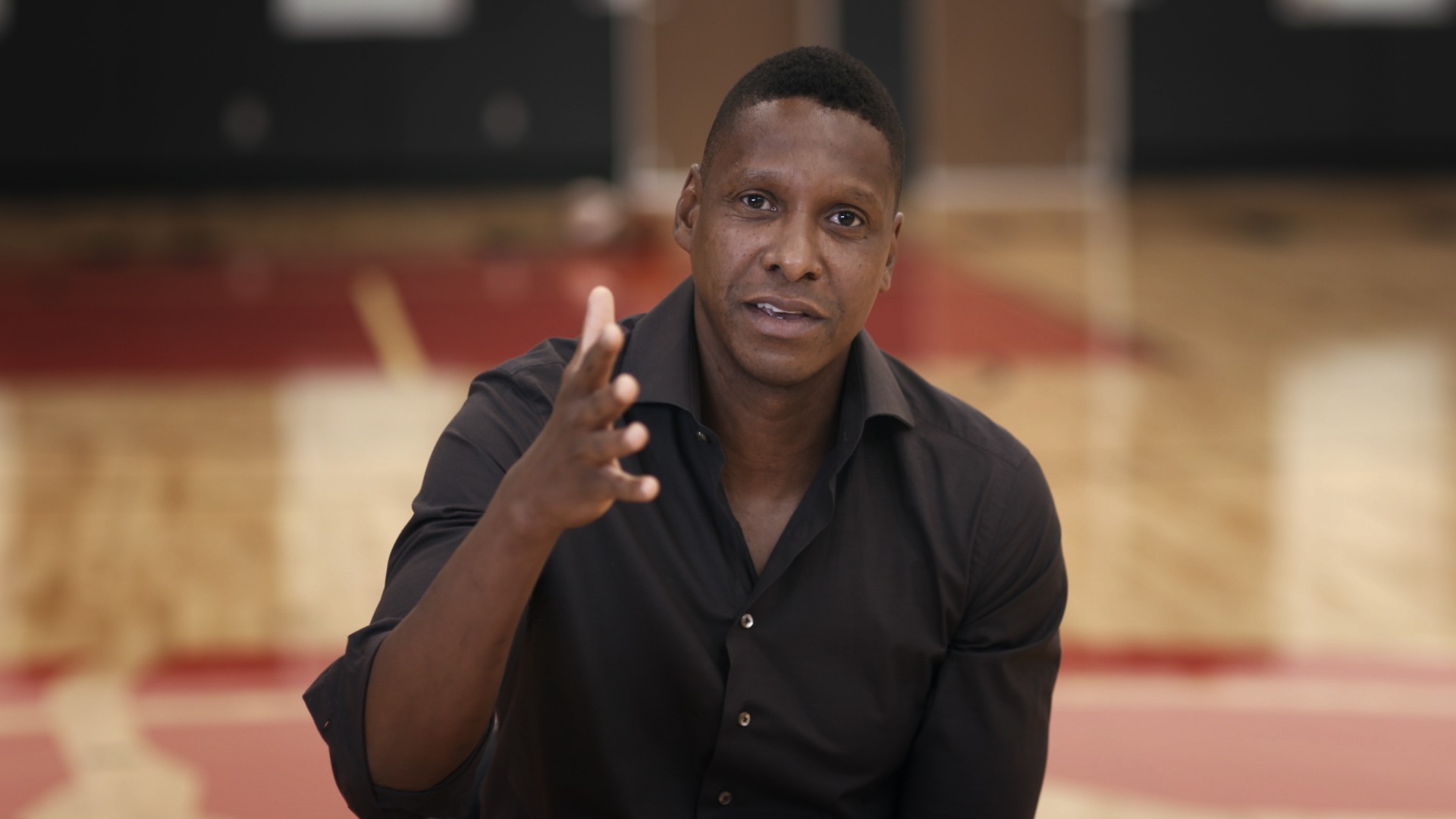 ---
Away from the court, being around the Raptors bench can feel like being part of a never-ending group chat where everyone gets roasted for anything and everything.
VanVleet likes to point out that Powell, his best friend on the team, runs an Instagram account for his dog Apollo. "It's crazy," VanVleet said. "He's like Paris Hilton. I love pets, but I'm not dressing up my pets. A dog is a dog."
"I'm tired of Fred," Powell responded. "I dressed him up one time for his birthday. The last two years everyone has said that I never smile. I wanted to show a more human side of myself."
All of VanVleet's teammates are quick to point out that he averages up to three haircuts per week. "He's the prettiest boy I know," Powell said.
"My hair grows back really fast," VanVleet said. "They just don't understand. In the summertime, I grow my hair out. But when you're on television, you have to look good."
Everyone including Poeltl himself agrees that he takes the longest to get ready when the guys make dinner plans.
Poeltl contends that it's because he's still adjusting to the North American lifestyle where people eat dinner way earlier than he's used to in Austria, but Siakam says that's not the reason why.
"He just stays on his phone for two hours before he gets in the shower," Siakam said. "We'll be done with the game and he'll be on the phone for 45 minutes before he does anything. He just sits there."
All of the bench players are contributing this season, but the newest addition to the group has a higher ceiling than any of them—and he hasn't exactly been a bench player. That would be rookie OG Anunoby, who was selected 23rd overall in the 2017 draft.
Anunoby was initially projected to go higher, but season-ending knee surgery in January caused his draft stock to fall. He was expected to miss the start of the season, but was ready for opening night, and has started 33 of the 45 games he's played in his rookie year.
"I ended up in a great situation here," Anunoby told VICE Sports. Casey has not been afraid to have Anunoby handle tough defensive assignments, including against some of the best players in the league: Giannis Antetokounmpo, LeBron James, and Kevin Durant.
"That's the only way the young guys learn," Casey said after a recent victory. "It's a growing situation for OG. There's going to be a lot of new situations he's going to be in. It's going to be good for him."
The Raptors have spent years trying to find a perimeter defender to be a 3-and-D compliment to Lowry and DeRozan. Anunoby still needs time to develop, but he has shown enough flashes for many to believe he will be the long-term answer.
"He's still learning and soaking it all in," Miles said. "He's been great at just listening, and that's hard when you're young, especially when you're playing well and you think you've got it figured out."
Anunoby grew up watching Ron Artest and Bruce Bowen, and also studies the defensive tendencies of Kawhi Leonard, Andre Roberson, Andre Iguodala, and Tony Allen. "The main thing is how hard they compete," Anunoby said. "If they're beat, they keep going. They'll keep pursuing, and they never think they're beat on any play."
Aunoby's reflexes are just as quick off the court as they are on the defensive end. When told that Siakam had said he should get rid of the short shorts he wears during games, Anunoby, a man of very few words, quickly retorted: "He should get rid of his big shorts."
The rookie might be too smart for his own good, though. Teammates are requiring him to wear a Disney backpack around as part of his initiation, but Anunoby has found a loophole, stuffing the backpack after each game into a larger-sized teal-colored Supreme duffle bag he's carried around all season.
"There's going to be a little payback for that," Powell said. "You can't just get away with that so easily." Powell still remembers his rookie season, when he would get phone calls in his hotel room from James Johnson past midnight on the road, demanding that he go out and buy him a phone charger.
While the Raptors' young group are having a great time rooting each other on, and serving as a great compliment to the starting unit, they also collectively believe the experiences they're having during the regular season will serve them well in the playoffs.
"That's what helped me," Powell said. "It helped me in the playoffs, to be prepared for when your name is called, to not think too much about the moment, and just focus on the job that needs to be done. It's going to help these guys too."
They're also delighting in the fact they're continuing to prove people wrong, and doing it together.
"A lot of people didn't expect our bench to be good because we had a lot of unknown players," Wright said. "We worked hard together all summer. It's really satisfying that we're playing really well and everybody is making a name for themselves."
VanVleet has begun to do so late in games—sinking more fourth quarter threes than any Raptor other than Lowry.
"I think I'm starting to earn that respect," VanVleet said. "They know this kid is going to compete, scratch, claw, and fight."
He could have been talking about the entire bench unit.