Photo of Hannah Beachler courtesy Emmanuel Bates Communications (L). Still from BLACK PANTHER © Marvel Studios 2018 (R)
In his 1925 poem "Heritage," the Harlem Renaissance poet Countee Cullen bemoans Christ's whiteness, admitting to "fashion[ing] dark gods, too," gods "crowned with dark rebellious hair." The intervening decades have made black Americans well-acquainted with black Jesus, black Santa, and all manner of dark gods from culture, and Marvel's Black Panther is the latest. But Cullen's poem is most famous for its refrain—"What is Africa to me?" a question that black people of the diaspora have been contending with for 400 years. Panther largely takes place in Wakanda, the hero's fictional African home and a world designed for the screen by production designer Hannah Beachler. To take Wakanda from comic book pages to cinemas, Beachler had to learn what Africa was to her, and what it might become to viewers worldwide.
"I think of myself as a story designer," said Beachler of her work. Production designers head films' art departments, working with directors to create the visual worlds. Beachler served as production designer for Panther director Ryan Coogler's prior films: 2013's Fruitvale Station and 2015's Creed. She also worked on Beyoncé's Lemonade and 2017 Oscars Best Picture winner Moonlight. Over the past five years, Beachler—the only black woman at the top of her field—has been the mind behind some of black America's most influential visuals. But Wakanda, an Afrofuturist Eden on a far-away continent, was an entirely new challenge.
"The question is, 'What is it to be African, and how as African Americans do we relate? How can we connect?'" asked Beachler. Africa has figured large in black American dreams of an existence truly and finally unencumbered by racism, and it's no coincidence that Hollywood's first major black superhero film isn't about an American at all: Even in the Marvel Universe, with its frozen supersoldiers and warlock mystics, a film about black Americans who'd never had to contend with racism would strain credulity.
When Coogler and Beachler visited the continent for their research, they found not the "shithole" of "Save the Children" commercials, but diverse black nations where tribal tradition and modernity are complementary rather than opposing forces. "I personally have felt that I have been lied to about what the continent actually is," she said, describing scenes of rural idyll and cosmopolitan modernity, including seeing Turkana women wearing traditional facial paint to their work on urban construction sites that would look at home in any Western city.
From their travels and research, they built an African utopia far removed from the usual Tokyo-New York architectural mashup that too often serves as a stand-in for urban futurism in film. A trip to Three Rondavels, a striking trio of South African mountaintops that resembles traditional circular dwellings called rondavels, emphasized local ties between nature and design, and became towering Wakandan skyscrapers topped with thatched rondavel roofs. Other regional and ethnic reference points abound in Panther, from the otjize that coats the hair of one elder in the style of Himba women of Namibia, to the Basotho blankets in which members of the film's Border Tribe wrap themselves, to the lip disc worn by another elder, borrowed from Ethiopian groups like the Mursi.
---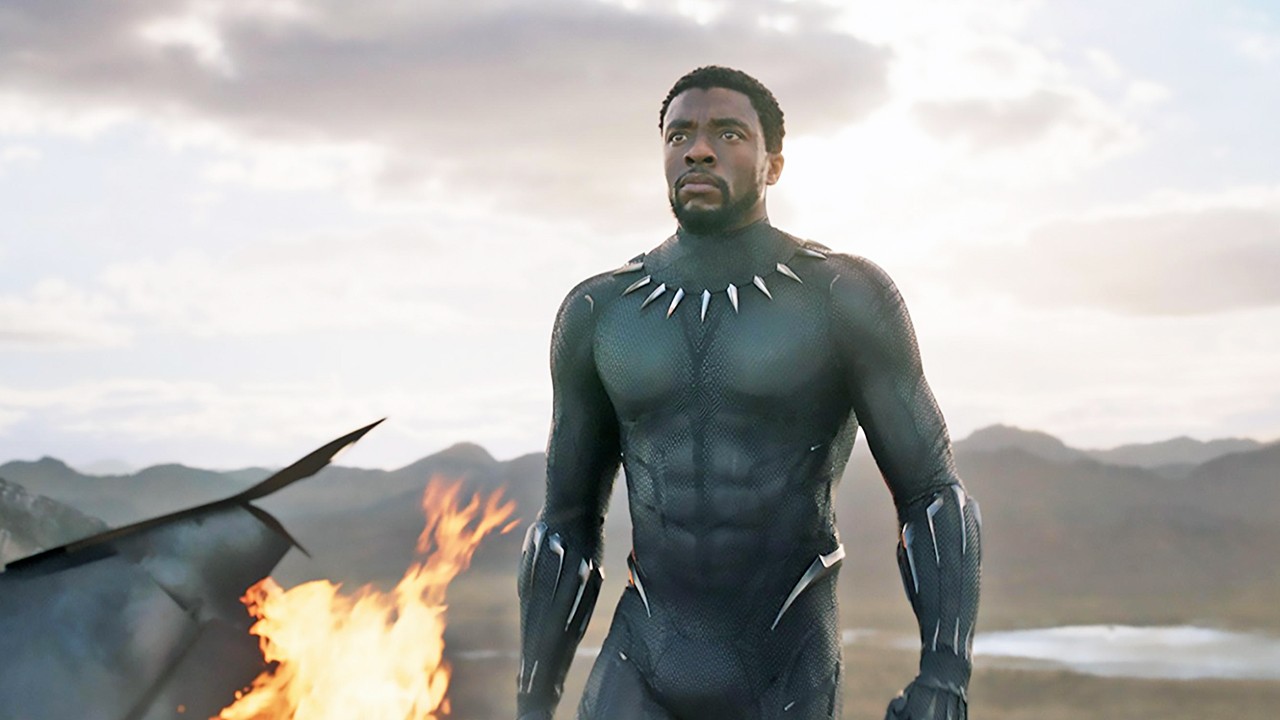 ---
For Beachler, it was important to treat her African inspirations with due reverence—"And by that I mean not just grabbing things that I thought were cool." Still, the cosmetic significance of otjize or the social currency embedded in lip discs will have little contextual meaning to most American audiences, aside from their beauty. While black America has a long history with our imagined Africas, access to real-life African people's opinions of our homeland fantasies are newer, along with terminology—like "cultural appropriation"—for describing them.
Black American perspectives on Africa can be "two-dimensional" and are "not without their problems," said Courtney Baker, a professor of African American studies at Occidental College.
One example of this is the allegation by British Liberian artist Lina Iris Viktor that the music video for "All the Stars" by Kendrick Lamar and SZA appropriated her work without permission. Beachler was not a part of that video's production.
When it comes to watching Black Panther, Dr. Baker said that people "will get more out of it by thinking about the project of Afrofuturism, which is about black possibility, black diversity, and black empowerment, and that has to do with a global condition of blackness."
And to a continent that has already been painted with a cruelly broad and inaccurate brush, one indifferent to specificity or nuance and entirely ignorant of cultural context, perhaps a broad positive stroke can form part of a more accurate counternarrative. Beachler hopes American children will look at the film and know that Africa is not the "dark continent."
For her, creating Wakanda was a deeply personal endeavor. "I was in South Africa…looking at the land and thinking, 'All of this has been stolen from my history,'" Beachler said. "I got really emotional, because I didn't think it would hit me in that way." It's this emotional link that prevents Wakanda from being the kente-draped Apple Store another designer might have rendered. Recent strides in on-camera diversity in Hollywood have yet to be matched behind the scenes, so while Panther's status as a blockbuster superhero film with a majority-black cast is astonishing enough, its behind-the-camera diversity is perhaps even more impressive. Though of course any director and production designer could travel to Africa and be awed by the continent, the emotional and historical resonance that Beachler brought to Panther's aesthetics is specifically black.
"I remember walking onto the set for the first time and looking around, and it was one of the most diverse crews I've ever seen in my career, just plain and simple," said Beachler. Panther's crew included Director of Photography Rachel Morrison, whose work on Mudbound has earned her the history-making distinction of being the first woman ever nominated for the Academy Award for Best Cinematography. "Let's just give it up for Ryan," Beachler said. "Almost all of his department heads were female, of different sexual orientations, religions, colors, and creeds." At this point in her career, Beachler can assemble her own similarly diverse teams, with her remarkable resumé as living proof of the value of varied visions behind the scenes. "I had to get myself through the door," she said, "And then I can, like, put a brick and keep it open for other people."
This story is a part of VICE's ongoing effort to highlight the contributions of black women around the globe who are making a difference. To read more stories about strong black women making history today, go
here.
Sign up for our newsletter to get the best of VICE delivered to your inbox daily.
Follow Gabrielle Bruney on Twitter.
Editor's Note: The text has been updated to make it clear that Hannah Beachler was not involved in the production of the "All the Stars" music video.