On the 14th floor of the Pacific Design Center's Red Building in Los Angeles, two men who had never met took a seat in two different rooms. Each picked up an iPhone, tapped a familiar icon and opened a Grindr profile—except the photo displayed was not his own. "That's me?" asked a surprised white man. "I have never been Asian before," he mused.
The blue-eyed, square-jawed white man—a 28-year-old identified only by his username, "Grindr Guy"—had traded accounts with a 30-year-old Asian man, known by the username "Procrasti-drama."
This scene opens the premiere episode of Grindr's What the Flip? The gay dating platform's first web series has users switch profiles to witness the oft-negative and discriminatory behavior many endure on the app. It appears on the web magazine INTO, which Grindr launched last August. It's part of an attempt to shake the company's reputation as a facilitator of casual hookups and reposition itself as a glossier gay lifestyle brand, a move that follows Grindr's recent acquisition by a Chinese gaming company.
In doing so, the most widely used gay dating app in the world is wrestling with its demons—namely, the sheer volume of intolerant content and behavior that's so rife on Grindr and apps like it.
This installment of What's the Flip? narrowed in on racism. At first, the white guy scrolled through his profile's messages and complained about its relatively empty inbox. Before long, racially charged comments began trickling in.
"Kinda a rice queen here," read one.
"That's weird," the white guy said as he composed a reply. He asks why they mentioned that particular slang term, one used to describe a non-Asian gay male who has a fetish for Asian men.
"They're usually good at bottoming … most Asians dudes are," the other user wrote in response, conjuring a derisive stereotype that deems receptive sex a form of submission and casts gay Asian men as submissive.
In recapping his experience, the white guy admitted to series host Billy Francesca that many men responded negatively to his assumed ethnicity. Frustrated, he had starting posing a screening question when chatting: "Are you into Asians?"
"It felt like I was working just to talk to people," he told Francesca—a sentiment many might share about their experience with Grindr and similar gay and queer dating apps, especially people of color, effeminate men, trans men and women, and people of various shapes and sizes.
"You can educate people all you want, but if you have a platform that permits people to be racist, sexist, or homophobic, they will be."
One need only to scroll through a few dozen profiles to understand what INTO describes as "a discrimination problem that has run rampant on gay dating apps for a while now." "No Asians," "no fems," "no fatties," "no blacks," "masc4masc"—prejudicial language can be seen in profiles on nearly all of them. It might be most prevalent on Grindr, a pioneer of mobile gay dating, which remains the largest player in the market and thus has an outsized influence on the industry it practically invented.
Peter Sloterdyk, Grindr's vice president of marketing, told me that he believes many users might not register that they are perpetrators of discriminatory behavior. "When you're able to see the real-life experience, like on What the Flip," he said, "it causes you to think a little bit differently."
It's fair, however, to wonder if merely prompting users to "think a little bit differently" is enough to stem the tide of discrimination—especially when a study conducted by the Center for Humane Technology found that Grindr topped a list of apps that left respondents feeling unhappy after use.
While Grindr recently introduced gender fields to promote inclusivity for trans and non-binary users and taken other small steps to make the app a friendlier place, they've mainly focused on creating and publishing educational content to address the thorny encounters so many cope with on the app. And in the past year, Grindr's competitors have enacted a markedly diverse range of measures to address concerns like sexual racism, homophobia, transphobia, body shaming, and sexism—actions that reveal a gay social network industry mired in divergent perspectives on the responsibility app creators have to the queer communities they foster.
On one hand are Grindr-inspired apps that use GPS to show nearby profiles in a thumbnail grid, such as Hornet, Jack'd, and SCRUFF. Like Grindr, many of these seem to have taken a more passive approach to in-app discrimination by, for example, underscoring their pre-existing community guidelines. Hornet has also used its digital content channel, Hornet Stories, to produce its own educational campaigns.
On the other hand are Tinder-like apps that show a continuous stack of profiles users can swipe left or right on. In this card-based category, apps like Tinder and relative newcomer Chappy have made design decisions like foregoing features such as ethnicity filters. Chappy has also made a plain-English non-discrimination pledge part of its signup process. (Jack'd and SCRUFF have a swipe feature, though it's a more recent addition to the people-nearby grid interface.)
How companies respond to discrimination on their apps is made especially crucial in our current era of political toxicity, in which issues such as racism may be worsening on their platforms.
"In the age of Trump, we're starting to see an uptick in discriminatory profiles and language used to communicate the kinds of people [some queer men on dating apps] do not want to see," said Jesus Smith, assistant professor of sociology in Lawrence University's race and ethnicity program, citing his own recent work researching gay dating apps as well as the broader rise of online hate speech and offline hate crimes.
The relative anonymity of gay dating apps gives Smith a less-filtered look at societal bias. For his graduate research, Smith explored homosexuality in the context of the US-Mexico border, interviewing men about sexual racism within the gay community. He analyzed hundreds of randomly selected Adam4Adam profiles, noting that discriminatory language in gay dating profiles seemed at the time to be trending toward more coded euphemisms. But now he sees a "political context that is shaking things up."
He suggests that this context gives license for men to express more overtly biased sentiments. He recalled, as one example, traveling to College Station, Texas, and encountering profiles that read, "If I'm not here on Grindr, then I'm helping Trump build a wall."
"This is the thing: These apps help engage the sort of behavior that becomes discriminatory," he told me, explaining how men use gay dating apps to "racially cleanse" their spaces. They do so through the content of their profiles and by using filters that allow them to segregate who they see. "You can educate people all you want, but if you have a platform that permits people to be racist, sexist, or homophobic, they will be," he said.
Of course, gay dating apps have come under fire many times in the past for allegedly tolerating various forms of discriminatory behavior. For years queer men have called them out using websites like sexualracismsux.com and douchebagsofgrindr.com. Loads of articles touch on how gay dating app users frequently disguise sexual racism and fetishism as seemingly benign "sexual preferences," a defense echoed in interviews with app leaders like Grindr's recently resigned CEO Joel Simkhai and SCRUFF's co-founder Eric Silverberg.
The specific traits people—both queer identified and not—desire in their partners is a complex issue, one surely influenced by conventional notions of beauty as well as highly contextual personal bias. Dating technology—starting with websites in the 90s and mobile apps in the 00s—did not create such bias, thought its mass adoption has made it increasingly visible. And we're beginning to see how online dating affects such user behavior more broadly.
A new study, "The Strength of Absent Ties: Social Integration via Online Dating" by Josue Ortega and Philipp Hergovichis, is the first to suggest that such technology has not only disrupted how couples meet, but it is also transforming the very nature of society. MIT Technology Review summarized the research, noting that online dating is "the main driver" in the rise of interracial marriages in the United States over the past two decades. Online dating is also the number one way same-sex couples meet. For heterosexuals, it's the second. Might that give dating apps themselves the power to change a culture of discrimination?
Till now, much of the reporting about discrimination on dating apps has honed in on whether user "preferences" around race, body type, masculinity, and other factors amount to discrimination. But as research shows that dating apps can have measurable effects on society at large, an equally important but far-less-discussed issue is that of responsibility—what different design and other choices they could make, and how precisely they should respond to speech on their platforms that many classify as racism, sexism, weightism, and other discriminatory "-isms."
In one view, this is a question of free speech, one with pronounced resonance in the wake of the 2016 US election as tech giants like Facebook and Google also grapple with their power to regulate all manner of content online. And while a covertly racist comment appearing in a dating bio is not the same as white supremacists using platforms like Facebook as organizing tools, similar issues of free speech arise in these dissimilar scenarios—whether it's Tinder banning one user for sending racially abusive messages or Twitter's revised policy that prohibits users from affiliating with known hate groups. Through this lens, apps like Grindr—which some say fail to adequately address the concerns of its marginalized users—appear to fall on the "laissez faire" end of the spectrum.
"It is of such paramount importance that the creators of these apps take things seriously and not fubb you off with, 'oh yeah, we think it's a wider problem.' It is a wider problem because of apps like Grindr—they perpetuate the problem."
"We really rely heavily on our user base to be active with us and to join the movement to create a more equal sense of belonging on the app," said Sloterdyk. In opaque terms, that means Grindr expects a high level of self-moderation from its community. According to Sloterdyk, Grindr employs a team of 100-plus full-time moderators that he said has no tolerance for offensive content. But when asked to define whether widely bemoaned phrases such as "no blacks" or "no Asians" would result in a profile ban, he said that it all depends on the context.
"What we've found recently is that a lot of people are using the more common phrases—and I loathe to say these things out loud, but things like 'no fems, no fats, no Asians'—to call out that 'I don't believe in X,'" he said. "We don't want to have a blanket block on those terms because oftentimes people are using those phrases to advocate against those preferences or that kind of language."
SCRUFF operates on a similar principle of user-based moderation, CEO Silverberg told me, explaining that profiles which receive "multiple flags from the community" may get warnings or requests to "remove or modify content." "Unlike other apps," he said, "we enforce our profile and community guidelines vigorously."
Nearly every app asks users to report profiles that transgress its terms and conditions, though some are far more specific in defining the kinds of language it will not tolerate. Hornet's user guidelines, for example, state that "racial remarks"—such negative comments as "no Asians" or "no blacks"—are barred from profiles. Their president, Sean Howell, has previously said that they "somewhat limit freedom of speech" to do so. Such policies, however, still require users to moderate each other and report such transgressions.
But dwelling solely on issues of speech regulation skirts the impact intentional design choices have on the way we behave on various platforms. In September, Hornet Stories published an essay, penned by an interaction-design researcher, that outlines design steps that app developers could take—such as using artificial intelligence to flag racist language or requiring users sign a "decency pledge"—to create a more equitable experience on their platforms. Some have already taken these steps.
"When you have an app [Grindr] that actually limits how many people you can block unless you pay for it, that is fundamentally broken," said Jack Rogers, co-founder of UK-based startup Chappy, which debuted in 2016 with financial backing from the dating app Bumble. Rogers told me his team was inspired to launch a Tinder-esque service for gay men that "you wouldn't have to hide on the subway."
They've done so by making design choices that Rogers said seek to avoid "daily dosage of self-loathing and rejection that you get" on other apps: Users must register with their Facebook account rather than merely an email address. The sense of anonymity "really brings out the worst in almost every individual" on Grindr, Rogers said. (He also acknowledged that "Grindr needed to be anonymous back in the day" so that users could sign on without outing themselves.) Additionally, photos and profile content on Chappy goes through a vetting process that requires everyone show their faces. And since December, each user must sign the "Chappy Pledge," a nondiscrimination agreement that draws attention to rules which often get hidden in an app's service terms.
Rogers said he does not believe any one of these steps will solve issues as ingrained as racism, but he hopes Chappy can prod other apps to recognize their "enormous responsibility."
"It is of such paramount importance that the creators of these apps take things seriously and not fubb you off with, 'oh yeah, we think it's a wider problem,'" said Rogers. "It is a wider problem because of apps like Grindr—they perpetuate the problem."
While it's unlikely that any individual design decision would fix these wider problems, one common feature present in most apps has become a point of contention—search filters that allow users to sort by ethnicity, body type and so on. Apps such as Chappy, Bumble, and Tinder do not let users filter potential matches by the color of their skin. But Grindr, SCRUFF, Jack'd, Hornet, OKCupid, and many others do.
A spokesperson for OKCupid—known for transparency in sharing data, such as its 2014 report about racial bias—told me that "the percentage of members who filter or search for people by a specific race or ethnicity is down" to less than 10 percent. Other apps mentioned in this piece did not immediately respond to requests for the percentage of their users who filter by ethnicity.
But why have the feature at all?
It's a question that seems to choke spokespeople up. SCRUFF declined to comment on their search filters. Jack'd and OKCupid did not immediately respond to requests for comment. And Grindr did not articulate a direct answer. "I think we as an industry and as a collaborative community have a lot of hard thinking to do around those kinds of opportunities to filter," Sloterdyk told me.
However, the president of Hornet wrote in an email that their ethnicity filters were, in fact, "designed with men of color in mind," who Howell said make up more than 50 percent of its worldwide users. "We came to learn that men of color find the filters helpful in easily locating other men of color in their region," he said. "This can help foster a stronger sense of community, and it often allows them to avoid some of the common issues around race that come up when they aren't engaging with other men of color."
---
Watch Peter Staley discuss his work with ACT UP in the fight against AIDS: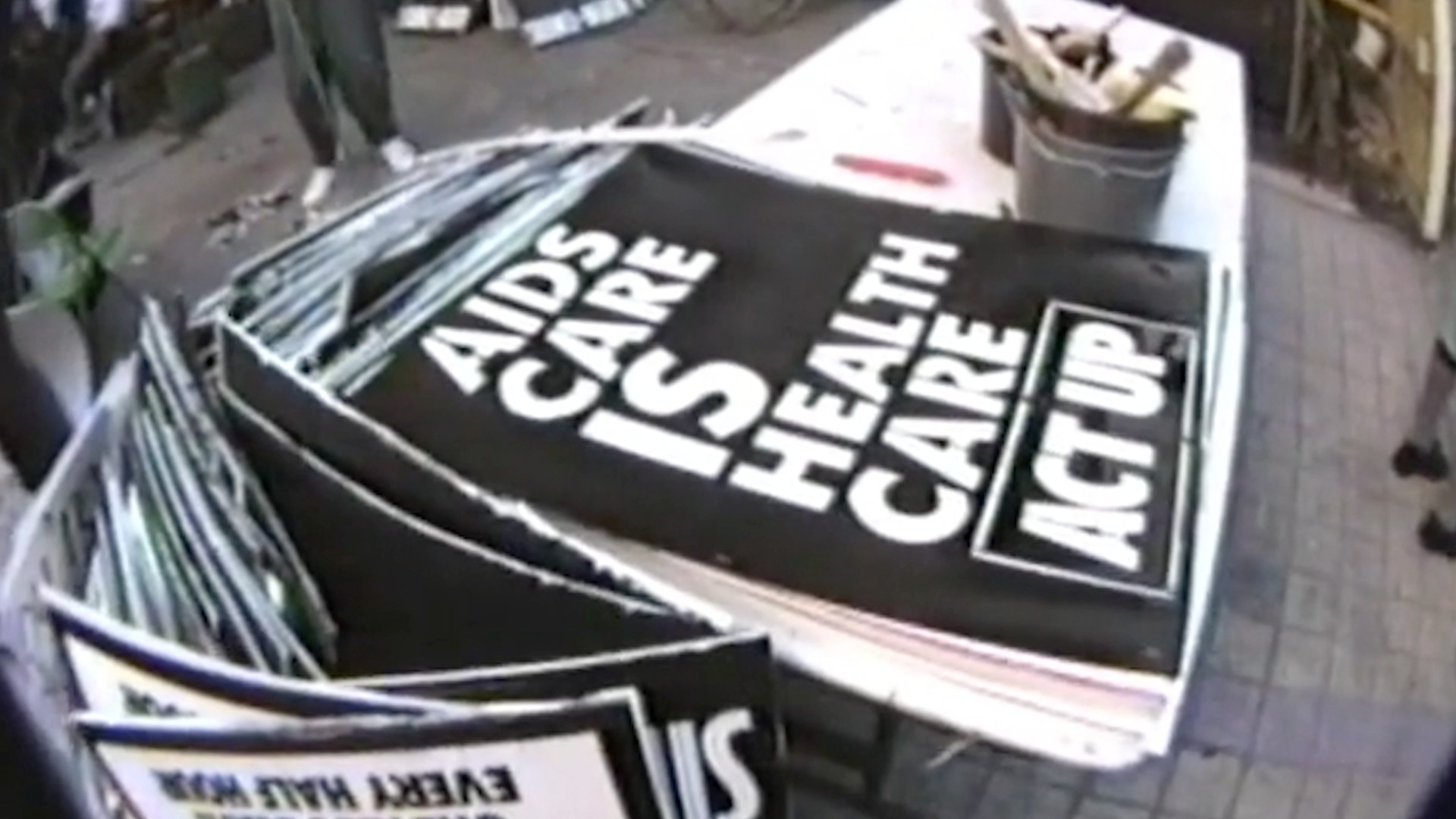 ---
There's a similar logic behind the dating app Color. While not an exclusively queer platform, it aims to improve engagement for people of color on dating sites by prioritizing racial preferences.
Smith, the Lawrence University sociologist, acknowledged that there is some validity to this perspective. "It's the reasons behind our preferences that's the point here," he said. But when it comes down to what gay-focused apps should do, he said: "I think, structurally, when you create a space that allows for discriminatory behavior, that's totally unnecessary and only fosters uglier environments."
Many have made the case against filters and other such segregating features, such as Dartmouth College professor Sonu Bedi, who has framed equal access to the intimate sphere as a "matter of justice."
But for most of the major gay apps, eliminating filters entirely could actually cut into a revenue stream. On Grindr and SCRUFF, ethnicity and other filters (including height and weight) are premium features reserved for paying subscribers. Other apps—including Jack'd, Hornet, and OKCupid—may not charge for ethnicity filters, but do have other premium search capabilities that users can unlock for a fee. And therein lies a design conundrum: Swipe-based apps like Tinder offer basic filters (such as for age and proximity), but filters are less essential to the user experience as they are on apps that have a scrolling-grid interface. Because Grindr and similar grid-based apps limit the number of profiles that any one user can see in their immediate radius, it thereby necessitates the need for filters to see more matches. In a way, this "freemium" experience is intentionally flawed, since apps profit off of providing extra filters to paying subscribers.
From that standpoint, sassy videos with a body-positive or anti-racism slant seem less like a bandaid and more like a PR ploy.
After watching What the Flip?, Smith concluded that a web series is not at all a suitable substitute for removing the "structural obstacles that keep us from integrating and keep us from engaging" as a community.
"I saw that video on Grindr, and I thought, you could just listen to people of color, you could just listen to fem men, you could just listen to fat men," said Smith, echoing those calling not only for educational resources, but for structural design changes to the user experience. "But sure," he added, "why not just let people keep going through it."
Sign up for our newsletter to get the best of VICE delivered to your inbox daily.
Follow Jon Shadel on Twitter.