Over 200 protesters met outside the Channel 7 building in Martin Place this morning to shame racist comments voiced on the show earlier this week.
The protest came in response to a "Hot Topic" segment hosted by Samantha Armytage on Tuesday discussing whether "at-risk" Aboriginal children should be adopted by white families.
Former journalist and guest, Prue MacSween, argued that "just like the first Stolen Generation where a lot of children were taken because it was for their well-being, we need to do it again". The panel failed to include any Indigenous speakers.
"To make such generalised statements creates further divide between Black and White Australians and we're still trying to cope with forming some kind of reconciliation as a country," protest organiser Lynda-June Coe told VICE.
"So to use race relations to build up controversy for poor journalism and poor ratings; it's really, really below the belt".
The protest began at 7AM and was organised by Fighting In Solidarity Towards Treaties (FISTT). Over its two-hour duration, Dylan Voller, members of the Stolen Generation, and a mother who had her children wrongly taken away spoke to the crowds.
"We yelled a lot and banged on the glass windows. The presenters inside looked visibly uncomfortable," said Harriet Cronley, who attended the protest.
Footage via Harriet Cronley.
"I'm sure they could hear us, but we weren't certain [whether] the mics would pick us up," Cronley said.
Initially the demonstrators were audible on the live broadcast, however as the volume increased, soundproof blinds were brought down. Producers then placed old footage of Martin Place as a backdrop behind the host Samantha Armytage and Natalie Barr.
"Sunrise once again showed their arrogance in that they didn't even recognise we were outside voicing our opinions in [large] numbers and just went on about their show like once again, we didn't exist," said Coe.
"If Samantha Armytage in person would have come out and said 'I'm really sorry that this has created such a stir,' it would have ended up a totally different outcome for the day," she said.
Armytage later demanded a story posted by the Courier Mail be taken down on Twitter. In a now deleted post, the Sunrise co-host said it was "defamatory" to say the protest was sparked by her comments, and pinned the blame back on Prue MacSween.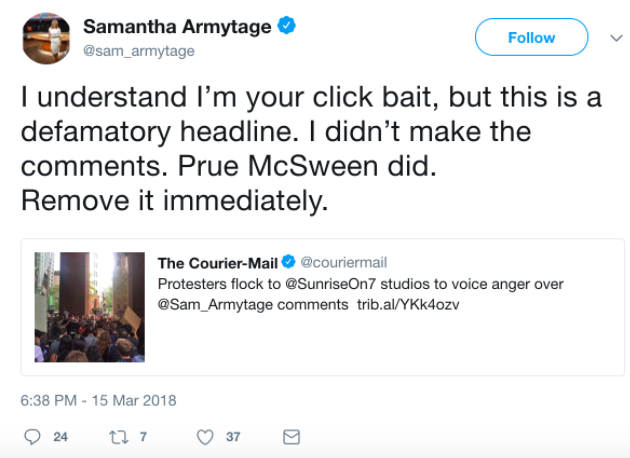 Seven Network have not publicly commented on the matter.
Follow Millie on Twitter.