As you may have seen recently, Joe Scarborough, the MSNBC TV man who hosts the show Morning Joe, has been promoting his rock band's new EP recently called Mystified. Since he is most certainly reading any and all coverage about his music, I'd like to address him directly…
Joe, hello!
Sorry to hear that you and your buddy Donald Trump had a public falling out. Billionaires, am I right? And congrats on your recent abandoning of the Republican party! I mean, sure, the GOP has been consistently trying to strip away people's healthcare, suppress minority rights, and financially assfuck the lower class for decades so I'm not sure why it took the least subtle messenger of this platform personally attacking you and your fiancé to finally come around, but hey, welcome to #theresistance!
But I'm not writing this to talk politics, Joe. You see, I am not an important TV talking head like yourself. I am but a lowly music writer, and lack the intellectual depth required to discuss the day's news in soundbiteable segments with fellow besuited mug-sippers. But I did catch your musical performance on The Late Show this week and, seeing as how you're stepping into the music world, I feel compelled to offer you some unsolicited advice as it pertains to your musical endeavors. And here it is.
You need to stop.
I know, I know. You think you're just harmlessly jamming in the mancave of your suburban weekend home, writing rock 'n' roll jams about fighting the establishment. But I have some news that may shock you, Joe. Don't wrinkle your pleated khakis but you might want to sit down for this …You are the establishment.
You've been a Republican Congressman, a Trump crony, and a political commentator. You're one Goldman Sachs job away from a blowhard grand slam. You are not built for rock, Joe. You're just playing dress-up, and you're not even dressing up properly because you're performing in suits. People in suits shouldn't be playing rock. Rock was meant to protest people in suits.
Here is the actual photo on your Wikipedia page: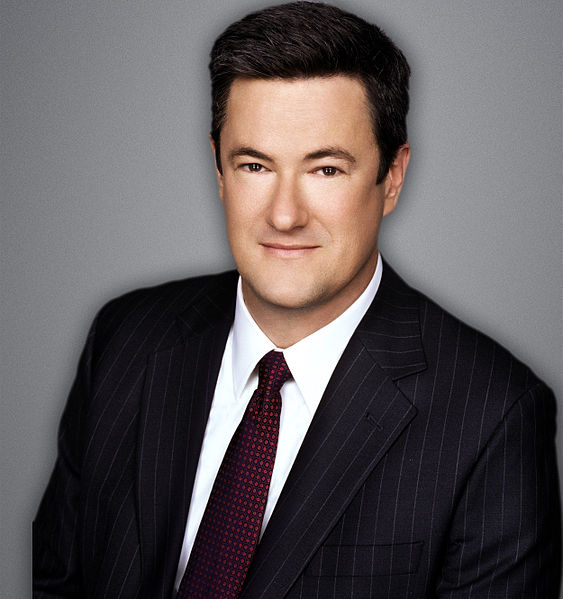 You don't look like a rockstar. You look like a tax attorney in The Sims. You look like the host of a game show about Photoshop. You look like a model for a product that men are embarrassed to ask for at the drugstore. You look like a guy in our office named Tyler.
Let's take a look at your Late Show performance…
Did you notice how, when Stephen Colbert introduced you by saying, "Now on the stage that hosted Elvis Presley and the Beatles…," the audience laughed? It's because your rock career is a punchline—the joke being that you are literally the antithesis of the Beatles. You are the polar opposite of rock 'n' roll. You are The Man incarnate.
You need to take a lesson from this guy behind you. Cowboy hat. Goatee. Canadian tuxedo. Sunglasses inside. This guy fucks.
You know what the worst part is, Joe? Some eager young band likely got turned down for this show to make room for your dad-rock outfit because you and a CBS exec probably share the same au pair in Connecticut and he pressured the poor Late Show booker into letting you do your fantasy rock camp thing on national television.
And why are you dressed like Dilbert? Did MSNBC order you an Uber Black straight from the studio and you didn't have time to change? You look like if Men's Warehouse put together an Elvis Costello cover band. You look like one of those guys who owns a Harley Davidson but gets it shipped to the big motorcycle show. You look like the guy who walks into Guitar Center and plays "All Along the Watchtower" but fucks it up.
I did some research on your album and found this headline in the Washington Post: "Joe Scarborough released an EP, and critics say it isn't awful." So, the assumption here is that the mere revelation that you released music would cause the Post's readers to conclude that it sucks, and that it's newsworthy that some critics have surprisingly said otherwise. First off, burn. But secondly, let's take a look at who these "critics" are. The article lists two reviews, one in Variety and one in The Cut, which called your EP's five songs are "pretty okay." Wow, maybe next you'll nab Pitchfork's coveted title, Most Okay New Music.
This article then led me to an interview with you in Vanity Fair that said you "will release 200 songs over the course of four years—about four songs each month." 200 songs?! Who are you, Migos? Why would anyone want that many songs from the guy who they already see on TV for 15 hours a week? And at that pace, how can you possibly continue producing high-caliber album artwork like this: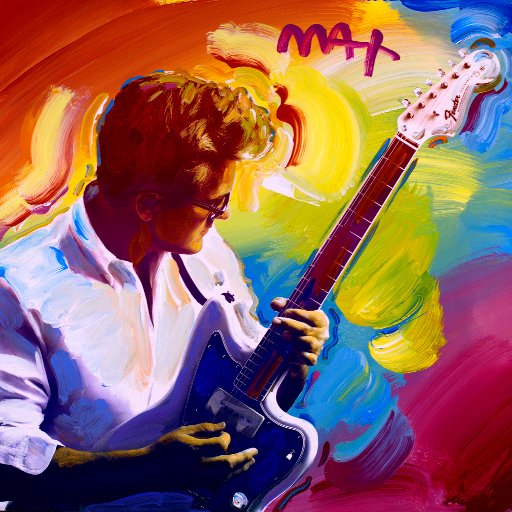 This looks like something that would hang in a rec room at a Days Inn in Parsippany, New Jersey. This looks like a Father's Day card that says "To a cool dad…"
Joe, listen, you've got to stop weekend warrioring this rock dream. Let it die and go back to your extremely lucrative TV hosting day job. Hang up the Fender that you assuredly purchased at some charity auction because it once belonged to Bruce Springsteen and walk away. Stop nursing this mid-life crisis project, buy a Porsche, and get the fuck off the stage.