Image via the British Irish Lions Instagram
A sweaty Saturday morning in Memphis, Tennessee is many things to many people.
For some, it is the sound and shapes under the neons of Beale Street, tourists all bourboned and blundered against the melody of yet another BB King cover.
To others, it's a silent Graceland—that overpriced rock-and-roll tomb—or the Lorraine Motel sign rising solemnly above the balcony where Dr Martin Luther King was shot nearly 50 years before.
For me, however, last Saturday morning meant rolling out of bed at 2.30am, and tuning into the third test between the All Blacks and Lions.
It was probably the first full All Blacks test I've seen for nearly two years, a strange truth for a journalist who predominantly writes about Kiwi sport. Half through travel and half through apathy, test-match kickoff in New Zealand has not seemed to line up for me since the Rugby World Cup final in 2015.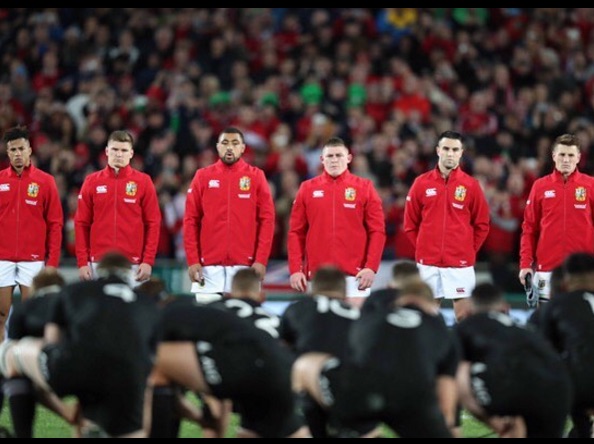 It didn't last weekend either—and yet I made the exception. A third-test decider against the Lions was something that hadn't happened since 1993, after all.
Back then, as a nine-year-old from Taupo who worshipped the ABs, I watched on as New Zealand won 30-13 at Eden Park. Nostalgia does funny things to us all, and for a couple of hours last weekend, a third test against the Lions relit that long-dormant rugby flame.
It was worth getting up for, too. A classic test that was the likely equal of any the ABs and Lions had played in the past. It ebbed and flowed, with a continual tension that never found release.
Even in the final moments, when the now-maligned Romain Poite penalty U-turn occurred, nothing stirred in me other than hey, good game. My head hit the pillow again and didn't really think about it again until the next afternoon.
I thought what a shame it was we didn't lose the series.
When I did, having read a scree of stories blaming the referee for the draw, I thought what a shame it was we didn't lose the series. Even better—imagine if we'd lost it three-zip?
They say being abroad helps you understand your own culture a little better. After spending a large amount of the past three years abroad, I'd agree. Our national obsession with rugby—and the perceived mythology around it—is the oddest Kiwi quirk to me.
Speaking to Newstalk ZB a couple of weeks ago, controversial British rugby scribe Stephen Jones described the obsession as "ridiculous" and said that New Zealanders are far too sensitive about rugby.
"They're almost as good at not getting irony as they are at rugby," he said. "It's rugby that defines you and I think that's a really bad thing. There's a million other things to life than rugby, but in New Zealand, the obsession is ridiculous."
Jones is right, but he's wrong too. Those that care do care far too much. The hateful bile on the infamous "Veitchy on Sport" Facebook page, or in the comments section of any Stuff rugby story, bears that out.
But Jones misses an undeniable fact: for rugby in New Zealand, the tide is on the way out.
After the game went professional in 1996, New Zealand's appetite for sports and entertainment changed also. Two national TV channels had recently become three, and cable television soon offered more and more entertainment options for Kiwis.
Change always takes a generation to take hold. And it has, now. Twenty years after rugby went pro, mixed martial arts, eSports, and American basketball are getting Kiwi kids fired up just as much as the old sporting pillars.
As sportswriter Dylan Cleaver pointed out in a NZ Herald column last week, "it's no longer a sign of disloyalty not to worship at the altar of rugby".
While Lions hype has been overwhelming over the past few months, Kiwi rugby headed into 2017 with an undeniable black eye.
A scandal involving the Chiefs' appalling treatment of a stripper at their post-season party (and the resulting NZRU investigation that seemed to blame the victim), the Losi Filipo debacle, and Aaron Smith's sex romp in a Christchurch airport toilet reinforced what I had long suspected about rugby after seeing the way the first XV guys strutted around high school, and university.
The history of the game—and its booze-soaked role in Kiwi culture—helped form a protective barrier against accountability for its wider social ills.
That, in New Zealand, rugby was a sport grounded in hardman misogyny and entitlement. That the history of the game—and its booze-soaked role in Kiwi culture—helped form a protective barrier against accountability for its wider social ills. That the black jumper was really just a big black cape that hid and protected much more that needed fixing, supported by a Prime Minister who just liked hanging out in the dressing sheds after a test match.
I'll admit it: the older I get, the more I want to see rugby pay a price for the undeniable negatives I perceive. Nostalgia and childhood love for a sport, be damned.
Lately the sport seems to be attempting to address its wider cultural issues, from including a woman (ex-Black Ferns skipper Farah Palmer) on NZ Rugby's board for the first time ever to a thoughtful response to Sonny Bill Williams' decision to tape out a bank logo due to a religious objection.
The All Blacks could lose a half-a-dozen games straight, and people would still revere them. Maybe then though, at least, those of us who care too much about rugby could take a little pressure off ourselves, and reinvest it elsewhere.
Perhaps notice that, hey, the Winter Olympics are rolling around next year and we've got a couple legitimate medal chances in speed-skater Peter Michael and snowboarder Christy Prior. Or that evergreen Kiwi Mark Hunt is arguably the greatest cult hero mixed martial arts has ever seen.
A draw doesn't apply a thumb to the scales of change quite the same way a loss might have. New Zealand is changing though—and more Kiwis saw last Saturday night as an enormous bit of fun rather than life and death at Eden Park.
Maybe I should put it this way: Memphis sure didn't give a shit.
Follow Ben on Twitter.