Photo by Jerome Miron-USA TODAY Sports
It's only been five months since it was signed and it doesn't take effect until July 1, but the new collective bargaining agreement between the NBA and the National Basketball Players Association has already had a dramatic effect on the league.
For instance, the new Designated Veteran contract, which allows players who have between seven and nine years of service time in the league to sign a contract with a starting salary equal to 35 percent of the salary cap—but only if those players hit certain criteria—has created issues for several teams. Faced with the prospect of having to hand DeMarcus Cousins a five-year extension worth over $200 million, the Sacramento Kings instead elected to trade him to the New Orleans Pelicans earlier in year. Two years ahead of Jimmy Butler's free agency, the Chicago Bulls decided that paying him a super-max contract and being a fringe playoff contender was a worse option than trading him for Zach LaVine, Kris Dunn, and the right to move up nine picks in the draft.
Elsewhere, the Indiana Pacers and the Utah Jazz wound up in a bind because the stars to whom they would have been entirely willing to give the Designated Veteran Extension did not meet the necessary criteria. Paul George didn't make any of the All-NBA Teams this year, and so he won't find out if he's Designated Veteran–eligible until next May. By then, he'd be a month away from free agency. Given the uncertainty surrounding the situation, George decided to simply inform the Pacers that he doesn't plan to return, and instead wants to go to the Lakers. (Some other team may still trade for him anyway. The Celtics and Rockets are rumored to be the leading candidates to do so.) If he's not going to get the super-max, he might as well go somewhere he wants to be, where he can make more off-court money, and where, depending on other developments, he might have a better chance to win.
Gordon Hayward didn't make an All-NBA Team, either, which means the Jazz are limited to offering him a starting salary equal to 30 percent of the cap—exactly what Boston, Miami, and other suitors can offer. Utah can try to trump outside offers with a fifth year, but new teams will likely float the idea of a three-plus-one contract and the ability to hit free agency again, at 30 years old, with ten years of service time. Hayward could then re-sign for up to five years at the 35 percent rate. That type of sequencing eats into the difference between what he can make by staying and what he can make by leaving.
It's not just the Designated Veteran–type of max deal that has caused change around the league, either. The players association's push to change the Over-36 Rule to the Over-38 Rule ended with the Clippers losing Chris Paul. That change made Paul eligible for a five-year, $201 million contract this off-season if he hit free agency, rather than a maximum of four years and $156 million that he would have been eligible for under the old CBA.
According to TNT's David Aldridge, the Clippers were unwilling to pony up for that fifth year, and instead agreed to send Paul to the Rockets after he opted into the final year of his current contract, thus allowing him to get the $200-plus million deal from Houston next summer. Ramona Shelburne confirmed the same concern.
The Clippers' unwillingness to completely max out one of the NBA's ten best players because of his age and how quickly his salary would escalate during the course of the contract highlights another new development this free agency period, and one that has been relatively under-discussed: now that the windfall of cash from the league's "new" television-rights deal has been completely phased in, for the first time in a while the salary cap is set to climb at a slower rate than contracts with maximum raises, at least for the next couple years for which we have recent cap projections. That means max deals could quickly become more trouble than they're worth, especially when attached to aging players.
This wasn't an issue even two or three years ago when the TV money all coming into the league over the course of two seasons made those old-CBA contracts look puny. Klay Thompson signed the equivalent of a max contract with a starting salary equal to roughly 25 percent of the cap when he was a free agent, and he'll be making 18 and 19 percent of the cap during the final two years of his deal. Even Carmelo Anthony, who signed for just shy of his maximum but with a starting salary at 35 percent of the cap at the time of his deal, will make 26 percent of the cap this year. Now that everyone's graduating to new deals, those days are over.
Consider the Paul situation: a maximum contract for a player with ten-plus years of experience like CP3 comes with a starting salary equal to 35 percent of the cap. With the most recent cap projection for the 2017-18 season coming in at $99 million, that means a max contract has a starting salary of $34,650,000. Given the full 8 percent raises, the structure of a five-year, $201 million deal for Paul would have looked like this:
• Year 1 (2017-18): $34,650,000
• Year 2 (2018-19): $37,422,000
• Year 3 (2019-20): $40,194,000
• Year 4 (2020-21): $42,966,000
• Year 5 (2021-22): $45,738,000
Back when the 2017-18 cap was expected to come in at $101 million, USA Today's Jeff Zilgitt reported that the league projected only a $1 million increase in the cap for the following season. Assuming an equivalent increase of only 1 percent, we can now expect the 2018-19 cap to come in at or around $100 million. Already, Paul's deal would be rising at a rate far faster than the cap.
By Year 2, his contract would account for in excess of a 37 percent share. Barring a major jump sometime between 2019 and 2022, teams would be looking at paying over 40 percent of the cap to one player by Year 4 or 5 of this type of contract. Even the most optimistic projection I've seen would have this Year 5 salary totaling 39 percent of the cap (and considering the revenue shortfall this year, that projection is likely to be off by several million dollars). It's not surprising that the Clippers didn't want to do that with what would then be the 37-year-old version of Chris Paul.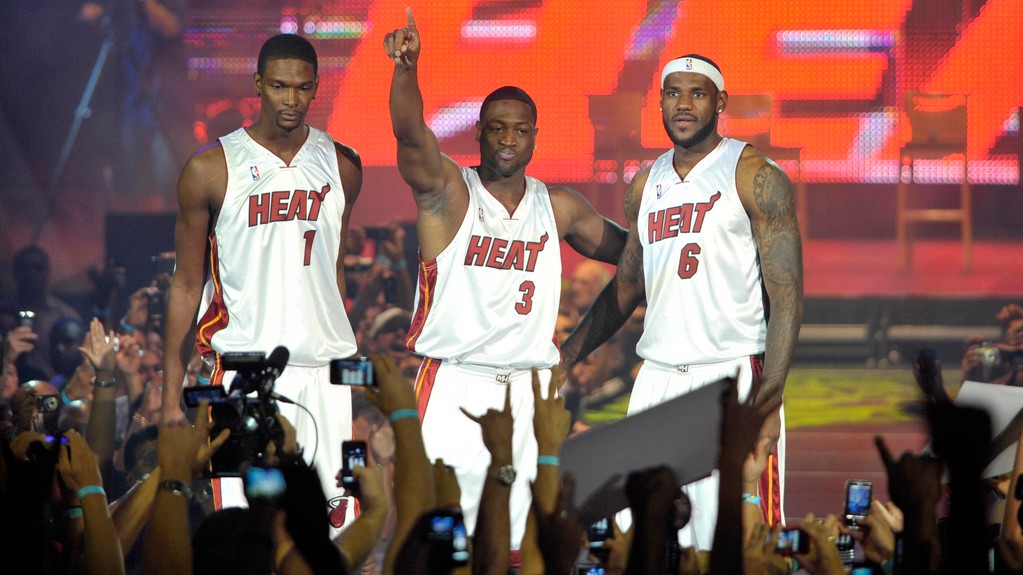 Other older players may find themselves in a similar situation. The Hawks are not going to contend for anything serious anytime soon. Do they really want to give this kind of deal to Paul Millsap, who is now 32 years old? Much of Millsap's value is generated through his uncommon mobility on both ends of the floor. He may maintain that trait for the next couple years, but the latter portion of the deal will not be pretty.
Even a "road" team might regret maxing Millsap out. Contracts from non-incumbent teams only carry 5 percent raises, but that's still larger than the rate at which the cap is generally expected to rise. A four-year, $149 million contract for Millsap could yield surplus value to the team in Year 1 and maybe Year 2, but the second half of the deal seems more likely to be an anvil. (The exception would be if he gets a max deal from a team like the Nuggets, who have so much cap space that they can afford to overpay him for a while before they have to give raises to their young core.)
There could even be similar risk attached to younger players that are nevertheless injury-prone, like Blake Griffin. Blake's expected max contract will cover his age-28-to-32 seasons (or 28-to-31, if he signs with a team that isn't the Clippers), which is just fine, but he's also coming off two injury-marred campaigns where he played just 96 regular season games and suffered a season-ending injury during the playoffs both times. His play when he's on the court should be well worth it, but attaching yourself to a player who is often injured, when you could very well be paying them 40 percent of the cap into their 30s is a dangerous proposition.
Teams have surely accounted for these challenges when setting their respective off-season agendas, but agents will just as surely push for their clients to get fully maxed out no matter what. That's their job, after all. The push and pull between the two competing interests will be fascinating to watch, and it will be just as fascinating to see how the rule changes affect the actions of teams beyond this summer's free-agency period.