Until recently, Melissa Williams was perpetually in pain. The 45-year-old Kentuckian survived a shotgun blast to the back when she was 12, and the injury has nagged her ever since. Unable to afford insurance as an adult, she began to self-medicate with painkillers and other opioids, developing an addiction that ultimately landed her in jail.
Getting locked up could have easily triggered a downward spiral for Williams, leaving the mother of five and grandmother of two unemployed, uninsured, and almost certain to relapse. But she obtained health coverage through Kentucky's expansion of Medicaid under the Affordable Care Act, which allowed her to see a doctor. The physician diagnosed her with rheumatoid arthritis, PTSD, and high blood pressure, and referred her to pain management to treat her back pain and migraines.
"I was buying stuff off the streets to help control my pain and things until I got the insurance," Williams said recently from a halfway house in Louisville. "I think if I'd been able to afford insurance all along maybe it wouldn't have gone that far."
Williams is one of about 450,000 Kentucky residents who have enrolled in Medicaid since 2014, when Democratic Gov. Steve Beshear opted the state into Obamacare's federally funded expansion of the health program for the poor. The move helped drop Kentucky's uninsured rate from 20 percent to 7.5 percent.
The Obama administration touts Kentucky as an Affordable Care Act success story, but the state's new governor, Republican Matt Bevin, says the Medicaid program is too expensive. GOP leaders in Washington have also made gutting Obamacare their first order of business in 2017, promising to replace the law — but offering few details about their plan, causing concern that people like Williams will again be left uninsured.
'We can't not afford to have this — we just can't.'
Advocates have repeatedly warned that repealing Obamacare without replacing it will have dire public health consequences, but the potential impact of such a move on the criminal justice system has largely been overlooked. Researchers estimate that 70 percent to 90 percent of the approximately 10 million individuals released from U.S. prisons and jails each year are uninsured, and about 40 percent of incarcerated people have at least one chronic health condition, such as diabetes or hypertension.
"Health is a huge issue that puts people in jail and prison," said Adeline Nyamathi, a distinguished professor at the UCLA School of Nursing who recently led a study of 600 California parolees that found providing health counseling and basic services reduced the recidivism rate by 12 percent. "Health is one of the things that helps to stabilize [former inmates] and get them thinking about their long-term future."
In Louisville, authorities have helped jail inmates get health insurance prior to their release. Since 2014, 1,870 ex-prisoners in the city have been enrolled in health coverage, with about 95 percent of them covered by Kentucky's expansion of Medicaid under Obamacare.
"If you don't feel good and you're not capable of going to work, not capable of taking care of yourself, and you still have to survive, then you're gonna get involved in behavior that's not helpful," said Steve Durham, assistant director of the Louisville Metro Department of Corrections. "You're gonna steal from people. You're gonna use drugs to mask your symptoms. You're gonna end up being arrested."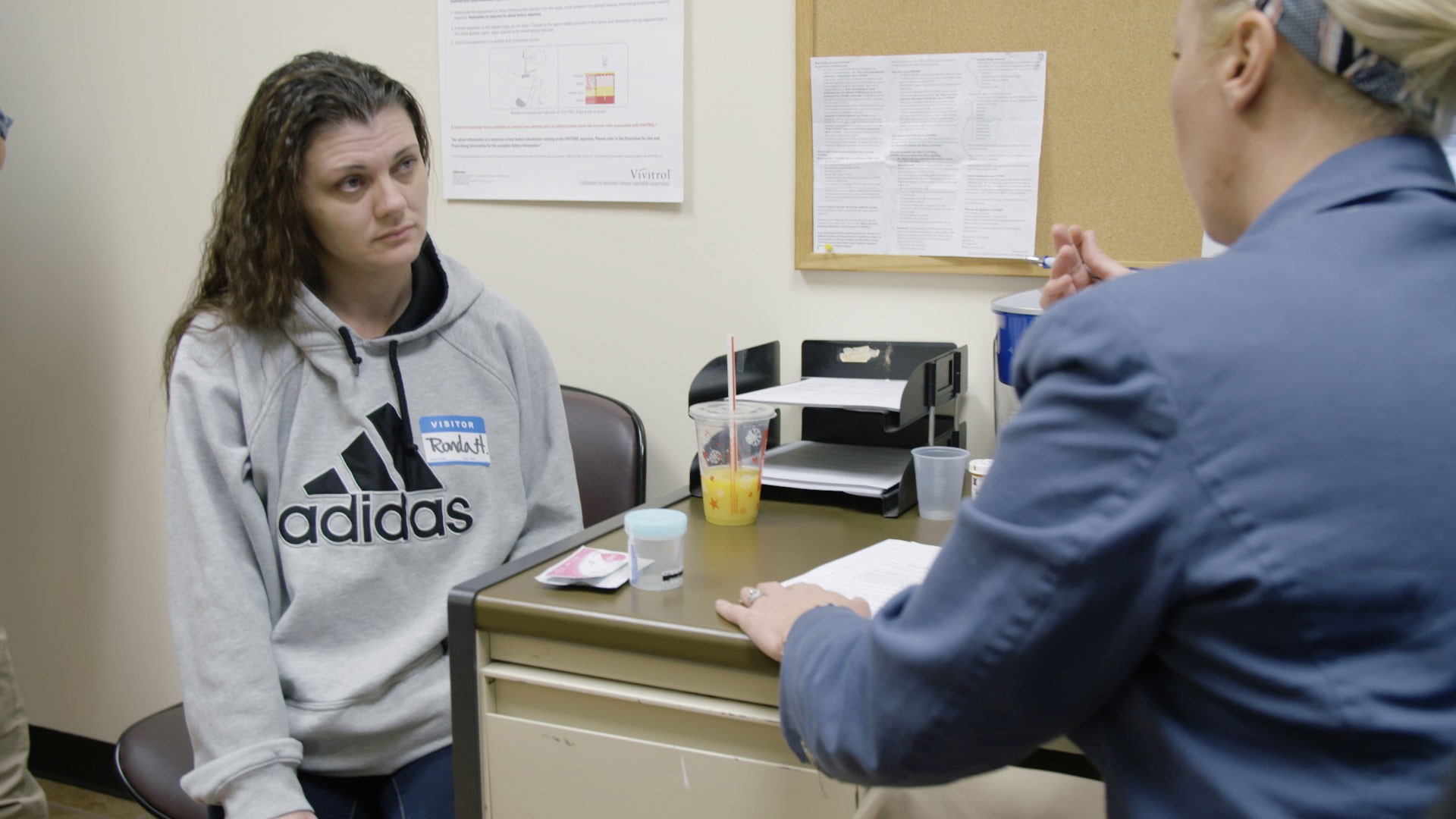 Despite studies that show the Medicaid expansion saves states money in the long run, Bevin, who was elected governor in 2015, has said Kentucky can't afford it. About a third of the state's residents are now covered under Medicaid at an approximate total cost of $10 billion per year — but Kentucky doesn't pay most of that.
The federal government foots 70 percent of the bill for traditional Medicaid, which serves low-income pregnant women, poor children, disabled people, and other disadvantaged groups. Federal funds currently cover the entire cost for the 450,000 people who obtained Medicaid through the Obamacare expansion, though that figure drops to 95 percent this year and eventually to 90 percent.
Bevin declined a VICE News interview request, but a plan he proposed last year would do away with automatic dental and vision benefits, enact work requirements, and charge small monthly premiums for "able-bodied" adults on Medicaid.
Emily Beauregard, executive director of the advocacy group Kentucky Voices for Health, says Bevin's proposal will be especially bad for groups at high risk of being arrested, such as people with substance abuse problems.
"All of these things are going to reduce access to care — people who have addiction problems are not going to be able to jump through all those hoops," Beauregard said. "Over the past year we've taken a lot of steps backward, and now it seems we're a cautionary tale for the rest of the country in terms of what lies ahead."
In Congress, the Senate voted 51-48 on Wednesday to take the first step toward repealing Obamacare, and House Speaker Paul Ryan pledged to follow suit. President-elect Donald Trump tweeted about ending "the failed ObamaCare disaster," but said during his campaign that there would be "no cuts" to Medicaid when the law is repealed. Both Trump and Ryan have been short on specifics about how that would be accomplished, however, and the nonpartisan Congressional Budget Office estimates that more than 14 million people will lose coverage if the Medicaid expansion is eliminated.
'It makes me nauseated to think we might go back to the way things were before the Medicaid expansion.'
The blueprint for repealing Obamacare comes from Tom Price, a former surgeon and Georgia congressman nominated by Trump to be the next secretary of the Department of Health and Human Services. Price's proposal, which called for giving states block grants to fund Medicare, was approved by Congress last year but vetoed by President Obama.
Democrats, including Kentucky Rep. John Yarmuth, say Price's Obamacare alternative would be a disaster for the poor, requiring people with tight budgets to set aside money to buy private health insurance, and creating complicated requirements to receive Medicaid.
"Everybody who's looked at the Price plan has concluded that it would definitely result in a loss of coverage for millions of Americans," Yarmuth said. "It would favor very wealthy Americans and leave people of low income out of the picture."
A spokesperson for Price declined to comment.
Across Louisville, those who work closely with people involved in the criminal justice system are deeply concerned about what will happen in the coming months. Dr. Barbara Casper, a professor of medicine at the University of Louisville who operates a clinic that serves the indigent, including many former inmates, said the Affordable Care Act dropped the uninsured rate among her patients from about 50 percent to 5 percent.
"I just cannot imagine going back to the way things were before the Medicaid expansion," Casper said. "It was awful trying to get people the things they need. I spent hours trying to figure out what medication I could get my patients that they could afford. It makes me a little bit nauseated to think we might go back to that."
Jan Louden, a social worker at the Louisville jail who enrolls qualifying inmates in Medicare, said doing away with the program would be "devastating" for the community, and that the long-term costs would be greater than whatever money is saved in short-term spending.
"It's a mind boggling thing that they could take this away," she said. "Look at what it's going to do to crime, look at what it's going to do to families, to children, to the people, to our city. We can't not afford to have this — we just can't."
For Williams, the woman at the halfway house who suffers chronic pain, the prospects of obtaining health care without Obamacare's Medicaid expansion are bleak. With her health conditions, she says the only work she can find is in the fast-food industry, which typically pays minimum wage and does not offer insurance.
"Without insurance and being able to get the treatment I need, I will probably end up in a mental institution again," she said. "I've been there before without my medication, and that's not really where I want to spend the rest of my life."