The dust has settled on the ruins of the old city of Aleppo since the government of Bashar al-Assad re-took control over Syria's second largest city in December, 2016. The old town of Aleppo, designated as a UNESCO World Heritage site in 1986, is now a field of ruins populated by stray cats and people milling about. The old covered markets, ancient mosques, houses and traditional streets and the great citadel are currently in disrepair. According to a recent UN report, 60% of the historic city was severely damaged and 30% was completely destroyed.
Since Syria's war began in 2011 an estimated 465,000 people have been killed, and about half of the country's 22 million residents have been forced to flee their homes.
Aleppo, once home to more than 2 million people, is at a crossroads. Today it sits between war and reconstruction; that moment when time stands still and the future remains uncertain. Life for many in the historic city has been suspended, despite reconstruction promises from the Syrian regime and a vast urban plan proposed by German academics. The problem lies in the fact that there are no concrete plans set; no one knows what exactly will lead to the rebirth of the Syrian northern metropolis.
Canadian journalist Jules Gauthier visited Aleppo in August and September and returned with these images of a city caught between war and reconstruction.
From the reconquest of the city by Syrian government forces and their allies, some Aleppo residents are gradually rediscovering the area around the great citadel in the heart of the old town. This large medieval fortified palace was the most advanced of the Syrian army position in Aleppo and allowed fighters to have an unobstructed view of rebel positions. Today, dozens of families come in the evening to stroll around the fortress or to enjoy a coffee or shisha. (August, 2017)
Sabaa Bahrat Roundabout was once one of the great areas of the city. It was home to banks, ministries, offices and stores of all kinds. Once clashes between the government and opposition began, the area was quickly looted and deserted because of the risks posed by snipers holed up in the Umayyad Mosque at the end of the street. (August 2017)
During fighting between June 2012 and December 2016, Al-Mutanabbi street was one of the main arteries separating the government- controlled western side of the city from rebel neighborhoods in the east. For over four years, the presence of snipers on the upper floors of buildings forced civilians to stay away from the area. (August, 2017)
From the top floor of a former hospital, one can see the remains of the historic Hotel Carlton. On 8 May 2014, rebels from the Islamic Front (Jabhatal-al-Islamiyyah) blew up more than 20 tons of explosives in the hotel, which had been transformed into a Syrian army base. The force of the explosion was so violent that many buildings nearby also collapses. Imad, a Syrian soldier who was posted just next to the Carlton, remembers the attack: "I was resting on a mattress when, all of a sudden, the ground literally lifted my feet. I had time to protect my head with my hands before everything collapses around me. " (August, 2017)
In the Souk al-Zarb, once a thriving market, one can still see the great barricades of sandbags used by the Syrian army to protect themselves from enemy fire. In this historic market hall, only 50 meters separated the positions of loyalists and rebels at one point in the fighting. (September, 2017)
These buildings once housed the administrative offices. During clashes, the soldiers had barricaded and converted the top floors into sniper positions. From the ninth floor, snipers had an unobstructed view of Farafira neighborhood, allowing government loyalists to prevent rebel fighters from infiltrating their positions. (September 2017)
Plants have started growing again on the small streets behind the St. Elias Cathedral of Aleppo in the Christian neighborhood of al-Jdeideh. (September 2017)
This area in the Farafira district was once composed of small houses separated by a maze of narrow alleys. Fighting and bombing by the regime was so violent in this part of the old town that it's now impossible to recognize the old urban fabric; one must now walk on collapsed houses to get around. (September 2017)
The stones of some historical buildings destroyed in the fighting were gathered and set aside pending possible reconstruction. Some people have been authorized by the local government to return to the historical districts in order to begin repairing their homes or shops by carefully following the original plans. (Aug 2017)
A mannequin stands alone on an old shopping street in the neighborhood of al-Jdeideh. Since the beginning of the war in Syria, mannequins have been used to more easily identify snipers. By moving these lures at a street corner, for example, militiamen can discover, based on shots, if there is danger or not. (September 2017)
In addition to its marketplaces, Aleppo was known for its many beautiful khans or small hotels. The khans were places where pilgrims and merchant caravans once stopped to rest, eat and sleep. Square buildings with high walls and a large courtyards, the khans have served as headquarters to militias during the fighting in the old town. Solidly fortified buildings allowed fighters to avoid direct artillery fire, but they were not immune to powerful mortar rounds whose shells. Here stands the damaged inner courtyard of a khan located in the Souq Khanal-Toutone. (September 2017)
In the Maysalounon district on the northern edge of the old town, rebels from the Syrian Islamic Front (Jabhatal-al-Islamiyyah) used this school as a base. The building was constantly attacked by Syrian government forces, who were positioned 200 meters away at a nearby military base. The bullet holes on the building's facade reflect the proximity of the belligerents. (September 2017)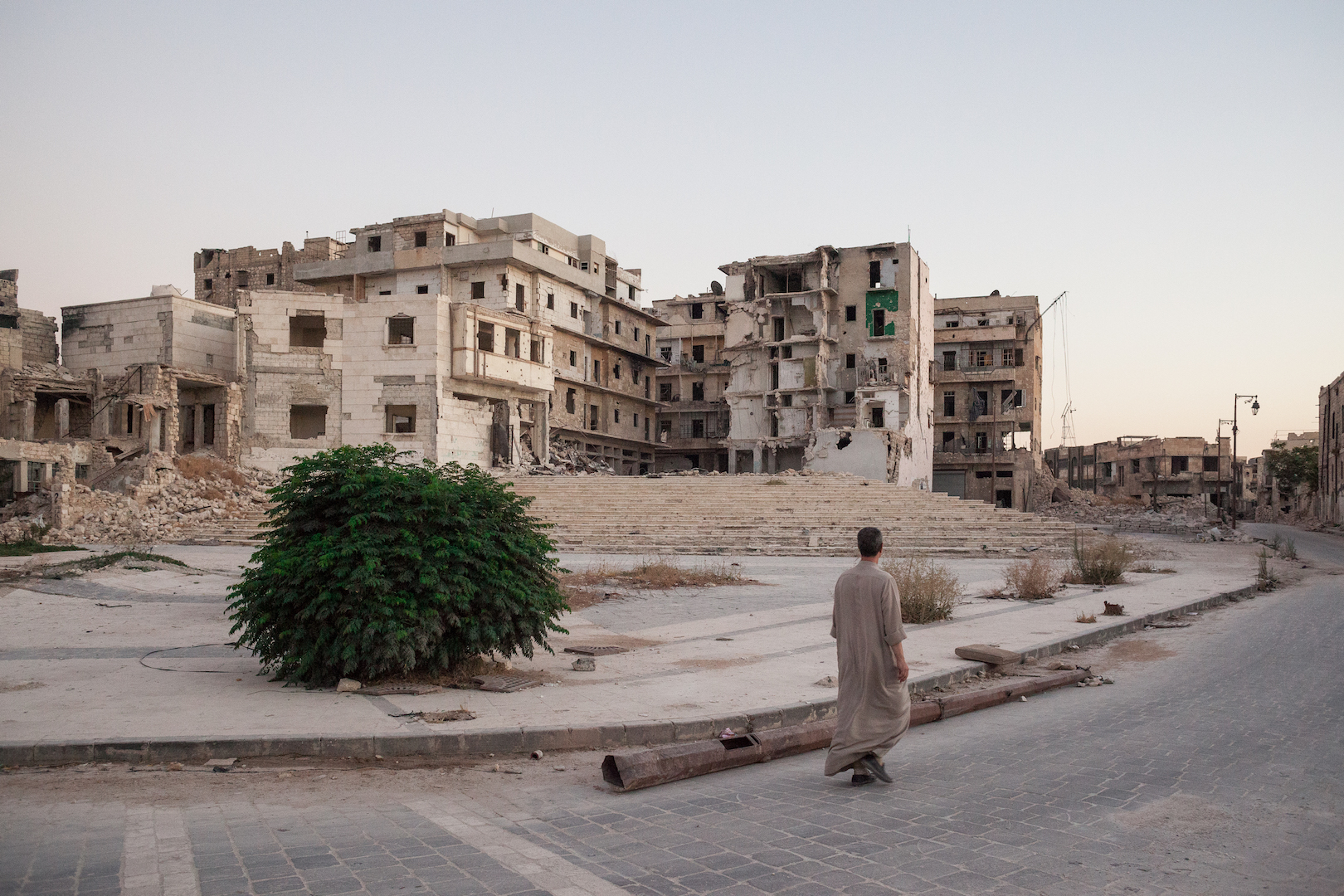 At dusk, a man walks in the deserted streets of al-Jdeideh neighbourhood. (September 2017)