GUAYNABO, Puerto Rico — They protested. They waited. They were even inspected by the U.S. military. Still, a public Montessori school in the Juan Domingo neighborhood here has yet to fully reopen after Hurricane Maria pounded its walls and windows more than a month ago.
The school, which serves 369 students from elementary to high school grades, is the beating heart of the low-income community less than an hour's drive from the capital San Juan. There, many of the houses' roofs have caved in, and fallen trees lie alongside the road. The area doesn't have power, and access to clean water remains scarce.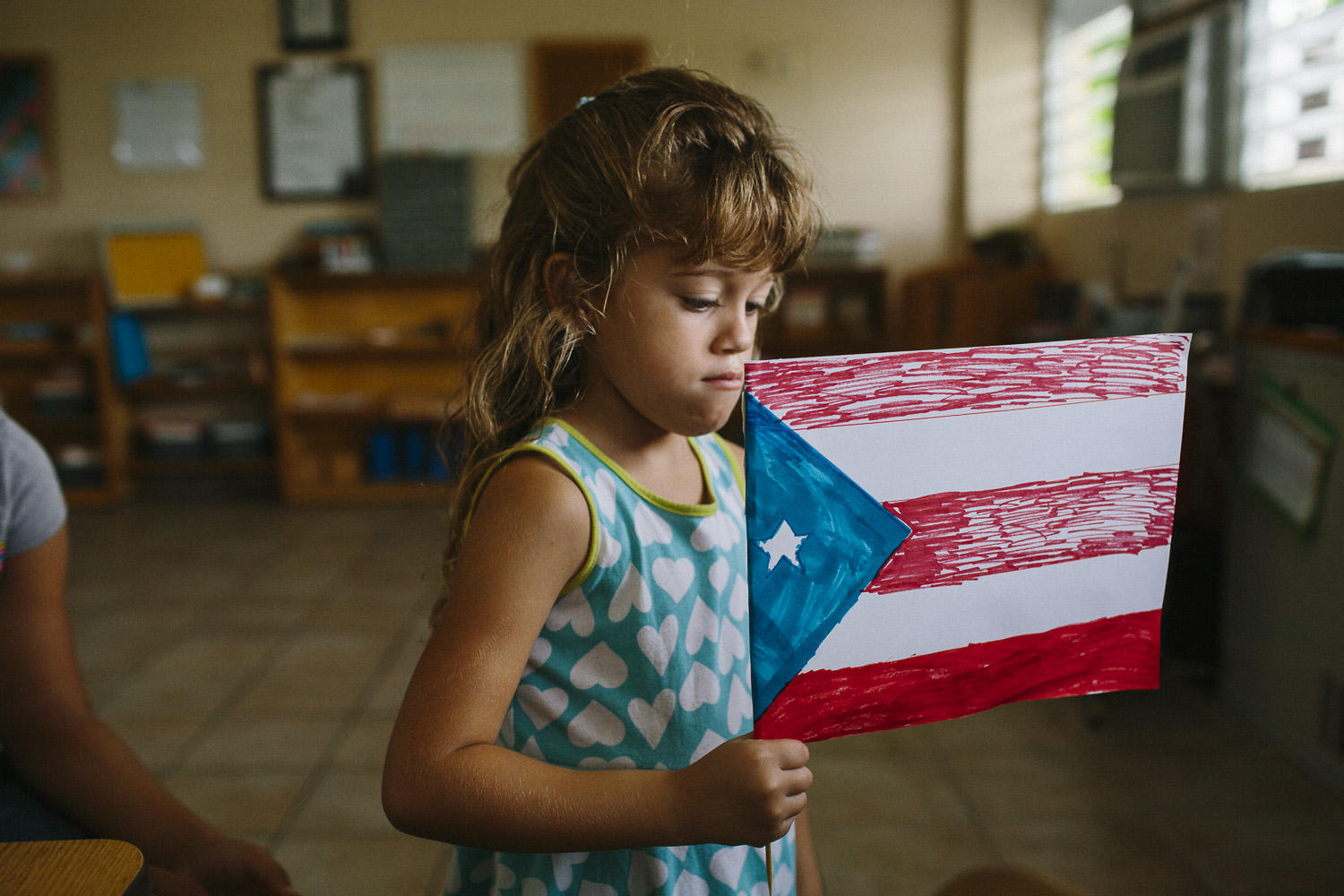 VICE News traveled to the Juan Domingo neighborhood to speak with teachers, parents, and students who have been advocating for weeks that Puerto Rican officials allow them to open the school's doors again. On Wednesday, the Department of Education finally authorized the school to begin holding classes. But the classrooms don't have power, and administrators are struggling to inform students, many of whom live far away in municipalities without cell phone service.
Like the vast majority of Puerto Rico's 1,113 schools, Juan Ponce de León New School was closed in the aftermath of the hurricane. The storm completely destroyed one building that housed high school classrooms, and twelve families in the neighborhood lost their homes, while many others suffered serious damage to their houses and belongings.
"We have teenagers who need to be here. We have children asking their parents that they want to learn," said Sol Santiago, who teaches fourth through sixth grade and started cleaning up the school just days after Maria hit. "We have special needs children in the school that we serve, and they are not receiving their therapies."
After Maria, the school served as a shelter and later a community center used to dole out food and supplies and host activities for kids. But a day before the Department of Education had scheduled classes to start again on Oct. 24, administrators received another notice, one that prohibited them from reopening before receiving a certificate of inspection from the U.S. Army Corps of Engineers.
READ: Disease-spreading mosquitoes could soon overrun Puerto Rico
Days later, Juan Ponce de León New School passed its inspection. The Department of Education, however, didn't include the school on an updated list of those scheduled to reopen, and school officials didn't hear from the agency until Wednesday evening. VICE News tried to reach the Department of Education multiple times.
After more than a month of back-and-forth, the Department of Education finally authorized Juan Ponce de León New School to reopen, but the agency put the responsibility on school officials to pick a date. While some students returned to class on Thursday, others either couldn't be reached because of a lack of cell phone service or struggled to get to school from their homes, many of which don't have power or running water.
"They can't afford to lose a semester. Every day, every minute, they are spending in their houses is spare time where they are not doing anything," Santiago said.
As of Friday, 643 of the island's schools had been inspected, according to Alan Shirey, an Army Corps of Engineers' officer with a response team in Puerto Rico. But that doesn't mean they've been reopened. Some 389 schools have yet to be inspected.
Meanwhile, the Juan Domingo community and its children await the day they can all learn again.
READ: Not even hospitals in Puerto Rico know how many people have died
Franco Marrero, 13, an eighth-grade student at the school, travels 4.5 hours from his town, Morovis, each morning to come to school, even though it wasn't open.
Richelle Torres, 14, an eighth-grade student, lived in a shelter after Hurricane Maria and returned home to find her bedroom and personal belongings destroyed.
High school student Luis Enrique, 16, has been coming to the school every day since the hurricane to help with cleanup efforts and play soccer with younger students. His favorite subjects are history and agriculture.
Sixteen-year-old Xaimarie Nieves' grandfather wakes her up at 5:00 a.m. every day to drop her off at her high school. Even though classes weren't in session, the school is a safe place for her to be while he goes to work. Her favorite subject is science.