On Edge is a series about stress in 2017.
---
On September 5, the Trump administration released a memorandum effectively ending DACA, a federal program protecting certain undocumented people who immigrated to the United States as children from deportation. DACA's deportation protections could start to disappear in as little as four months, according to Homeland Security officials.
The "Succeed Act," DACA's possible replacement proposed by Republican Senators, would make it much harder for dreamers—a term for people who qualify for the DREAM Act or who immigrated to the US undocumented as a child—to gain legal status. In addition to paying off all unpaid taxes (or making a repayment plan), it also requires dreamers to agree to increased surveillance: they would be required to submit biometric data, such as fingerprints, to the Department of Homeland Security (DHS).
It's unclear what's next for undocumented immigrants who planned their future with DACA in mind. Their natural instinct is often to seek emotional safety with other dreamers, especially online. But since the DHS monitors public social media information, the places they look for comfort could also put them at risk.
The DHS uses social media to monitor "applicants for immigration benefits" and work visas, as well as to gather "information for intelligence purposes" (the document doesn't clarify how this intelligence is used). On September 18, the agency announced the "Extreme Vetting Initiative." As reported by The Intercept, this expands monitoring of potential immigrants and visitors to include all digital, televised, and broadcasted media. The new initiative has been denounced by the Electronic Frontier Foundation and the NYU School of Law's Brennan Center for Justice, which both monitor threats to personal freedom and privacy.
Dreamers know the risks of social media and a public life, but faced with increased stress and uncertainty in recent months, many are exploring their boundaries and talking about their documentation status.
"Now, to survive and to push through these obstacles and such—you have to be united," Jane, a dreamer whose name has been changed to protect her anonymity, told me on a phone call. But there's not a one-size-fits-all balance between having privacy and emotional support.
"You never know what's gonna happen. Somebody could screenshot their conversation."
For dreamers on college campuses across the country, exploring boundaries starts at the local level. At many colleges, various clubs and organizations exist to serve the needs of undocumented students. Some groups describe themselves as "immigrant rights" clubs, meaning they defend the rights of immigrants under the Constitution and Bill of Rights regardless of documentation status. But many groups, like CUNY Dreamers in New York, a student group representing undocumented CUNY students, frame their identities specifically around the DREAM Act or DACA.
Mirella, who asked to be identified by her first name only, is in her fourth year at the John Jay College of Criminal Justice. As the Vice President of Public Relations for CUNY Dreamers, she manages the group's public-facing social media presence.
She told me that about 40 members of CUNY Dreamers use a Facebook group chat to stay connected between monthly meetings. Since the September DACA announcement, Mirella said that a lot of new members have been coming to the meetings. Typically, students are permitted to join the group chat after attending a meeting and speaking with other members in person.
"In the group chat, they are always welcome to air out their grievances," she said. Even though they join, many students prefer the privacy offered by offline chats. "But I think it mostly happens in meetings because you are face-to-face with a person. I feel like they feel more comfortable in the meetings," Mirella explained.
She added that although members know that the group is intended to be a support network, they still hesitate to discuss sensitive information online.
"I often feel weary talking to people about my [documentation] situation," Mirella said. "I think the same goes for everyone else in the group. They're trying to protect themselves because they're really scared. You never know what's gonna happen. Somebody could screenshot their conversation."
Mirella said that her most meaningful experience with CUNY Dreamers was during one particular monthly meeting. The student did an exercise in which each person looked at the person across from them. Then, a facilitator in the room asked hypothetical questions like How would it feel if your mom or dad was deported?
"A lot of people were crying afterwards," she said. "In the end, you got a little closer to each other. We knew for us, it was a space where we could be vulnerable without being judged."
Read More: The Emotional Burden of Being Hacked
Other dreamers outside of CUNY have tapped into an informal Twitter network of young, undocumented activists across the country. I spoke with a college senior over the phone who said that she's a part of this expanding group.
Jane said that she advocates for undocumented student rights and Indigenous rights on her campus, where she's been public and outspoken about her undocumented status. But after overextending herself last year, she said that she's more selective about her activism work. That's where the people she's met through Twitter have been crucial in helping her address the mental health struggles associated with being an undocumented immigrant in college.
"A lot of the [medical] resources we have are really small because a lot of us don't have insurance," Jane said. "You need to take time to take care of yourself, because we are dealing with a lot: lawyers [and] constantly being told rumors like 'This raid is happening,'" she explained.
"At the same time, you're in college," Jane said. "You're still expected to finish your degree, finish your career, and [have] personal relationships. So for me, everything's a little overwhelming. Life is overwhelming."
She has a private Twitter account now, but Jane met other dreamers when she made public Twitter threads. Some relationships remain on Twitter as mutual follows or direct messages. But more trusted relationships, mainly with other women of color, have extended to email.
"A lot of the folks that I have built bonds with, I've never met them," she said. "Our vulnerability has made us really close and trust each other. Then, we can also exchange resources, tell each other what's going on where we live, share ideas, and start projects."
Jane said that many dreamers are nonetheless worried about how much personal information they release online.
"By talking about our identities and saying our struggles, a lot of us are unlearning what we've been taught since we moved, came to, or were brought to the US," Jane said. "A lof of our parents say that we're putting ourselves in danger. However, the mentality has switched: We are already in danger, so let me use my voice to do something, to at least prevent it or make it better for the next person."
Twitter is not the only space where dreamers have been networking. Back in 2012, shortly after DACA was enacted, then-college student Abraham Ponce decided to create a Facebook group to share information and legal resources.
"There were not many local [immigrant rights] organizations or college based organizations, or people just did not know about it," he said. "Many [dreamers] during that time were trying to get more information, and the fastest and easier way was Facebook."
The group, which he called "DACAmented / DREAMers," has around 1,000 members. He said that people often join the group to find resources, but are hesitant to actually post information about themselves. Some people ask Abraham questions individually, but still aren't comfortable with sharing much.
"People were very cautious when reaching out [to me] because not many people were open about their status or did not want anyone to know about it," Abraham said. "People are afraid that [others] will leak information to authorities [or] shame them in public."
Abraham doesn't only belong to "DACAmented / DREAMers." After creating that group, he joined other Facebook groups to gather as much information and resources about DACA as possible.
"It actually helped [me] be able to be active in the immigrant movement online base," he said. "I was able to connect to other dreamers around the states, which was pretty exciting."
Some dreamers have used a forum channel on "The DREAM Act Portal," a community of undocumented youth, called "Take Action" to organize direct action methods like petitioning, calling representatives, and flyering. Other DREAM Act Portal forum channels are used to share breaking news, personal stories and questions, and advice.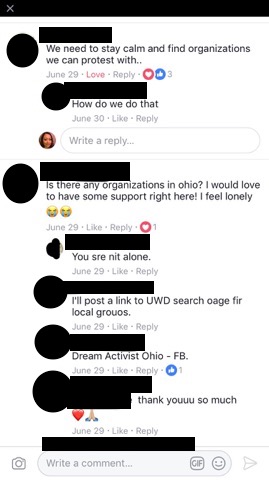 Candela D'Berry, a dreamer from Minnesota, also created a Facebook group to give information and resources to undocumented immigrants. But in a conversation via Facebook messenger, Candela told me that "I Have DACA" was made to address issues not directly related to DACA, such as legal representation and scholarships. Since its creation in in 2013, the group has grown to more than 3,800 members.
"I've been fortunate to connect with dreamers from my own city and even other parts of the state," she said. "Another one of the admins, Sonia, actually lives about an hour away from me. She invited us to her baby shower, and we met her baby after he was born."
Since the September 5 DACA announcement, Candela said that "I Have DACA" has seen a clear spike in activity. But like members of "DACAmented / DREAMers," Candela said that members of "I Have DACA" are hesitant to ask for help or reveal personal information—even though they need it now more than ever.
After all, like all virtual settings, "I Have DACA," doesn't only consist of dreamers. And it's impossible to make any online group a completely safe space.
Candela told me about a woman who joined the group claiming to be an immigration attorney, but immediately began harassing members of the group and telling them to "go back to Mexico."
"Everything she had on her profile was anti-Muslim and anti-immigration," she said. "I believe it was a fake page [right wing trolls] used to gain access to the group and be able to insult us."
Candela said that she removed the woman from the group.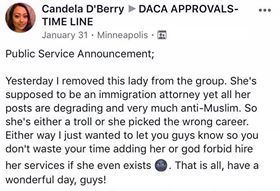 "While we take a lot of precautions and screen people before letting them join, we do get a lot of hate messages and people that join just to tell us all to go back to Mexico and stuff," Candela said.
Other online dreamer groups have also been infiltrated by hateful individuals. A Discord server called "AmericanDreamLand" became a support group for dreamers, but right wing trolls joined, harassed members, and threatened to report them to US Immigration and Customs Enforcement, an arm of DHS.
"While digital privacy is always an issue," Candela said, "it is these hateful individuals that the group members are concerned about the most."
Get six of our favorite Motherboard stories every day by signing up for our newsletter.