Joe Camporeale-USA TODAY Sports
He knew. He had to know. The title was being taken from Georges St-Pierre round by round and he no longer had time to win it back. The great welterweight rose from his stool, shaking off the muddle and anxiety of the corner as his seconds left the ring. In the opposite corner, the challenger could barely contain his jubilation. Johny Hendricks, an almost two-to-one underdog, paced back and forth, chanting silently to himself amid the din of the crowd.
This weekend, Georges St-Pierre returns to action for the first time since that night almost four years ago. The big question going into it is just what effect his time off has had. Was it a well-timed and much-needed retirement for an old champ who had clearly lost a step, or will the time off have rejuvenated him in some way? If it's the fighting that ages you, can you effectively preserve a great fighter in a time capsule of temporary retirement?
November 16, 2013 started out mundane enough. Another night, another showing for St-Pierre in all of his frustrating perfection. The champion opened the bout with his measured, methodical striking at range and Hendricks swung back with the overhand left, just as advertised. St-Pierre timed his level change beneath his opponent's haymaker, and in that instant Hendricks' two NCAA Division I wrestling titles no longer mattered—the puncher's chance was off the table, and any edge in pure wrestling seemed hard to work with his back to the mat.
The problems started after Hendricks scrambled back up. The next time he stopped to throw that predictable overhand, GSP dived in, aiming to steamroll through his target's open hips once again but instead was met with an uppercut as Hendricks dropped his hips heavy on him. St-Pierre scrambled up and, clinging to Hendricks' lead leg, tried to muscle through. He drove Hendricks onto the fence but found himself absorbing sharp elbows to the temple and unable to break Hendricks' balance. As the round wore on the two men labored in the clinch and each moment of inspiration for St.Pierre was met with the harsh reality: he could not outmaneuver the challenger.
If St-Pierre was going to best this stocky wrestler, it would not be by ragdolling him to the canvas and keeping him there. It would be by playing the part he had been cast in on the promotional material: he would have to use his more rounded skill set. St-Pierre's striking would carry the fight and that in turn should open the door to the takedowns he was now failing to force onto Hendricks.
Hendricks was simply that old mixed-martial-arts archetype, the one-handed wrestler. The threat of the takedown opened up chances for the one big punch and vice versa. On paper, Hendricks brought nothing St-Pierre hadn't seen before. When faced with Josh Koscheck, whose business card reads "right hands and double legs," St-Pierre had given his most convincing display of mastery to date. Through that bout, St-Pierre's ramrod jab beat Kos's swings to the target and raised a hideous wound around the challenger's eye.
That jab was the most versatile and convincing this young sport had seen. The champ would spring in with it, step off to the side with it, take it out entirely and use the step in to punt Kos's lead leg out of his stance. St-Pierre confounded Koscheck with variation in timing and cadence: a thrusting of the lead shoulder would have Kos reaching blindly with both hands, and when he realized he had fallen victim to a deception, he flapped wildly to get back to his guard. Amid this confusion the champion would effortlessly slap in a backhand on the humming bulb growing around Koscheck's eye as he floundered, and Koscheck's body would seize up as he winced. Each time the cutman attempted to ice his eye on the stool between rounds, Koscheck would pull away as if the endswell and the jab were one and the same.
In many respects, Johny was the mirror image of Josh: a southpaw wrestler with the big left hand. His road to the title shot had been carved with a handful of surprising knockouts. Hendricks would hang his lead hand out, feeling and checking, and this made him a pain for St-Pierre. Even a mediocre southpaw can make the jabber's job very hard if his lead hand keeps obstructing the path. The champion snuck jabs in throughout the bout, but Hendricks' eyes remained unscathed. St-Pierre opened up with his kicks, but each time he did Hendricks would surge in on him and catch him on one leg.
Johny Hendricks' hands were hideous. St-Pierre's jab was a love letter to economy of motion. There was nothing of that in Hendricks' punching game. He threw his arms like an octopus, but he could close distance on his man extremely fast. Martin Kampmann found that out the hard way, bouncing forward and back in his stance; his feet were clean off the ground as Hendricks shot in to crack him with the left hand.
And when Hendricks did get in, he didn't care how he hit. The arms would swing out straight like clotheslines and if one's path was obstructed by the champion's skull, Hendricks would wrap that arm around it and keep hitting with the other. What's more, GSP's challenger turned out to be much more than advertised. As the rounds progressed, Hendricks seemed to slow a little, but as his big fight nerves dissipated his right hand began to come into play. Now he was not simply obstructing St-Pierre's lead hand but coming in behind jabs and lead hooks of his own.
As St-Pierre left his corner for the fifth round, he was in a position he had never been in. The fight was into the championship rounds—his championship rounds—and he needed the finish. Through his entire title run he had been criticized for his lack of urgency. He had barely lost a round in the past four years, but the fans won't forgive a fighter for lacking killer instinct. Now St-Pierre's crown seemed to rest on his ability to do something that he hadn't been able to do even in fights where he controlled the action from the start.
The champion immediately went after Hendricks' leg and clung to it for the first half of the round, unable to take the wrestler down. When Hendricks turned St-Pierre onto the fence and dropped down to attempt a takedown of his own, St-Pierre grabbed hold of a kimura and almost had his arm torn off as Hendricks snatched out of it. But the champion rallied and rattled off a volley of punches and kicks, and finally dragging Hendricks to the mat to rapturous applause. It lasted all of 20 seconds before Hendricks came up and manhandled St-Pierre on o the fence as though he were stuffed with feathers and sawdust.
As the final klaxon sounded it seemed to everyone in attendance that Georges St-Pierre, the greatest welterweight to ever play the game, had finally been dethroned. Yet when the scorecards came in, it was the bloodied and bruised champion whose hand was raised while the unmarked challenger fell to his knees in disbelief.
---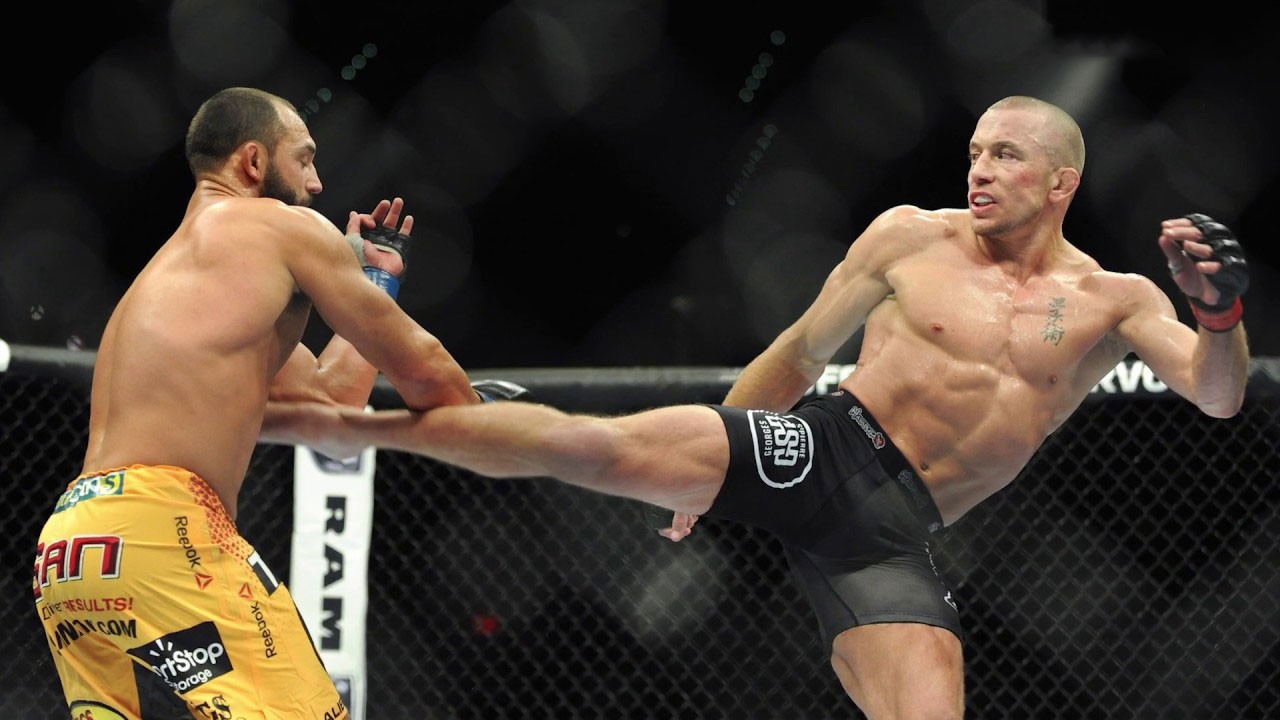 ---
They say that one night a fighter turns up and realizes he is old. Aging in the fight game is a strange subject to begin with: we speak of a fighter being a "relatively fresh 40," or an "old 34." While St-Pierre was just two years older than Johny Hendricks, and Hendricks was already 16 fights deep into a professional career, St-Pierre had been training for title fights since 2006. This was St-Pierre's 16th camp for a five-round title fight, and throughout the buildup he had made repeated references to an upcoming announcement after the event. When he finally took the microphone, he told the unsatisfied crowd that he had to take some time away from the fight game.
Things became even more peculiar when UFC president Dana White flew into a fury at the post-fight press conference and insisted that while Hendricks was there to take questions, St-Pierre had been carted straight to the hospital due to the battering he had sustained. White went on a tirade about St-Pierre's retirement, insisting that he owed more to the fans and to Hendricks. When St-Pierre walked in and took his seat ten minutes later, apparently having never seen the inside of an ambulance, it made for one of the most awkward press conferences in the history of the company.
The reasons for St-Pierre's departure were never fully revealed and the fans and press speculated wildly. Conspiracy theorists speculated that there was a woman claiming to be carrying the his baby. Perhaps more reasonably, some focused on St-Pierre's remarks on obsessing over opponents and camps; they believed the champion was simply worn down by the relentless grind of the past few years. St-Pierre himself teased a return many times but could never come to terms with the UFC over its single sponsor deal with Reebok among other issues.
Johny Hendricks did win the title after St-Pierre vacated it, and shared a pair of tremendous fights with Robbie Lawler, but as the saying has it, shooting Jesse James won't make you Jesse James. Hendricks' career fell off a cliff after the second Lawler fight and he has now won just two of his last six fights. He struggles on the scale before the bout, he fights sluggishly, and his heralded punching power and surprisingly decent stamina have completely vanished. Hendricks, the vaunted knockout artist, has not stopped anyone in five years. The weight issues might be the result of the ban on I.V. bags, which was enacted in July 2015, but Hendricks' overeating is also well documented.
With the coming of the USADA age shortly after St-Pierre's retirement, plenty of UFC stalwarts have had marked drop-offs in results. While Hendricks has never failed a drug test, fans will always hunt for patterns and this has left him in a rough spot. He has gone from beloved underdog, robbed of the world title he earned, to a sort of pitiful character. In his last fight, Hendricks shambled onto the scale, missed the middleweight limit despite having 15 more pounds leeway to play with, and was head-kicked by eternal gatekeeper Tim Boetsch.
---
So many of St-Pierre's old foes are no longer relevant. Matt Hughes, Matt Serra, and Dan Hardy are long gone. B.J. Penn keeps coming out of retirement only to break more hearts. Josh Koscheck has won just two fights in the seven years since they fought, and has been knocked out three times and submitted twice. Nick Diaz lost interest in the fight game altogether after failing numerous drug tests for marijuana. Thiago Alves is in a constant state of injury and scraping by in the middle of the division. Carlos Condit is staying out of action so that a surprisingly decent losing performance against Robbie Lawler in 2016 and a single victory since 2013 can somehow keep him in the welterweight top ten. These men have all shuffled on to new pastures.
St-Pierre's opponent this weekend is another relic from the era of SPRAWL shorts and shaved heads, the current UFC middleweight champion Michael Bisping. Bisping is seen as a man who lucked into the middleweight title, but the truth is that he has been grinding away in this sport for years. Bisping was always a middle-of-the-pack kind of guy. He never had the title fights and rarely fought the toughest fighters in the division. But now, at almost 40 years old, Bisping is unarguably looking the best he ever has. And so at UFC 217 we get to find out how much of Georges St-Pierre is left, and how much of that talent he was able to keep in suspended animation.
Pick up Jack's book, Notorious: The Life and Fights of Conor McGregor.