Joel Kim Booster. All photos by the author
"Today I accidentally pulled my dick out a couple steps too soon before I made it to the urinal, and this other guy who works in the office with me full-on saw my penis and it was a horrible moment for both of us," says comedian Joel Kim Booster. His dark black hair peeks out from the top of a backwards baseball cap, and he looks at me from behind dark eyes and chiseled cheekbones, wearing ripped jeans with a short-sleeve red flannel shirt. Sometimes there's a guy who's so excited to pee, he laughs, "he couldn't even wait until he got to the urinal to do it"—and this time it was him.
It's not unlike Booster to step outside of himself to see the comedy in everything; that's how he turned comedy from a regular cathartic and creative outlet into a full-time career. "The way I process is finding that comedic angle," Booster says. He's spent his career to date processing what he calls his own "identity dysphoria," being a Korean adoptee raised by a white evangelical Christian family who were initially challenged when he first came out as gay. His comedy ruminates on some of the thorniest curveballs of intersectional politics: What does it mean to be both gay and, once upon a time, evangelically Christian? To be Asian with a white family? To be Asian in the gay community? To be a gay comic in an industry that's mostly straight? They're questions he mines to relatable, hilarious effect, and will anchor his Comedy Central Stand-Up Presents special, airing tonight at midnight on the channel.
"If you have a strong enough point of view or comedic voice, you're able to just explain to someone that your parents didn't talk to you for a year and a half. Everything is comedy and it's just a matter of taking a step back and disassociating for a moment," he says, whether it's a big trauma or a tiny slice of total mortification that happens by accident, as it did at the urinal the day I met with him.
Booster started doing comedy in Chicago six and a half years ago. He moved to New York in 2014 and gave himself four years to make it or find something else to do. It took two. By June 2016, he had made his late-night standup debut on Conan, and by the end of that year he sold Birthright, a television show based on his experiences as a gay Korean adoptee raised by white evangelical Christian parents, to FOX. Though the series is no longer in development there, it has been picked up by a to-be-announced network.
His debut album, Model Minority, also comes out November 3. But there's always the question of what's next. "The goal was never fame," Booster says. "I always wanted to just be a working comedian, but now that I'm a working comedian, I don't really know what the next step is because saying 'I want to be famous' is so gross," he laughs.
---
Hear comedian Hannibal Buress tell VICE how he found his success: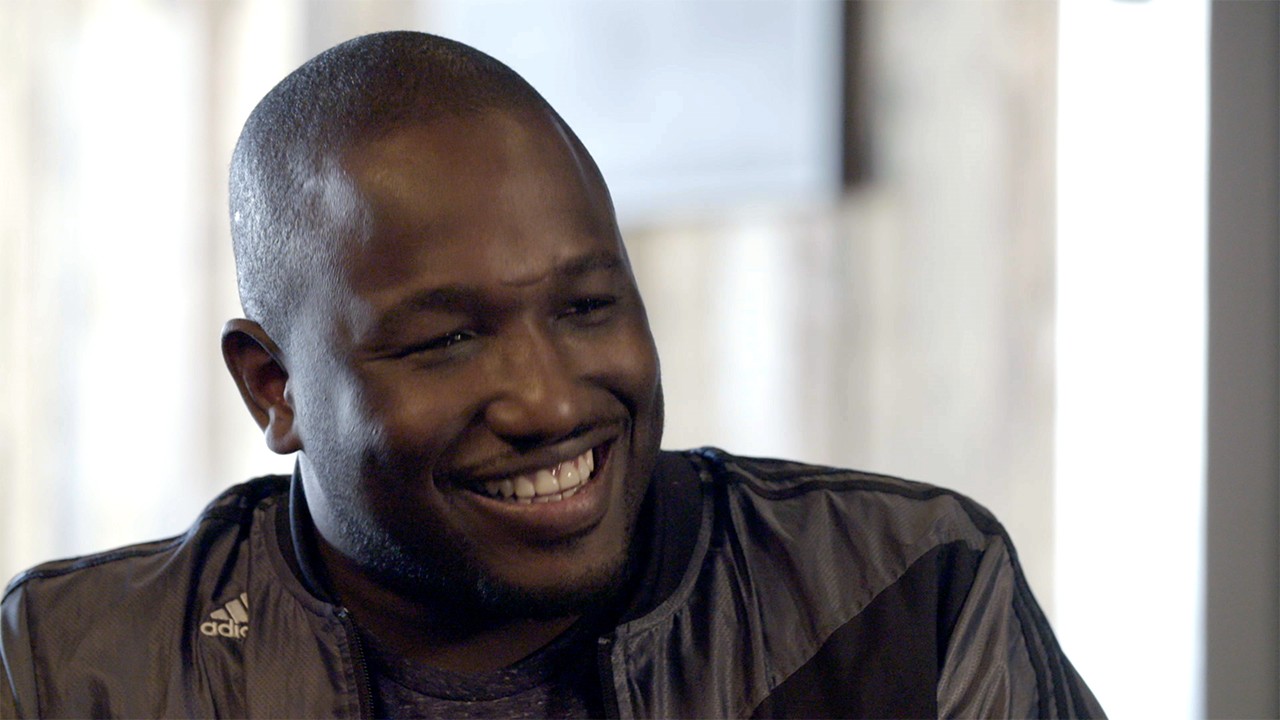 ---
Booster was adopted from South Korea and raised in Plainfield, Illinois, a suburb of Chicago. Until his senior year of high school, he was homeschooled, an active participant in Christian youth groups who dreamed of one day becoming a youth pastor. Driven by a desire to do theatre, Booster asked his parents to send him to public school. Within a month, he was cast in the school play and came out to classmates but not his family. In truth, Booster had known he was gay from about age four—he jokes that he knew he was gay before he knew he was Asian—but had been trying to repress those urges, praying for God to change him. Ultimately he began to accept himself, but believed for a long time that he'd be going to hell.
When Booster was 17, his parents read his journal and found lists of male sexual conquests. It didn't go well for either side. Tension became so high at home that he moved out—he wasn't kicked out, but also wasn't exactly asked to stay. He ended up sleeping on couches at different friends' houses, ultimately ending up at the home of a girl from choir he didn't know very well at the time. But they became best friends and he lived with her and her family for the rest of high school; her family even help put him through college.
Booster didn't talk to his parents again until he was in college, but the time away was healing. He says their relationship is both "great" and "as good as it could be" now. While he's been able to use stories from this time as fodder for his stand up, it wasn't something he realized he could do until much later.
"I still remember where I was when I heard Tig Notaro: Live, because it was the first time I had heard material that was so personal," he said—material that "transcended tragedy, not maudlin mock storytelling of 'there needs to be a lesson.'"
Booster moved to Chicago after college to be a writer and actor. As an actor, though, Booster tired of the roles he was offered—in one year, for example, he went in for "Chinese Food Delivery Boy" five times. The comedian Beth Stelling suggested he write his own material, and he hasn't stopped since. Booster says in college he began by writing predominantly about white heterosexual couples because he found it easier to do than to parse out the threads of his own identity. "Once I figured that out and I started to talk about myself more, stand up has really been a therapy in a way of that untangling process," he says. But he processes with an intelligence, brashness, and distinctive comedic insight that are among the reasons for his continued success. As he said in his Conan set, "It was difficult for me growing up in [Plainfield] because I don't meet a lot of cultural expectations of what an Asian person 'should be' in this country: I'm terrible at math, I don't know karate, my dick is huge."
This brand of personal yet absurdist humor has earned him praise not just from publications like Esquire, Brooklyn Magazine, and Paper, but from fellow comedians. "When you see somebody who's telling jokes that you didn't think you were ever going to get to see onstage, when you see a part of yourself reflected that you didn't know you wanted to see reflected, it's magical," says comedian Guy Branum, host of TruTV's Talk Show the Game Show. "Joel is just… really honest and fiercely positive in a way that thrills me. It makes me so happy because that's a guy who's had a life…. He is the fucking heroine of his own story."
Now, Booster says, he feels like he's achieved a certain stability in understanding his identity. He can change course and move in a different direction, one that's "outrageously dumb," as he puts it, but in a good way—more of that signature self-reflective Joel Kim absurdity, but as it pertains to worlds outside of himself, especially the magical and the mythological, a world where horses are 9/11 truthers and Elmira Gulch is the true feminist hero of The Wizard of Oz. And as he begins to develop the next segment of his career, a greater fame continues to loom, whether he wants it or not. "Everybody a little bit wants to be famous. I'll settle for working and making a living and having health insurance. I guess I want to be—this is said tongue firmly planted in my cheek—but I want to be a fucking legend," he laughs. "I don't want to just have my name said, I want it to be etched in fucking stone."
Follow Elyssa Goodman on Twitter.