Getty Images
Tens of thousands of protesters are expected to attend an anti-racist rock concert in Chemnitz, Germany, Monday in opposition to violent far-right protests that have roiled the city for more than a week.
Situated west of Dresden, Chemnitz has been a flashpoint since local man Daniel Hillig, a 35-year-old carpenter of German-Cuban descent, was stabbed to death on Aug. 25, allegedly by a Syrian and Iraqi.
His death prompted protests that were swiftly hijacked by far-right extremists, who roamed the streets in mobs the following night yelling "Foreigners out!"
Footage of demonstrators chasing down anyone who appeared foreign, or giving the banned Nazi salute, has sent shockwaves across Germany, in the latest sign of rising tensions over German Chancellor Angela Merkel's liberal immigration policies.
Groups such as the anti-immigration Alternative for Germany (AfD) party, and the "anti-Islamization" street movement PEGIDA have further stirred up tensions, organizing protests against mass immigration. Police have deployed officers from around the country in Chemnitz in response to the disorder.
According to official estimates, about 8,000 people attended a rally Saturday organized by the AfD and PEGIDA, while about 3,000 people held an anti-racist counterdemonstration.
Eighteen people were injured and 37 offences are being investigated, including a television reporter who was thrown down a flight of stairs, an alleged far-right attack on a group of anti-racist protesters led by a politician for the center-left SPD party, and an alleged assault by masked men on a 20-year-old Afghan man.
Alexander Gauland, the AfD's co-leader, has said the angry reaction of the far-right protesters is understandable. "When such a killing occurs, it's normal for people to snap," he said.
Anti-migrant sentiment is high in Chemnitz, an industrial city of some 240,000 people in the east German state of Saxony; earlier this year, hundreds of marchers joined in a May Day rally in the city organized by neo-Nazi group The Third Way.
Saxony is a stronghold for Germany's far-right; it's the birthplace of the PEGIDA movement, and a base for the AfD, which is polling at 25 percent in the state — only three points behind Merkel's ruling CDU. In March, members of a neo-Nazi terrorist cell in the Saxon town of Freital were found guilty of a series of bombing attacks on migrants.
The events in Chemnitz have also highlighted long standing concerns about far-right sympathizers among German law enforcement officials. A prison officer has admitted leaking the arrest warrant that revealed that the prime suspect in the crime was a migrant, a document that was rapidly circulated on social media, fueling public anger over the killing.
"To hear that the arrest warrant was probably leaked by the police to right-wing extremist circles means that we have a huge problem to deal with," Saxony's deputy premier Martin Dulig said Wednesday.
Much of the anger has been focused on the issue of migrant crime, following a string of high-profile assaults blamed on refugees who have arrived in the country since 2015 as a result of Merkel's "open door" immigration policy. According to official statistics, refugees were suspects in about 15 percent of homicides in Germany last year, despite accounting for only 2 percent of the population.
The suspect should have been deported
Anger at authorities over Hillig's killing has only grown with the revelation that the prime suspect, a 22-year-old Iraqi identified only as Yousif A, was supposed to be deported to Bulgaria in 2016, but was never removed. The suspect, who reportedly had a lengthy criminal record in Germany and had his latest asylum request rejected three days before the attack, is one of more than 230,000 migrants who remain in Germany despite their asylum applications having been rejected.
The tensions in Chemnitz have drawn condemnation from Merkel, and prompted Germany's Foreign Minister Heiko Maas Sunday to do more to challenge racism and stand up for democratic values.
"Unfortunately, a complacency has spread within our society that we have to overcome," he told the German newspaper Bild am Sonntag.
READ: Germans are wearing yarmulkes to protest rising anti-Semitism in the country
"If the Hitler salute is made on our streets today once again, it is a disgrace to our country… We must stand up to the right-wing extremists."
To that end, more than 39,000 people have said on Facebook that they'll be attending an anti-racist concert to be held in Chemnitz this evening, headlined by punk band Die Toten Hosen, under the slogan "Wir sind mehr" (There are more of us). But with tensions in Saxony over immigration running so high, few are expecting the event to draw a line under the issue.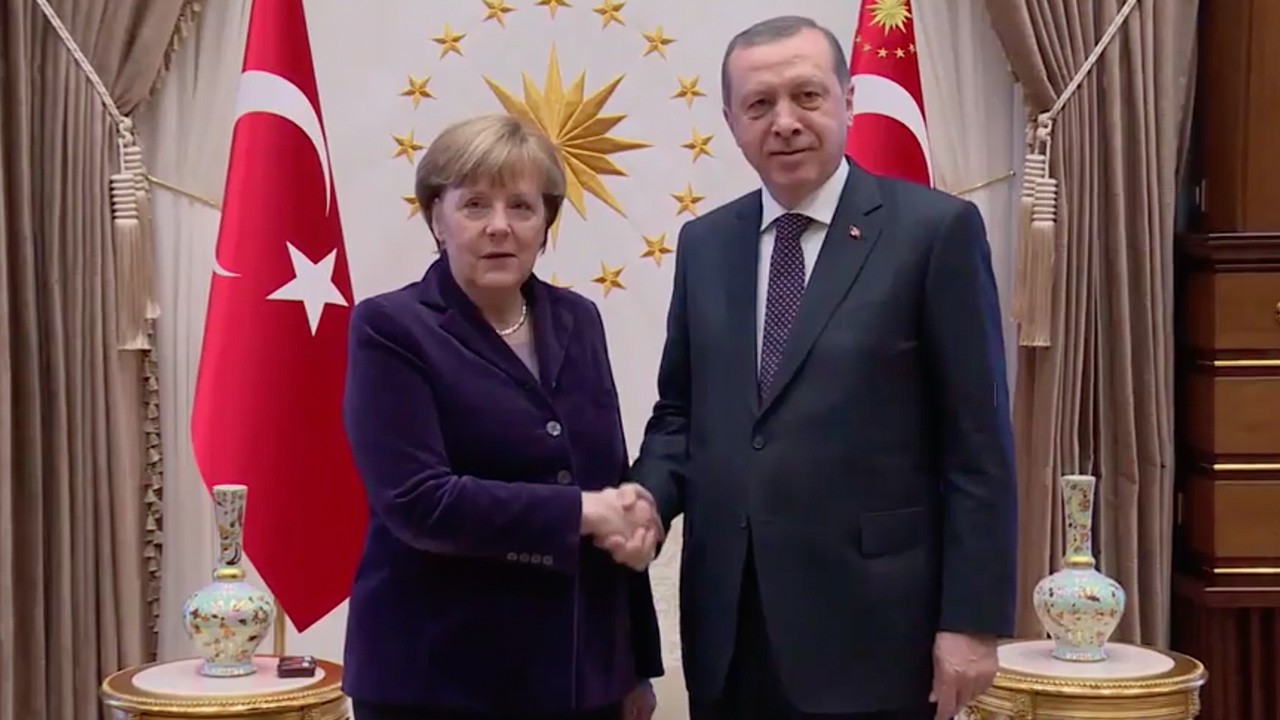 Cover image: People take part in a march of silence organized by the right-wing Alternative for Germany (AfD) political party and carry German flags and supposed victims of refugee violence on September 1, 2018 in Chemnitz, Germany. (Sean Gallup/Getty Images)