Delon (left) with older brother Dorell. Photo by Cassy Athena/Getty Image
Ever since he was little, Delon Wright has loved cheering on his older brother. Now, as he fights for more minutes with the Toronto Raptors, the cheerleading roles have been reversed.
Whenever Dorell played, Delon was there, rooting on the person he became super close with and whose footsteps he wanted to follow. It was often at baseball games early in their childhoods, with Delon sitting in the stands wearing comically oversized ballcaps and mini-me baseball uniforms, with wide-eyed enthusiasm that was hard to miss.
"He always used to dress in costumes—whatever team I was on, he was always the mascot," Dorell told VICE Sports over the phone from LA. "So we'd go to baseball games, he had the whole outfit on, and he used to wear this stinky batting glove—oh my God, it used to stink so bad, I don't know where he got it from."
"I was just really infatuated with the professional players and I would always use my imagination to dress up as somebody, try to imitate somebody," explained Delon, speaking to VICE Sports after a recent summer workout in LA, his childhood and offseason home.
Dorell, whose 12-year NBA career last saw him play for the Miami Heat in 2016, has been an ever-present part of his little brother's life. Growing up, Delon was an ardent witness and fan as his older brother by six years excelled at a variety of sports, including baseball, football, and particularly basketball, entering the NBA straight out of high school as a 19-year-old with Miami.
Though Delon took a different route to the NBA, the 2015 first-round draft pick of the Raptors—20th overall, just one spot behind Dorell, taken 19th overall in 2004—had his own breakout sophomore season with the Toronto Raptors in 2016 and continues to generate buzz with his defensive acumen and playmaking vision.
With his easy smile and infectious positivity, in some ways, not much has changed since those stinky glove days of his childhood. Always quick to crack a joke about his Curry 3s or unsuccessfully suppress a giggle during a post-game presser, the 6-foot-5 point guard very much retains a certain innocence and boyish playfulness.
"He's very silly, very goofy, very light-hearted, and a sweet kid," Dorell's wife Mia, who has known Delon since he was 12 years old, told VICE Sports. "Honestly, he's pretty much the exact same way, maybe a little bit more responsible than a 12-year-old."
Given his sunny disposition, it's often surprising for people to hear that Delon came from one of the toughest neighborhoods in America, or the substantial uncertainty he had to grapple with in the years before he was drafted. The preservation of that youthful optimism is a testament to the guidance and support he received from his family, especially from his brother Dorell.
---
The Wright brothers come from humble beginnings in South Central Los Angeles, a neighborhood heavy with a history of racial segregation and perpetual cycles of violence. This is where Delon and Dorell Wright grew up, two inner-city kids who emerged with bright futures from an area that, despite improvements in education and crime rates in recent years, is better known for its darker stories.
"Out-of-towners, people that are not from LA, they don't understand the culture—they think it's like a movie, things you see on TV," said Dorell. "That's the life we lived every single day.
"When you walk outside your door every single morning, your parents are worried like hell because they don't know what's going to happen to their kid on the way to school, on their way home from school. Anything can happen with the gun violence and the gang violence—that's second nature in Los Angeles for inner-city kids."
Playing multiple sports, which eventually led to successful careers as professional athletes for both brothers, was actually initially a way for their parents to keep their two boys busy and away from the vices that entrap so many youth in the area. "Losing friends at an early age, losing family members, getting trapped in the streets, we overcame all that stuff," said Dorell.
Dorell, now removed from his NBA-playing days, is cheering on Delon the same way his younger brother used to root for him. His social media activity surges with congratulatory tweets and highlight clips whenever Delon puts up a good performance, and he is one of the most vocally supportive siblings in professional sports. Part of that comes naturally from a love for his little brother, but it also stems from knowing firsthand what Delon has had to overcome to make it to the NBA.
"Just to show support for my little brother, it means the world to me," he said. "We come from the same place, we come from a struggle, and I know what it takes and all the hard work we had to put in to get to where we are today."
Perhaps even more remarkable than becoming successful professional athletes is the upstanding character the two brothers are known for. Aside from their buoyant personalities, they are both known for their work ethic and giving back to the community. Dorell, anointed "the Righteous One" by former teammate and good friend Dwyane Wade, founded the D. Wright Way Foundation with Mia in 2010. The foundation empowers inner-city youth to pursue higher education, and has handed out scholarships, served underprivileged kids with meals, and hosted dozens of events around the country since its inception.
Much of that personal and professional success comes from the example set by their parents, Stacy and Ray Wright.
"LA is full of gang areas, [but] our parents did a good job keeping us in sports and making sure we weren't hanging out with the wrong people," said Delon. "[They were] conscious of the struggles that come with living in LA, but also using those to our advantage."
"Our parents are definitely the top two reasons why we're in the position we're in," added Dorell. "They installed that work ethic in us and led by example—our parents still to this day wake up early every single morning, put their hard hat on and go to work. My father, he wakes up at 5 AM every morning, and my mother wakes up at 6 AM."
Larry Krystkowiak, who coached Delon during his time with the Utah Utes, recognizes that it all starts with their loving parents. "I think if you meet both Dorell and Delon's mom and dad, you'll know that there's something special there with the way they raised [them]," he told VICE Sports.
---
Nobody said making it to the NBA would be easy.
Though Dorell was a slam-dunk, first-round pick plucked straight out of high school, Delon's status as a fellow first-rounder veils the uncertain path he navigated before being drafted by the Raptors. The roads the brothers took to the NBA could not have been more different.
Delon went from a prep school to junior college, and then did two years at the University of Utah—in part because he prioritized getting an education and finishing his degree—before debuting in the NBA as a 23-year-old.
"You can only imagine just the struggle, sleepless nights, the nights you just don't know what's going to happen next," Dorell said.
As a freshman at Leuzinger High School in LA, which has produced NBA players such as his brother and Oklahoma Thunder superstar Russell Westbrook, Delon was a 5-foot-7 teenager with a wiry frame that few saw major potential in.
"I guess people didn't take me seriously," Delon told the San Francisco Examiner four years ago while he was playing for the City College of San Francisco. "I was like really skinny and I wasn't as athletic as I am right now. So a lot of people doubted me—like I'd never be as good as my brother."
---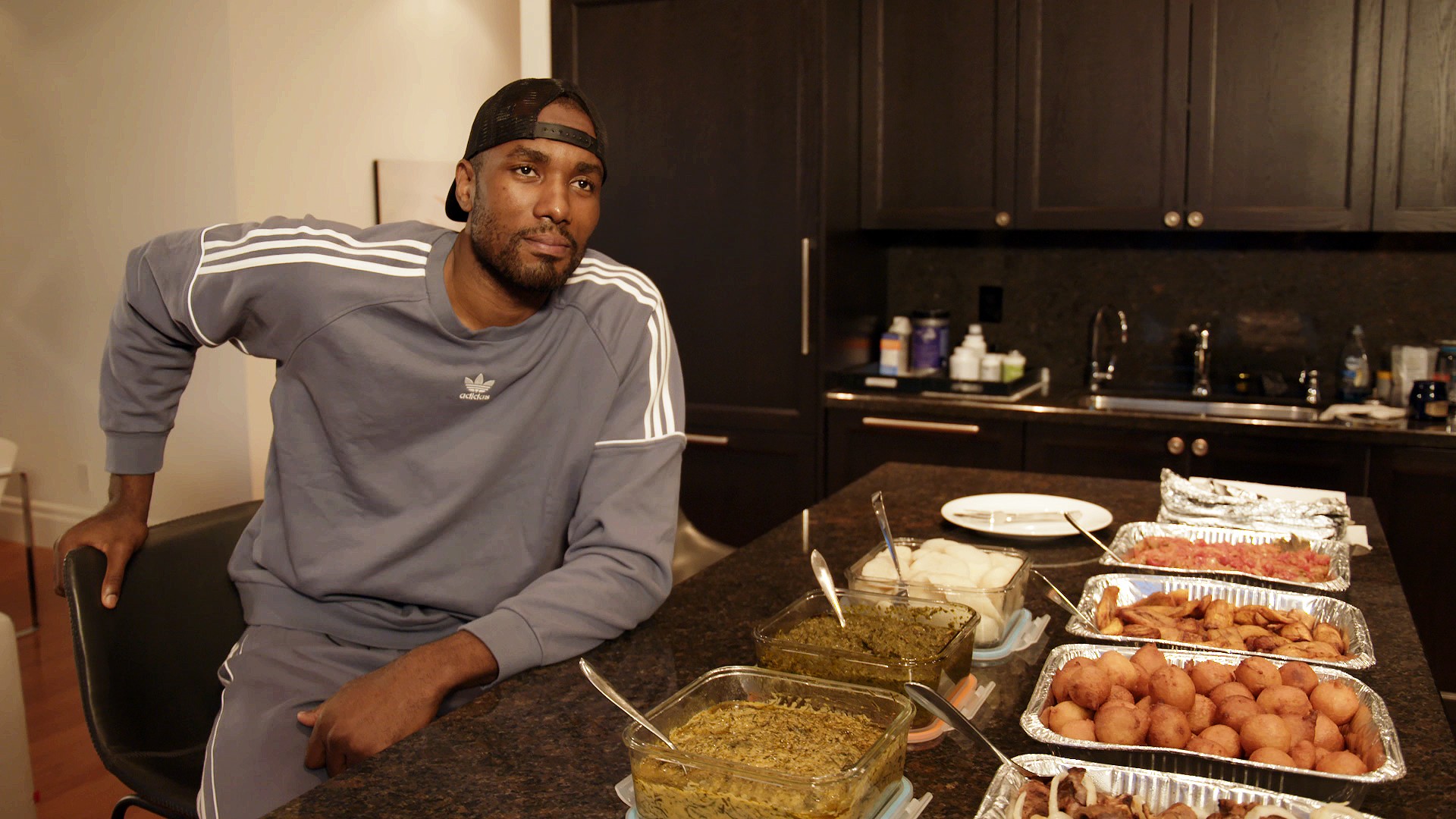 ---
In the subsequent years, both his game and maturity grew as steadily as his frame. By his senior year of high school, Delon had earned CIF Southern Section Division 1a Player of the Year honors, and after two seasons at CCSF, during which he led the Rams to its first 28-0 perfect season in 2013, he committed to Utah over schools like Gonzaga and the University of Washington, despite the team having only won six games in its previous season. What swung his choice was the possibility of showcasing his all-around game immediately, displaying a level of prescience and patience rare for hungry young athletes.
They didn't notice him at first, so Delon played until they couldn't ignore him. In his first year at Utah in 2013-14, he immediately broke onto the scene, averaging a 16.9 points and 6.8 rebounds per game, becoming the first Ute to be named first-team All-Pac-12 in addition to All-Defensive Team honors. An NBA dream that seemed distant inched closer to reality.
"It was a heck of a story. He really changed his work habits from his junior to his senior year and became the hardest-working guy on our team," said Krystkowiak. "From the time he arrived on our campus until the time he left, it was like a 180-degree turn, becoming much more open and vocal and comfortable, just incredible maturity."
"Delon has always been a late bloomer," added Dorell. "Not too many people knew him out of high school, not too many people knew him out of junior college, so he kind of pretty much did everything on his own as far as letting people know who he is and not letting people sleep on him any more."
Though Delon's journey was slow and steady, the uncertainty lacing his career at its earlier stages was eased significantly by the constant support from Dorell.
"Besides the moral support, I think financially that was able to help keep me afloat," said Delon. "He paid for me to go to prep school, he paid for me to go to junior college, so if I didn't have that I would have struggled a lot more, I would have been stressing about where I live, all that. I was able to lean on him for those times."
His work ethic, in addition to the influence of his brother, allowed Delon to consistently make quick adjustments to higher-caliber leagues. Krystkowiak believes Delon's ability to make an immediate impact in the Pac-12 was, in part, a result of the NBA pick-up games he'd play with Dorell and his exposure to the Drew League in LA during the summers.
"I was able to see his struggles, his success. Before I was even thinking about going to the NBA, I was already seeing that," said Delon. "When I got my chance, I was able to use that for myself."
---
Those first few years in the NBA can be a delicate transition, physically and emotionally, for players who go in uninitiated, expecting to continue the dominance and adulation they enjoyed at whatever level they were playing at before. Even for Dorell, the sudden switch from thinking he'd play 20-30 minutes to the stark reality of 159 total minutes over his first two seasons was humbling.
"You being a prep star in high school, everybody loves you—and now you're out there with the big boys, skipping college, and then it just stops," said Dorell, who recalled having to explain to a hurt 12 year-old Delon why his big brother wasn't playing much in his first few years in the NBA. "You become just another guy."
Seeing his brother go through that transition and coming in with the right expectations has helped Delon take those reduced minutes in stride, jumping off the bench whenever called upon to inject some energy and defense into the Raptors' second unit. Getting more run as a key piece of Toronto's rotation this past season, he averaged 8.0 points and 2.9 assists, both career highs, while also improving his shooting from the field and line. It was his best season yet and perhaps a sign of things to come. One game in particular, a 25-point, 13-rebound performance against the Bulls in January, gave fans a tantalizing preview of the offensive and defensive threat that Delon represents at his best.
Now having finished his third year and comfortably settled into a new team, city and country, Delon, inspired by the family example he's grown up around, is already looking to make a difference of his own in this world. It's a philosophy shared by his older brother and sister-in-law, for whom community service is a natural extension of their time.
The two brothers recently teamed up to establish the Wright Legacy Foundation, and held an event to support scholarships for inner-city graduating seniors.
In addition to the foundation he now runs with his brother, Delon is making his own mark on the community with the Delon Wright basketball camp, which kicked off for the first time last year. The second edition took place in Salt Lake City in mid-August before he goes on to another training camp with the Raptors.
"We both come from the inner-city community in Los Angeles and actually were the benefactors of a lot of those non-profit organizations and programs in the community for so many years, so it's just natural when we're in a position to give back ourselves," said Mia. "Delon's been around since the beginning of everything in Dorell's career, and the foundation would be one of those things. He understands the importance of family and community, of giving back and that's by way of example of our foundation and his family growing up."
Along with fundamental skills like ballhandling, passing, and defense, there's an additional panel at the camp focused on mental health, raising awareness of the issue amongst parents, while educating them on warning signs and ways to find support for their kids.
"The struggles of some NBA players like DeMar DeRozan, Kevin Love, they just came out talking about their issues," said Delon of the camp's more holistic approach to development. "I think if we start teaching them young as they get older it might help. Even if it's one kid out of everybody, you're still helping one kid, and that's all that matters."
While helping kids develop to their full potential through his camp, Delon is simultaneously focused on reaching his own apex on and off the court. With lofty ambitions philanthropically and professionally, coming into his own means pushing himself to do a little further each day, straining for incremental gains in improving himself and those around him.
Unfailing polite, the dimensionality of his personality built throughout the years has not eroded the upbringing that's formed his character, underpinned by the influence of his brother and parents.
"I don't want to be the guy that is taking energy from people," he said. "I want to give energy, be a positive role model, and be the guy that people can look to and say, 'That's who I want to be.'"
Resilient underdog, cheerful sparkplug; goofy little brother, budding philanthropist; rookie bench player, point guard of the future. A man of unexpected dimension, there's a lot more to Delon Wright than meets the eye, and even more to emerge.
"You know, Delon is full of mystery," said Mia. "He is like a Pandora's box, [and] I just know the world isn't ready for Delon Wright."