Nimra Amjad is running for school trustee. Photo via Facebook
Just days after a neo-Nazi allegedly murdered a woman in Charlottesville, a Calgary school board trustee candidate has received death threats from someone claiming to be a member of the Aryan Guard.
Nimra Amjad, 31, is running as a school trustee in two of the city's wards. On Tuesday, she posted a link to an article about school bus services—a topic that's being subject to much debate recently. In response, one person left two extremely threatening comments.
The first said, "paki bitch, what right do you have to run for office in CANADA. we will find out where you live. the aryan guard will find you. beware." The next comment said, "you will be lying dead on the street like heather heyer." (Heyer was the victim who was killed during the Charlottesville attack.)
After that, she received a message to her personal Facebook profile that said, "Paki bitch, what business do you have running for council. canada belongs to white people..the aryan guard will come for you muslim scum." (Poor punctuation has been left as is.)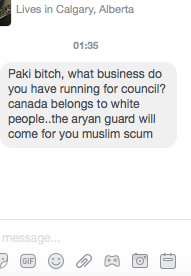 Amjad has reported the incident to Calgary police and said an officer is coming to speak with her tonight. She said she was told by police that the Aryan Guard is regarded as a domestic terrorist group. The organization's leader Kyle McKee has been jailed multiple times and it has since rebranded to Blood and Honour.
At first Amjad said she wasn't overly concerned. As a longtime human rights and climate change activist—and a Muslim woman from Pakistan—she is used to getting hateful messages. In fact, she said she initially thought the messages may have been connected to some of the stances she's taken on Pakistani politics.
"A friend of mine, two years ago she was shot (in Pakistan), she was killed for organizing a peace rally in solidarity with minorities," she told VICE. "Since then I'm a little aware of it in the Pakistan context."
However, her friends here told her she'd be naive to think the messages couldn't be coming from a hateful Canadian.
She said she met local Antifa members at a vigil for Heyer over the weekend and they said they're trying to find the person who sent the messages.
"I'm house sitting right now, I'm at my campaign manager's place, they're on holiday. (Yesterday) I was really terrified, I just asked a friend to come and stay the night. Every little noise I was jumping. Someone was mowing their lawn and I was convinced someone was trying to break in."
She said she removed her campaign office address and even considered dropping out. But she received a message from a former Albertan political candidate, a trans woman who received so many death threats she dropped out of the race, which motivated her to want to stay in the running. Amjad told VICE she's also concerned about racialized violence faced by kids in the community.
"That breaks my heart. I'm an adult and have very thick sin," she said, noting there needs to be action to prevent young people from becoming radicalized.
Earlier in the year, VICE profiled the rise of the III% (three percent), an armed Islamophobic militia based in Alberta.
Amira Elghawaby, spokeswoman for the National Council of Canadian Muslims, told VICE these types of threats would be alarming in any context, but they're particularly troubling in a week where we've seen deadly white supremacist violence down south.
"The way in which this perpetrator threatened her using words like the "Aryan Guard will come for you," I think that really is signalling something we haven't seen that much, which is specific white supremacist, neo-Nazi terminology."
A Statistics Canada report from earlier this year said hate crimes against Muslims were up 60 percent in 2015 as compared to the year before. But Elghawaby said two thirds of hate crimes don't get reported. And even when they are reported, police often dismiss them.
"What we are hearing right across the country is these cases and incidents are not being documented, they're not being taken seriously," she said. And the experience of being dismissed can re-traumatize victims and create a chilling effect, where others don't feel comfortable coming forward.
For these reasons, Elghawaby said she believes police should start tracking every time a hate crime is reported, even if it doesn't result in a charge. And the public needs to denounce threats like the one Amjad received in the strongest possible terms.
"It is absolutely critical that all of civil society comes out strongly to condemn this," she said. "The idea that free speech protects people to promote these wild views and hatred towards groups, that's simply not what we have here in Canada."
Follow Manisha Krishnan on Twitter.