Prisoners and prison staff at Belmarsh maximum security jail. Photo:
Stefan Rousseau/PA Archive/PA Images
Last week, a new report revealed widespread racial bias against black, Asian and minority ethnic (BAME) prisoners within Britain's criminal justice system. Led by Labour MP David Lammy, the review also expressed concern over a surge in the number of Muslims in British jails, and found that Muslim prisoners – male and female – feel more at risk from violence and intimidation while inside than any other group of inmates.
The report comes amid growing concern around the radicalisation of prisoners by extremists in British prisons. In April, for instance, it was announced that three "jihadi jails" – segregated blocks in existing prisons – would be set up to house and isolate extremists such as Lee Rigby's killer Michael Adebolajo and preacher Anjem Choudary, in a bid to keep radicals away from the general prison population.
But behind the headlines, what is it really like to be a Muslim prisoner in a British jail?
Earlier this year I went to Bradford, a city with the largest proportion of ethnic Pakistanis in England, to meet criminologist Dr Mo Qasim, who's based at Swansea University. He has spent a decade researching the lives of young Muslim drug dealers in Bradford – the city where he grew up – observing them as they earned money, fought turf wars and drifted in and out of jail.
As part of his research, Dr Qasim wrote a report, Young British Muslim men and their experiences of "inside", which is due to be published later this year. It will also form part of a book he is writing, Young, Muslim and Criminal, out in January.
---
WATCH: Inside the Political Occupation of Holloway Prison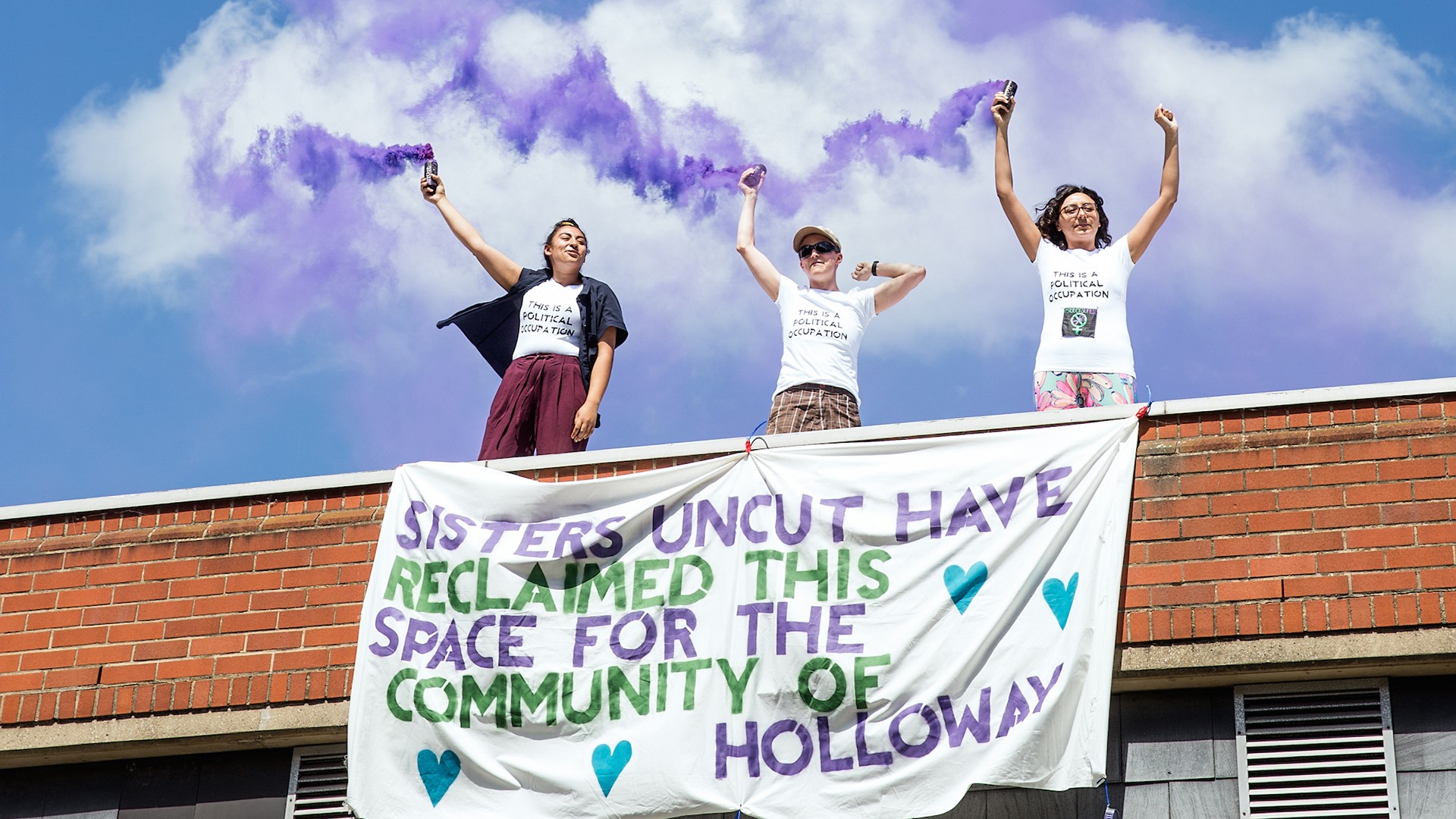 ---
When I arrived at Bradford train station I was beckoned into the tiny back seat of an expensive-looking sports car, where Dr Qasim introduced me to Riz, who part-runs the city's heroin and crack trade and has been in and out of care homes and jail all his life. Our interview had to happen inside the car; if the pair were seen talking to a white person, people would presume they were talking to a cop.
"Being a Muslim in jail is mad – it's hardcore," said Riz. "Every Muslim is a target inside prison. It's worse the further north you get; you're more outnumbered. In Newcastle prison it's almost all white – it's so racist."
I asked Riz if the child grooming scandals have impacted on Muslims in prison. He told me that, recently, in Leeds' HMP Armley, 12 Asian guys arrived and a rumour went round that they were child molesters. The next day they were battered by other inmates in the exercise yard, despite being in there for drug dealing and robbery.
"If you don't hang around with Muslim boys they'll not back you when the white lads and the screws beat you up for being a molester or a terrorist," said Riz. "I was in prison before 9/11 and there was racism before that. But the anti-Muslim stuff in the media since then has made it worse; you get a lot more shit in prison for being a Muslim now."
Riz explained that the racism is often pernicious. "It's not obvious – it's hidden," he said. "So, for example, the screws will treat us badly. One told me there was no milk for my tea, so I whacked him round the head with my tray. I was put in solitary on another wing, then threatened by the white boys, calling me a 'Paki'. I had to defend myself with a PP9 battery in a sock."
In between Riz fielding drug orders on his throwaway mobile, I asked him about the reports of extremism and radicalisation in British prisons. He said there is a presence of people trying to radicalise, but that to him and his friends they're just a pain. "They preach this and that, they talk about taking over the wings, the whole jail. They say, 'Fuck the whites,' like what the NF [National Front] say about us. They try and brainwash the young lads, fill their heads with bullshit. They say, 'This land is God's land, why are white people ruling over it? How dare they?' But are they really good themselves?"
Riz argued that the radicalisers in jail are no different to the media outside. "The media is also brainwashing white people with all the negative stuff on TV about Muslims," he said. "There is nothing positive said about us. The media has had an impact on prison violence – it's gone up."
Are Muslim inmates prepared to side with radicals to keep safe? "Like lions, you survive in a pack," said Riz. "I don't agree with extremism, but we have to be together. I can batter one racist, but I can't batter four of them."
After driving around for a while, past the old silk mill that became the epicentre of Bradford's original Pakistani community, the nearby red light district and the city's drug dealing zones, we stopped off at a curry café, deemed discreet enough for me to sit out in the open. There, I was introduced to J, another Pakistani dealer with experience of prison.
One of the 35 recommendations made in David Lammy's review is the introduction of targets for a more representative workforce within the criminal justice system – a result of many BAME inmates stating that they had been unfairly targeted by white staff. It's a complaint J echoed when we started to chat. "You first notice the racism in the showers when you go on a new wing; you sense you're not welcome," he said. "Every day we get attacked. The worst thing are the screws – they've made it difficult to pray; they make life difficult. We get roughed up by them."
J avoided the extremists in jail. "There is pure hate in them, so much hatred," he said. "They say if you're not a practicing Muslim you should not shake hands with them."
Mind you, J's experience inside wasn't all divisive. "Being behind four walls got me thinking – the Quran kept me going," he said, adding that he also read the Bible and "met some good Christian lads". He memorised verses from both religious texts and, since leaving jail, his interest in theology has blossomed. Alongside selling heroin and crack, he talks in churches and is involved in debates on religious dialogue.
"[White inmates would] be shouting out how Muslims are going to get it, but the screws did fuck all. They could hear it but they didn't give a shit, to be honest."
What surprised Dr Qasim about these guys' experience in prison was how hostile an environment it had been for them. There was a façade when chatting with each other on the street – that doing time was "easy, a worthy test of their masculinity and street cred" – but when it came down to it, the most important thing inside was to band together to defend each other from racist attacks.
"Through their shared ethnicity and religion [they] combined to demonstrate solidarity in what can be termed a hostile environment," noted Dr Qasim. "This sense of solidarity helped the boys to look out for, protect and defend each other and other Pakistani inmates."
One of the young men, Ali, told Dr Qasim: "There was this time when these goras [white inmates] rushed an apna [Pakistani inmate] in the showers – they smashed him up big time. Should have seen his face, looked proper bad. Anyway, the next day on exercise we seen the gora and fucked one of them up. The screws had to put the full wing on lockdown because of it."
Another former prisoner, Salman, told Dr Qasim that in jail he had to protect a young Pakistani who was being treated as a slave by a group of white inmates from Barnsley. He then expressed disbelief that his show of solidarity hadn't been recognised when the young lad he'd protected inside started work at a takeaway and failed to give him a discount on his food order.
Drug dealer Nav spoke of how, when he went into a prison "up north", white inmates would repeatedly shout racist abuse out of their windows at him and other Muslim inmates: "The goras be saying, like, 'There's another Muslim rapist on our wing,' and saying we were all groomers and terrorists and that. They'd then be shouting out how Muslims are going to get it, but the screws did fuck all. They could hear it but they didn't give a shit, to be honest."
Most of the Bradford boys continued dealing drugs inside prison as a way of earning money, bribing the kitchen staff to get curries, chillies and coriander, and stocking up on lots of toiletries, apparently a display of wealth and power in jails. Most, too, became more devoted to Islam while inside.
Dr Qasim's report notes that: "Religion, it seemed, offered them a feeling of purpose and comfort. It could be argued that faith was a coping strategy in difficult times. A realisation that their lives were lives in which they were doing considerable wrong. Also to reflect on issues such as their existence, life and death."
Some prisoners found themselves reading the Quran for less spiritual reasons. Kamran said: "There used to be fuck all to do. I was sick to death of watching fucking Jeremy Kyle and all the other bullshit that used to come on TV, so I thought, 'Fuck this, I may as well start praying my namaza [five daily prayers] and do something good, at least.'"
"If anything, prison was considered by the boys to be a place to become a better Muslim."
I ask Dr Qasim why he thinks there has been a doubling in the proportion of Muslim prisoners over the past decade, a surge the Lammy report could not account for. "Poverty, deprivation and drug offences are probably the main reasons," he says. "There is also the young age profile of the Muslim population, which means more of them are at the age when most criminal convictions occur. Also, as courts are giving out harsher sentences."
Another issue is that once you're in the cycle of reoffending, it's hard to get out. Many of the young men in Dr Qasim's study came out of prison to continue selling drugs, and, for some, their newfound religious devotion started to dwindle after being released – a fact not wasted on their local imam in Bradford, who told them during one prayer meeting: "I see brothers coming out of prison coming to the mosques. Then what happens to them is that the duniya [the world] hits them. They see boys in fast cars, see women dressed in short skirts, and what do they do? They begin to chase the duniya. They slowly stop coming to the mosque, and what happens is that they lose their iman [faith]. They stop praying altogether and they go back to how they used to be before they went into prison. The question is why they prayed in prison: they prayed in prison because they were locked up for 23 hours a day; they didn't have the distractions that we have out here."
In the end, despite being exposed to a host of racists and radicalisers, apart from a bit more faith in their religion, most of the guys Dr Qasim spoke to for his report came out of prison and straight back into the life that led them there.
"From the boys' accounts of prison, what becomes obvious is that prison has not been the reason for desisting from crime, nor does the thought of going to prison scare them," he said. "If anything, prison was considered by the boys to be a place to become a better Muslim, or even in some cases make better contacts with drug dealers from other towns and cities."
These accounts, of course, come from a specific group of men in a specific British town. However, their complaints – of systemic racism and discrimination – chime with those made in David Lammy's review, and demonstrate a fundamental set of flaws within the UK prison system. Commit a crime and you should face the consequences – but we have to ensure those consequences are the same for everyone, regardless of their race or religion.
Dr Mo Qasim's book, Young, Muslim and Criminal, will be published by Policy Press in January, 2018.
More on VICE:
Prisoners Describe What It's Like to Get a Tattoo Behind Bars