When neo-Nazis and white supremacists marched on Charlottesville, Virginia, VICE News was on the ground to document the weekend of violence they triggered.
The clashes, which injured at least 34 people, turned deadly when 20-year-old James Alex Fields Jr. allegedly plowed a car into a crowd of counterprotesters, killing 32-year-old Heather Heyer.
Since then, we've charted the aftermath of the attack — from the president's defense of the white supremacists to the Charlottesville community's response. We also spoke to Fields' old classmates, who called him "the Nazi of the school."
Watch VICE News Tonight's full episode of "Charlottesville: Race and Terror" below.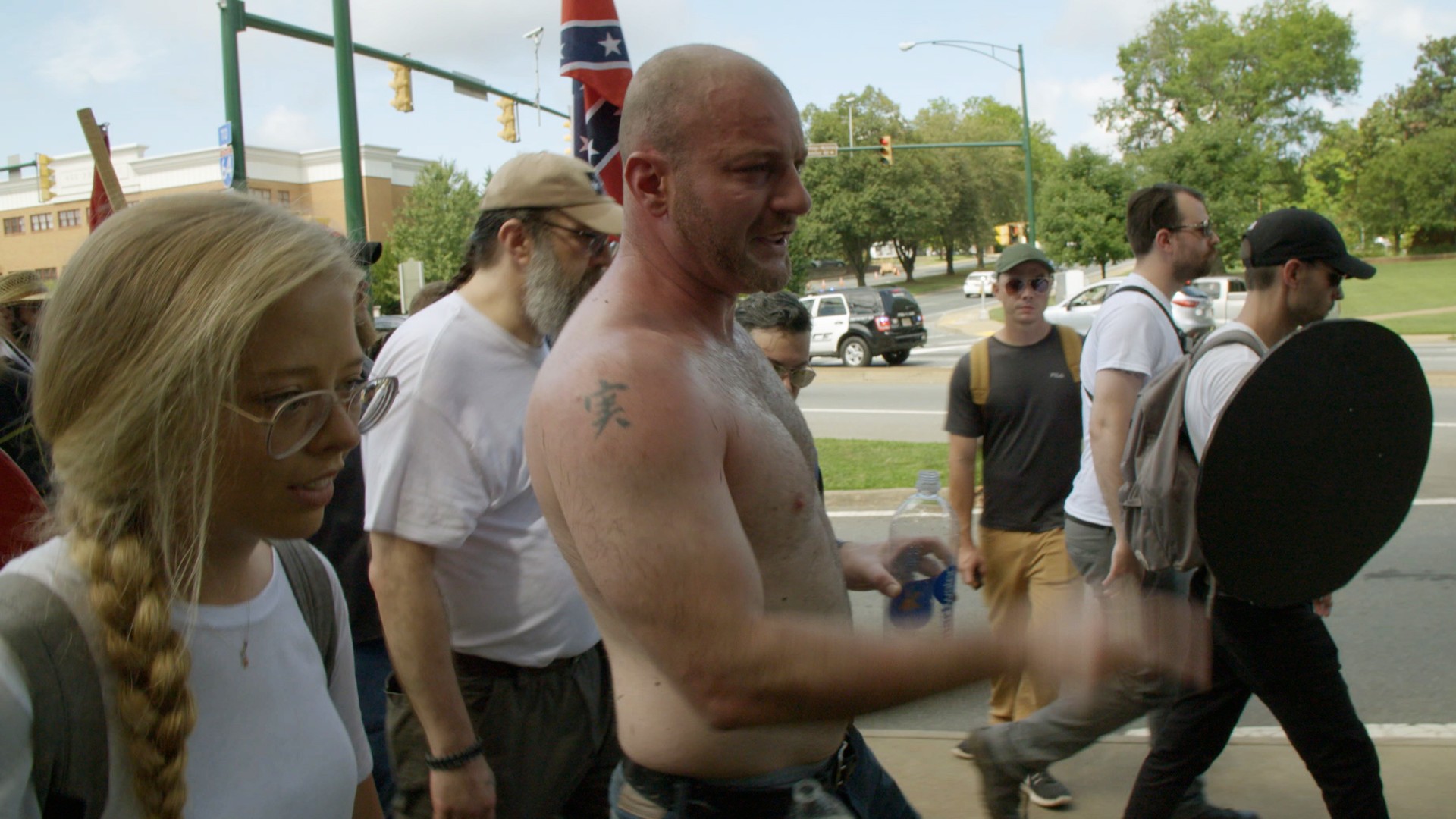 The tension began when the "Unite the Right" rally — largely composed of neo-Nazis, so-called alt-righters, and white supremacists — descended on the college town of Charlottesville on Friday to protest the city's planned removal of a statue of Confederate General Robert E. Lee.
More than 1,500 Confederate memorials still remain in the U.S. — some in parts of the country that didn't fight for the Confederacy or weren't even U.S. territories at the time of the Civil War.
By the next day, clashes began between counterprotesters and the racist mobs — who were shouting chants of "Jews will not replace us," "White lives matter," and "Fuck you, faggots!" — and quickly turned violent.
Virginia Gov. Terry McAuliffe had already declared a state of emergency, before a car deliberately plowed into a crowd of anti-Nazi protesters, killing Heyer and injuring 19 others on Saturday. Two Virginia state troopers, monitoring the violence from a helicopter, also died when their craft crashed.
While most of the neo-Nazis and white supremacists had fled the area by Sunday, the fear remained. "This used to be a place where I wanted to raise my kids, but now I want to go somewhere else," said one mother, armed with a baseball bat, just in case.
Authorities charged a 20-year-old Ohio man named James Alex Fields Jr. with second-degree murder for Heyer's death. Old high school classmates said Fields had a history of praising Hitler and even wore a belt with swastikas on it.
"You could see his beliefs plain as day," said one of Fields' former classmates at Randall K. Cooper High School, in Union, Kentucky.
During the demonstrations in Charlottesville, Fields held a shield emblazoned with the logo of Vanguard America, a hate group that decries an "endless tide of incompatible foreigners."
In fact, neo-Nazis showed up at Fields' first court date. One shouted "Heil victory," while a handful of bystanders chanted "Nazis, go home."
The "Unite the Right" rally triggered similar counterprotests across the country — in Washington, Memphis, New York, Los Angeles, Atlanta, Seattle, and several other cities. Protesters in North Carolina took matters into their own hands and toppled a Confederate statue in Durham, while Baltimore tore down all four of its monuments in one night, on the mayor's orders.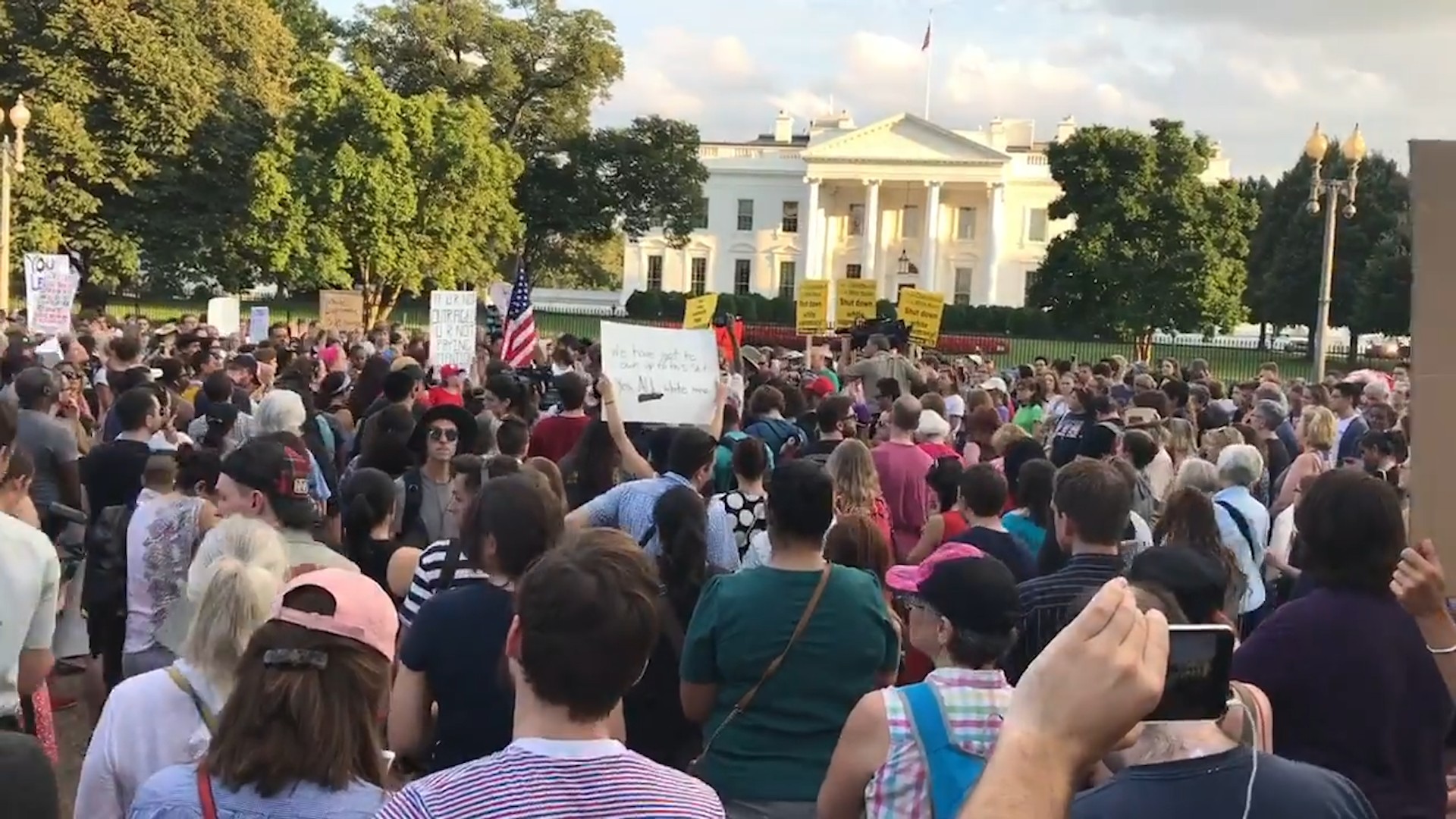 Despite the clear source of the violence in Charlottesville, President Donald Trump's response failed — in more than one instance — to denounce white supremacy.
The same day Heyer was killed, the president condemned the bigotry "on many sides." His equivocating remarks drew immediate scorn from Democrats and Republicans alike, many of whom had immediately denounced the violence themselves.
In tweets addressing the violence, the president's own daughter and adviser, Ivanka, used the term "neo-Nazis," and at least eight major American CEOs quit Trump's business councils, with most citing his inadequate response.
But extremist ideology already existed in the White House — presidential adviser Steve Bannon is a known ally of the alt-right movement, and senior White House official Sebastian Gorka has been linked to a Hungarian nationalist group that once collaborated with Nazis.
Trump finally did denounce the hate groups that marched in Charlottesville, in an unscheduled, although scripted, statement at the White House on Monday — though he later fired off a disgruntled tweet:
Then, the next day (without a teleprompter), the president went back to defending the white supremacists and criticized "the left" for "violently attacking the other group." Experts said Trump's response will likely fan the flames of far-right violence and leave local law enforcement with more ground to cover and fewer resources to go after white extremists.
On Thursday, the president went on a Twitter tirade to defend his comments and denounce his critics. He attacked Republican Sen. Lindsey Graham, who's been critical of Trump's remarks about Charlottesville, and decried the loss of "beautiful statues and monuments" that "will be greatly missed and never able to be comparably replaced!" The president pondered if statues of Thomas Jefferson and George Washington will be targeted next.
Outside of the White House, the response has been more decisive. Tech companies began cracking down on Nazi websites. The events also ignited a debate over whether Silicon Valley and social networks should start treating white supremacists as terrorists, like ISIS.
"Twitter has done a horrific job of cleaning up its act. It's been great on ISIS but terrible on racism in the U.S.," said Heidi Beirich, who runs the Intelligence Project at the Southern Poverty Law Center.
Rex Santus compiled this report.