If there's a single guiding principle to keeping your sanity in the age of Trump, it's this: Don't believe anything anybody says.
This goes double if you're trying to figure out the state of the U.S. economy. There's a giant chasm between how people say they think the economy is doing — as measured by so-called "soft" economic data like consumer sentiment surveys — and how the economy is really doing.
All indications are that the economy is chugging forward at a roughly 2 percent growth rate with a pretty healthy job market. By contrast, the softer economic data suggest that the U.S. economy has returned to the epic boom times of the late 1990s.
The reason for this discrepancy is simple: politics. While the economy hasn't changed much since the election, the economic outlook of partisan Republicans has. Confidence among Republicans surged after Donald Trump's surprise victory in the November presidential election. Likewise, small-business owners, many of whom are Republicans, say they are incredibly sanguine about the future.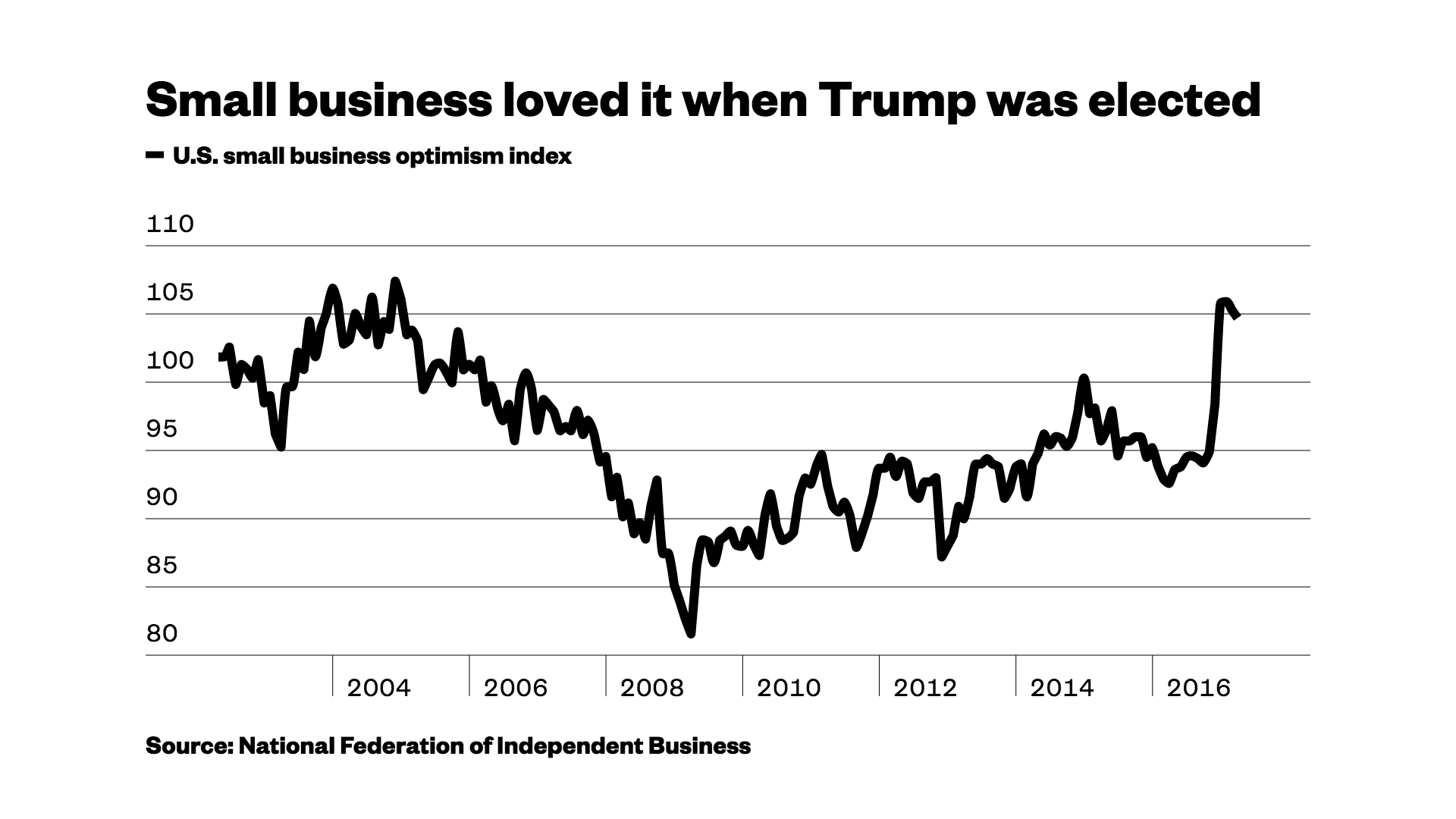 Traditionally, strong sentiment among consumers — the economy is 70 percent consumption — and business owners would be viewed as harbingers of an economic liftoff. In other words, based on what people are saying about the economy, we should be seeing an increasingly robust economy.
But to reiterate: Don't believe anything anybody says. Instead, look at what they do. And one of the best barometers of whether people are anticipating economic growth or economic doldrums is their borrowing behavior. And while business owners have been outwardly declaring optimism in the aftermath of Trump's victory, in practice they're cutting back on borrowing significantly, raising the risk that the U.S. economy could hit a soft patch.
This shouldn't be a surprise. Economists have long known that business hates uncertainty, and Trump is a one-man uncertainty factory. He won the White House in part thanks to bluntly worded promises to rip up the trade deals, alliances, diplomatic niceties, immigration systems, and institutions that dictated the rules of the road for American business for decades.
But now even uncertainty seems uncertain. In just the last few days, Trump retreated from his pledge to label China a currency manipulator and said he's open to keeping Federal Reserve Chair Janet Yellen on as head of the world's most important financial institution after her current term ends in 2018. This despite having said on the campaign trail that he would likely replace her.
Trump has also promised to completely overhaul the U.S. tax code, but he hasn't presented any kind of plan to do it.
Corporate America doesn't like improvising. It likes to know the rules, especially tax rules that can determine whether it makes sense to sink cash into long-term investments in things like buildings and equipment. If the rules aren't clear, businesses tend to stand still and wait for the clouds of uncertainty to lift. There's a name for lots and lots of businesses standing still: recession.
I'm not predicting that the country is headed toward a recession. It's even possible that some businesses find Trump's latest series of flip-flops reassuring, since they generally bring him more in line with the kinds of economic policies that have been in place for decades.
In fact, America's most influential bankers are acknowledging the lending slowdown but saying it's not worrisome. In discussions with analysts after a solid earnings report Thursday, JPMorgan Chase Chief Executive Jamie Dimon pooh-poohed the slowdown in business lending and its relationship to the Trump administration.
"Fundamentally a pro-growth series of policies will be constructed [for] the economy, [for] our clients, and ultimately will end up in them hiring [and] spending," according to Dimon. "We'll see that translate into loan growth."
Or at least, that's what he says.