Narendra Modi paraphernalia is a fairly big business. There are 56 inch t-shirts, "Tolerant Modi" coasters, fiery laptop skins, phone covers, and even life-size cardboard stand-ups on sale for his fans from all the other world.
But the most intense form of #ModiMania can be found in the playground that is the Google Play store, where developer fanboys of the digital life-lovin' prime minister come out to pay tribute. There are apps that allow you to take selfies with Modi, side-scrolling platform video games, and love letters to the new currency notes. There are also keyboards, a Modi guide to yoga, status apps, and an app that gives you mah-mah-mah-Modi Face.
I scrolled through about 245 apps to look for the gems.
Unlike Rahul Gandhi's pre-election Temple Run, Modi Run is a simple game where PM Modi runs through obstacles placed against the background of various Indian states to win elections.
Modi Run has graphics worse than 1990s Tetris. But this doesn't seem to matter to the over one million people who have installed it. The prize for beating a level is getting to see Modi cozy up to Barack Obama, which seems a little dated, but whatever.
Several other games offer variations on this theme.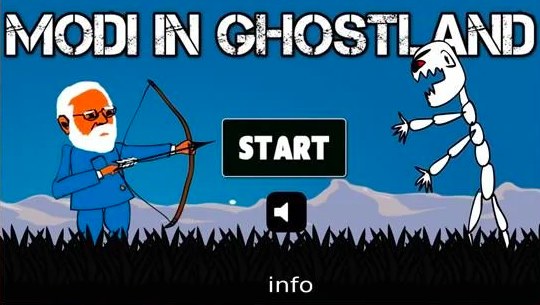 If you thought the guys making Modi Run were being creatively lazy, the developers behind Super Modi kicked in a door, bringing a meme to life, screaming, "Hold my beer." This app superimposes Modi's face on Mario and lifts the entirety of the Mario arc—minus the Princess, for Modi loves only the nation.
In other games, he even has to contend with villains like former Prime Minister Manmohan Singh, Congress President Rahul Gandhi, and Delhi Chief Minister Arvind Kejriwal.
The picture seems more realistic than most political party manifestos.
Patriotism fuses with tech in an app that asks citizens to "Cooperate with our Modi Ji for 50 days to ensure fight against black money."
How? The Modi Keynote app (one of dozens) uses augmented reality (familiar to fans of Pokémon Go), to play Modi's controversial video announcement of demonetisation on the new Rs. 200, Rs. 500 and Rs. 2,000 notes. According to the app developer, Tirupati's own Suresh Kumar of Barra Skull Studios, it doesn't work on the demonetised notes.
The app is listed under entertainment and has over five million downloads, but it isn't really entertaining. It reminded me of the mindless hours I spent standing in a line in the Delhi cold post cashtration. Even Kumar is unhappy, telling me over the phone that he's made other more innovative apps, but the janata only downloads Modi Keynote.
Although, Kumar added nonchalantly, he made Rs. 6 lakhs in the year after demonetisation from ads in the app.
Modi Jacket Suit Photo Editor
As the ruling dispensation, The BJP has been oddly obsessed with how much physical contact India's first prime minister and Swag Prince Jawaharlal Nehru had with the women around him. Our current prime minister is obsessed with Nehru too, blaming him for pretty much every problem in India, forgetting that a current PM kinda, sorta has the ability to change policy.
In his quest for being different, Modi has co-opted the Nehru Jacket, which now sells like gangbusters when branded as the "Modi Jacket".