Less than 24 hours after firing off a racist tweet about a former Obama advisor, getting her show canceled, and promising to "leave Twitter," Roseanne Barr ended her hiatus to blame the whole thing on Ambien.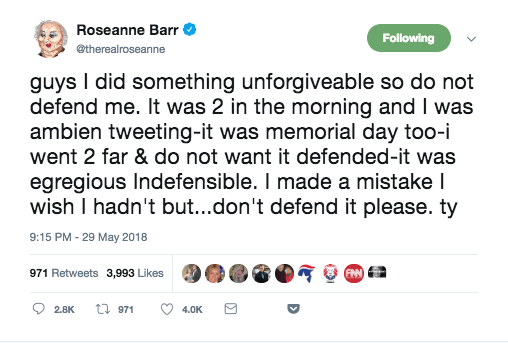 She then followed up the bizarre, since-deleted excuse with another apology to former Obama advisor Valerie Jarrett, who on Tuesday she called the baby of "Muslim brotherhood & planet of the apes."
And yet just as she tweeted about not wanting her racist tirade "defended," Barr sent out a flurry of retweets from people who had rushed to her defense about Jarrett's skin color and ethnicity—including a debunked conspiracy theory that the former Obama advisor was quoted in Stanford's yearbook saying she "wanted to help change America to be a more Islamic country."
Later, Barr apparently realized the tweet was a hoax and hastily deleted it, but she also replied to a tweet from someone who said he thought Jarrett was Hispanic, adding that she "thought she was Saudi." Barr then went on to attack her co-stars for condemning her behavior, telling actor Michael Fishman that he threw her "under the bus."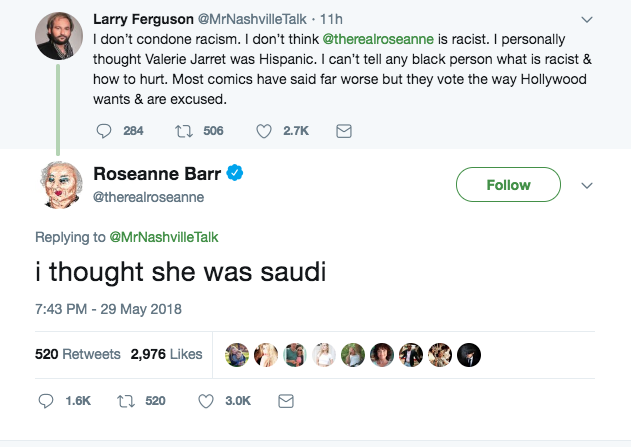 In another since-deleted tweet, Barr also said that she'd be appearing on Joe Rogan's podcast on Friday. The appearance will likely be her first following Tuesday's tirade—one even the right-wing media deemed was racist—that prompted ABC to cancel one of its most popular revivals to date.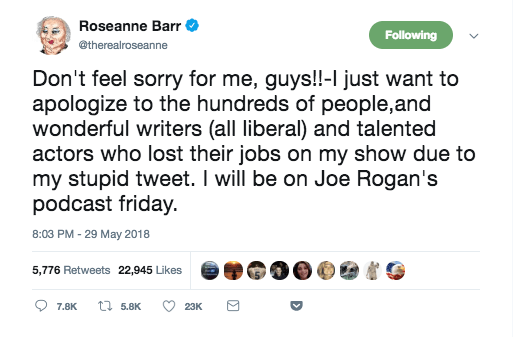 The unhinged tweetstorm only proved that Barr should have probably stuck with her original promise to leave Twitter. She ultimately wrapped up the early morning tirade at 6:30 AM wishing everyone a "goodnight," a few hours before Sanofi, the pharmaceutical company that makes Ambien, hopped online to set the record straight:
Sign up for our newsletter to get the best of VICE delivered to your inbox daily.
Follow Drew Schwartz on Twitter.