Derik Hamilton-USA TODAY Sports
Matt Riddle puts on a track suit and flip-flops and stomps through slush in a Quality Inn parking lot north of Boston to circle up and smoke a joint that's as stiff as a chicken bone. Passing left to Rico de la Vega, a ponytailed pro wrestler, and Abby the Butcher, a pseudonymous fan-turned-friend, Riddle looks and sounds less like a growing indie wrestling superhero, and more like a Southern California lifeguard sparking one up behind the snack bar.
Neither the slush nor the cannabis have an obvious effect on Riddle, who spends most weekends living out of a suitcase: Thursday he was in Florida, Friday in the United Kingdom, and Saturday night in Queens, where he stayed out until 4 or 5 AM before driving up to Massachusetts. Now, Riddle is passing time before a Sunday doubleheader in the town of Melrose. In the afternoon, he'll ply his trade with indie promotion Beyond Wrestling. In the evening, he'll wrestle for the WWE feeder league Evolve Wrestling. Then it's back home to Pennsylvania by morning, where he'll watch Stranger Things with his three kids and maybe hit the gym once or twice before the traveling circus begins again next weekend.
"I'm not bitching like this lifestyle is so hard. It's rough, it's tough, but it's extremely fun," Riddle says. "Take into consideration I get to play-fight in my underwear every week, and I get paid very well to do it."
Riddle's life is, without exaggerating, ridiculous. One moment he's pulling off suplexes to chants of "Bro! Bro! Bro!" The next, he's eating a horrible looking Stromboli to replenish abs that, considering his lifestyle, are unfairly chiseled. But Riddle knows all of this. His self-awareness is evident as he opens up about his journey from the blood and treasure of the Ultimate Fighting Championship to the skivvies-based storytelling of pro wrestling.
In the UFC, Riddle was a 170-pound wunderkind—never rising above a prospect, but fighting three times a year and making good money during a dozen-fight stint that ended with four straight wins. Then came two failed drug screens. Now, he's the King of Bros, one of the brightest prospects on the booming independent wrestling circuit, with an MMA-centric style that's earned him wide praise and meetings with WWE higher-ups. Whether he ends up with wrestling's standard-bearer depends on whether they can look beyond Riddle's leafy past, or whether Riddle even wants to surrender his freedom and the six-figure income that he says he makes as an in-demand indie wrestler.
Whatever happens, Riddle is happier taking bumps in the squared circle than bleeding for Dana White.
"MMA is like the Colosseum in Rome: the fans want to see violence," he says. "You might be their hometown guy, but if you get your jaw broken, they're still gonna go crazy for the bloody knockout, you know? That's fight culture. With wrestling, it's more like theatre or a movie. And even though it's a show and it's entertainment, it's just as difficult in its own right. I get more respect doing professional wrestling than I ever did in MMA."
---
---
In a sleepless third-floor room strewn with suitcases, the conversation centers around shutting down a bar after last night's show in Queens, and the designated driver vomiting up reheated Jamaican food during the early-morning drive. Abby, a bald, middle-aged Puerto Rican grandfather who befriended Riddle at the front end of his wrestling career, disappears then returns with orange juice and pastries, setting a continental breakfast next to some vape pens. De la Vega crawls under covers and begins snoring.
The King of Bros is unfazed by dawn. Riddle's is a particular kind of bro-ness: not a frat-house misogynist or a curls-in-the-squat-rack meathead, but a worry-free party animal whose breeziness is infectious, and who disarms through self-deprecation. He talks about meeting Triple H, the executive vice president of talent at the WWE, at an Evolve show like it was a deleted scene from Super Troopers. "He came up to me and goes, 'Hey Matt, I appreciate what you're doing here,' and I go, 'I appreciate what you're doing here.' Then he said, 'I wanna thank you for everything you're doing,' and I go, 'I wanna thank you for everything you're doing, Triple H.' That was my elevator pitch—he probably thought I was an asshole."
Riddle grew up in upstate New York, where as a teenager, he says he had a knack for skateboarding: he'd see a new trick once, then land it effortlessly. Riddle learned mixed martial arts the same way. In high school, he became state wrestling champion at 189 pounds—there's a picture of him atop a wrestling podium a few platforms above Jon Jones, who is arguably the most talented (and self-destructive) MMA fighter ever. He picked up fighting by reading a B.J. Penn instructional book and ragdolling his roommate in their apartment.
He caught the UFC's eye after a single amateur bout, and in 2008, debuted on The Ultimate Fighter 7 reality show as a goofy-grinned 22-year-old who shattered an opponent's jaw. Afterward, Riddle bought a house in Vegas, got a Brazilian jiu-jitsu brown belt, sired three kids, and spent five years as a perennial UFC prospect, accumulating a 7-3-2 record.
That "-2" spelled the end of his UFC career. In 2012, after choking out Chris Clements, Riddle tested positive for marijuana, turning his win to a no contest. The following year, after a split-decision win over Che Mills, Riddle pissed hot again.
Weed has been a part of Riddle's routine since he was a teenager, taking it illicitly as an alternative to his ADHD medication. "I did my research," he says. "I've had hand surgeries, I've used pharmaceuticals, and I [eventually] felt like, 'Holy shit, this is addicting and I shouldn't be taking this because I want to take more and I'm not even in pain.' Marijuana never felt like that. I just like the way it makes me feel. I'm about to be 32, I barely work out, and I'm shredded. I don't think it's because of the weed, but I don't think it's hurting me either, you know?"
"I'm about to be 32, I barely work out, and I'm shredded. I don't think it's because of the weed, but I don't think it's hurting me either, you know?"
Abstaining weeks before drug tests and holding a Nevada medical marijuana license didn't save him. The UFC released Riddle from his contract. (Drug testing overhauls would eventually relax standards around marijuana use.) But by the time the UFC cut him, Riddle says he was already disillusioned—with staffing changes at UFC HQ, with veteran fighters getting the shaft, with penny-pinching corporate greed. ("I broke a dude's jaw in three spots [on The Ultimate Fighter] and I got zero dollars. He got zero dollars.") And he was disappointed with fans' attitudes. "I'm training every day, cutting weight, using all this discipline to make myself into a lethal machine, and then a bunch of keyboard warriors would be like, 'Oh, his hands looked like shit out there.' It's like, I fucking just got Fight of the Night in the UFC."
After false starts in other MMA promotions, Riddle found himself on his couch watching WrestleMania and contemplating a new line of work. He'd grown up watching the WWF; he started amateur wrestling, he says, because it was the most analogous youth sport. Now, he saw pro wrestlers throwing knees and latching on submissions—the same things he'd been doing in the UFC. He thought he could do it better.
"I called my buddy and said, 'Hey, what would you think if I quit fighting and started doing pro wrestling full-time?'" Riddle recalls.
His friend replied: You'd be perfect for it.
Abby pilots the rented Chevy Suburban through metro Boston while Riddle FaceTimes with his wife, a competitive weightlifter. (The pair look as if they were paired off for selective breeding.) He talks about pissing blood while cutting weight back in his MMA days. These days he weighs about 40 pounds more than his UFC weight class, yet none of it is added fat or muscle—he's just not dehydrating himself on purpose. We park and sneak into Melrose Memorial Hall through a side door.
Ahead of the Beyond Wrestling matinee, the venue resembles a high-ceilinged flea market with a dais in the middle and painfully stiff chairs around the perimeter. A woman in a hoodie returns to her seat holding a paper tray piled with pulled meat, gripping several-dollar bills and cradling a green stuffed animal. Everyone in the audience seems to be wearing a wrestling t-shirt. One says "Get high, watch wrestling." There are too many Bullet Club logos to count.
In 2016, when ten-year WWE vet Cody Rhodes asked for his release from the promotion and landed with Bullet Club, a faction within New Japan Pro Wrestling, it proved a commonly held feeling: non-WWE and independent wrestling leagues are booming in ways not seen since the blood-and-barbed-wire heyday of the ECW.
"As far as alternatives to WWE, there are probably more viable options and ways [for wrestlers] to make a living now than really at any time in the last 15 years," says Dave Meltzer, founder and editor of the Wrestling Observer Newsletter, the leading pro wrestling publication. Ring of Honor business increased 29 percent last year, he says; All American Wrestling and Pro Wrestling Guerrilla saw their own swells in attendance. The surge is made possible by high-quality performers with social-media-ready personalities, an arms race to pull off the craziest GIF-friendly high spot, and a WWE-weaned fanbase yearning for something grittier than Monday Night Raw.
Abby, a lifelong wrestling fan, stopped watching after the WCW rolled into WWE; after catching the Young Bucks six years ago, he now averages an indie show every other weekend. "To me, it's about watching the rise of a particular character—the come-up of these people as they're progressing and tweaking their personas and repertoire," he says.
"There's a style that gets over really big with the indie fans, but it's a very hard style on the body," Meltzer says. This is where MMA begins to bleed into pro wrestling. The sports' histories are inextricably linked: legend has it that Mitsuyo Maeda, a Japanese judo master and turn-of-the-20th-century pro wrestler, taught grappling to Carlos Gracie, whose family passed that knowledge down to inaugural UFC tournament winner Royce Gracie. Former UFC heavyweight champion Brock Lesnar and 0-1 UFC punchline CM Punk were WWE royalty turned high-profile UFC signees. Now, many UFC fighters are finding a second act in pro wrestling, including Tom Lawlor, Shayna Baszler, who competes in WWE developmental league NXT, and former UFC poster-woman Ronda Rousey, who just signed a WWE contract. Even with scripted outcomes, bona fides as a real-life tough guy or lady go a long way.
"You hear the term being thrown around: Is this guy legit? Can he really beat up the other guy if the match goes south?" says Chuck O'Neil, another former Ultimate Fighter competitor and MMA-fighter-turned-indie-wrestler. "It gives it a mystique, and I think fans are drawn to that."
Riddle sold his house in Vegas and moved to a suburb near Allentown, Pennsylvania in 2014, wife and kids in tow, to pick up pro wrestling from scratch. The triangle chokes and takedowns came easily. Emoting did not. "In fighting, if you get hit in the face, you don't show it. You can't show it," Riddle says. "Even if you smile, you reacted because I hit you really fuckin' hard.… In wrestling not only do you have to react, you have to react where the whole building can see."
When Riddle began performing in 2015, his UFC fame earned him his first wrestling bookings, but now his MMA résumé isn't really a part of his act or appeal: by all accounts, he's a prodigy.
"There's only a handful of guys in my life that I've seen adapt to pro wrestling as quickly as he did," says Meltzer, whose Wrestling Observer Newsletter named him "Rookie of the Year" in 2016. Riddle's style is nakedly based on MMA—more flesh-slapping Muay Thai strikes and less diving through tables—and he has natural instincts for smoothing out performative creases. "If there's a hiccup, he keeps it going. Every match he wrestles is so clean," says O'Neil, his real-life friend and occasional scripted foe. "Fans are usually like, 'did you see that move?' and then forget about it in a week. There are matches that [Matt]'s had that people say, 'Holy shit, did you see this?' and the match happened six months ago."
It helps that Riddle's true self and acquired character blur together. "When you first get into wrestling, everybody tells you, 'Be yourself times ten.' When you first hear that, you're like, 'What the fuck does that mean?'" he says. "But it's just acting. Will Ferrell playing a serious role isn't really Will Ferrell; him playing a comedic role, that's funny. It's the same in wrestling: you can play a viking or whatever, but it just doesn't fuckin' make sense because that's not who you really are. I'm Matt Riddle. I can be this all the time. It doesn't have to be me times ten."
---
---
Among wrestling fans, Riddle's refusal to wear shoes is a bigger wedge issue than weed, but his marijuana habit has hindered him with the management, if not to the level it did with UFC. Not long after his first-ever match, Riddle tried out with WWE; months later, they passed on signing him and pointed him toward the feeder league Evolve Wrestling. The culprit was his history with weed. "It wasn't that I failed a drug test [in the UFC]—it was my political stance on marijuana," Riddle says of why WWE looked past him. "It was the fact that I think it should be recreationally legal, it should be medically legal." And last fall, New Japan Pro Wrestling torpedoed a deal to bring Riddle to its World Tag League. "If it wasn't for the marijuana stuff, my gut [feeling] is that he'd be a superstar today either in Japan or in WWE," Meltzer says.
But changing social attitudes mean marijuana isn't the impediment it used to be. It's an open secret that many wrestlers smoke pot; Rob Van Dam, a former WWE champion, famously made marijuana part of his character. Under WWE's wellness policy, a positive marIjuana test incurs a $2,500 fine. ("A lot of wrestlers just call it the pot tax," Meltzer says.) But much as Riddle loves getting stoned, he insists it's not why he hasn't moved on from the indies. "If the money was right with [WWE] and they said you have to quit smoking, I'd quit smoking. If New Japan was down, I wouldn't bring weed to Japan—I'm not an idiot," he says. "I know [the Japanese] drink, so I'd still enjoy myself."
The bigger question is whether it's worth exchanging his freedom and income for a bigger platform in a famously controlling promotion. "Honestly, right now I make six figures. I make my own merch. I'm the main or co-main event of every show I'm on. I get to be me and I get to wrestle like I want to. Can they promise me that? If not, why would I go to WWE to probably make less money and be gone more? By the time they do pick me up, if they decide to, I'll be worth so much more."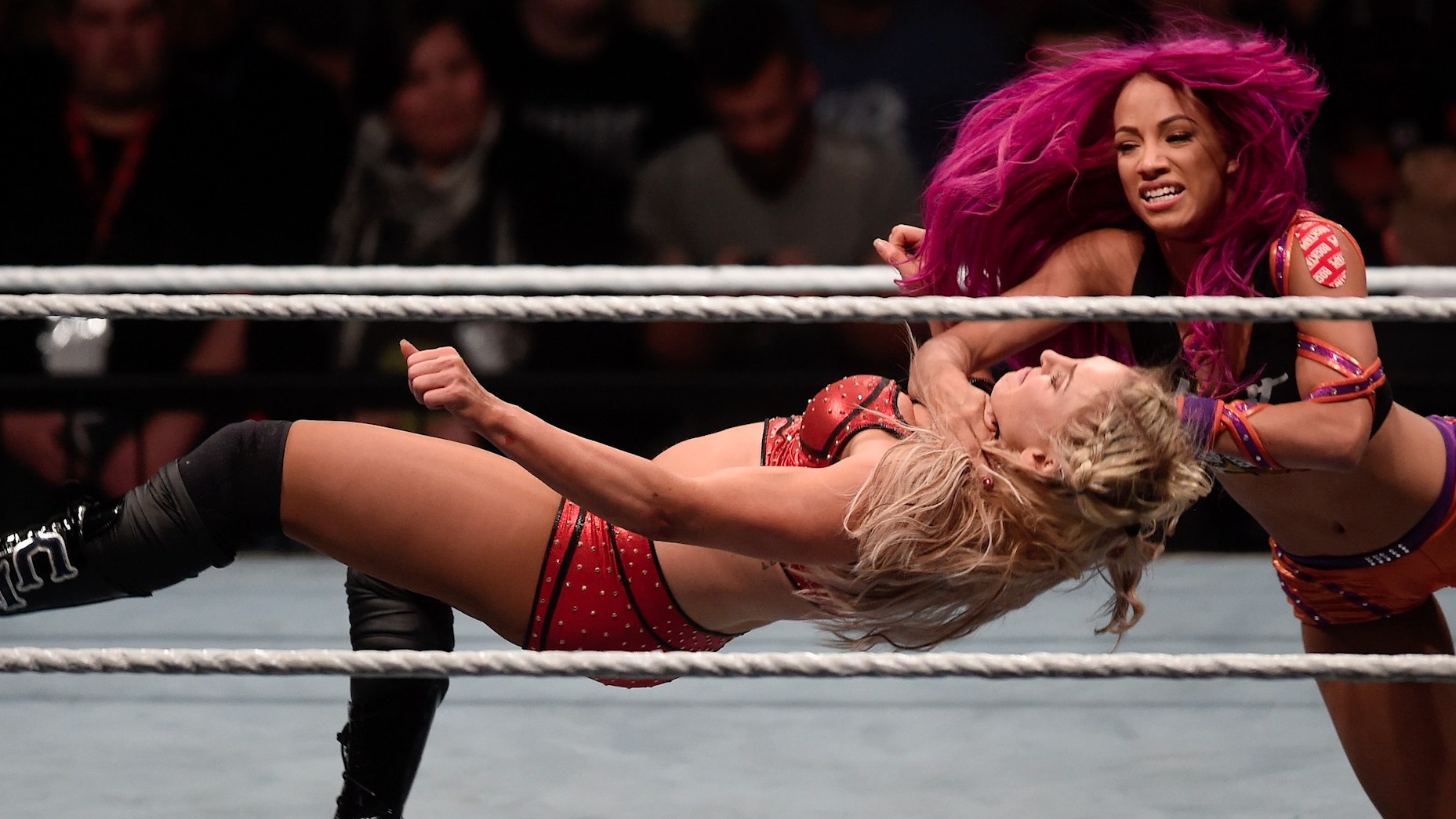 Back at Melrose Memorial Hall, a derivation of "Regulate" by Warren G plays over the sound system to announce Riddle's arrival. His match with the British wrestler Martin Stone will be the last performance before intermission. Watching Riddle, the physical languages of MMA fighting and pro wrestling collapse into one vocabulary. He shoots for takedowns and spins for armbars and toeholds. He and Stone trade slaps that bounce off the ceilings. Riddle poses and preens between suplexes, but Stone puts his forearm on Riddle's jaw to kill the momentum. The crowd cheers a slam that looks like an out-of-control hamster wheel and, moments later, Riddle closes out the 14-minute encounter with his signature move: the Bromission, a tap-out-inducing neck crank MMA fans might recognize as the Twister. The lilting match looked just enough like a real fight, though clearly aimed at blood-free "yes, and…" improv instead of intentional damage.
At intermission, Riddle—sweaty, shirtless, still in spandex—mans a folding table in the lobby next to a beefy, buzzcutted Viennese grappler named Walter (The two will slap each other around at the Evolve Wrestling show a few hours later). Riddle makes small talk with fans and hawks t-shirts—$20 each, 20 or 30 of them on a good day, he says. Some fans approach to snap photos. At least three ask Riddle to autograph glossies portraying him in the Octagon.
Indie wrestling is an always-on job, one for which Riddle is uniquely suited. He raises his arms in a Jesus Christ pose, clutching a can of Mountain Dew. His eyes are nearly shut. The shit-eating grin hasn't left his face all day.
"This is my world," he says. "This is where I'm king."