A detail from The Bathers at San Niccolò by Passignano. Image via Wikimedia Commons
My Los Angeles cruising experience began when I moved to the city in 1999.
I'd gotten a place in Los Feliz with my boyfriend. Three weeks after moving in, we broke up, and I relocated to the guest room. We remained friends, but I found myself suddenly single and alone in a city where I knew no one.
The first time it happened, I was in Griffith Park walking my dog, Maggie. In those first few months in LA, I was lonely. I felt like I didn't belong, and I missed New York City. I decided to go exploring. It was one of those endlessly blue skied sunny LA days, gloriously warm. I walked into the park, and then up one of the many hiking trails.
Below me, LA sprawled from the San Gabriel Valley to the beach. From those heights, I could see all the way to the Pacific Ocean and Catalina Island. I watched as two men walked up from a ravine to the trail where I was standing. They were shirtless. They kissed and then went their separate ways. One of them kept turning back to look at me. I smiled. He smiled. He grabbed his crotch and nodded toward a trail that disappeared up the hill and into some bushes.
I followed him and, tying Maggie to a tree, approached him. He smiled at me. His smile was stunning, and I felt something shift inside of me: all the loneliness and sadness at trying to find my way in LA. I dropped to my knees and took him in my mouth. I loved listening to him gasp and moan. I loved the knowledge that I was responsible for his pleasure. I wanted to make him feel good.
---
Watch: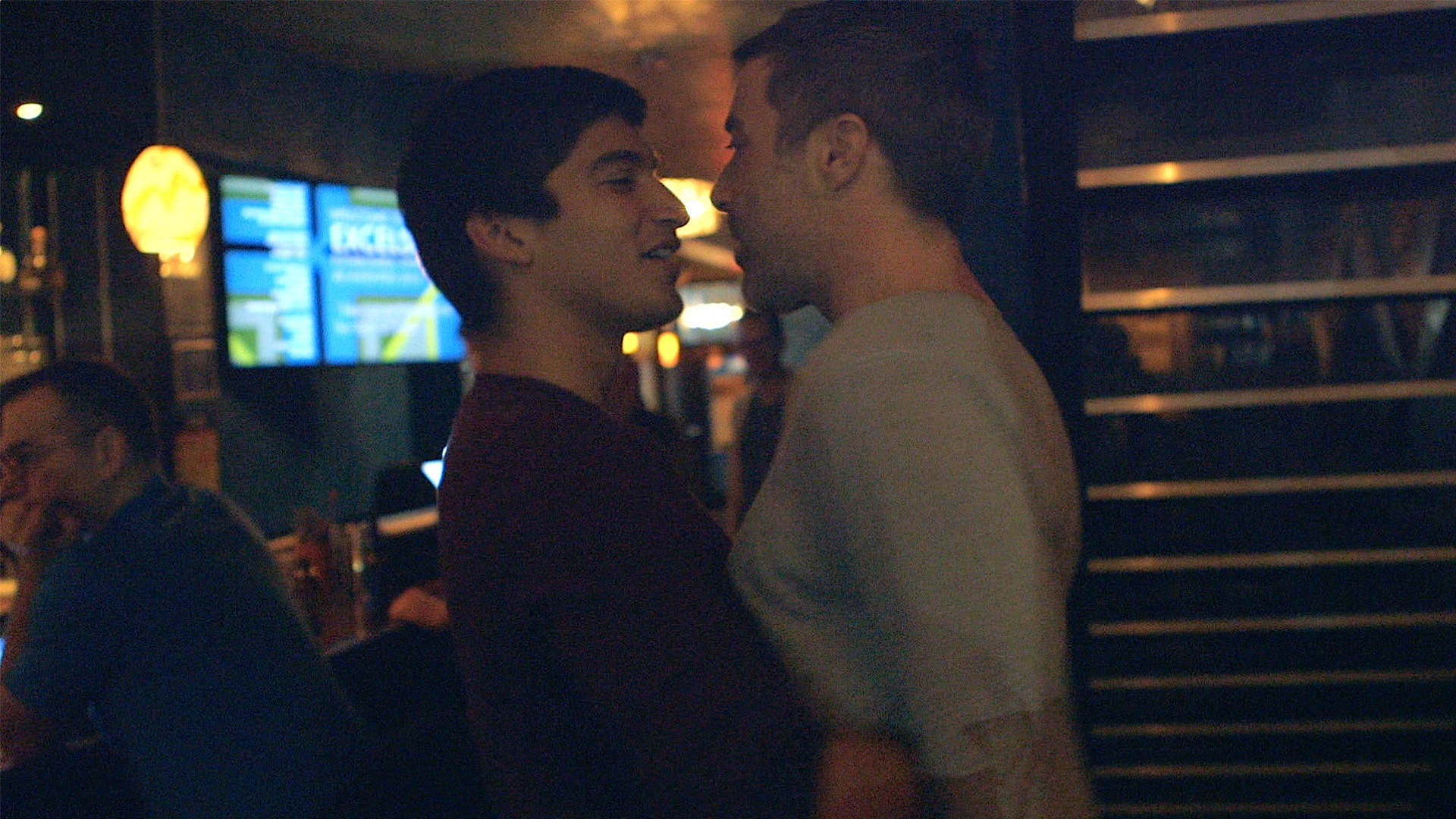 After, he told me his name was Elias. He said he was visiting from Sedona, Arizona. He invited me to a party later that night with some friends.
That day would be the start of both a strange relationship with a magician from Sedona and with the trails of Griffith Park. Each offered up an endless supply of sex and companionship.
The next day, I went back to the park to meet Elias. Some friends of his were BBQing. We all stood around eating ribs and chicken and telling stories. Sometimes one or two would disappear down the trails, returning later with smiles and tales of conquest.
"Come with me," Elias said, taking my hand.
He led me deep into a small valley with steep hills on both sides of the trail. Men wandered about, eyes searching.
Elias introduced me to freedom in that valley. He introduced me to a world of men, to a community of friends and lovers and hookups.
I was no longer alone. I had found guys who weren't afraid of their sexuality, guys who weren't afraid to fuck and hang out and eat BBQ.
LA was a hard town for me in those early years. I struggled to understand the vast and endless urban network. I would find myself wandering those trails alone, fucking and sucking and making out, having strange conversations, making friends.
I eventually moved out of the apartment my boyfriend and I had bought, into my own place in the Silver Lake hills. In those days there was a gay Latin bar called Le Barcito. Wednesdays through Sundays at 11 PM they had something called El Show de Maritza y Sus Divas, where drag performers would dress in outrageous beauty pageant costumes stood and sing Spanish pop songs. They were like gorgeous and colorful birds flying in from some fairytale world to perform for those of us brave enough to suffer the small, hot, crowded bar, drunk on Tecate and tequila. We would cheer and sing along, even those of us who couldn't understand the Spanish lyrics.
After the show, guys would slowly make their way outside and head to Hyperion Boulevard. The night would become alive with men cruising up and down the street, disappearing in pairs up the stairways that intersected the hills, fucking on people's lawns, or meeting in dark corners, bending over cars to take dick, small orgies forming, only to be broken up by passing headlights.
Late at night I would wander down the hill, and walk those streets, watching and joining in. There was one garage that opened on to the street. A man had set up a sling in there. Guys would step into the dark and fuck him. Others would congregate quietly in backyards, careful not to wake the occupants up, hiding from the lights of police helicopters.
One night, after a pretty bad fight with an ex-boyfriend of mine, I found myself on Hyperion. It was late at night. I didn't want to go home alone. I parked and walked the streets, stopping in at Circus of Books. I saw a handsome dark haired man standing against a car. I looked back. He grabbed his crotch. I followed him up a set of stairs that cut their way into the hills.
His name was Armen. He held me and kissed me and let me suck his dick. He was gentle with me. Later we went for a ride along the 101 Freeway, cutting through Malibu Canyon, and to the Pacific. He told me about his partner who had died exactly one year earlier. He said he felt guilty spending the anniversary of his boyfriend's death getting his dick sucked in the hills of Silver Lake.
I told him about the fight I'd had with my ex-boyfriend, who was a drug addict and abusive.
For some reason, it made us both laugh: the two of us looking for comfort from strangers.
"But it is comfort," he said. "A kind that even your closest friend can't give you. Just being here with you, for now, it is a comfort."
We sat on that rocky Malibu beach until the sun came up, and then he drove me home. I kissed him goodbye. I never saw Armen again. But that night, for those hours, I was as close to him as I could have been to anyone. For that night two strangers met while cruising and came together to take care of each other.
Cruising, for me, was about more than just getting laid. The parks and streets and hang-out areas were where you'd go when you felt most alone, late at night, with no one to talk to. A place where you could make a connection, no matter how fleeting, a place where you found humanity, a place where you could connect with another person.
Because that is what it all comes down to. In the face of every fucking thing they throw at us, they can't stop us from holding each other and taking care of each other, of staying up all night long, until we feel safe enough to go home.
I can tell you endless stories of the heyday of gay cruising, much of which has faded away into the past. Many people say we've lost something to the gay dating apps, and maybe in some ways we have—but I think we have also gained something amazing and new. Because of the apps and this new way of cruising our world has suddenly expanded, creating a global community.
I met my husband, Alex, on Scruff. We met our boyfriend, Jon, on Scruff. I met Noah, my current boyfriend, on Growlr, while he was living in London. I have made some amazing connections on these apps, and fucked a lot of amazing guys. Instead of isolating me, I have found that the apps have opened wider doors. And for me, that is the point.
From my first experiences cruising Central Park as a teenager in New York City, to wandering the hills and trails of Los Angeles, to the phone apps, I have met an amazing community of men who I can call friends. Some of whom I've fucked, some of whom we've just met for beers or coffee, some I ended up marrying, and some I fell in love with and travelled over continents and oceans to be with.
We live in strange and perilous times right now. The world can seem hostile, our own governments turning against us, but for me, the connections I've made cruising and flirting and chatting have made me feel part of something larger, something essential, something that has never failed me: a community of men who love one another.
I don't think we have lost anything. I think we are just growing, allowing our community to become more than just the local spots we go to suck dick and drink beers. But I also think we need those local places, where a lonely guy in a new city can go to make new friends and fuck and eat BBQ. I would hate to see us totally lose that.
Sign up for our newsletter to get the best of VICE delivered to your inbox daily.
Follow Jeff Leavell on Instagram.