Photo by John E. Sokolowski-USA TODAY Sports

We were not ready for Bruno Caboclo.
I was working at theScore during the 2014 NBA Draft and, as part of our coverage, we had posts ready for any player expected to be taken in the first round. There were about 70 in total, to be safe, based on the latest projections from ESPN and DraftExpress. Caboclo, ranked 65th by Chad Ford and just 18th among international prospects by DraftExress without inclusion on either final mock draft, was not among them.
We weren't alone. The broadcast scrambled to form some sort of opinion on Caboclo, the 18-year-old Brazilian with arms for days and little else to speak of yet, including tape. There were some grainy highlights from his time with Pinheiros, sure (that chase-down block!), and some clips from workouts, but Caboclo was so off-the-board a pick that DraftExpress, a clearing house for intel on just about every prospect each year, didn't even have a scouting report for him until sometime in the second round.
An Open Gym episode would later show the Raptors deciding on Caboclo late in the process. Reports would later indicate that, after the Phoenix Suns wanted a king's ransom for Tyler Ennis (selected two spots ahead of Caboclo), the Raptors were worried about another team taking a chance on him before their second-round pick, at No. 37. Dallas was sniffing around, Phoenix may have been interested, and San Antonio always lurks for international prospects. Though the Raptors had sequestered Caboclo in Houston, there was still a risk they'd lose their guy to a team looking to draft-and-stash.
Cue a mispronunciation from the commissioner, the famous "two years away from being two years away," line, a lot of bad jokes, and the most singularly unique player development experiment in the modern NBA.
The odds were long. Caboclo was as raw a prospect as there has ever been, a teenager with little organized playing experience who knew exactly one NBA player by name and who, while incredibly eager, had an incredibly long distance to cover just to develop to the level of a normal collegiate prospect. Even then, Masai Ujiri did little to veil that this was a longshot—Caboclo was far, far away, but with all of the physical tools and some green flags in the makeup department, it was a longshot worth taking.
"I'm not here looking to be popular," Ujiri said at the time. "I'm trying to look out for the organization long term. I think, long term, we will look at Bruno and say at least he has a chance as a young player to develop for this ball club. He's a basketball junkie. Those guys usually figure out a way."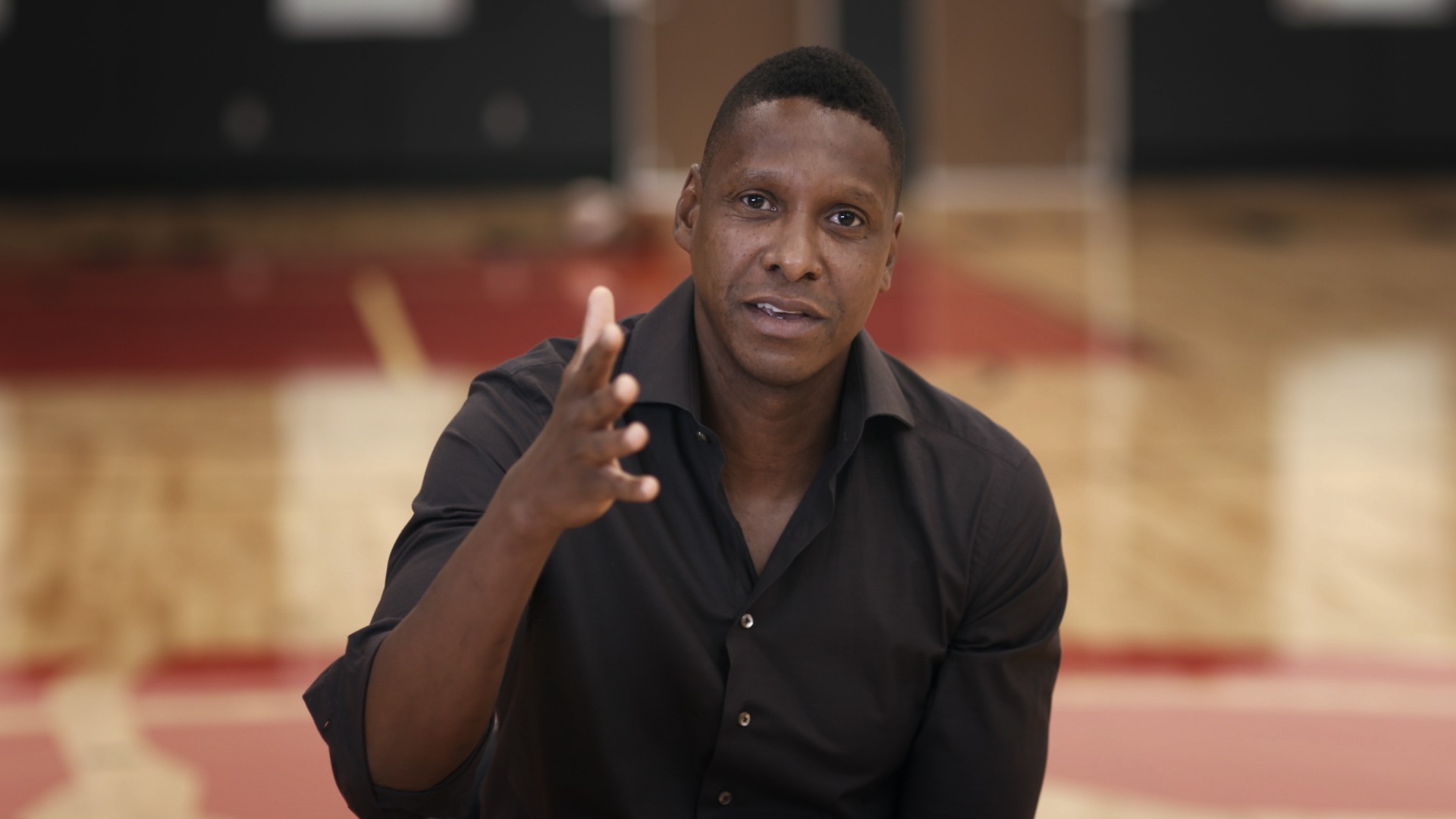 Figuring it out included a rookie season that he essentially red-shirted as he tried to learn English, develop his skills, and simply watch the NBA game. The Raptors didn't yet have their own D-League affiliate, and an assignment to Fort Wayne proved difficult and isolating, though the Mad Ants staff were at least impressed by his early on-court communication skills. A sophomore season would be easier, with Raptors 905 in place and kind-hearted Jesse Mermuys at the helm. Caboclo turned in an encouraging pseudo-rookie season, taken care of off the court and fed plenty of touches on it. Last year brought change in the form of Jerry Stackhouse, a more meritocratic rotation, and a push to a championship that included Caboclo's signature moment. In Game 1 of the finals, he was called out by a teammate for pouting. He responded with a title-securing swing in performance, putting together the best contests of his career over the next two games.
Those three years were bookended by his only two games of significant NBA run, a rousing debut in 2014 that immediately entered Raptors lore, and a career-best 11 points in a meaningless game against the Cavaliers. Looked at in isolation, there wasn't enough growth between the two points—three years had produced only marginal offensive development, and while Caboclo had done well to turn himself into a legitimate defender and fill out his frame, the clock was ticking.
Warning signs went off almost immediately this summer. Caboclo was dismissed from the Brazilian national team, and while there's shared blame in that due to the culture around the club (particularly as it pertained to the veteran-youth relationships), it was unquestionably a bad look about his growth on the mental side. He then entered training camp with the first crack at the minutes being filled by OG Anunoby and Pascal Siakam, and he stumbled greatly. Shooting better than almost any non-Kyle Wiltjer Raptor in training camp didn't translate into games, Anunoby and Siakam thrived, and the Raptors proved too deep to shoehorn Caboclo in. So he returned to the G League (requesting the assignment himself) and turned in an All-Defense performance, but still couldn't get over the hump offensively (he shot between 33.1 and 33.5 percent on a large volume of threes in each of his G League seasons).
The experiment, at least as far as the Raptors' investment in it as the operators, ended somewhat unceremoniously on Thursday. Looking for wiggle room beneath the luxury tax line to play the buyout market, the Raptors flipped Caboclo to the Sacramento Kings for Malachi Richardson. They'll say the move was about talent, too, but they divested themselves of Cabcolo before the point of expected return, largely for fiscal reasons.
In closing the book on Cabcolo for now, Ujiri brought up a few interesting points.
"It was difficult for us, because I just thought it was time," Ujiri said Friday. "We tried to, we started the right process a little late, which is something we failed at but I think we'll learn from. At some point, I think there needed to be some separation where he goes and learns something different somewhere else. On the part of talent, I think we got that part right. He is a real talented kid. But in the process we got the D-League team a couple of years later and it's a question from me whether he should have stayed over.
"There were little things Bruno needs to deal with that I think he'll get better at. But at the end of the day, I thought this was better because for where we are with our young guys and for where he is to come and try and break through, it would have been like a challenge for him. Obviously, this was a decision-making year for us in terms of going forward."
It's clear, and was in the preseason, that Ujiri now questions bringing Cabcolo directly to the NBA rather than having him play overseas for a season. The logic at the time was sound, with his role and his development with an international club out of the Raptors' control, the organization wanting to foster his growth in a specific way. But plucking a kid out of Brazil and dropping him into the NBA with no transition is stark, and other players have spoken highly of the growing up a season or two abroad forces on a person. (That the Raptors also would have saved a year of his entry-level deal is a consideration, as well.)
There's not much the Raptors could have done about the lack of a D-League team at that point, either. The first question I ever asked Ujiri was a poorly worded one about the team being a little behind the curve in that regard (I was a little annoying about this issue), a hold-over issue from the previous regime that left questions about what Caboclo's development would look like with a shared affiliate.
Really, though, as Ujiri says, the talent development came along fine. Caboclo is a much better player now than he was when he entered, a legitimate defender who has learned to use his 7-foot-7 wingspan and near 7-foot height to his advantage, cut down on fouls, and learned the nuances of team defense, all while switching positions on the fly. There's ample evidence on the current Raptors roster that the organization's talent identification and player development processes are working just fine. (The 2014 draft looks out of place in retrospect, with DeAndre Daniels at No. 37 being the worst pick of Ujiri's Raptors tenure.)
It's Ujiri's comments about Caboclo's own personal growth that make the ending here as complicated as the process. There are no correct answers with helping a person develop off the court, and while there are endless questions that could be asked—was he coddled too much early on? Should he have been sent on excursion? Was there an unintended sense of entitlement instilled somewhere along the line? Does he just lack whatever "it" is on that side?—those are unknowable and intimately individual questions.
The Raptors only got a sample size of one with the Caboclo experiment, and given the long odds, they were going to need some of their judgments about the best practices to be correct. There was no precedent to work from, no comparables, and no benchmarks to check in on as Caboclo developed. Because Caboclo was an idiosyncratic situation (and personality, given the youth, inexperience, and initial language barrier), all the Raptors could do was what they thought was best.
It has been an interesting experience to cover Caboclo for the last four years, particularly as one of the few people regularly covering Raptors 905. I'd hazard I've seen 80 percent of Caboclo's minutes, maybe more. Subtle, incremental growth can be hard to measure and even harder to communicate, and it's been at least a year-and-a-half of every Caboclo update or 905 recap being met with either a snarky two-years-away joke asking to pull the plug on him or a call for him to see rotation minutes to properly measure his progress. We've had to measure Caboclo's progress exclusively through the caveat-laden lens of the G League. (In occasional chats with scouts outside of the organization, the mileage on such growth, over such a long period, was limited but not non-existent.) There was no template or similar player to measure him against. Caboclo was simply being measured against former versions of Caboclo, and it's doubtful there will be another prospect quite like him to use him as the benchmark for.
Zoom out, and I still believe the pick was a worthwhile one. Obviously, it would have held a lower opportunity cost if Caboclo had been a second-round pick not beholden to the rookie scale, or had the team delayed the start of his service time with an overseas year. The opportunity cost on the roster was pretty low, though, considering the Raptors haven't needed their 13th, let alone 14th or empty 15th roster spots much the last few seasons (the "Caboclo is taking a roster spot" argument against this has always been pretty flimsy, and, if anything, the Raptors' success and inability to get him intermittent minutes may have been a downside).
Caboclo will now head to Sacramento, where they use their G League program less judiciously and he may or may not see NBA time. It's impossible to guess with the Kings. In either case, he'll almost surely become an unrestricted free agent this summer, heading overseas or looking to latch on to a team through training camp. He remains a 22-year-old with a lot of physical tools, a 33.4-percent mark on a large volume of NBA-line threes, and real defensive potential. So even if the other offensive skills remain uninspiring, there's enough there to warrant a closer look from someone, assuming he can iron out a few of the areas Ujiri alluded to. Basketball life is going to grow tougher for him from here on out.
On Sunday, James Ham of NBC Sports tweeted "Bruno Caboclo is with the team, but inactive this evening." It's a tweet I've sent many, many times around Caboclo's 62 G League assignments. Nobody was ready for Caboclo on draft night, and in the end, Caboclo was never quite ready enough for a Raptors team far too deep, far too strong, and with far too many prospects who passed him by. The outcome and the what-ifs make it no less worthwhile of an attempt, the last four years providing an incredibly interesting, sometimes bizarre, and wholly original subplot to the most successful stretch in Raptors history.