Photo courtesy of Gunpowder & Sky
Both 2016 and 2017 both had queer love stories that defined the year in film (Moonlight and Call Me By Your Name, respectively). This year had no shortage of unforgettable queer relationships on screen. Some ended happily. Others will leave you heartbroken. All will have you thinking for days. Below are eight of the most interesting queer relationships that hit the silver screen in 2018.
Kenyan filmmaker Wanuri Kahiu's Rafiki tells the love story of two young women in Nairobi facing homophobia and discrimination in a society in which queer intimacy is both dangerous and illegal. The film made waves inside and outside Kenya this year. Outside of Kenya, Rafiki made history as the first Kenyan feature film to premiere at Cannes. It also went on to screen at the 2018 Toronto International Film Festival. In Kenya, it was banned by the notorious Kenya Film Classification Board (KFCB) because of "homosexual practices that run counter to the laws and the culture of Kenyan people." Kahiu sued and in a historic ruling, the ban was temporarily lifted and the film was screened for seven days, the minimum numbers of days a film must screen in its home country in order to qualify for an Oscars nomination. Sadly, Rafiki did not end up making the 2019 Academy Awards shortlist (nor was it Kenya's official selection). It does, however, remain one of the most exciting depictions of young queer love that film gave us in 2018.
Stay tuned for news on where and when you can watch "Rafiki".
In Hearts Beat Loud, rising star Kiersey Clemons (Dope, Transparent, Easy) plays a recent high school grad, Sam, who reluctantly forms a songwriting duo with her record store owner dad (Nick Offerman) her last summer at home before college. Sam's love interest, Rose, is played by another out and queer biracial star, Sasha Lane (The Miseducation of Cameron Post). Their summer romance is never a point of contention. It's just plain sweet and honest. "People kinda use [the word normal] when talking about Sam and Rose's relationship in this movie, and it's like—'We're not normalizing it, it is normal," Clemons told IndieWire.
Watch it on Amazon Prime, YouTube, Google Play, Vudu.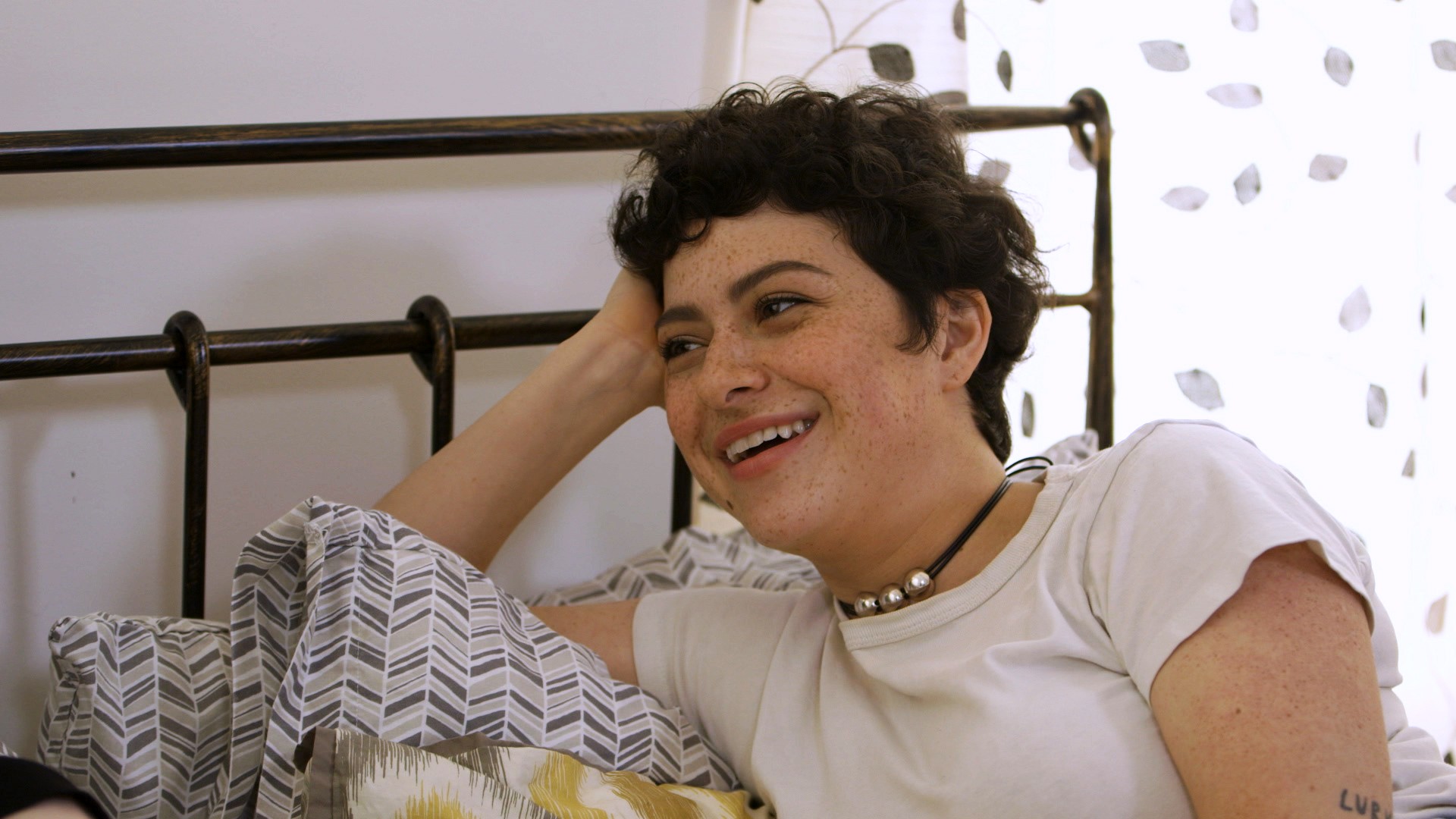 Mark my words: Duck Butter was the most underrated movie of 2018. In it, emotionally-withdrawn, struggling indie-film actor, Naima (Alia Shawkat), hooks up with the free-spirited musician, Sergio (Laia Costa), after meeting at a bar that night. The two hatch a plan to spend the next 24 hours together in an effort to really get to know each other and skip the bullshit of the initial first-year courtship period. Oh, and they have to have sex every hour. What follows is a very relatable, very uncomfortable look at two people falling madly in and out of romance. Shawkat and the film's director, Miguel Arteta (The Good Girl), originally intended for this story of an expedited relationship to be set over a more conventional year-and-a-half, and for Sergio to be played by a guy. Something wasn't right. "We wanted to create this kind of intimacy, especially in the way we shot it…and all these men seemed very uncomfortable by that," Shawkat told IndieWire. Everything fell into place once Shawkat and Arteta realized Costa, who was originally cast in a supporting role, was exactly the Sergio they were looking for. "I didn't want the film to be about men vs. women, and focusing on a masculine/feminine kind of thing," Shawkat said. "When we changed it to Laia, everything just made so much more sense, as if it was always written for her."
Watch it on Netflix.
The latest from The Lobster and Killing of a Sacred Deer director, Yorgos Lanthimos, centers around an extremely dysfunctional, extremely satisfying triangle of sorts in which Lady Sarah (Rachel Weisz) and her long-lost cousin and new maid, Abigail (Emma Stone), vie for the attention of Queen Anne (Olivia Colman). Their twisted dynamics will forever change the game of cinema and surely make for one of the most hilarious movies of the year. Come for Weisz and Stone. Stay for Colman's show-stealing performance.
Watch it in theaters.
A Fantastic Woman was technically released in November 2017 but many moviegoers only found out about its release in 2018, the year in which it was nominated for Best Foreign Language Film at the Oscars. This drama from Chilean filmmaker Sebastián Lelio tells the story of a truly fantastic trans woman named Marina (Daniela Vega), who is a waitress coping in the immediate aftermath of her boyfriend's death. Vega, who made history earlier this year when she became the first openly trans person to present at the Academy Awards, is raw and unassuming as Marina. In the face of tragedy and downright cruelty, her character is a picture of grace.
Watch it on Amazon Prime, YouTube, Google Play, Vudu, Starz.
The second, but not last, recent work from Chilean director, Sebastián Lelio, tells the story of two British women from an Orthodox Jewish community in North London. Ronit (Rachel Weisz), a successful photographer in New York City, returns to the community following the death of her estranged rabbi father. Upon returning, she finds that her good friend Esti (Rachel McAdams) is now married to their childhood best friend, Dovid. With the flip a switch (in this case, "Lovesong by The Cure"), we learn that Ronit and Esti have a bit of history. What follows is a journey of forbidden love and discovery.
Watch it as a rental on Vudu; YouTube; Google Play; Amazon Prime.
In Colette, Keira Knightley stars as France's most iconic woman writer. While the real Colette is perhaps best known for her 1944 novella, Gigi, the Wash Westmoreland-directed biopic shines its lens on Colette's relationships with women and her shattering of gender norms in the late 19th, early 20th centuries. Of particular note is Colette's relationship with Matilde de Morny (Denise Gough), known by Missy, the masculine-presenting noble person, artist, and descendant of Napoleon III. It's impossible to say whether Missy would have identified as trans or gender nonconforming today. It is, however, refreshing to hear Colette correct her asshole husband Willy (Dominic West) when he uses the wrong pronoun to speak about Missy.
Watch it on Vudu, YouTube, Amazon Prime, Google Play.
Ten minutes in, I really hoped Gemini would be a rom-com with Zoë Kravitz and Lola Kirke as the romantic leads. That didn't happen. Instead, Kirke stars as Jill, an assistant trying to crack the murder of her famous actress boss and best friend, Heather, played by Kravitz. Greta Lee is in the mix too as a K-pop star attached to Jill. The ensuing murder mystery is just as queer as the rom-com I was hoping for. I suggest going in with a blank slate, as the mysterious nature of Kravitz and Kirke's relationship makes for a particularly captivating lens.
Watch it on Hulu.