Photo courtesy of Marilou Gagnon
Looking across Canada in places heavily affected by the opioid crisis, you'll often see women who are leaders surrounding the issue in their communities.
As thousands of people continue to die every year in Canada, largely due to the drug supply poisoned with fentanyl, intervention in order to halt the loss of even more human life is necessary. And while you'll certainly see a number of men on the forefront of the crisis, it's impossible to ignore just how many women are out there saving lives and speaking up against government inaction. They're nurses, they're mothers, social workers, activists, and sometimes even people who use drugs themselves.
Earlier this year, a frontline worker in Toronto named Zoë Dodd called out Prime Minister Justin Trudeau on the crisis. But Dodd is just one of many women who are incredibly vocal and involved in fighting back and dealing with the effects of failed drug policy. We reached out to some women on the forefront in Canada to find out why they do their work and to get their thoughts on how and why the hard work of women has been so instrumental in the face of this crisis.
Location: Toronto
Key Involvement: founder/facilitator of mumsDU (Moms United and Mandated to Saving the Lives of Drug Users); spoke at a United Nations session advocating to end the war on drugs
VICE: Why do you think mothers' voices are so strong in the context of this crisis?
Donna D. May: I think it comes right down to that mothering instinct. When you first make that decision that you're going to become pregnant, there's this overwhelming desire to protect and to make the best baby possible. We never go into pregnancy thinking that we're going to make something that is going to predecease us. We give it our all to make sure that they have the best chance in life as possible.
In utero, there is a response that takes place naturally between you and the baby. You fall in love with your child… That bond that you have with that child never goes away. For me, with my daughter, it just was exemplified throughout her drug use. It was like, how do I, as a mother, save her life? And when I found out I couldn't save her life, it was like, OK, then what do we have her life mean? That was why I did what I did.
What makes mothers different from other people involved in activism?
I don't think there's a stronger voice than a mother's, or a more respected voice than the mothers'.
In my daughter's death, it gave me power to say, this happened to my child, and I don't want it to happen to another child. These are the things that could've and should have happened in order to protect my baby. I don't think that any official can—they might ignore us after the fact—but when we're right there in their faces, there's nothing for them to do but listen to us.
How has becoming involved in speaking out against these injustices affected your life and grieving process?
Grieving? Who grieves? Who has time for grieving? [laughs] To be really honest with you, my grief began long before my daughter even died. My grieving process took place while she was still alive: It was the loss of the child I had envisioned she would be. Then, an acceptance, a love for the child she became despite all my efforts. I think that my daughter and what she went through was my greatest gift in life, and I choose to work with that. She was amazing… It is not an easy life to be a substance user and to be completely misunderstood. I'm a fortunate person to be able to have had my daughter explain that to me. There was nothing in her life that made her feel more alone and stigmatized and unhelped and unwell than her substance use—and she had to face that alone. That takes a lot of strength.
She had the strength in knowing that she was going to die, to turn to me and say, "This is how you should have seen it. This is how you could have helped. You didn't, but you have the power now to move on beyond this experience to help the lives of others. If you want to do right by me, that's what you will do after my death."
Location: Toronto
Key Involvement: Toronto Harm Reduction Alliance; Toronto Overdose Prevention Society, Frontline Workers Support Group, coordinator, Toronto Community Hepatitis C Program, South Riverdale Community Centre; Toronto Overdose Prevention Site, Moss Park
VICE: Have you noticed that there are a lot of women on the frontlines?
Zoë Dodd: Yeah, I think there are a lot of women who are actively involved. It speaks a lot to the social work or helping roles that women fill and have historically filled. We tend to go into caring professions, we tend to do a lot of caring work—whether it's in our workplaces or in our homes. It's not a surprise to me that there's a lot of women actively involved… Even at the Overdose Prevention Site [in Toronto], the majority of people working at the Moss Park site are women.
Where do you get the energy to be so vocal, and why do you feel the urge to speak up?
I can't stop [laughs]. I hate injustice so much. Since I was a little kid, I've always been very vocal about injustice, whether it was in my own home or around me. I really just want to live in a society that is equal, that isn't homophobic, isn't transphobic, isn't racist, doesn't have these huge income disparities—I firmly believe that. That's so important to live in that and be a part of that. I've just lost so many people I've loved and cared about since I was a young person that I feel so angry about it. I feel so sad and angry, and I take that grief and channel that into the type of anger that is action. I can't stop, I don't know how to stop: I want to see the drug war end. I want to see decriminalization in my lifetime, and I want to live in a better society. I can come across really angry and direct, but I'm also this incredibly loving person who is surrounded by a lot of people I love and care about.
I don't know where I get the energy because right now I am in university for the first time, working, doing the Overdose Prevention Site, and making myself available to people in my life who need me. But it comes at a sacrifice. I'm a single person; I never had children, I won't be having children. I don't have romantic relationships very often, so I don't have to go home to a family. I'm not responsible to that, and lot of other women I know who do this work or do activism, they have families and partners. They have to do that labour when they go home as well—I don't have to do that. I think that's where I also have the energy.
Photo courtesy of Marilou Gagnon
Location: Ottawa and Quebec
Key Involvement: nurse; activist; associate professor, University of Ottawa; president, Harm Reduction Nurses Association; co-president, Nursing Observator; Ottawa Overdose Prevention Site
VICE: Would you say that there are a lot of women involved in harm reduction and activism surround the opioid crisis?
Marilou Gagnon: I don't want to dismiss the contribution of really important men in the movement, so it wouldn't be fair to say it's just women on the forefront. But I do think there's something really unique about the role that women have played, especially in the last two years: how vocal they are, how organized they are. For example, the entire overdose prevention site movement is because of women—Sarah [Blyth], Ann [Livingston], [and Chris Ewart] started this movement, they made it happen… Now we have at least 26 sites operating, and it is because of them and their courage and commitment. That's entirely women.
I also think that in the past two years, we've seen more organizing like the National Day of Action on the Overdose Crisis that women played an important role in. There's mobilization on the ground, like these different campaigns going on in Victoria and Ottawa for safer consumption services—again, very strong presence of great women who are strong leaders and are really contributing a great deal to this. Also I think Zoë Dodd became a very strong figure in terms of calling on politicians directly on what their plan is and becoming more vocal, really being that voice for asking these important questions.
It ranges from direct actions on the ground and finding solutions, to mobilizing people, to speaking out in the media, actions to put pressure on politicians. It's quite obvious when you look at it from the outside, you notice that, wow, there are a lot of women involved.
Is there a connection with women on the frontlines because nursing is gendered?
If we're only talking about nursing, but nurses have been just one group on the frontlines. [Key players are also] harm reduction workers, moms (moms are really involved in this, but there's not a lot of fathers), people who use drugs, social workers.
Nursing is for sure still a profession that is majority women. I also think that nurses in general have a specific social mandate and a responsibility to make a difference and intervene when it's social justice issues, especially on behalf of marginalized groups that have a difficult time accessing health care… You cannot just sit by and watch while people die.
Do you think there is something gendered about being on the frontlines of the opioid crisis?
As a feminist, I'm kind of hesitant to say this is something that naturally we have in us and therefore we feel committed to doing something. I think gender is socially constructed, so I don't think it's inherent that to being a female you're going to be more caregiving. I think it's socially constructed and socially expected of women to do that role, and to step up when help is needed and make sacrifices for the greater good.
I think it benefits the movement in the sense that it's because of that particular way we socially construct gender, it creates all these strong women. I'll take that. But I also feel that if I look at the women who I really admire in this movement, they're not what I would say are typical gender-conforming women. They defy the rules. They speak out. They don't accept no for an answer. They disrupt. People will not see them as these caring and pleasant women—they'll consider them troublemakers, from the outside. There's something interesting that the women in this are coming at it from a place of grief or being fed up of seeing people die; it's action-oriented more than just care.
It kind of challenges the assumption that women should make changes and have an impact, but in a nice, polite way and follow the rules… It's both reinforcing gender assumptions and, at the same time, challenging everything about gender and the way women behave and talk.
Location: Vancouver
Key Involvement: cofounder, Overdose Prevention Society, Vancouver
VICE: What's your take on the number of women who are involved in action surrounding the opioid crisis?
Sarah Blyth: I hate to pinpoint what a woman is, but women are very compassionate… You see young people having a hard time, you want to help them. Definitely women are some of our strongest frontline folks and leaders in this community and communities across Canada. It does stand out, actually. In Vancouver, our site was founded by three women… We had a conference call today with people across Canada, and they were all women except for one man.
For me, as a mother, one of the biggest reasons we started the site was because one of the people who works at the market lost her son. That really hit home to us, a mother losing a son, losing a child. This issue has really affected mothers. It has obviously affected fathers too, but it's that primal mother issue, where you can almost see your own son and understand how another mother would feel… It's maybe partially the difference dealing with grief. There's a lot of men dying in the crisis—a lot more men have died than women.
This is a crisis where women have taken strong leadership across the country every day: doing volunteer work, nurses, healthcare workers. There's a lot of women on the frontlines. It's not to say that men aren't doing things, but it is significant, as I said on the phone call this morning with everyone
Why did you get into the work you do?
I've got my own personal things in my life that have happened—I have understanding and empathy for people in the Downtown Eastside, and I can see that this life is not easy for them. I can identify with that. I think that really why I got into it in the first place was because I feel at home with people who've had difficulty in life because I have too. I understand pain, sadness, suffering, and hopelessness. I don't think you can totally understand it, though you can be taught about it in education: You really have to understand it by some sort of experience.
There's that saying that the best harm reduction comes from people with lived experience. What do you think of that?
Yeah, because they have instinct and tools to deal with understanding and compassion of other people's situation, their trauma. They can relate to it. You can't learn that.
Location: Vancouver
Key Involvement: mental health and addictions support worker; cofounder, Karmik (nightlife and community harm reduction group); manager of volunteer program, Overdose Prevention Society, Vancouver
VICE: Why do you think there are so many women on the frontlines?
Munroe Craig: What I was thinking was that, traditionally, a lot of women have been in a supportive role maybe in society. Sometimes that's a gender role, and sometimes that's an innate ability as mothers and as people who birth children, being maternal and nurturing.
I think that women, even societally, we don't get the same messages as men do. We're actually praised when we want to be part of our communities and work together and support each other, whereas men have different messaging since day one in society. I wonder if maybe it's an ability to come together as a community and draw on those skills we're given. I don't think that's all of it.
What do you notice in regards to gender parity in the types of roles you fill?
I was at a naloxone conference last week that was province-wide, and one of the points I brought up was that I think we need to give a lot more encouragement and engagement to people along the gender spectrum, including men and people who don't identify as female.
It's really challenging because we don't see a lot of men in positive role model roles working in these spaces. The ones we do, they quite often find their own way there, but it's not common to have a lot of men working in frontline spaces—at least not in the situation we are in right now with the opioid crisis. I'm not sure where that disparity starts and ends, but it can be really challenging to find services just for men that engage them in a way where they stay active in that space. I see that in my day-to-day work in the Downtown Eastside.
Why did you decide to get into the work you do?
Somebody has absolutely got to do it. I've realized working in the field for quite a while that, unfortunately, not a lot of people are going to do it and stand up.
In the beginning, I honestly started doing it because so many of my friends had passed away. So many people were passing away so quickly that it just shocked me that this was allowed to keep happening and that people didn't have supports around this. I actually just lost a really, really close friend in the end of August to fentanyl, and it threw me for a loop. Everything still feels the same way it felt with the first person who passed away from an overdose. It's really hard and challenging, and it hurts. But that's why you keep doing it, because nobody else deserves to feel that way if there's a way to prevent it.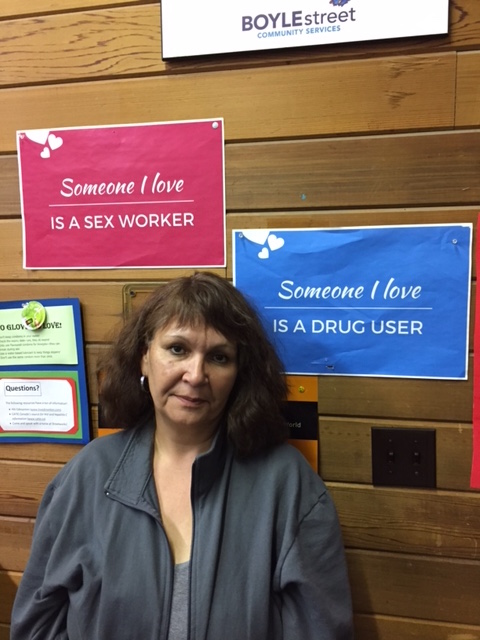 Location: Edmonton
Key Involvement: nurse; program manager for the Streetworks program, Edmonton; sits on Steering Committee for the Canadian Drug Policy Coalition; board of directors member, Alberta Health Services; The Minister's Opioid Emergency Response Commission
VICE: Have you noticed there are a number of women who take on leadership roles across the country in regards to the crisis?
Marliss Taylor: Yes, but in terms of, for example, leadership roles of national organizations, not so much… Where I've really noticed it is that women are leaders in their local communities or in their provinces, or it's informal.
How have you seen our current opioid crisis affect First Nations people in your work?
In Edmonton, in Alberta, there's a large number of folks of Indigenous descent anyway. They are the most marginalized group in this province, they are the ones with a history… It's been really tough [for them]. Having said that, what goes missing all the time is looking at the strengths of a population and building upon those strengths instead of looking at what's wrong.
I think there's no question that the whole history of residential schools has a huge impact on this population, so substance use is one of the things that has come out of that—obviously not everybody. We see some folks in the inner-city who have fallen through so many cracks; this is where they've landed… The other thing that we saw really clearly is that when OxyContin went away, within two weeks we saw heroin and fentanyl pouring into the city because they didn't do anything—all they did was create a really robust illicit market.
What kind of action would you like to see taken in response to the crisis?
Where we need to go in this country is rethinking drug use and regulation, looking at regulating substances. The problem is this illicit market. I've been around 22 years, and yes, we had overdoses—but nothing like it has been since 2012. It's all because of the illicit market. There is certainly a way to look at this that would be more effective, answer more of the issues that are out there—everything from crime, to violence, overdose—that would end up with a healthier population because it's been done in other places. If there's anything I really regret, it's that there hasn't been a more courageous society going on right now that is willing to try things. We tend to get, as a society, stuck in fear and a way of thinking about things. Most of my staff were born in the drug war or grew up in it and know nothing else…. There's a whole big rethink that needs to happen.
Interviews have been edited for length and clarity.