What's for dessert? An eclectic range of unexpected pleasure. Image: Lovetreats
This July, we're heating things up with Sex-Rated: The VICE Guide to Sex in India. Come with us as we dive deep into Indian sexuality, as well as cherry-pick some of the best videos and stories about sex from VICE around the world. Read more here.
---
Ute Wiemer, a 24-year old German national, met Balaji TV at a mutual friends' Christmas party in Bangalore in 2015. After a few drinks, Wiemer began cribbing about her job to Balaji who then asked her what would she rather do. "Open a sex toys shop in India," she said.
And so they founded Lovetreats, the aim of which is to provide sex toys that "make you smile, not cringe."
VICE spoke to the co-founders of the site in an email interview about the hurdles in operating in India and toeing the line between sensual and "obscene".
VICE: There are so many other sellers in the market, what makes you guys so special?
Ute Wiemer and Balaji TV: We felt that a site like Lovetreats was really missing in India—a site where you don't feel judged when buying sex toys, and where women and couples feel included and inspired. We are sex-positive in everything that we do, and that's what we wanted to add.
How experimental are Indians when it comes to sex?
Recently we added the We-Vibe range of sex toys for couples, because so many customers asked for it! We also see a trend that first time buyers go for a beginner-friendly toy on the lower price side, and then come back a few months later and invest in a premium toy with more features. So yes, Indians are definitely experimental!
What are the common misconceptions about sex toys?
On our blog we come across questions like: "Why would I need a sex toy when I am young, healthy, and have great fun between the sheets? Or people think these products are only for people with sexual problems. It is a myth that adult toys are only for people who have a problem in the bedroom.
Where do most of your orders come from?
The top cities are Bangalore, Mumbai, Delhi NCR, Hyderabad, Chennai and Ahmedabad.
We get lots of orders from small cities (about 20 percent of orders are from tier four and smaller). In some cases, the courier services don't even go there, so we send it with India Post. The most heartwarming sales stories are the ones that follow a single first order from a small town. In the next few weeks, we suddenly see a surge of orders from that town. The fact that people are talking about sex toys openly or otherwise in these towns just makes us so happy.
In our culture, sex toys and sexual health are rarely discussed.
Sexuality is an important part of our lives—and yet, we seem to be afraid of it in so many different ways. Especially female sexuality is a big taboo in India. We often get questions like "Is it normal for a woman to masturbate?" or "My wife has a higher sex drive than me, is there something wrong with her?". The answer is—Yes, we all masturbate. No, there's nothing wrong with a woman who enjoys sex! Sex is the best high, it's better than any drug… Why should we not enjoy it?
"In some cases, the courier services don't even go there, so we send it with India Post."
The most important part of our mission is to encourage people, especially women, to own their sexuality. During our monthly sales and growth conversations, we always end up talking about the lovely notes and feedback we receive than the actual numbers—from the maid of honour who ordered a dozen dildos for a bachelorette party, to the couple finding pleasure in their long distance marriage, the girl who bought her first vibrator after she moved out of her parents' to a new city, the couple who got their first set of handcuffs after reading 50 Shades of Grey.
Was there ever a point when you felt worried about launching a sex toys website in India?
We were never conscious or worried till we started the company and told people. That's when we got a whole range of reactions. At business networking conferences, where a long, awkward silence follows after we introduce ourselves and our business. When it came to family, we expected more awkwardness than we got. Both of us decided not to beat around the bush and be upfront with our parents about our business and plans.
We've also learnt that humour works wonders. When Ute's mum (who lives in Germany) is asked, she simply says, "My son is studying at the university, and my daughter sells dildos in India."
What is the legal status of sex toys in India?
A lot of first time customers ask us if sex toys are legal in India, and we can say that we have done a lot of research on this before we started the business. Let us assure you that all the products we sell are a 100 percent legal in India. We get each and every product approved and cleared by an experienced legal team before we even place the order with our suppliers in Europe.
There is actually no specific Indian law referring to sex toys. India has certain laws governing "obscenity" so as a retailer, we have to be careful about two things, selecting products which do not look obscene and presenting the products in a tasteful manner, keeping Indian culture in mind. So yes, technically, you could open a shop and display sex toys openly, as long as you stay under the obscenity radar.
For example, don't sell sex toys that look exactly like a penis. Whether our people's morality will allow them to tolerate an open display of sex toys is a different matter. (Of course, there are hawkers around the Fountain area in Bombay who sell plastic vibrators by calling them massagers.) But that is one of the big reasons, we decided to start online.
What are some of your most popular toys?
One of the most popular toys for women is definitely the Rabbit Vibrator. It was made famous by Sex And The City and many customers ask for it referring to the show. There are tons of different varieties of the Rabbit Vibrator, and they all belong to our top sellers. Another bestseller is the Lipstick Vibrator—it's a small, battery operated sex toy that looks exactly like a lipstick. So it's very popular with college girls as well as professionals who travel a lot, because they can just carry it in their make-up purse and nobody will ever find out.
What's different in the purchases of toys here versus abroad?
Many Indian customers really prefer big toys, like plus-size vibrators and extra large dildos. The bigger, the better actually. There's also a big demand for beginner-friendly sex toys that are affordable. For example, there's a multi-speed vibrator called the Angelo, which was being discontinued by Fun Factory. Now, Angelo pieces are manufactured only for the Indian market because of our customer base, which kept asking for more. Indians are also really into edible stuff like edible body paints, flavoured lubes, undies made of candy, etc. Our supplier in Amsterdam is always surprised how much of that edible stuff we order. We tell them, food is an integral part of the Indian culture.
Why is no one making these toys here?
That's definitely on our to-do-list for the next years. There's no sex toy manufacturing industry here yet, and it's high time that changed. We do feel that the market needs to mature a little more before manufacturing sex toys in India becomes a profitable venture.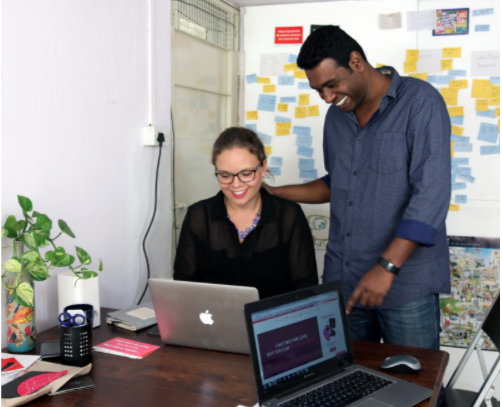 I've read that men feel shame in purchasing sex toys, that it is seen as some kind of inadequacy, but for women, it is seen as a tool of empowerment.
Yes, that's an odd contradiction right? We'd think that based on our how we perceive masculinity in our society—if a man uses a toy, he's weaker because he should be out there preying on nubile nymphets—but the real picture is something else.
One thing we found surprising is how many men buy sex toys for their partners. They usually do very thorough research and ask for shopping advice on our chat before buying, to make sure they get something that their girlfriend/wife will really enjoy. We think this is really cool and shows a lot of confidence!
What else do people write in about?
The ones asking for pictures of "bobs and veganas (sic)" are always funny. But there are ones that make us sad when we find people wanting to talk about issues like erectile dysfunction or pain they experience during sex, and it just becomes so clear that they have no one to talk to about these problems because it's such a taboo.
Follow Maroosha Muzaffar on Twitter.