Photo by Miquel Llonch via Stocksy
When Fatou Jatta learned she had HIV in the 1990s, many people around her believed it was a death sentence. Or that drinking from the same water cup as her would get them infected, too.
"Some people have a very big negative reaction because they believe it's a killer disease," she says, in her office near Banjul, the Gambian capital. Once she told her family and gained their support, she decided to come out publicly to raise awareness.
"When my family already accepted it, I thought why should I just sit at home without going out?" Jatta says. She became the first woman in Gambian history to publicly disclose her HIV status in early 2001.
Years later, she found herself on national TV as an unwilling victim of then-Gambian dictator Yahya Jammeh's belief that he had personally found the cure for AIDS. She was forced to drink herbal mixtures and was made to undress so the man himself could rub supposedly healing lotions onto her half-naked body.
It started with a phone call from the office of the president to her HIV support group in 2007. The president wanted volunteers for his alternative treatment program. "He cannot call you and you say no. You might end up being in trouble or your family might end up in trouble," Jatta says. "This is what pushed most of us to go to the treatment."
---
Watch: The Land Of No Men: Inside Kenya's Women-Only Village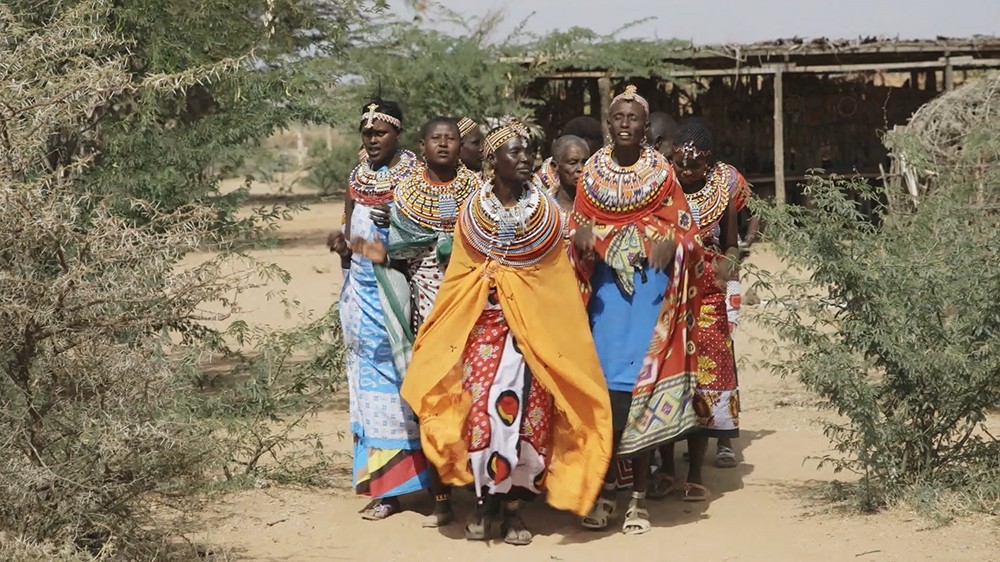 ---
Still, Jatta felt lucky her family already knew about her status. Many unwilling guinea pigs were outed as HIV-positive when Jammeh broadcast his healing sessions on GRTS, the state-run television channel watched by thousands of Gambians.
The dictator was not known for his compassion. During his 21 years in power, hundreds of dissidents, journalists, lawyers, and civilians disappeared or were tortured and killed. He said he would rule the Gambia for a billion years, and promised to cut the throats of gay men.
What Jatta thought would be a regular, hour-long medical visit to the treatment center on Jammeh's presidential estate ended up in a seven-month ordeal that left her nearly dead. After that first herbal drink, Jatta was left weak, vomiting, and unable to open her eyes. As she was lying on a stretcher in this sorry state, cameras were pointed at her for broadcast on GRTS. She never found out what the herbal mixtures contained.
That night, her group was sent to an unused building where they would be housed for the duration of their ordeal. There were many rules during the treatment programme: no visits, no smoking, no drinking, no sex. Patients were not allowed to bring food from the outside, or to use any "Western medicine," as Jammeh called it. Those who were on life-saving antiretroviral (ART) drugs had to give them up.
Jatta grew weaker as time went on, but she made a point of taking the daily multivitamins that had been prescribed to her by a doctor. She got friends to smuggle them in so she could take them at night, while others were sleeping. "I was stubborn," she says. At the time, her viral load was not deemed high enough for her to be put on antiretroviral drugs to fight the infection. (The World Health Organization now advises that all HIV-positive people should be treated with ART therapy.)
Thousands of HIV-positive Gambians were forced through the doors of the Glass House, as Jammeh's treatment area was called. There, the dictator tried to prove to the world he could cure HIV, asthma, infertility, and hypertension. Jatta was lucky to survive—hundreds of his patients died, according to former patients and HIV group AIDS-Free World.
Now, a year after the historic election loss that saw him flee the country, HIV groups say they still struggle to convince many Gambians of the importance of testing and conventional treatment. Some still believe HIV can be cured.
In the Gambia, more women are tested for HIV, infected with HIV and more take treatment, according to HIV groups. While 1.7 percent of Gambians are infected with the virus, the figure is higher, at 2 percent, among women. This could be because they tend to visit health centers more regularly while men are more reluctant to being tested, experts say.
"Everybody faces stigma [of being infected] but the difficulties are higher for women," says Sirra Ndowe, the director of UNAIDS Gambia. It is common for HIV-positive women in the Gambia to lose their marriage and families when they disclose their status. This forces women to leave and care for their children alone. Instead of living with a husband or parents, because of social exclusion, some try to rent a place alone in town. But in small towns where gossip travels fast, landlords might be reluctant to rentW an apartment to an HIV-positive woman.
By July 2007, Jammeh declared Jatta's group cured and allowed them to return home. After nine months of alternative treatment, Jatta was nearly dead. Her immune system had all but collapsed, and she had to start taking antiretrovirals.
"We were deprived of our right to health. Many people lost their lives because they put their trust in him."
She tried to go on with her life, counseling other people living with HIV and trying to ignore the consecutive batches of patients that were going through the doors of the Glass House. She says she needed to focus on her own healing.
Jatta now volunteers as a social worker at the Victims' Center, a charity that has gathered over 900 testimonies of people who were affected by the widespread torture, disappearances, and land grabbings common during the previous government.
Like many of Jammeh's HIV treatment survivors, Jatta is now in her 50s and part of a movement fighting for him to face punishment for his misdeeds. "Justice is very important because my human rights were violated. We were deprived of our right to health," she says. "Many people lost their lives because they put their trust in him."
Those who did survive have lost jobs or struggled to rent apartments because of the ensuing stigma. Today, ten years later, Jatta is still sometimes recognized on the street from her days on TV. But she remains as defiant as she was at 28, when she was first diagnosed. "I have a free life," she says. "I just don't care what people say."