What if you were reading this article… in an email? Sign up to the VICE Australia newsletter Genesis Santana Lizano's apartment is perfectly located. On the border of Fitzroy and Carlton, the 96 tram is on her literal doorstep—along with the Royal Exhibition Building and endless rows of million dollar terrace houses. The media and communications student moved to Australia three years ago to study at the University of Melbourne. Funded fully by an Ecuadorian Government scholarship, Lizano tells VICE that she came to the Victorian capital after being told "it was the most liveable city in the world."
The crime rate, she'd heard, was low compared to other countries. And the weather? Famously sunny. There was another factor, too. "The process to apply was very, very easy. It didn't take as long as the other [international] universities."
There might be a reason for that. According to the Department of Education and Training, 492,964 international students are currently studying in Australia: a 14 percent increase from this time last year. Federal Education Minister Simon Birmingham has referred frequently to the international student boom, highlighting its economic benefits. In Victoria alone, international students—who unlike locals pay unsubsidised education fees—are worth $6.5 billion to the local economy. For the Australian Government and tertiary institutions themselves, there's huge incentive to lure in students from other countries.
When they arrive, these students will have very different study experiences to their Australian peers. Not that they'd necessarily know it—the two groups of students rarely mix in class or out of it. "When I first came here I had a lot of trouble making Australian friends," Lizano says. "And I still don't have any. I guess that's the hardest part of being here. I haven't met any Australian friends at uni. In every tutorial it's international students at one table, all the other students at another. A clear divide."
If you've attended any university in Australia, you'd be hard pressed to disagree with this characterisation. International and local students don't mix, and for Lizano, the segregation stems from a set of fundamental misunderstandings.
"Australians think all international students are wealthy, there's this common thought around uni that we're really privileged, we don't need to study, we don't need to get a job, that sort of thing," Lizano says. "People think we're either not proficient enough in English, and we don't work as hard as they do. So it's really hard for us to be in a mixed group if we have a group project, because they don't think we're responsible enough, or something."
These stereotypes hit Lizano particularly hard. Her family can't afford to subsidise her education or living expenses—she's entirely reliant on scholarship payments. She hasn't been back to Ecuador or seen her parents and siblings for three years. "I'm guessing that there must be some international students who are rich like that, but I've met a lot of international students who work their ass off every day. Not only at uni, they work jobs as well. And they have to study full time while they do that because we're not allowed to be part time."
So back to that liveable city thing. Lizano says almost all of her stipend goes towards paying for accommodation—Melbourne rent is expensive and for the first two years of her degree she was paying for international student accommodation, which costs double the price of your typical sharehouse. She feels compelled to prioritise study over socialising because failing a single subject would cancel her scholarship, and has struggled to make friends outside of the expat community. The experience has been mixed.
Still, she loves Melbourne and would like to stay here longer if it wasn't for the fact her scholarship requires her to return to Ecuador immediately after graduation and remain in the country for eight years. But the experience hasn't always been easy. "I think we maybe have a little more pressure than local students," she says carefully.
Half an hour's drive away in one of the many sprawling student apartment blocks at Monash University's Clayton campus, occupied almost exclusively by international students, lives Lewis Wong. He moved to Melbourne from Hong Kong two years ago to study banking and finance, choosing Monash because of its high international ranking. He found entry far less competitive than similar courses in his home country. "I came here for my career and future," he says. The quality of education has a been "great investment", although Wong does note that "It's expensive compared to the locals. Our tuition for one course is their tuition fee for the whole semester."
Like Lizano, Wong has enjoyed his time so far studying in Australia. But he doesn't feel particularly embedded in the local culture. "Most of [my friends] are Asian or from Hong Kong," he says. "I go to class and the locals see me as Asian. There is that divide. It's hard to communicate."
Those Asian stereotypes don't make things easy. It's common, Wong says, for locals to immediately assume he's Chinese. He's found that assumptions about wealth affect how others perceive him too. "At my workplace, some of my coworkers have the working holiday visa, and they think that I'm an international student and I'm very rich and wonder why do I have to still work there? But actually I'm not. I want to try and earn some money to support my daily expenses. I'm trying not to let my family feel like I'm a heavy burden."
What's one thing he wished locals knew about internationals? "That they want to make local friends. My English is not that good but we are still trying our best to talk with them."
Someone who has had more success mingling with Australians is Singaporean politics student Justin Koh, who attends the University of Melbourne. He agrees that international students are segregated from locals, but has made inroads into the local culture by joining sports teams.
"Mixing with Aussies has been really eye opening for me and really nice. I play football here and that's how I've met locals. Culture-wise I feel Australians are more liberal, more carefree, which is great. There are things Singaporeans can actually learn from Aussie culture. They're proactive and they voice their opinions. I think that's commendable," he says.
Koh frequently refers to how "blessed" he is to study in Melbourne. His family, he says, gave him a rare opportunity to learn about life in another country. Still, it's been an uphill battle to try and fit in.
"In Melbourne Uni the local students voice their opinions freely and sometimes in class I feel I'm too quiet. But when I got to second year I started to talk. I thought maybe people wouldn't understand my accent, that might be a stumbling block. But I managed to get over it. And so far it's good. When I voice my opinion in class they're actually very receptive to it."
He advises that fellow international students "leave the bubble" and hang out with locals. But they might have to be patient in confronting certain ignorances while doing so—he's often forced to explain that the reason his "English is so good" is that Singaporeans are taught to speak it from birth.
If anyone can offer an objective insight into the life of an international student in Australia, it's Colin Carson. He's been studying abroad most his life. With parents from the United States and Indonesia, he went to an international high school in Singapore and then spent a year at an American college. Now he's at Monash, and highly active in the leadership committees of two student societies for Asian locals and ex-pats.
Being part of these student clubs has enriched Carson's campus experience, but made it hard to meet non-Asian students. He doesn't necessarily see this as a problem. "My friends here are mainly international students because it's a lot easier. It shouldn't be but it is," he explains. "We're more connected. You have similar cultural touchstones, you know? Like going to the Hawker centre. Even the shows you watch, the articles and media sites you read. They're super different."
He's well aware of the rich kid stereotypes that come with being an international student, and begs to differ. "You can make those generalisations, like you see a lot of PRC students with flashy cars and motorbikes. But you see thousands more that don't, you know what I mean? There's that misconception there because they're a relative minority who are reasonably flashy and it's easy to lump the rest in with that."
For something related, check out this VICE HBO special on the weird ways US students are dealing with debt: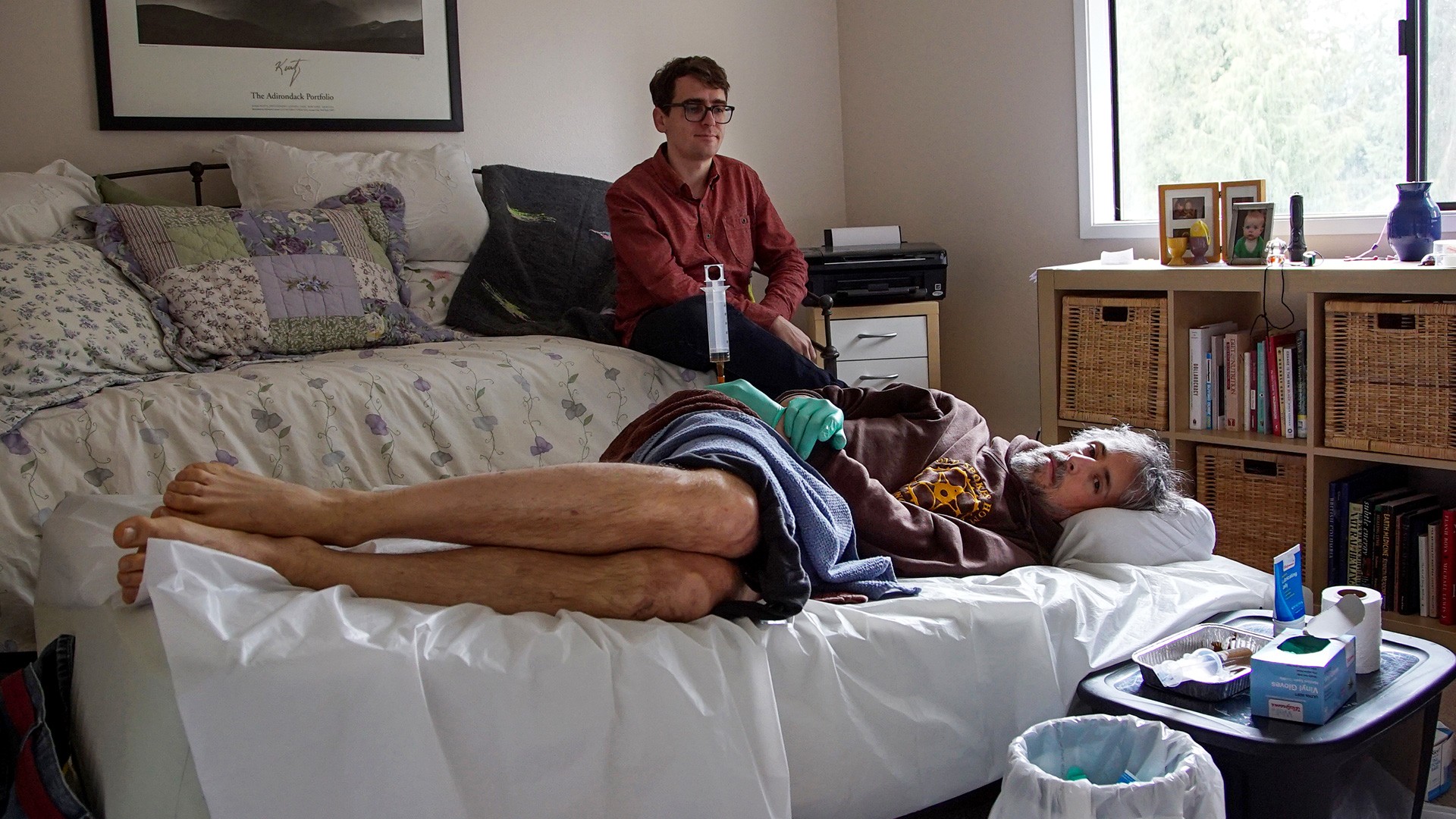 Carson's parents pay his Monash fees and living expenses, although he's currently looking for a part-time job to chip in. He's struggled so far, as have many of his friends—some of whom are considerably more desperate for work.
"You can't really find anything that's not a cash under the table situation. Even if you're searching on Seek or whatever, it's one out of 10 that says international students are welcome. The rest say, 'Please no international students or people on work visas'."
Carson doesn't mince words when it comes to his Australian job prospects after university, either. After seeing multiple friends try and fail to use their inordinately expensive degrees to find local jobs, he's not optimistic. "A lot of people I both know have tried to stay here but then they've just had to go home because they couldn't find anything. A lot of accounting students and finance grads. Everywhere in the business school, pretty much. I'd like to stay here but I'll probably end up going back."
Money is on the mind of Singaporean screen and cultural studies student Julienne Marie Somasundram too. Sitting on the couch of her small student-chic apartment in St Kilda, Somasundram says she encounters the stereotypes all the time.
"But we're not all the same. We're not all from rich families and here to just pay our way through a degree. Back home we have this mentality that you have to be brilliant to get into a local uni, and anyone who goes to an international uni that isn't Cambridge or Oxford is because you couldn't get into a local uni. You're just paying your way through. But no, we work hard. It's not easy, I work for my education. That's what I want people to know."
She's endured the same "Where in China are you from?" stereotyping as many of her international student peers, and isn't unfamiliar with casual racism. "This one time when my parents were here, they were walking down the street and this guy on a bicycle just shouted 'Immigration's that way!'", she recalls.
Of course, some of Somasundram's struggles will be familiar to any student in the world. Moving out of home for the first time was most difficult, she says, because she had to cook and clean for herself. "And use a washing machine for the first time!"
And yet, the divide. In lecture theatres across the world's most liveable city, students take the same notes. Yet they don't speak. Somasundram, along with many of her friends, is resigned to it.
"Even when there's five white people in the class they all sit together and there are no Asians on that table. It just happens. I can't really explain it, you can't change it, you just let it be, you know?"