"Youth, Interrupted" is a series on trans teens in the United States whose lives have been dramatically disrupted by anti-trans "bathroom bills" and other political battles. Watch and read more from the series here.
Last month, I flew to rural Virginia to interview Gavin Grimm, the teenage plaintiff in a landmark case for the civil rights of transgender Americans. Gavin is a modern day social justice hero who will be remembered by history as the trans child who refused to suffer discrimination in silence. He makes frequent public appearances, speaking eloquently about the rights of trans youth. But on a cool weekend in March, I saw another side of Gavin Grimm—the part of him that is still just a kid, a high school senior taking in the meaning of his new celebrity.
I also met Pastor Ralph Van Ness while I was in Virginia. In addition to preaching the gospel, Van Ness works as a security guard at Gavin's high school. He has been one of the most vocal opponents of trans rights in Gloucester. Speaking at a school board meeting in 2014, Van Ness helped to ensure that Gavin would not be allowed to use the boy's bathroom. "Where does it end?" he asked the board incredulously, suggesting that transgender students threaten the safety of the greater student body and that allowing Gavin to use the boys' room could pave the way for young men "go[ing] into the young ladies' room with ill intent."
In Virginia, I saw Van Ness standing behind the glass door of his white chapel. His small congregation had departed, and he eyed our car as my production team and I pulled off the highway. After speaking with my producer Erica, Pastor Van Ness agreed to a filmed interview with me in order to discuss his stance against transgender bathroom access, and his feelings about Gavin's case specifically. You can see that interview in our series, Youth, Interrupted.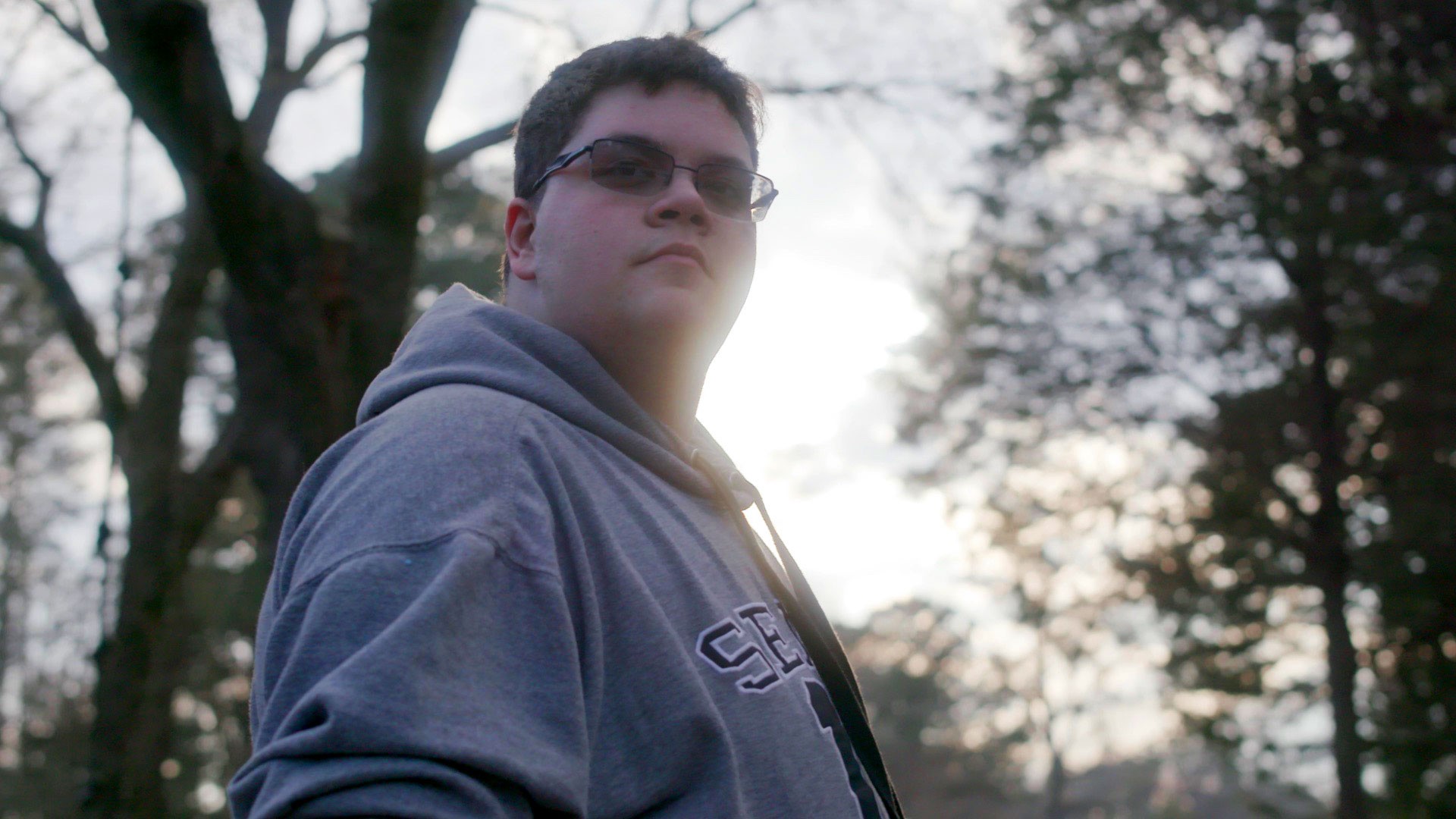 I am transgender, and have dedicated a significant portion of my work to issues related to the state of life for transgender people in the United States. Despite the fact that much of what I report on is relative to my own experience in this country, it is not difficult for me to disconnect myself from my subjects.
However, the fact that my personal identity sometimes intersects with an aspect of my subject's story is partially what makes my coverage of transgender news powerful; though my goal is to be as objective as possible, I don't pretend that my reporting on trans issues is abstract from my life outside of VICE.
Still, I remain separate as a journalist. I keep my eyes on the subject. I don't let my own story become entwined with theirs or overlay my narrative atop their own. In the case of Gavin Grimm or other transgender teenagers, it would be impossible to; I didn't have to go through what they're going through today. My generation had different burdens.
The so-called "transgender tipping point" had not yet come when I was a teen. Trans kids lived in relative obscurity. Despite the fact that we had fewer resources for help and fewer opportunities to transition than Gavin's generation, we were not placed below a searing spotlight, forced to enter the fight for our rights.
When Erica returned to the car and told me that pastor Ralph Van Ness had agreed to an interview, I was elated. The Youth, Interrupted series was my vision, and it was important to me that we capture the perspective of someone who represents the opposition to transgender equality. I was trying to create a series that would reframe the bathroom debate from the perspective of the children whose lives are being interrupted by it. In my opinion, Pastor Ralph Van Ness is the perfect example of how easily kind-hearted ignorance can draw blood.
It was Sunday, and I had spent the day prior with Gavin and his family. The week before, I had been in North Carolina and Delaware, meeting other inspiring and beautiful transgender teens. This was our final day of production. I was both physically and emotionally exhausted, but I was encouraged by my sense of purpose.
I consider my interview with pastor Van Ness to be one of the most important assets captured in this series. Most importantly, I believe that his views are representative of the fundamental misconceptions that appear in anti-transgender attitudes, policies, and laws across the country. I wanted to understand what this hostile force believes, and I wanted someone who opposes the rights of transgender people to sit down and state their beliefs to the face of someone who is transgender. At that moment, as I walked toward the church, it was impossible to extricate my personal life from our professional encounter.
Read more: The Heartbreaking, Hidden Lives of Transgender Teens
Sundays used to drag on forever. They were a stain on my weekly calendar, colored by memories of a God-fearing childhood. I remember frightened nights with my face covered by a blanket. I would look out from the covers, my eyes illuminated by moonlight as it splintered through the shutters. I expected to see the devil come to take me away. My heart raced as I squeezed my eyes shut and rolled over.
Growing up, I prayed to God for forgiveness and transformation. I would have given Him anything to change me from a frightened, feminine young boy into one of the masculine, heterosexual young men at my middle school. God didn't answer. Instead, my prayers were met by proselytized teens. I can still feel his breath on my shoulder as he whispered behind me in computer class: "I'm gonna kill you, faggot." I didn't change, but that kid in my class continued to hiss at my presence, and so did others.
One afternoon in seventh grade social studies, a popular girl who ran cross country track turned to me from her desk. A golden cross lay between her collar bones. She didn't personally care that I am gay: She said she didn't hate me, but wanted me to know that I'll be burning in Hell when I die.
God doesn't make mistakes.
"I don't hate Gavin Grimm," Pastor Van Ness said. We were seated beside each other in a pew. He wanted me to understand that his position comes from a place of faith, not hate. "I don't hate any homosexual. I don't hate any transgender. I don't hate that individual—I may hate a sin but I do not hate an individual." At this point in the interview, he did not know that I am trans.
"God doesn't make mistakes," the pastor explained, adding that transgender people are a "perversion" of God's creation. To identify with the opposite sex, Van Ness told me, suggests that "God doesn't know what He's doing." It's "deceptive."
I wonder if the pastor felt deceived when, later in our interview, he realized that the woman he was speaking with is transgender. As we spoke, I realized how well I already understand him: I've been told his argument countless times in different forms from different people all my life. So-called followers of Christ have smeared their beliefs across culture, injecting bogus bigotry into the law under the cover of "morality."
"Whether a person can be identified by just the appearance or not, still there's that responsibility," Van Ness said, explaining that even trans people who pass as their self-identified gender are bound to his moral compass. "I tell kids this. I ask them, 'What is integrity?' And some of them will look at me: 'I have no idea.' And I say this: 'Integrity is doing the right thing when no one else is looking,'" he continued. "If society and morality says that we're supposed to use restroom of our biological sex, then we have to use the restroom of our biological sex."
"I have a concern about where our society is going," he continued, shifting in his stiff suit. "What we are starting to adopt is leading us further away from God, leading us further away from morality." This includes the way we are teaching youth about things like gender and evolution (Pastor Van Ness doesn't believe in that.)
I pray that she will be safe.
"What I am is a believer in Jesus Christ, and if I put my faith and trust in him for the saving of my soul, that defines everything about me. That defines how I view everything in life," he told me. How could he separate his beliefs about God's teachings from his work at Gloucester High School? It was his moral obligation "to take a stand," to stop Gavin Grimm from using the boy's bathroom.
Pastor Van Ness told me that he wants people to know that he prays for Gavin. I asked him what he prays for. "I pray that she will be safe," he replied, failing to understand the hypocrisy of that statement: Gavin's safety is threatened when other people force their personal views about his sex or gender on him.
I told the pastor about the way that discrimination has impacted the trans community, how there is a 40 percent attempted suicide rate among trans people, how many trans people struggle to find employment, medical care, and housing—how trans people are the victims of disproportionate levels of violence,. "When transgenders put themselves out there, there's going to be a level of scrutiny," he responded. Of course, Van Ness made it very clear that doesn't condone violence: That's "absolutely wrong in every way." Yet he told me that he understands that it could be dangerous for transgender people to use the bathroom of their biological sex.
When I asked the pastor what bathroom he believes I should use, his leg began to shake. His eyes widened, his mouth tightened. "The restroom of your biological sex," he said. When I asked him if he thinks I would be safe in a men's bathroom, he had virtually nothing to say. "I couldn't begin to tell you," he replied, despite having just told me that he understands trans people may be victimized in bathrooms.
One thing has always baffled me about people who oppose transgender equality. I'm trans myself—I've experienced this firsthand—but I've also seen it countless times in the transitions of other people, including children: When transgender people are allowed to transition, their state of mental and emotional health often transforms. A little boy who wanted to die becomes a little girl who loves her life; a teenage girl who sees no future for herself realizes that he's always been a boy and begins to flourish. Whether you know someone who is trans, are an expert working in the field of transgender medicine, or simply have researched transgender stories with an open mind, it is obvious that transition has the power to restore life and hope to a suffering people, to allow them to know happiness again.
When I asked Pastor Van Ness about this, he told me that "we are a living under a curse." Sin hangs above us, corrupting what we love, and "as a result of that, people become happy in their sin," he said.
I was still beside him in the pew, but my mind left. It went to four-year-old Trinity Neal who, ten years ago, was living as a boy and was clinically depressed. I remembered the photos that her mother DeShanna showed me a week earlier—pictures of a despondent child who had stopped speaking or responding to their name. DeShanna knows that if she didn't let Trinity live as a girl, as who she really is, then she would not have that child anymore. She believes Trinity would have taken her own life. But that didn't happen. Today Trinity is a happy, beautiful, brilliant teenage girl—because her mother protected her from people like Pastor Van Ness.
After our interview, I walked hurriedly to our car. I shut myself in the back seat and fell forward. Erica held my hand as I covered my face. I didn't want her to hear me crying, but I had lost my breath and I couldn't stop. The Pastor had torn into me with his good intentions, ripping a hole in the wall between my work and my life.
"I try to get up every morning of my life and live my life in such a way that I represent Christ well," Pastor Van Ness said. "When I lay my head down on my pillow tonight, I'm going to sleep."