Photo by Greg M. Cooper - USA TODAY Sports
Anyone who watched the Boston Celtics this season knows that they overachieved.
Back in October, FiveThirtyEight projected the Celtics to win 47 games and outscore opponents by 2.5 points per game, with a 10 percent chance to claim the one seed and a 3 percent shot at the title. Not bad. Fast forward to today, and while the point differential was almost exactly spot on (2.6 points per game), Boston won 53 games, entered the playoffs with the top seed, and came within a few games of reaching the Finals.
Meanwhile, Isaiah Thomas cannon-balled over the rosiest estimations of what he can accomplish on a basketball court, finishing third in points per game, fifth in usage percentage, and ninth in True Shooting.
It's been an uplifting eight months for a growing team that finished with 25 wins just four seasons ago. It's fair to say that the Celtics were really good, even a slight step ahead of the Toronto Raptors and the Washington Wizards. It's also fair to call them a paper tiger. Granted, they didn't have their best player for their final three games, but the Celtics were crushed by exactly 100 points in the Eastern Conference Finals, even with a home-court advantage few believed they deserved.
How Boston got as far as they did, however, can tell us something about where they might be going, and whether exceeding expectations this season could help or disrupt their future plans.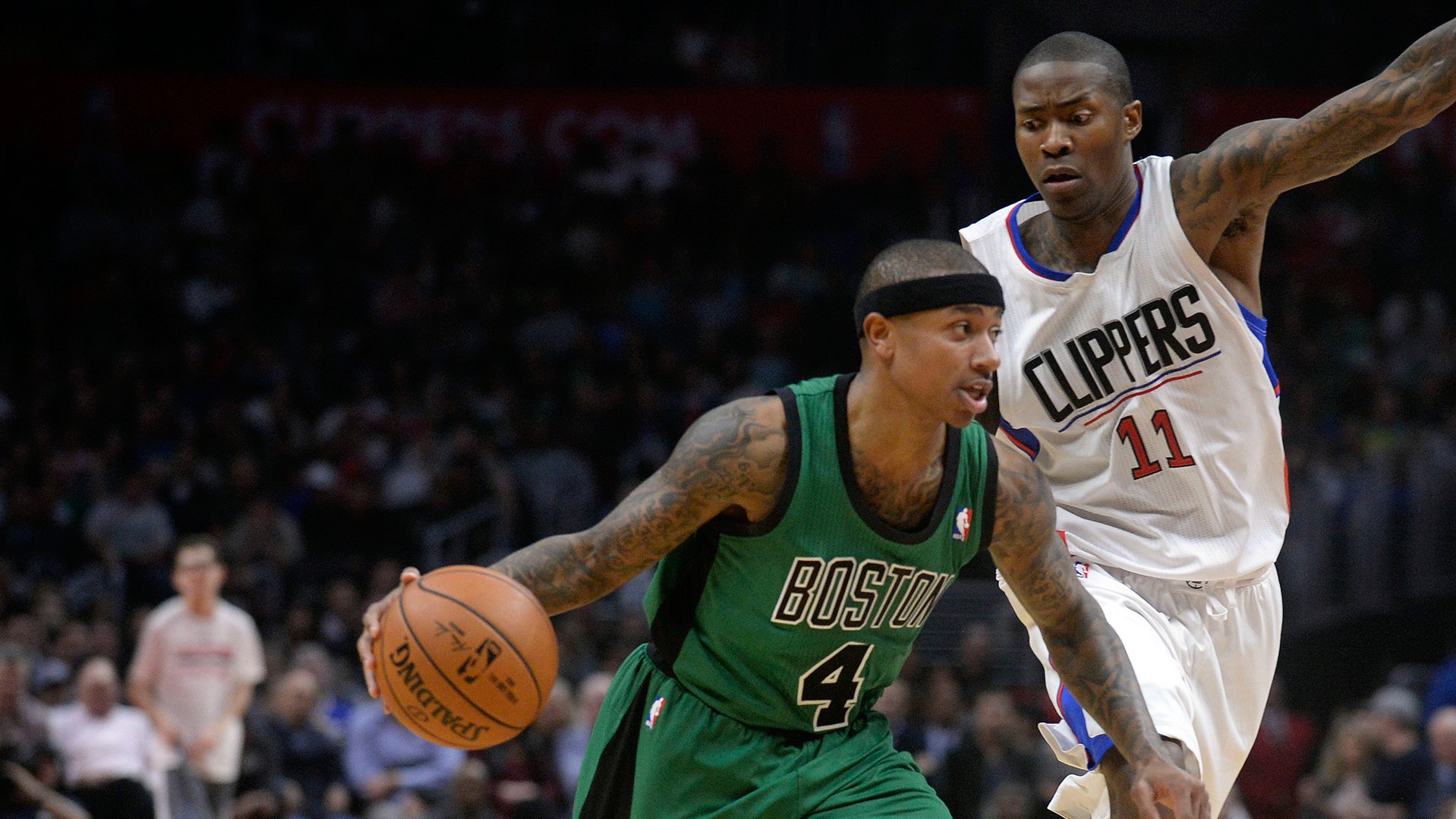 The Celtics never really had a starting lineup during the playoffs. Brad Stevens scrambled from game to game in search of a fifth wheel who would spruce up their stagnant offense and launch Isaiah Thomas back into his regular-season form without destabilizing the rotation or sacrificing too much on the other end.
Should they stick with what got them there and play Amir Johnson at the four? What if they went small and plugged seldom-used Gerald Green in at the three? Should they go super small and inject Marcus Smart from the jump? Where is Jonas Jerebko? Why can't Jaylen Brown get the minutes he ostensibly deserves? Maybe Kelly Olynyk is the answer?
The early rounds made clear that Boston had flaws not easily repaired overnight, and an unusually slim margin for error. They dropped their first two playoff games against the eight-seeded Chicago Bulls and could very well have lost that series in four or five games had Rajon Rondo not fractured his thumb. Jimmy Butler may or may not have played with a bum knee. Injury luck was on the Celtics' side again in the Round 2 when Washington's Markieff Morris badly sprained his ankle a few minutes into Game 1.
The Celtics had been a high-variance team all season. So much of their success was thanks to how they utilized the three-point line: from last season, they increased the share of their total shots behind the arc from 29.3 to 39.3 percent. Some of that has to do with Al Horford (who made 51.9 percent of his threes in the postseason) replacing Jared Sullinger and Evan Turner leaving to sign a massive contract with the Portland Trail Blazers, but spraying opponents from deep became the easiest way for this team to maximize its potential.
Both their playoff and regular-season three-point rates sat in third behind the Houston Rockets and the Cavaliers, which helped bump them up from 13th to eighth in total offense, but defensive woes resulted in their net rating only moving 0.1 points per 100 possessions in the right direction. Horford was expected to only improve last year's top-five defense. Instead, the Celtics dropped down to 12th.
A lot of those woes came off the glass. Boston was the only team in the entire league that finished 25th or worse in both offensive and defensive rebound rate. Turner was sorely missed, as the Celtics were forced to play three-guard lineups a bit too frequently for a serious title contender.
Forty-nine times Boston found itself in a clutch situation, where the point difference was five or fewer with under five minutes to go. They prevailed in 32 of them, tying the Wizards for most in the NBA, and behind only the San Antonio Spurs in win percentage.
It's in those moments when games mattered most that Thomas ascended to new heights. He averaged 5.1 points in clutch situations, second only to Russell Westbrook's 6.2. Unlike the probable MVP winner, Boston's point guard managed to be efficient, too. He shot 47.8 percent from the floor, 40 percent from deep, and 90.4 percent from the free-throw line.
If the ball had bounced differently in a couple of those contests—or if Cleveland decided to try in the final two weeks of the regular season—Boston is the two seed, with a date against the Raptors in Round 2.
Second-guessing is only natural when trying to figure out how these Celtics went as far as they did, and whether they can go farther in the near future. Studying this year's team can tell us more about this year's players, which sounds obvious, but it really matters as the Celtics decide who stays and who goes this summer.
In order to clear enough cap space to afford a max player and keep the first overall pick, the Celtics will have to renounce a majority of their own free agents and then trade away at least one key member of their rotation. Most likely, Avery Bradley or Marcus Smart will get dealt. It's possible Boston renounces Kelly Olynyk and bring both guards back, but that scenario is almost entirely dependent on whether Guerschon Yabusele—the 6'8", 270-pound forward picked 16th in last year's draft—wants to join the team.
The Celtics are too young, with too many resources, to screw this summer up. They aren't Portland, pressured into signing Turner and matching Allan Crabbe's offer sheet just because they beat the broken Los Angeles Clippers and put up a fight against half of Steph Curry in the second round. Still, the pressure is on to sign a max-caliber free agent this summer, assuming Boston's ownership would like to win big on the Thomas and Horford's timeline.
The good news is this front office has shown it possesses slightly more foresight than pure competitive drive, and more likely than not fully understands how much luck was involved in the team's conference finals run this year. No transactions were made at the trade deadline for a reason: they wisely refused to surrender future assets for slight short-term gain, when said assets can be cashed out down the line.
Boston's plan, for the time being, is more straightforward: draft Markelle Fultz with the first overall pick in June, set up a meeting with Gordon Hayward and/or Blake Griffin, shrewdly spend cap space elsewhere if those two re-sign with their current teams (namely to add size on the wing to help on the glass), retain the core, and roll it back with improved pieces at every position.
If they sign Hayward or Griffin, fantastic. Either player could very well close the oceanic gap that currently rests between Boston and Cleveland—or at the very least solidify their current lead over teams like Washington, Toronto, and the Milwaukee Bucks. Jaylen Brown, Smart, and Terry Rozier will all be better players next year, as well.
As they forge ahead, though, the Celtics need to be realistic about where they stand. Maybe that's three wins away from the NBA Finals. Or, perhaps, it's a few more.
Want to read more stories like this from VICE Sports? Subscribe to our daily newsletter.