Dwight Howard's shoulders don't know how to retreat. Perhaps they are unaware of the fact that they're battling on behalf of his third team in three years, or are partly responsible for a fruitless post game, but these shoulders still sit atop a pair of impossibly muscular arms as one of the most effective physical characteristics basketball has ever known.
As I stand beside/below them on Madison Square Garden's sideline during a recent morning practice, it dawns on me that these shoulders should have come to mind when Howard's awkward tenure with the Atlanta Hawks came to a merciful conclusion. Or when he looked closer to China than All-Star Weekend during a dreadful six-turnover preseason opener against the Boston Celtics.
It's impossible to stand so close and believe other players have any chance in hell to corral missed shots while those shoulders occupy the same space. They were molded to plant flags in the paint. (Howard is the career leader among all active players in defensive and total rebound rate, and is currently pulling down 13.2 per game.) Today, they stand tall in the face of revolutionary, three-point-line-backed winds that threaten to wipe them out.
Even though the narrative surrounding Howard's decline—further accelerated by the decrepit trade package Charlotte used to acquire him—has somewhat less to do with his production and more to do with the friction he's stumbled upon with teammates and coaches in recent years, that wide frame, and all the good it can still do on a basketball court, isn't going anywhere. Howard doesn't need to dramatically evolve—what he can do is timeless.
"When we were in Orlando he was just, athletically…I mean really outside of Shaq, I don't think there's been another guy with that type of strength, quickness, explosiveness like he had," Charlotte Hornets head coach Steve Clifford, says. Clifford, who worked with Howard when both were employed by the Magic, continues, "He's still, to me, very strong, very athletic—not like he was—but he's also much more seasoned. And I think the thing he's never gotten credit for is his intelligence on the floor."
I crouch next to Howard as he slides his feet from American Flag decorated Peak sneakers into a pair of Ugg house slippers that resemble two sheepskin-lined canoes. The cameras that once invaded his personal space in environments just like this one are gone. All he has to deal with is my lone digital recorder. He fiddles with his phone and slides a black Hornets knit hat (with a pom on top) over his head. I ask if and how his role right now is different than it was in the previous two stops.
"No doubt. I'm more involved in the offense," he says. "I have more opportunities to put in some good input within our defensive schemes…It's a totally different system, a totally different atmosphere, and I'm excited about our future here.
"Coach understands that I enjoy playing defense, and he's just allowed me to be who I am on defense within the defensive scheme that we have set as a team. So that's a little bit different than in the past."
Howard is 11 games into his 13th season. It's too early to say if his fit with the Hornets will be successful, but at 32 years old he's got the highest usage percentage he's had since he left Orlando. In some areas that's not so great, like, for example, on the block, where only three players in the entire league have posted up more, according to Synergy sports.
Howard's turnover rate on these possessions makes feeding him down low one of the riskier gambles in the league. Right now he's coughing it up 34.4 percent of the time, an outrageously high number that's 12.2 percent higher than Blake Griffin, who ranks second on that list among all players who've logged at least 50 post ups.
He's been a particularly demoralizing black hole. The second Howard puts the ball on the floor there's a good chance it'll fly out of bounds, get poked away by his own man, or ripped from his grasp by a help defender who knows Howard won't see him coming. The saving grace here is that much like a hot three-point shooter, being this careless with the ball is unsustainable throughout an 82-game season. And when Howard shoots without dribbling, his field goal percentage is an impressive 65.7 percent.
All in all, the increase of opportunity has made him happy. And a happy Howard is an engaged center who can still sway the tide on both ends of the court. His net rating has hovered around +10 for most of the season, and the Hornets look like a 62-win team when he's on the floor. (So far, they're a total trainwreck when he sits—but that also has to do with the fact that Howard usually shares the court with Kemba Walker, and they don't have a backup point guard or NIcolas Batum on their bench.)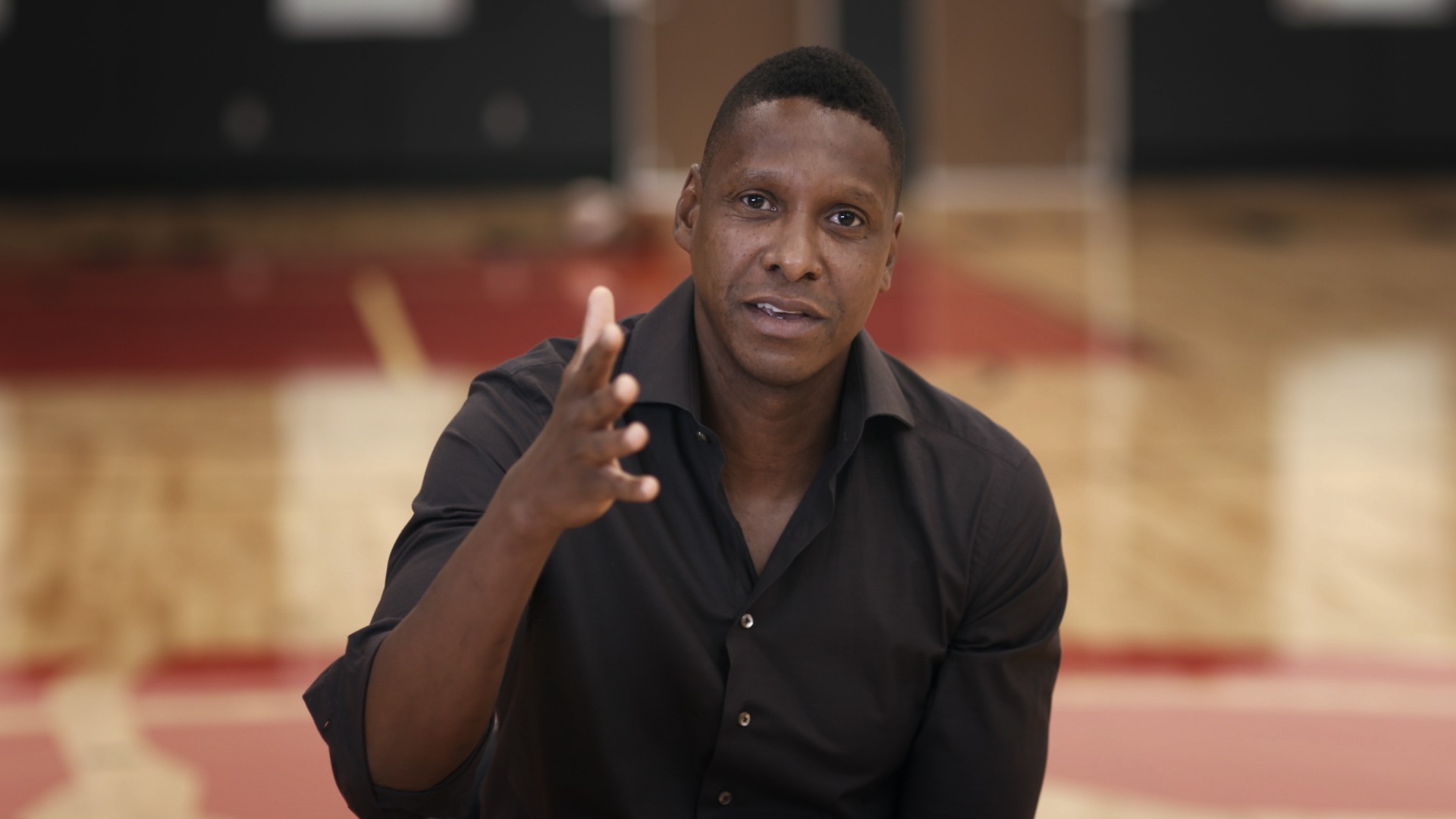 ---
Even though he isn't the cape-wearing superhero he once was, Howard still does little things that have value. He draws a ton of fouls, is one of the NBA's better rebounders, and peels defenders off teammates with terrific screens.
"Once these guys get an opportunity to get separation from their man, and get a chance to really look at the basket, it's lights out," Howard told VICE Sports. "I take pride in hitting those guys and making the defense have to work. Jeremy Lamb, Kemba, Malik, when Nic gets back, all these guys can come off pick-and-rolls and get easy shots. So I'm just trying to make sure that I hit their man, roll to the basket, put pressure on the rim, and now our shooters get opportunities to get their shots off."
A perfect example of that came on Tuesday night, when Knicks point guard Jarrett Jack was forced to chuck Howard's roll, freeing Malik Monk up in the weakside corner for an open three.
"I think it's one of the things he doesn't get enough credit for. He's always been a terrific screener," Clifford says. "He had a very good chemistry, both with Jameer Nelson in Orlando and also with Hedo Turkoglu, and I think that he's done the same thing here. He's on his way with both Kemba and Jeremy Lamb, and when Nic comes back it'll be a big part of his game too."
"He's such a great screener and he's such a forceful roller," Hornets forward Marvin Williams says. "You're gonna have to have one or two guys down there stopping him from getting a dunk, and that's where we come in."
Defensively, Howard has been the drop-coverage brick wall who forces long twos, deters shots at the rim, and makes life easier for his teammates as they swarm along the perimeter. According to Cleaning the Glass, Charlotte's opponent shot frequency at the rim is 8.9 percent lower when Howard is on the court, and their accuracy drops 11.0 percent. That is completely ridiculous.
"He's as good with coverages as almost any guy I've been around. He always was," Clifford says. "And that's why I think that we can be an elite team defensively once we get all our guys back and a little more coordinated."
Here he is letting Walker know Karl-Anthony Towns is about to set a screen. Charlotte's cagey point guard isn't caught off guard, and is able to duck under and recover for a decent contest, executing what Clifford wants him to do.
And in a slightly more complicated situation, watch in the opening second as Howard points to a spot on the floor, letting Dwayne Bacon know that Taj Gibson may set a drag screen for Jimmy Butler. The rookie leaps up to ice it and force Butler towards the sideline, away from the middle. Howard is then in good position to poke the ball away.
"He communicates," Hornets guard Jeremy Lamb tells VICE Sports. "He's a great rim protector, whether he blocks it or alters it. He makes them shoot tough shots and that's great to have. If my man gets by me I try not to swipe down, I try to keep my hands up because they have to shoot a tough shot over him."
There are moments where Howard is forgetful on the perimeter, almost daring bigs like Marc Gasol or Kristaps Porzingis to fire up an open three; an irrational disbelief of their ability to make him pay. Clifford also benched Howard at the end of Charlotte's loss in New York because the Knicks went small lineups and were giving his Hall of Fame center some trouble. But all in all his impact on that end has been positive.
And for what it's worth, Howard's teammates have yet to sour on his relentless jest.
"It's been all fun all the time," Hornets forward Marvin Williams says right before he tilts his head back to laugh. The two have known each other since they were 14. "Since he's been with us, I mean, anything that you've heard or read I've yet to see, me personally. And I bet everybody else in the locker room will say the same thing. He's literally all jokes all the time. He loves to joke with other people. He loves when the jokes on him. He's always laughing. He's legit like a fun dude to be around, man."
The sentiment is echoed by Lamb, who met Howard a while ago. Both are from Atlanta. "I knew he wasn't a horrible person like people try to portray…All the things that people say is totally false to me. He's a great teammate on and off the court. When he first got here he was helping the young guys, talking to them about positioning, just talking to them about different things to help them. I'm really happy to have him."
Success is a magic elixir for even the most grating locker room behavior. And even though the Hornets are 5-6 with a 19th-ranked point differential, they've competed in every game without Nicolas Batum (their second-most irreplaceable piece), while another starter, Michael Kidd-Gilchrist, has missed six games. Michael Carter-Williams is finally back in the lineup and guys like Bacon, Monk, and Treveon Graham have been forced to fill holes they aren't ready for.
In other words, Charlotte's best days are likely ahead. In the meantime, Howard has already proven to be an immensely helpful contributor.
"We have an opportunity to be a top three team in the East," Howard says. "With the way we work, and the potential that we have, and the talent that we have, there's no doubt in my mind that we'll be a top three or four team in the East."