For eight years running, artists have painted, sculpted, photographed, and collaged the characters of Wes Anderson's films for Spoke Art Gallery's Bad Dads show. Anderson's dad reportedly hates this name—inspired by how flawed father figures tend to be in the idiosyncratic filmmaker's movies—but the show is incredibly popular among Anderson's artistically inclined fans.
More than 100 works by dozens of artists made it into the annual show, which took over Spoke's San Francisco gallery this weekend, ranging from Greg Gossel's pop art portraits to Miles Richie's woodcarvings and Jayde Fish's detailed prop recreations. "I don't think there's a specific demographic, age, or style of work that is prevalent throughout the artist roster, which is one of my favorite elements of the show," Dasha Matsuura, who curated Bad Dads, says. "The biggest commonalities are our love for each artists' work and a love and appreciation of all things Wes Anderson."
The gallery has become known for curating riffs on cultural cornerstones like Hayao Miyazaki and the Coen Brothers, but Spoke's first tribute to the Royal Tenenbaums director in 2010 gave fans a whole new way to interact with the auteur. "No one had really done an art show about him, but his films were so clearly influencing artists from around the world," Matsuura says.
All the artists we spoke to about the show agree that Anderson's instantly recognizable style is the most obvious reason they enjoy making art inspired by his films. "There's a very stark and pointed aesthetic throughout Anderson's filmography that lends itself quite well to reinterpretation through the traditional visual arts," Gossel says. His contribution is a portrait of Bill Murray's iconic titular character from The Life Aquatic with Steve Zissou, surrounded by the screen-printed logos, symbols, and comic-book characters that crowd most of Gossel's work.
"His worlds are incredibly tempting," says Brighton Metz, an ink and watercolor illustrator who adapted Anderson's second feature, Rushmore, into a set of tarot cards for this year's Bad Dads show. "Each of Anderson's characters has this lush story behind them, informing the things we see onscreen, and I think that's is why the characters are so fascinating to depict," she says. "The same goes for his settings… I feel curious about them, so I'm driven to try and answer my questions by working on them myself."
Miles Ritchie, who showed a wood carving of Moonrise Kingdom's plucky Khaki Scout protagonist Sam Shakusky this weekend, is inspired specifically by Anderson's knack for production value. "There's so much more imagery and craft beyond just the characters that an artist is able to draw inspiration from," he says. "The sets, objects, and colors all serve important roles to the storytelling in his movies. In virtually every shot, there is something fun to draw, whether it's a character's outfit, one of the beautiful backgrounds, or one of the stunning fictional wildlife creatures. The possibilities for art are endless."
Anderson certainly isn't the only filmmaker in Hollywood with top-tier production design, so what else draws artists to his work? Metz suggests it's not only about how well the furniture is designed in The Grand Budapest Hotel or how accurate the crew's vintage uniforms are in The Life Aquatic with Steve Zissou. Many artists relate to his films' as a response to modern culture.
"We happen to live in a society right now that values things like recreations and spinoffs and nostalgia," she says. "Fan art is revolutionary, in a way, as it offers the fan a vast variety of ways to honor their love of something without going through the traditional channels, and allows one to be a distinguishing consumer. It's also community, making connections between fans in ways that haven't always been available to us."
One year, Anderson himself went to the show with constant collaborator Jason Schwartzman, essentially giving the gallery his blessing. In the forward of an artbook compiling work from Bad Dads, he wrote, "I do not even know if it is actually legal to publish this book? It probably violates if not my own personal copyrights then almost certainly those of a number of multinational entertainment conglomerates. But, for whatever it is worth, I approve, and I hope you will, too." Artists from Bad Dads have gone on to work on Anderson's films, including Rich Pellegrino's painting Two Lesbians Masturbating appearing in The Grand Budapest Hotel.
This anecdote explains a deeper reason why the artists of Bad Dads are attracted to Anderson's work. He makes worlds they feel they can be a part of. Illustrator and designer Jayde Fish, who displayed a bespoke hand bag, belt, and key fob at Bad Dads this year, is a frequent contributor to the series.
---
More from VICE: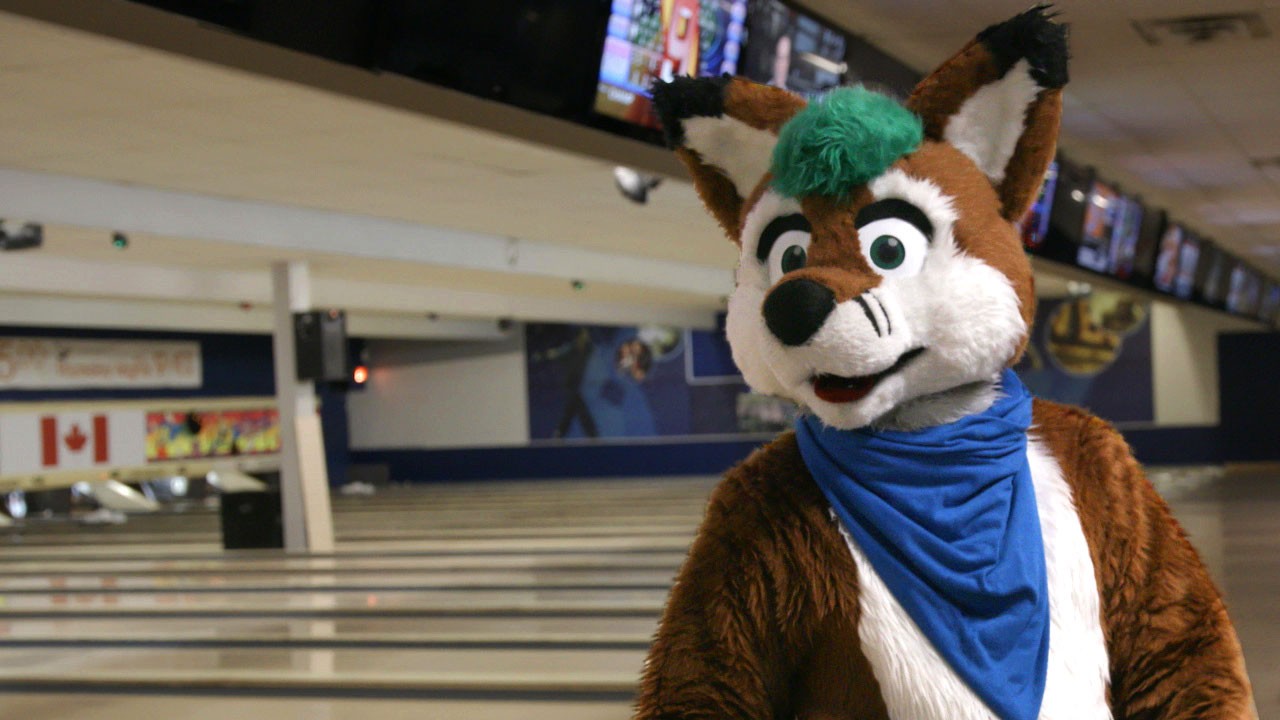 ---
"The Royal Tenenbaums handbag that I exhibited a few years ago had a quote on it, 'I always wanted to be a Tenenbaum,' because I think that's truly why I and so many other people love Wes' films so much," she says. "As artists, I think we all aim to transport the viewer to a new dimension and Wes is so successful at doing that."
Check out work from Bad Dads on Spoke Art's website here, and pick up prints here.