Nathan Tempey
Sue Jeiven only has one item on her bucket list: Tattoo as much as possible, as well as possible. This isn't an abstract thought exercise. Jeiven works as a tattoo artist and was diagnosed with Stage IV breast cancer in 2010.
Her doctors told her that she needed a hysterectomy and double mastectomy. She went under the knife the following summer. As soon as she was strong enough to sit in a chair and hold a pen again, she drew feverishly, filling dozens of pages with flash, the sheets of designs that line the walls of tattoo studios. Her black-ink drawings did without the pop of color characteristic to traditional American tattooing, and she embedded familiar tattoo motifs with her pain and grief. There were anchors and ships and women whose outlines resembled traditional pinup designs. But one woman was drowning. Another was naked with a skull between her legs. There were sad women, strong women, a woman's head inside an hourglass below the words "NO TIME LEFT."
"The flash was a way of saying things that would otherwise freak people out," Jeiven tells me.
When she was strong enough to head outside, she knew where to go. "Sue was really clear at the time that if she wasn't going to live, she didn't have any interest in trying to travel around the world or doing some kind of bucket list thing," says Duke Riley, owner of East River Tattoo in Greenpoint and Jeiven's boss. "The only thing she wanted to do was keep tattooing."
So that's where you can find Jeiven—except on days when she has chemo and when she's home drawing for hours at a stretch—at her station in the shop, surrounded by her taxidermy, antique secret society memorabilia, and embroidery by her grandmother, who, like a lot of women in her family, died of breast cancer. Fewer than one in four women with Jeiven's diagnosis live for more than five years. She's lived for more than seven. Few women with metastatic breast cancer make it past 10 years, although it's not impossible.
Jeiven's chemo schedule means that she can't travel anywhere for longer than ten days, and only to cities with hospitals that meet a certain standard of care. Among a host of indignities—early menopause, diabetes, hair loss, fading eyesight, and mounting pain—the inability to travel freely particularly aggravates her, though not for the reasons one might expect.
"People say, 'Oh, don't you want to see all the people you care about, and see new things?' That hurts to do that. I don't want to do that," Jeiven says. "Like, what, 'Oh, one day I'll come back here?' Or, 'Oh, I'm glad to establish a new relationship with you.' That's just horrible. I don't want to do that."
She does, however, want to tattoo all over the world. At this stage in her career, with tens of thousands of Instagram followers and such demand in Brooklyn that the shop manager has to close the booking calendar and only release appointments with her periodically, Jeiven yearns to hit the guest artist circuit, stopping in for residencies at other high-end shops that reserve a station for roving tattooers. She has a list of cities where it's possible for her to travel. She's just back from four days in Mexico City, which she describes to me over text as "INSANE."
These trips are about legacy, not leisure. "What I'm doing is immortality," Jeiven says. "I'm putting art on people that's going to walk around after I'm gone."
The way Jeiven pours herself into her work isn't unusual among people with terminal illnesses, according to Gary Rodin, a professor of psychiatry at the University of Toronto and head of the department of supportive care at the Princess Margaret Cancer Centre in Toronto. "That's actually the most common situation," Rodin says. "Everyone imagines that when you get serious cancer you want to travel the Riviera." Instead, he says, "A lot of people want to, for as long as possible, hold onto the life they have."
Rodin recalls the story of an oncologist who wound up in his own cancer ward. "We asked if there was anything they could provide for him," Rodin says. "He said, 'Yeah, can you bring me a desk?' He wanted to continue to work on his research papers."
Rodin is a proponent of a course of therapeutic consultations for people with terminal illnesses, to help them sort out what they hope to get out of their remaining life, and balance longevity with quality of life, rather than simply pursuing the most aggressive course of treatment. It's sometimes easier to just keep doing the treatment, rather than have these challenging conversations, he tells me.
---
Watch this from VICE: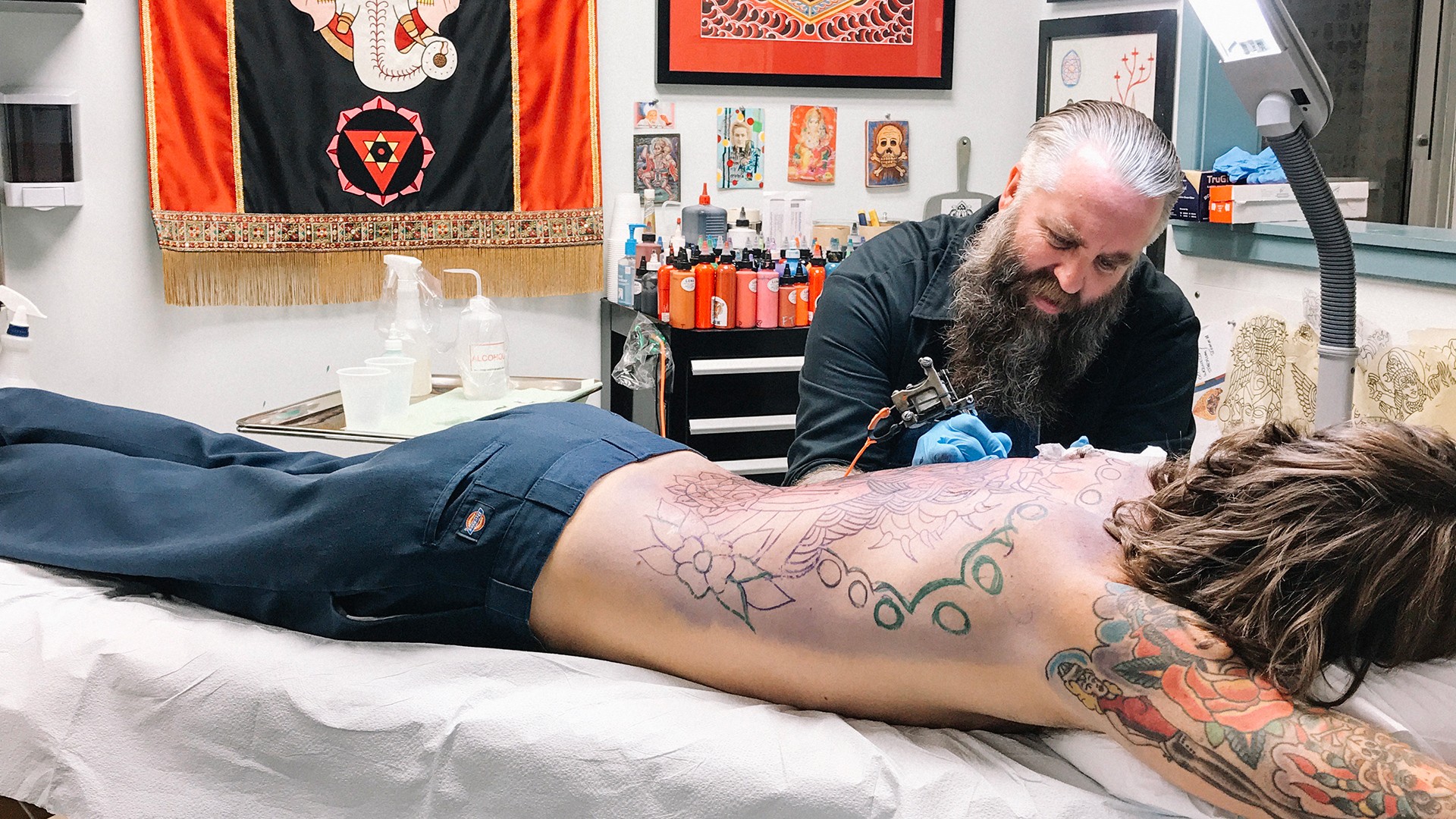 ---
Jeiven says being told that her chemo treatment must go on for as long as she's alive was one of the worst pieces of news she received early on, and her anger at the universe is the most pronounced when cancer survivors ask her how many rounds of chemo she has left. The answer, which is beyond the battle and remission narrative that defines cancer for many, is that she may not get to know a world without chemo ever again. When we met in late July, she'd just received more bad news: Doctors had found cancerous growths on her pelvis. The five months of radiation that doctors are calling for would mean five months in bed, nauseated, not tattooing.
She plans to get a second opinion about the radiation, but for now, her plan is to go without it, and without painkillers. A round of opioids following her 2011 surgery gave her a taste of addiction, and an accompanying bout of severe depression left her at times indifferent about keeping up with her many appointments and prescriptions.
"It's like a living nightmare of pain. And you start to live in the spaces between when you can take your meds again," Jeiven says, recalling her recovery from that procedure. "I used to hoard them and thinking if times get bad I'll take all of them…I have bowls that are like trail mix of failed antidepressants. I've had instances where I just kind of gave up."
She credits her parents with keeping her going, which sometimes means taking her to appointments she'd otherwise miss. Jeiven grew up in "sleepy" Westfield, New Jersey in the 1980s, nursing twin obsessions with punk and tattoos through illicit trips into the city, and to an Elizabeth, New Jersey tattoo parlor where she got her first pieces as a teenager with a fake ID. She spent the early '90s managing punk bands and booking shows at seminal New York venues CBGB's, Wetlands, and Coney Island High. Starting in the mid-'90s, Jeiven worked a string of jobs in the margins of the tattoo industry up and down the East Coast. She wasn't aware of any women tattooing at the time, and she says that the men who tolerated her in service roles and eventually as an artist never offered her a formal apprenticeship, the typical entry point for those looking to learn the trade.
Her career turned a corner in Boston, where she opened a music venue and record store and, after an ACLU lawsuit legalized tattooing in Massachusetts in 2000, added a tattoo shop to the offerings. During this period she was surrounded by artists working in the traditional American style—think thick lines, tall ships, eagles, Sailor Jerry. Still, she felt her skills were lacking and, sick of the paperwork that went into running the business, she sold it and moved back home. She hit her stride at East River, where she started in 2009. Riley, the owner, specializes in a stripped-down, folk art and engraving-inspired style that gave Jeiven license to jettison the color inks she says she never felt comfortable working with and cultivate her distinctive approach.
Since Jeiven's diagnosis, she has also gone small. She doesn't want to do any tattoos that she can't complete in one sitting, lest she never finish them. Though small, her designs are intricate, pulling from Albrecht Dürer engravings and other non-tattoo influences, and often containing dual images and layered meanings. A bad experience with a tattoo of a wedding bouquet that a client pulled off of Pinterest (it turned out several other people had the exact same tattoo) prompted Jeiven to go even more analog, jettisoning Photoshop, refusing to draw on an iPad, and tossing and deleting many of her visual reference materials.
"I never want to repeat another tattoo," she tells me. "And if a [visual] reference isn't in a book, I don't want to have it." (She'll still work with images people bring in, though.)
This isn't the best money-making strategy—Jeiven says she has had to add a whole extra day of drawing to her weekly schedule, and she only bills for the actual time spent meeting with a client and applying the tattoo—but it has its fans. Melanie Benetato, an animal shelter veterinarian, came in to see Jeiven in 2015 after taking a long hiatus from getting inked because the male artist who did her first tattoo made her uncomfortable.
Benetato says she never planned on having a lot of tattoos, but now she has about a dozen from Jeiven, including what has become a half sleeve. And she has no plans of stopping. "She's definitely the easiest one to work with," Bentato says of Jeiven. "If you change your mind and you have a million ideas, she'll draw five things and end up cutting one piece of one drawing and attaching it to another piece of a drawing."
In person, Jeiven is animated, and commits herself wholly to the task in front of her. In over four hours of talking to me, she barely stopped to sip her iced coffee. And if we weren't discussing her terminal illness, I'd have had no idea she wasn't feeling well. "She has outlived the predictions of what the doctors said she was going to live by multiple years, and still has more energy than the rest of the people that work at the shop that are healthy," Riley says.
The darkness and the tiredness, Jeiven saves for other days. But when she's tattooing, what you see is what you get. "When it seems like I'm excited to see you when you're here to get a tattoo, I'm really excited to see you," she says. "This is it. I'm more excited to see you than you are to see me."
Sign up for our newsletter to get the best of Tonic delivered to your inbox.