This is an edited excerpt from VICE writer Royce Kurmelovs' new book, "ROGUE NATION: Dispatches from Australia's Populist Uprisings and Outsider Politics."
About 200 people turned out for the Reclaim Australia rally that day in November 2015 and I had turned up to watch them all filter in. The whole thing had been set up on a small flat up the hill and Australian flags hung limply against a cloudless blue sky. After watching for a while, I took out my camera to shoot some photos. A woman who appeared Sri Lankan was standing nearby and asked me not to photograph her. Then someone from the other side of the tree-line yelled at me to put it away.
The demand came from a tall guy in dark speed-dealer sunnies. He was wearing a blue singlet with the faint outline of Australia marked on his chest in white. He had rings on every finger, a persistent five o'clock shadow and was carrying a camera with a pricey-looking telephoto lens hanging off the end.
This was a public space in Australia. I needed nobody's permission to film or shoot photos and I wasn't about to
ask. So, I stood my ground, pulled out my media ID and posed for the camera, until his interest was piqued and he came over to investigate.
I was about to learn that Reclaim Australia, as a group, recruit their own volunteer security to keep counter- protesters from infiltrating their ranks and causing trouble. If I wanted to hang around the rally, the man said, I had to be cleared before being allowed to shoot. He walked me over to the man in charge, a tall white man wearing hi-vis who was leaning over a table. He checked out my ID back to front and reluctantly decided to cut me loose.
After that the man in the blue singlet wanted to make friends and offered to introduce me to a few people.
The man he put me onto was Zayne Van Day. He had migrated from New Zealand and claimed to be an ex-paratrooper. He was a big guy, with red hair and a moustache. He was nice enough, in a lost sort of way.
"I do this because I want my daughter to grow up in a world that I did," he said.
I asked what world that was.
"The 80s," he said. Then I made the mistake of using the term "white man" in asking a question. Zayne found it offensive and said he preferred "Caucasian." After that came a ten-minute lecture about the moral superiority of Christianity as a religion and Jesus's teachings. When he was done, Zayne said goodbye. He was on the bill to speak at the rally, he said, and he had to prep.
Circling back through the growing crowd, I found Bev Fussell, a tiny 78-year-old woman with white hair and an excited smile who was wearing the Australian flag. She was nervous about talking to me, she said, and immediately insisted she was not racist, though I never asked whether she was. She had never been to a political rally before in her life, nor had she ever been a member of a political party. This was her first time and so I asked what she was doing here.
"I'm not against immigration, we've had good people come into this country before. They didn't live on handouts," Bev said. "I'm here to stand for Australian values our forefathers fought for and to see that the Australian lifestyle, culture, and laws that we have always known, carry on into the future. I'm not against Muslims, but I am against radical Islam and Sharia and halal."
The country's first permanent mosque was built in 1861 at Marree, an outback crossroads town in South Australia's mid-north and there are more Buddhists in Australia than Muslims. I didn't say any of this to Bev. Instead I asked how she had found out about the rally today.
"Facebook," she said. Social media was how these groups organised, how they recruited, how they framed and reframed the narrative to the point where an apolitical 78-year-old is so afraid of a small minority group that she winds up at a political rally draped in the Australian flag.
For a related VICE doco, check out Chaos in Trump's Australia: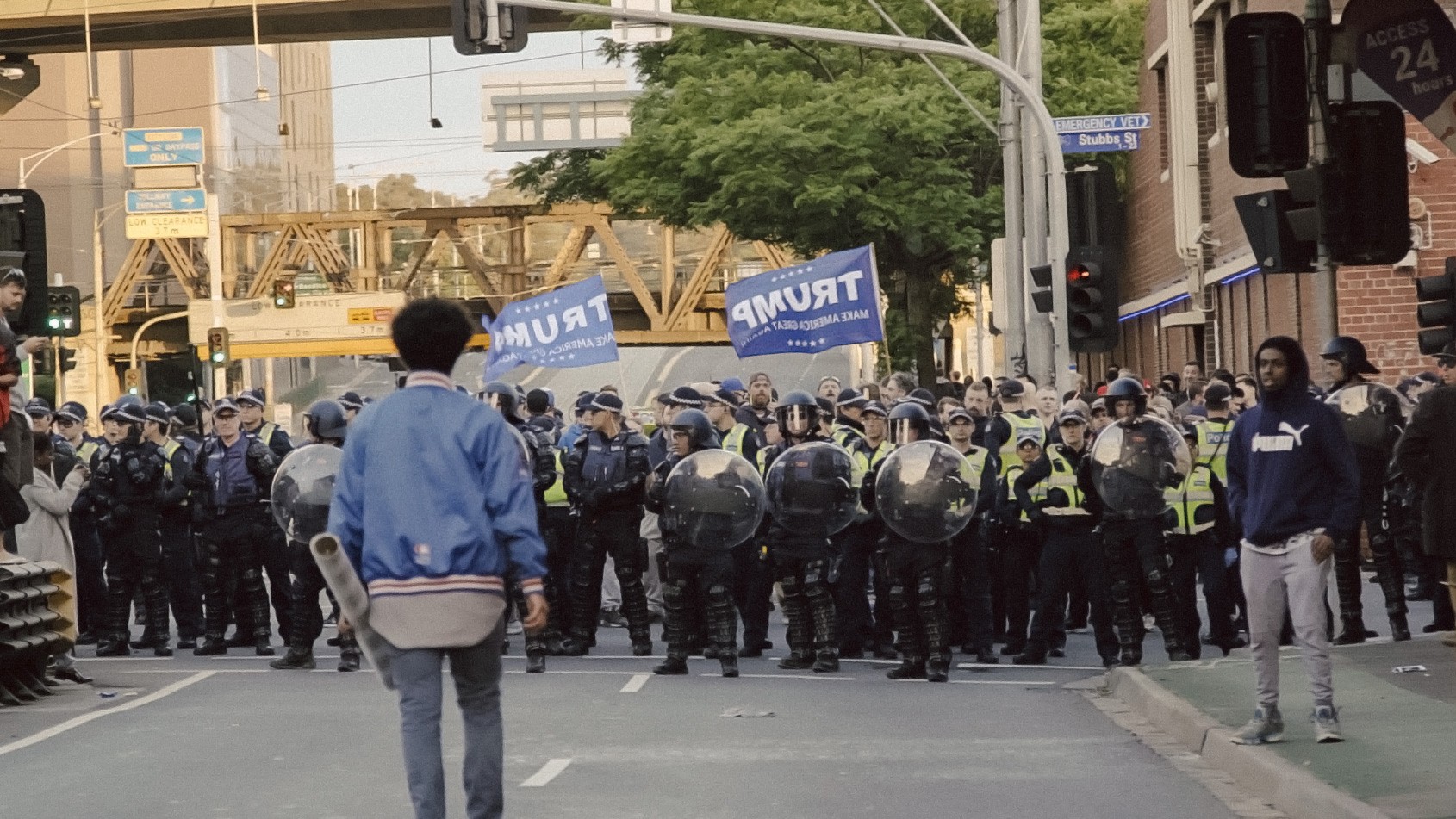 I asked Bev if she really believed the stuff these other people had been saying about Islam.
"You know, this morning I went onto Facebook and I quickly shut it down. I closed the thing. I couldn't watch it. It was a video of a stoning. We can't have that here."
That's about when the United Patriots Front (UPF) turned up, led by blond-haired, blue-eyed Blair Cottrell, who had flown in from Melbourne with his lieutenants to yell down a microphone at the Perth Reclaim Australia rally. By day, Cottrell and his lieutenants were a small band of tradesmen and council workers. They were there to announce a new political party, Fortitude, but the idea would go nowhere when the group struggled to get enough signatures together and couldn't find a candidate to run that didn't have a criminal record for anything from arson to sexual assault.
When it came time for them to "appear," Blair Cottrell stood at the head of a group of 30 or so men who gave a martial grunt that boomed out over the grass. Everyone turned to watch as they marched onto the field, waving the Australian and UPF flags like a military unit.
I asked Bev what she thought of these big, hulking, tattooed men, some hiding their identities beneath half-skull masks.
"I'm a little bit unsure of them," she said. "I've seen a lot of their comments on their Facebook, and there's harsh language and all sorts."
But she didn't feel threatened by their presence. She didn't think they were trying to hijack her movement, either. Everyone was welcome, she said. Reclaim Australia was all about free speech, a line I had been hearing all day. And then the speeches started.
By the time the Perth rally kicked off, the counter-protesters were nowhere to be seen. They had moved from down the hill to a small courtyard around the corner to be closer to the Reclaim Australia rally, and the police had cornered them in a bottleneck where they couldn't be seen by the television cameras. From then on they were invisible.
As the speakers took their turns, I moved through the crowd to get better photos. Twice, volunteer security grabbed me aggressively by the arm or shoulder to ask who I was and whether I had been "cleared."
They were two speakers in when I noticed something strange happening at the back where the UPF were hanging out. A young Muslim woman wearing a hijab was talking to the United Patriots Front; members of the group had seen her moving through the crowd and pulled her aside so Chris Shortis, one of Blair Cottrell's lieutenants, could lecture her on the superiority of Christianity to Islam and why her prophet was evil.
As the speeches raged in the background and a Muslim woman listened patiently to the hulking figure of Chris Shortis. By then, my friend with the camera from the independent media had circled back around and was trying to strike up a conversation.
"This is the free exchange of ideas, man," he said.
Only, from where I stood, it looked more like Shortis was doing all the talking. Another guy filmed the whole thing and when it was all over, the UPF asked for a photo with the woman. She was too polite to say no.
The core leadership of the UPF gathered around the Muslim woman in their midst and smiled for the camera. One man gave her bunny ears. Later, they would post the image to their Facebook page, saying they had "educated her." As she went to leave, I asked for an interview and we went down the hill to find somewhere quiet to talk. Her name was Rahila Haidary, she said. She was a 20-year-old university student, and if anyone out of all the people here really knew anything about terrorism, it was her. After all, she had been just six years old when the Taliban wanted her dead.
Rahila Haidary started life as a headstrong little girl in a rural village in Uruzgan, Afghanistan. They were happy years, for the most part, until 2001 rolled around and the Taliban took over.
Rahila was too young to understand what was going on then. Her family were Hazara, an ethnic group considered outsiders by other Afghans, distant relations of the people left behind by the Mongols and those who passed through on the Silk Road. To top it off, they were Shia in a Sunni land, and for that the Taliban considered them heretics.
A six-year-old girl couldn't possibly understand all this.
All she knew was that it was unfair for the Taliban to ban all girls from attending school. She had been going to class before the Taliban, so why couldn't she go now? It didn't seem right.
Without telling her parents, she dressed as a boy and went to class anyway, but as soon as she walked in the door, every boy in the place knew what was going on and started to whisper. It didn't take long before their teacher caught on and threw her out. That same afternoon, the local Taliban leader met with her father to deliver the message that the choice for his daughter was exile or death, and he had to decide.
Rahila's father sent her away to Quetta, Pakistan, a way station for ethnic Hazaras on the run from the Taliban. It would be five years before the rest of her family would follow. As the American presence in the country eased, the Taliban turned their attention from hunting American troop carriers back to hunting the Hazara, and people were ending up dead.
Her father relocated the whole family to Quetta, and not long after, he disappeared one night. Everyone thought he was dead. No one knew what happened to him, until the day he called. He had escaped into the mountains and made it to Australia by boat. He had been there, in a detention centre, for some time. Now he was calling to say he was safe, he was alive.
It was Rahila who answered the phone, and when the voice of his little girl reached him, her father had no words. All he could say was that the family was safe now. He had done it for them. He had done it all for her.
In 2011, Rahila came to Australia and made a life. She enrolled at university and volunteered with Unicef.
I asked her what she thought of the group up the hill. "They go straight on the Koran," she said. "If the terrorists read the Koran and interpret it in the wrong way, they become terrorists. That's also what these people are doing. I can't actually differentiate between them."
After that I asked for a photo, but as I started to shoot I didn't notice that the rally had ended. The crowd was streaming down the hill and a large, bloated man in a blue Australia cap approached us from behind.
He had seen Rahila, a real flesh-and-bone Muslim wearing a genuine, bona fide headscarf, and me taking photos of her. The first time he spoke, it was an incomprehensible grumble of words. Then he repeated it so we could hear.
"Fucking Muslims," he said to Rahila. "Think you can just go anywhere you like. Fucking terrorists."
He said something else I didn't register, but by then I didn't need to. It was hot. My temper was short. I had spent the day being carded by volunteer jackboots in a public space and told to put away my camera. All day, I had been hearing how 'everyone was welcome' and Reclaim Australia was all about the "free exchange of ideas." Rahila's face was steely, but betrayed a look of worry bordering on fear.
"Mate, what's your problem?" I asked, stepping in to
redirect his attention away from Rahila.
"You,' he said. 'What are you doing here?"
"I've been at the rally," I said.
"Bullshit."
He swore at me after that, told me I wasn't welcome and said all "you Muslims" were the same.
That's how it was. Rahila's headscarf made her an enemy, and I was a Muslim by association. I told him to piss off, and he pissed off, mumbling insults under his breath. Then I offered to walk Rahila to her car, which was parked two blocks away. She accepted. Things were getting ugly, and they would turn uglier on the way, when another woman who had been at the rally caught sight of Rahila's headscarf and started yelling as she made her way on the other side of the street, asking Rahila not to cut off her head.
At her car, Rahila said: "Thank you."
All I could say was: "I'm sorry."
ROGUE NATION: Dispatches from Australia's Populist Uprisings and Outsider Politics is by Royce Kurmelovs, published by Hachette Australia, RRP $32.99
Royce is also on Twitter