Image by Lia Kantrowitz
In much of America, the Christmas season means candy canes, carols, claymation specials, and all that wholesome childhood jazz. But in the X-rated corners of the internet, it means one thing: Santa Claus porn. Every year, several major studios put out scenes in which Father Christmas goes to town on a girl awakened by a sleigh crash, a housewife up late, or some buxom elf.
This year's crop of Santa smut hasn't all been released yet. But 2015 brought scenes like Sneaky Santa from Reality Kings, in which St. Nick spills his milk, awakening a mother and her step-daughter. The two women clean up the milk, randomly get sapphic with each other, then catch the yuletide intruder "caressing his jingle balls," and decide to run with it. And 2016 gave the world Ho Ho Ho… Santa Gave Me Anal for Christmas from Jules Jordan, in which the gift giver scolds, spanks, and inevitably fucks a girl for snooping through her presents early. Santa porn isn't a huge genre. But the list could go on and on.
I've written in the past about why studios make any type of holiday-themed skin flick. Writ short, porn mirrors the mainstream. If it gets a special episode or festive film, it gets the adult treatment, too. Christmas is the big daddy of holiday movies, so it's a sweet spot for porn as well—doubly so because porn viewership slacks off around Christmas. Drawing back a few of those eyeballs with a relevant gimmick can help a studio's bottom line. And Santa's a fixture of many Christmas specials, so of course he'll feature in many Christmas porn special, too.
But none of that explains how the adult industry actually makes this shtick work—how it sexualizes the decidedly unsexy, family-friendly, belly-full-of-jelly figure that is Santa Claus. To answer this question, which probably no one was actually asking, I reached out to a number of male porn stars who have played Santa multiple times to hear how they approached this bizarre role.
"I don't really do any kind of preparation," says Dick Chibbles, a performer who's been in the industry for 17 years, acted in nearly 2,000 scenes, and played Santa a couple of times. Most of the men I spoke to for this piece shared this sentiment. As "woodmen," their job is largely to get in, get hard, and get off when the director tells them to. They just run with any script they're given. And they're given such varied characters to play that they're ready to jump into anything.
Porn "can even turn the Easter bunny into something sexual," notes Keiran Lee, a well-known male porn star with a decade-long career and a couple stints as Santa under his belt.
---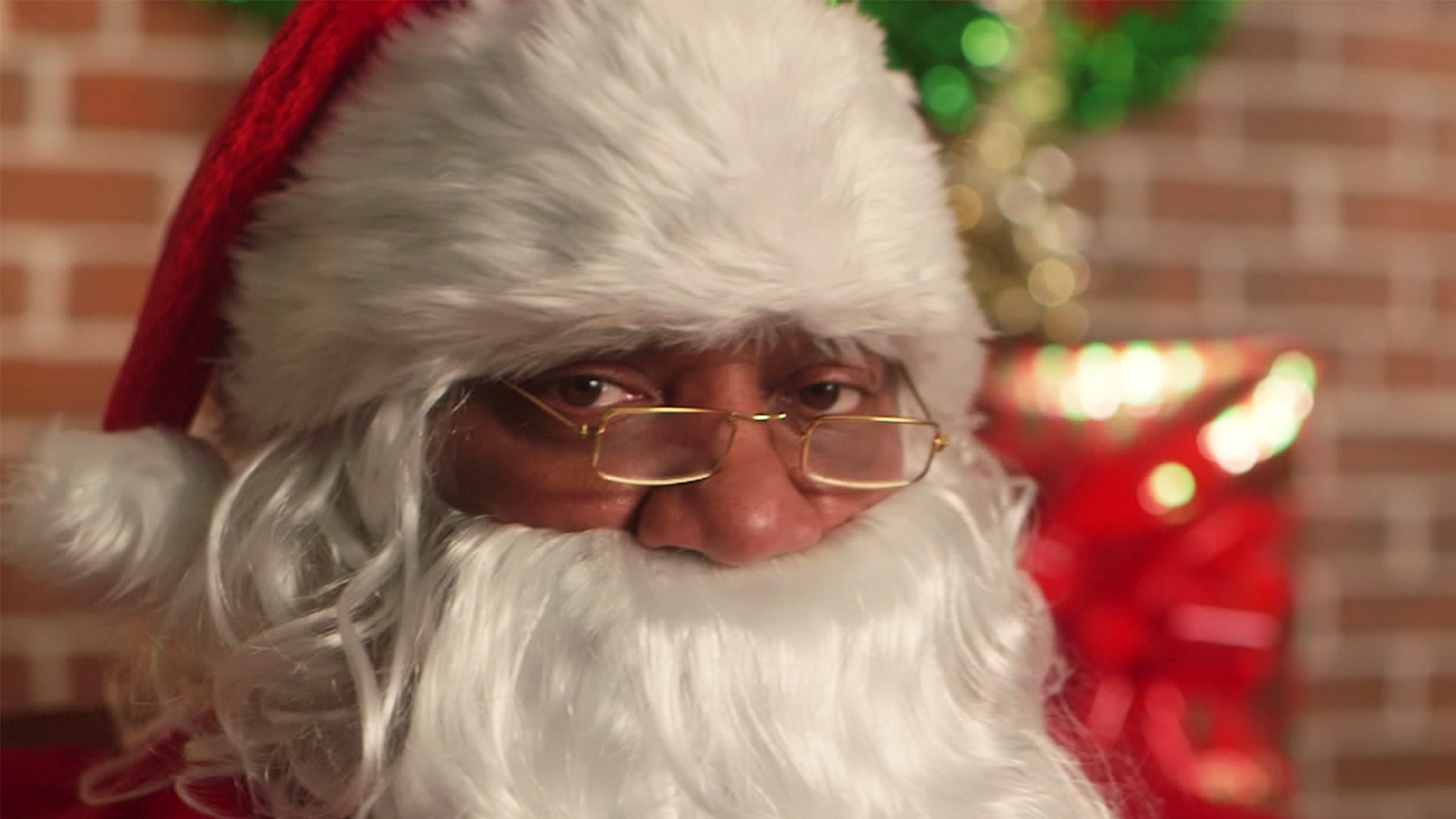 ---
For Chibbles, these bizarre roles are almost a relief. They're a break from playing teachers, deliverymen, or other porn tropes. And they're simpler than lawyers or cops, he says. It's easier for him to toss out Santa's catch phrases than it is to recall legal jargon mid-fuck. But in the end there's little difference: wear the outfit, throw out a few ho ho hos and some chatter about elves to fit the suit, then get to business. "Approaching a Santa-based porn script, even in all its hilarity, is no different than any other gig," says Sean Lawless, a performer active since 2012, with a couple Santa credits, "aside from wearing a red jumpsuit, long curly wig, and fake beard."
Often, there's not any chance for male performers to decide how they want to portray the iconic fat man, or how they can square his wholesome side with their erotic endeavors. The last two times Steve Holmes, a performer with 21 years of experience, played Santa (including in 2016's Ho Ho Ho… Santa Gave Me Anal, alongside Holly Hendrix), "it was gonzo, without any scripted dialogue… I didn't know I was supposed to be Santa Claus before I arrived on set."
Holmes shrugs this off as just one of the oddities of porn. "For me," he said, "it really makes no difference what character they want me to play, as long as I can have sex with a hot girl."
If forced to, though, most performers can instantly bridge the divide between the Santa legend and porn. "If you think about it, Santa is more of a creepy figure than a friendly myth," mused Chibbles. "The guy breaks into your house. He's constantly watching your kids during the year."
Taking the Santa myth with a pinch of salt and cynicism can lead to dark portrayals, subverting the wholesome image towards lascivious ends. These portrayals range from a bumbling Santa with voyeuristic tendencies, as in Sneaky Santa, to a taskmaster Santa who runs his elves ragged, as in a 2014 scene from xxxtrasmall.com in which an elf played by Lizzie Bell has to seduce a gruff Santa just to get a break. A depressive and overworked Santa is on high display in a Molly Bennett scene from a couple years back, which opens on Santa wandering around wasted and wondering why no one gives him presents. He slumps on Bennett's doorstep, rousing her from sleep. Bright-eyed, she welcomes him in and asks what he brought her, only for him to try to convince her, through slurring speech, that she's actually a bad girl and should accept one of the sex toys in his bag. In fact, he suggests, she should let him use them on her.
But more often than not, porn likes to lean into the juxtaposition of a bumbling and kindly old man indulging in the carnal pleasures most humans crave without breaking his character. Porn, as I've often been told, is full of cut-ups who thrive on the absurdity of it all. (Why do you think there are so many hardcore yet self-consciously campy porn parodies?) "I consider myself a ridiculous character to start," said Lawless, "so adopting atypical banter and traits is usually a fun thing for me. The goofier the character, the more I ham it up. Santa being a prime example."
Holmes went hard into the hammy shtick in his improvised scene last year with Hendrix. The shoot starts with Hendrix, prancing around a tree in lingerie, taking a vibrator out of her Christmas stocking, and playing with it until Santa shows up. "Ho ho ho, what do we have here," Holmes sing-songs, "a little hoe." The puns and riffs come hard and heavy. (On why he thinks Hendrix has been a naughty girl and needs punishment: "There was this little boy who fell in love with you, and you didn't suck his cock. This was not nice.") At points, Hendrix openly laughs. By the end of the scene, Holmes has lost all his Santa paraphernalia, but he's still trying to keep up the act. After the cumshot, Hendrix starts to sing a carol while Holmes untangles the lights from a nearby tree and drapes them over her as she laughs.
Even in lecherous Santa scenes, the directors and actors often can't resist leaning into the humor of the character. The studio 21st Sextury recently released a "five-Santa gangbang" featuring Gina Gerson, which opens with her wishing by a tree for Santa to visit. One after another, Santas spring out from behind a tree, nearly doing jazz hands. The Santas give her wholesome gifts. Then one pulls out a camcorder, sees Gerson loves it, and asks if she wants to make a film. From there, things start to get a bit creepy-touchy. But Gerson's character runs with it, urging Santa to whip out his cock. Cue the sex, the ho ho hos throughout, and the constant references to naughty and nice lists.
None of the actors I spoke to were sure what audiences wanted to see in these pornographic portrayals of Santa, or whether any depictions went over better than others. Holmes knows his scene with Hendrix sold well, but he isn't sure whether that was just about Hendrix, about the sex, or about his improvised Santa comedy. All he knows is that Santa was a fun and simple character to play…
Except in one respect: the costume. "The red felt suit," said Chibbles, "was disgustingly sweaty and hot as hell." The actors I spoke to largely agree—Santa's festive outfit is the only tricky part about sexualizing the sweet, avuncular childhood icon.
Follow Mark Hay on Twitter.