Photo by Adrian Wyld / The Canadian Press
This story has been updated with comments from Prime Minister Justin Trudeau.
Jody Wilson-Raybould has resigned from the Trudeau cabinet amid allegations that the Prime Minister's Office pressured her to cut a deal with engineering company SNC-Lavalin to help them avoid a criminal trial when she was the justice minister and attorney general.
"With a heavy heart, I am writing to tender my resignation as the Minister of Veterans Affairs and Associate Minister of National Defense," she wrote in a letter to the prime minister, posted to her website.
"I am aware that many Canadians wish for me [to] speak on matters that have been in the media over the last week," she wrote, adding that she has hired former Supreme Court judge Thomas Cromwell to get advice on what she's able to legally discuss.
She did not say why she has quit.
This comes one day after Trudeau publicly said he welcomes the investigation into the allegations that has been launched by the federal ethics commissioner and said that Wilson-Raybould still being on his cabinet should "actually speak for itself."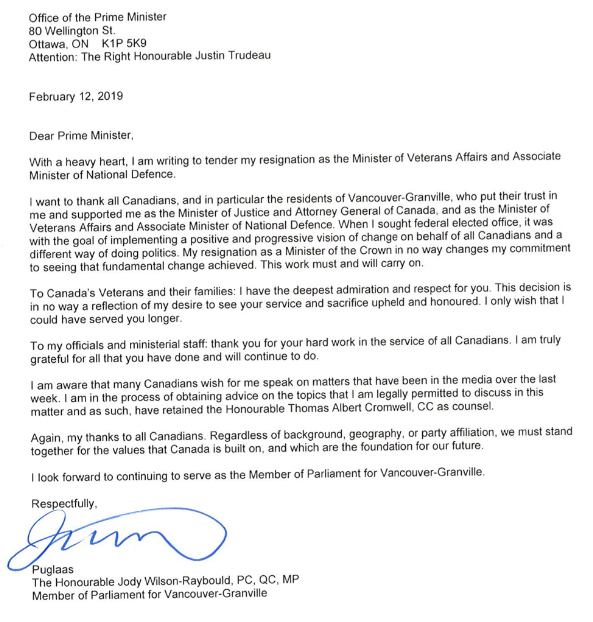 On Tuesday evening Trudeau said he was "surprised and disappointed" by Wilson-Raybould's decision to step down. He said her resignation was inconsistent with conversations he had with the former cabinet minister weeks ago and within the last couple days.
"The government of Canada did its job properly, to the clear public standards expected of it," Trudeau told media in Winnipeg. "If anyone felt that was not the case, especially the AG, it was her responsibility to let me know about that. Of course she said nothing of that to me in October."
Last week, The Globe and Mail reported that the Prime Minister's Office pressured Wilson-Raybould when she was attorney general to get the public prosecution to give SNC-Lavalin a deferred prosecution agreement, rather than go to trial over charges of bribing officials in Libya in exchange for government contracts.
The Trudeau government has denied the allegations, stating specifically that no such directives were issued. When asked if there was any pressure on Wilson-Raybould, Trudeau repeated that she had not been ordered to cut a deal.
On Monday, speaking with reporters in Vancouver, Trudeau said Wilson-Raybould had confirmed to him that in the fall, he had told her that any decision involving the director of public prosecutions was "hers alone."
Until now, Wilson-Raybould has been silent on the topic, citing attorney-client privilege.
Follow Tamara on Twitter.