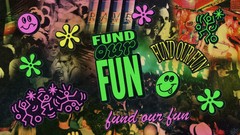 'Fund Our Fun': A series celebrating the UK's music and nightlife industries, and a rallying call to protect them.
It's 3AM and you're feeling free, as the last remnants of a pill taken an hour earlier fizz through the cracks in your brain. All around are people – one group daubed with sweat and smudged eyeliner; others as pristine as when they walked in – all channeling the same late night energy. 
These warm moments shared between strangers are the closest the nightclub has come to establishing religion. As such, there are songs that define these instances. Christianity has "How Great Is Our God". The massive room at the nightclub has Floorplan's "We Magnify His Name".
Served up through the night, there are many occasions in a nightclub where people connect through the shared experience of hearing a song together. No track is more important however, than the one at the end of the night, right before the DJ ends their set or – worse – the lights come on.
Ahead of nightclubs in the UK opening again, VICE decided to ask some DJs, producers and artists for their favourite end of the night track. Here are their choices, plus some words explaining their reasoning for their pick.
Finn McCorry: Justin Timberlake – "Cry Me A River"
"I used to feel very strongly that the last tune of the night needs to present people with the opportunity to make out. That's the DJ's responsibility. The last tune of the night should be a big necking off moment. Whether you achieve that through R&B, soul, or anything, regardless, it needs to be loved up and slow things down. But that's a hardline view.
There are other ways to end a night. One of my favourite end of night memories was playing [Justin Timberlake's] "Cry Me A River" after Jacques Greene at Mint Lounge in Manchester. It got a really great response. One time someone came over to me in Limerick and said "You've got to play your last tune now." The only thing I could find on my USB was "You Can Go Your Own Way" by Fleetwood Mac, which I was fucking terrified of playing because it could have gone really badly. It's the last thing people hear, isn't it. There's that Michael Caine quote, isn't there: 'the secret to running a good restaurant is great bread and great coffee, they're the first and the last thing you taste.' So there you go."
NAINA: Sir Spyro – "Topper Top (Danny Scrilla edit)"
"I was closing a stage at Boomtown in 2019 and it went absolutely off. [The Danny Scrilla edit] is a really aggy, faster edit [of Sir Spyro's "Topper Top"], but it doesn't lose the main vocal. And because it's so recognisable when the vocal comes in, everyone lost their shit. It was pretty special. My friend Ahad – who I run No ID with – got on the mic and I remember him saying 'it's the last five minutes to go, let's go fucking ham.' The stage was being filmed and there were cameras everywhere and a serious amount of strobe lighting. That meant I could see the crowd on-and-off in the darkness. That was extra special because at the front I could see some of my mates from Bristol, my best mate from London, and all their faces lit up. Ahad had his phone out filming me and was like 'You have to wheel it.' Back then I was a nervous wheeler, but I wheeled the tune and he jumped back on the mic. It's really nice when a tune resonates with people."
Nathan Dawe: Puff Daddy, featuring Faith Evans and 112 – "I'll Be Missing You"
"I don't really plan sets – I'll play what the crowd wants and react to them. But back when I was DJing at nightclubs, weddings and birthdays, I'd end the night on Puff Daddy's 'I'll Be Missing You'. It's an emotional end-of-the-night song. Sometimes people will come over and be like 'That song was played at my dad's funeral – don't play that', but most of the time people sing the words back to you. It's good to end the night on a proper singalong. When you've been playing a full night of current hip-hop, bass and house, it's good to add in a different vibe. When I've done my Birmingham 0121 shows, it's the end of the year, so I always end with a Christmas song. But it depends. My stand out end-of-the-night song would really be Puff Daddy."
ABSOLUTE: Prodigy – "Everybody In The Place"
"[I played this] at SWG3 in Glasgow and I was closing out the room. What I love about this song is it has so much energy – and it's nostalgic, so people know it – and it literally just lifted the entire place. In Scotland, their energy is already insane and so this went absolutely mental. I remember spinning on the spot with excitement. The camera was on me the whole time and the screen behind me was an image of me spinning around in complete joy. I can't wait to go back and do that. It turned into one my signature moves. Playing in the east London queer scene too, it felt like for a while it was the law that you had to play Diana Ross 'The Boss' Dimitri From Paris remix. It was a big liberating energy for everyone with all the queens going wild. 
Jamz Supernova: Buraka Som Sistema – "Hangover (BaBaBa)"
"It's definitely changed over the years. I had my staples and had to move away from them. I would always say Buraka Som Sistema's 'Hangover (BaBaBa)' – that's always my go-to end-of-night song and has been for far too long. You can end on really high energy and let it run. The pace of the song and the energy of it captivates people and holds them. There's always great mosh-pits. As I got a bit more experienced as a DJ and thought about taking more risks, I'd think of different ways to end. One gig I played – I think it was at Concorde in Brighton – I was playing before Shy FX and I knew I couldn't belt it out before him. It wasn't going to be a Buraka situation. So I ended on Thundercat 'Them Changes' and that worked tempo wise to get me there. That was a special moment."
Ninajirachi: The Veronicas – "Untouched"
"I usually go for a song that leaves an impression on people. I want to end on a high. You want people wanting more at the very end. One night recently [on tour in Australia with Mall Rat], I finished with 'Untouched' by The Veronicas. I chilled the vibe out for ten minutes before the end of the set, then played a 170bpm remix of 'Clarity' by Zed and then went into 'Untouched'. It was a fun ending. Then the next night I finished with a remix of 'Unwritten' by Natasha Bedingfield.
'Untouched' and 'Clarity' worked perfect together. 'Untouched' is also 170bpm so it has most perfect, seamless transition and 'Clarity' is Zed's biggest song, so everyone was singing all the words. Then it went straight into the strings at the start of 'Untouched' which is one of the most iconic Australian pop songs, like ever. You can't not know it here. It was such a fun song to finish with. I don't think the last song has to be nostalgic, but if it's something everyone knows then there's a nice unison moment."
Cakes Da Killa: Shaun Escoffery - Days Like This ( Spinna & Ticklah Club Mix
"I would play my own song. Is that bad? Cos I feel like after this year, of dealing with Covid, and not being able to work, it's all about me, baby. So I think my last song of the night would be the song I have with Sam Sparro on my upcoming EP. It's a slow song, moody house, singing vibes. But if not that – it would be [Shaun Escoffery – 'Days Like This' (Spinna & Ticklah Club Mix)]. It has a nice groove to it, the vibe is great – and the lyrics are, like, 'here comes the sun / I love the sun.' For me, if I'm going out to party, if I'm really raging, I'm going to be out until the sun comes out. It's not going to be a four o'clock thing. There's a party in Brooklyn called Soul Summit – and it's always outside at parks. It's a lot of Black and Brown people come together and listen to house music and everybody's dancing. It's one of the most freeing events that I've been to, and that song reminds me of that."
Todd Edwards: Pete Tong – "Sing It Back (Todd Edwards Remix)"
"I've winged my DJ career. It's been a trial and error thing for me – it's not like I study other DJs and what they do. I've found my own working niche, I guess you would say. It always differs. There are times where I'll play shows and they know me and the people want to hear all Todd music. Then other times people won't know me at all, it's just the promoter who booked me. I like to keep the house funky, and I'm not going into tech-house and stuff like that. I hate doing self-absorbed shit… but I'll usually close out my nights with the remix I did for 'Sing It Back' by Pete Tong and Becky Hill. I think I hit the mark with the music and the vocals and it's a really cheery way to drop before the next DJ comes on. [I remember playing it at a festival party in Croatia] and the energy was really good. During the day, in an outside situation, you can see the faces and the smiles and the positive energy. I'm sure the tequila helped too."