On Tuesday, Pierre Omidyar, the chairman of eBay, called for leniancy in the case of a group of Anonymous hackers who pleaded guilty today to waging a denial-of-service attack on PayPal's website, a subsidiary of his company, in 2010.
Paypal suspended online payments to WikiLeaks in December of 2010 after, its managers said, they read a letter by the State Department indicating WikiLeaks was breaking American laws. In retaliation, a group of Anonymous hacktivists brought down the payment site with DDoS attacks two days later. The hacktivists who were apprehended, known as the PayPal 14, were in court today and accepted plea bargains in order to avoid felony charges.
"Justice requires leniency," wrote Omidyar who is also the 123rd richest man in the world. He added that in his view, the PayPal 14 "should be facing misdemeanor charges and the possibility of a fine, rather than felony charges and jail time."
The article, titled "WikiLeaks, Press Freedom and Free Expression in the Digital Age," is Omidyar's response to mounting concerns surrounding his handsome sponsorship of NewCo, the new journalism project run by Glenn Greenwald, the reporter and columnnist publishing Edward Snowden's classified NSA materials. Greenwald and Omidyar's partnership has raised questions about the stewardship of those documents, fresh criticism of Omidyar's possible acquiesence to the U.S. government in eBay's suspension of WikiLeaks, and concerns about the influence that Omidyar and eBay money could have over Greenwald's reporting.
In recent days, critics have questioned Omidyar's "free expression" credentials in particular, examining his role in eBay, his late arrival to the public conversation over the PayPal 14, and eBay's role in the US Government's lawsuit. Alexa O'Brien explained in a tweet last night that "E-Bay, Inc. is a 'movant' on the [PayPal 14] case," and that as chair of eBay, Omidyar is privy to the PayPal 14 plea deal which was sealed and unknown to the public. She added that his op-ed was only published after the parties had reached a deal—that is, after part of the case had essentially come to a close.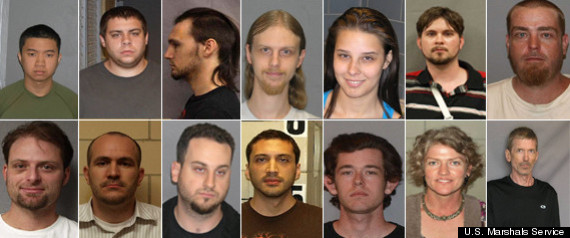 The PayPal 14. Image via US Marshals.
Last month, O'Brien took issue with Omidyar's dangling thread. While he and Greenwald have insisted that Omidyar was not involved in the management of PayPal, and that he dissented from the decision to block WikiLeaks, O'Brien wrote that, "Omidyar has been 'the director and Chairman of the Board since eBay's incorporation in May 1996,' and noted that "eBay owns PayPal." She said she wanted to know "what Omidyar really thinks about the financial blockade of WikiLeaks and the PayPal 14 case and I want to know what he is going to do about both."
Besides expressing his support for WikiLeaks and the PayPal 14, Omidyar contended he had minimal influence over PayPal when it suspended WikiLeaks. He expressed his support for its mission, and described the spirit of the PayPal 14 hackers' DDoS attack as a digital form of civil disobedience. "I support freedom of expression, even when it's my own company that is the target," he said.
But he also cited the costly effects DDoS attacks can have, explaining that it's far worse for PayPal's customers than the company itself. Still, he wrote, extra fines should not be pursued against the 14 defendants to pay for fixes to PayPal's data security infrastructure. "It's not fair to compel the protester to pay for the upgrade," he wrote. Under today's plea deal, 13 of the hacktivists will pay $5,600 in restitution to eBay.
Tuesday night, after the piece had come out, WikiLeaks started a twitter battle with Omidyar. Soon O'Brien got involved, and asked Omidyar to clarify whether or not PayPal had sent formal notification to Wikileaks letting the publisher know it had become 'unblocked' in 2011.
Omidyar didn't seem to have a full explanation. He responded by saying that it would've been obvious to WikiLeaks when it had been unblocked. He then suggested that WikiLeaks set up a new account, which felt a bit like the cable guy asking if WikiLeaks had power-cycled its modem.
@wikileaks This may be a dumb question but have you tried to open a direct account since 2011?

— Pierre Omidyar (@pierre) December 4, 2013
O'Brien suggested that Omidyar tell PayPal to offer a public statement about the reversal of the payment blockade. Omidyar then directed attention back toward his blog post and the bigger issues at stake.
Eventually, Omidyar offered his undying praise and support for WikiLeaks despite their differences and shared a donate link to the whistleblower site via the Freedom of the Press Foundation. WikiLeaks corrected him with a link to its own donation page.
After Glenn Greenwald tweeted Omidyar's op-ed Tuesday night, Cassandra Fairbanks voiced frustration over Omidyar's heretofore absence from the conversation, and the unnecessary degree of charges that'd been brought against the PayPal 14.
@ggreenwald @pierre well written & makes valid points, but I think its going to be hard to appreciate the new venture unless he does better.

— cassandra (@CassandraRules) December 4, 2013
Fairbanks wrote that Omidyar had made some good points about government interference with the press, but added that "it's going to be hard to appreciate the new venture unless he does better," echoing O'Brien's concern surrounding the soon-to-be-competing publishers. Greenwald replied that judgment of the new endeavor ought to be "based on the journalism it produces and the freedom it gives journalists."
It may seem tedious and overwrought, but the discussion here is an invaluable one amidst an escalating battle over government surveillance and other programs that operate under the veil of secrecy. Oversight and control are keywords in that controversy, and so they should also be in the matter of how a new journalism venture will report that controversy.
But what kind of "commercial" repossession of classified documents is fair? Does Greenwald and company's possession of the Snowden documents really constitute just a footnote in the conversation? Or are critics and skeptics really getting too abstract, and missing an overarching point?
Many hope Omidyar is able to walk the talk with NewCo, as questions of transparency and responsibility are the flies that swarm around Greenwald's and Snowden's shit. Of course, those questions are central to the type of journalism Omidyar and co. intends to produce.
@carwinb Given the lack of press attention to the case, I wanted to share my views and draw attention. Hence my HP piece this week.

— Pierre Omidyar (@pierre) December 5, 2013
Omidyar is right to have brought the underreported case more attention, despite of and because of controversial position. It raises the point that comes up every time I think about the intelligence debate, and the kinds of power, control and ego that emerges in its wake. It becomes more and more apparent each time I approach it: The ethics committee needs an ethics committee.