By a lucky coincidence, Josh Moore was up late watching Underworld: Blood Wars on his phone in the early hours of February 9. He had his earphones in, so he couldn't hear anything but the movie. At around 4 AM, he moved from the couch to the kitchen to grab a drink. That's when looked out the window and noticed a bright orange glow coming from outside, reflected on his neighbour's house.
"I was like, 'No, there's something wrong here,'" Moore, 28, who was staying with his sister and her son and boyfriend in Sydney, Cape Breton told VICE. "I went back there and sure enough the whole barn was engulfed. There was no way in hell there was saving it."
The barn, which sits about six feet away from his sister's home, was on fire.
"When I went out, a couple things exploded. I couldn't get near the fire," Moore said, noting his teenage nephew's room is situated closest to the barn. "I had to call 911 a third time and tell them to hurry up because if they didn't get here, my house was going."
There's nothing left of the barn, everything inside, his parents' possessions, was torched. The siding of the house and part of the roof melted and two windows broke, indicating that the home too was close to catching aflame.
Moore immediately believed the fire had been set intentionally. His suspicions were soon confirmed. Both local police and the fire chief told VICE it was a case of arson. No cause has been determined, though Moore said he believes someone simply poured gas around the perimeter and lit a match.
As of Tuesday, arson investigator Chad Gillard with Cape Breton Regional Police told VICE the cops didn't have a suspect.
But one thing is known—Moore is a bit of an online troll, and in recent weeks he's taken aim at Creep Catchers, a vigilante pedophile hunting movement that's made its way into Cape Breton. The crusade has made Moore a target of online hatred and threats.
In the days leading up to the fire, Moore said the exchanges between himself and Creep Catchers got so heated that he even posted his sister's address online inviting anyone who had beef with him to "come say it to my face."
One of the more intense conversations, between Moore and Edmonton Creep Catchers president John Doep, took place just hours before the fire.
"He has a lot of enemies," said Gillard of Moore. He told VICE he had not yet interviewed any Creep Catchers to ask about their involvement.
Doep has denied any involvement in the fire, and Halifax Creep Catchers president who goes by the alias Missy Katcher told VICE she is not involved either. However she stipulated, "I can't speak on behalf of everyone," and, when asked if it's possible if a Creep Catchers fan was involved in the fire, she said, "I have no idea."
***
Moore, who is short, stocky and speaks with an east coast accent, has a penchant for stirring the pot. He's an admin on the Cape Breton Police Scanner, Cape Breton Rant & Rave, and The Lowdown & Dirty, Facebook groups that give people a chance to discuss local news and air dirty laundry.
He told VICE the beef with Creep Catchers started when a man claiming to be a Cape Breton Creep Catcher posted in Cape Breton Police Scanner, a group with 17,000 members. In the post, the man revealed the name of local child sex offender, despite a publication ban against identifying him.
Moore deleted the post and banned the man from the group. He said the man began sending him threatening Facebook messages. When Moore reached out to Missy Katcher of Halifax Creep Catchers to ask if the man was an associate, the pair reportedly had an argument in which Missy said the man had no involvement in Creep Catchers, according to Moore.
"I was basically told off, disrespected," Moore said.
When asked about Moore, Missy told VICE, "Josh has caused enough drama. He's someone I want zero to do with."
After that conversation, Moore said he was contacted by the poster again, who called him a "rat." VICE has viewed screenshots in which the man used a photo of Moore to create a meme that says "My name is Josh More (sic) from the north side. I like to start with people over the internet then I like to go behind you're (sic) back and complain to people just to start stuff. If you call me a rat or a diddler… you will hurt my feelings." The messages also threaten to expose Moore as a "rat" by posting their conversations.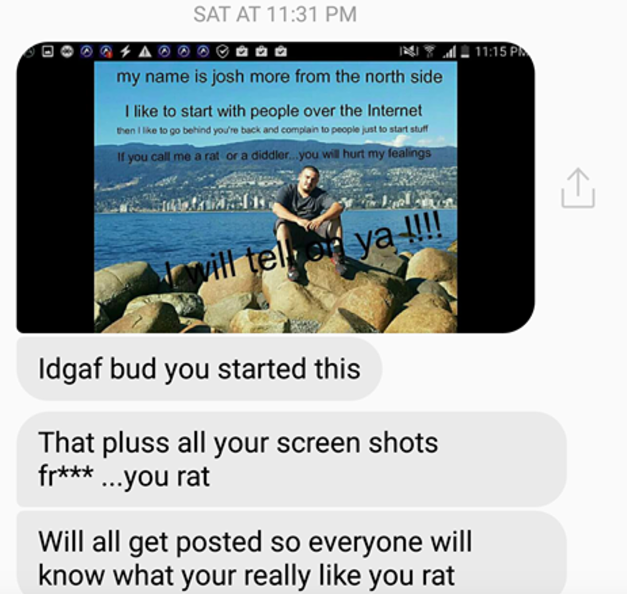 Following that, a different screenshot surfaced on Cape Breton Rants and Raves, that appeared to show a conversation between Missy Katcher and the man threatening Moore, in which Missy wrote, "How about we take your profile and make you a pedofile? It will be posted all over cape Breton to see…. Now FUCK OFF AND STOP MESSAGING ME!"
Missy has said the screenshot is fake and that "Framing people is NOT WHAT I DO."
Moore told VICE after seeing that screenshot he began trolling Creep Catchers, revealing the real names of individual vigilantes, who normally go by aliases.
Things came to a head when a group called Cape Breton Confessions decided Creep Catchers would be the topic of their live February 5 podcast.
The woman behind the podcast, who does not want to be named for fear of harassment, told VICE the podcast featured an interview with RL Dakin, who shared the story of Katelynn McKnight, a trans woman in Edmonton who is believed to have died by suicide after she was shamed by Edmonton Creep Catchers.
The podcast producer said the number of people listening to the podcast was unusually high—700 or so as opposed to 300-400.
"We started to get a lot of hateful comments. A lot of the last names were Katcher," the producer told VICE. (Katcher is a typical last name used by Creep Catchers on Facebook.) "Then John Doep started coming in the comments. Him and his group were telling people that if they agreed with [RL Dakin] they were supporters for pedophiles."
She said people started messaging Cape Breton Confessions, saying they were receiving messages from Doep, whose real name is Nigel Woolcox, and that he was harassing them and adding their Facebook friends.
Doep refused to comment on the allegations other than to call me "evil" and say "I had absolutely nothing to do with any of it. Thank you. I have no time for ridiculous 'allegations'."
The podcast wrapped up at around 2 AM. During it, the producer said a fake Facebook profile featuring the host appeared.
"They had made a fake profile of him and were commenting with it and saying they would make him look like a pedophile," she said. Freaked out, the host quit the podcast.
The next morning, Cape Breton Confessions had been removed by Facebook for "harassment." The podcast and all the comments that were associated with it were gone.
"The only thing we could think of is all of the [Creep Catchers] came together and mass reported it," the producer told VICE, noting she's started a new page.
This behaviour—doxxing and making up fake profiles—isn't exactly out of character for the vigilantes.
After VICE published an investigation on Creep Catchers in January, including Doep's role in Katelynn McKnight's bust, a fake version of my profile appeared on his Facebook wall. Doep had a conversation with the fake version of me on his wall, in which "I" stated that VICE was a "clickbait pretend news site" and that I "took Kaitlyns (sic) death a bit personal as "I am a transvestite as well."
Read more: Predators or Prey? Creep Catchers Accused of Targeting People with Physical and Mental Disabilities
Suffice to say, Creep Catchers and their followers tend to have a very low tolerance for voices of dissent. People who disagree with them are quickly labelled "pedos." This is a lesson Moore subjected himself to repeatedly. And on the night of the fire, Doep and Moore had an inflammatory conversation over Facebook.
The exchange, which has been shared with VICE, began on Feb. 8 at 7:37 PM.
It opens with Doep saying "Can you stop bugging my friends? Don't join there (sic) groups don't comment on their posts. Don't contact them. I am only going to ask this once Josh."
Moore replies, "I'll do as I please."
Doep says this is the only time he's going to ask, and adds "Bud. I'm watching" with a smiley emoji. "This is me contacting you out of regards for your safety. There is ALOT more at play then a couple of women out of line. That is my advisory."
He also says he's "heard things" about Moore's past.
"Oh please do tell," says Moore, "some made up bullshit? Like usual." Moore adds that he's not going to respond to threats. "Bring up what ever your (sic) talking about I'm not scared of you or your made up threats."
Doep signs off "I'm done here. Good luck!"
Eight hours later Moore's garage was in flames.
Arson investigator Gillard told VICE there's a chance we'll never know how the barn was set on fire or who was behind it. In the meantime, Moore has moved back to Edmonton.
He's still moderating his Facebook groups, but says he doesn't talk about Creep Catchers anymore.
Follow Manisha Krishnan on Twitter.