If Nike hadn't already snagged the motto, "Just Do It" would be the slogan of No Vacancy II, a one-weekend-only DIY art pop-up organized by indie art mag/curatorial team Alt + Esc.
Rather than relying on sponsors or art sales to fund spaces for artists to show their work, founders Alison Sirico and Irina V. Makarova take the financial risk upon themselves. They max out their credit cards to secure cheap space and try to break even by throwing parties every night their pop-up exists. This time around, the self-funded show brought hundreds of art enthusiasts and partygoers to pre-war building-turned-studio space Studio 929 in Bushwick. Dozens of players in art world subcultures got to show their work free of the bottom line, and visitors got to see it free of charge.
The venue was a four-story walk up, with No Vacancy II dominating the top two floors. Curators, including Ballast Projects founder and VICE Design Director Adam Mignanelli, and Baltimore-based Platform Gallery director Lydia Pettit, brought small enclaves of art to each of the 12 rooms on the third floor. One room was devoted to digital apparitions by James Moore, Peter Burr, and Mark Fingerhut. Another featured abstract screen prints and a virtual reality slideshow about color theory and politics. There was a recording of Michael Potvin scrolling through Instagram, James Clar's projection-mapped light switch, cake-like sculptures by Cali Moore, photography by frequent Creators collaborator Charlie Rubin, and digital manipulations by Mark Dorf.
The selfie star of the lot is Emergency Contacts, a room-swallowing installation by two artists Pettit brought up from Baltimore, Phaan Howng and Elliot Doughtie. They covered an entire room with contrasting rainbow and black-and-white wallpaper, peppered with surreal furniture and decorations that match the color scheme. "I wanted to do an exhibition of both of their work because they both transform space, and I wanted to do something really memorable," Petitt told Creators. "Also they're best friends. Even though they're two distinct artists, they bleed into each other because their union is so strong."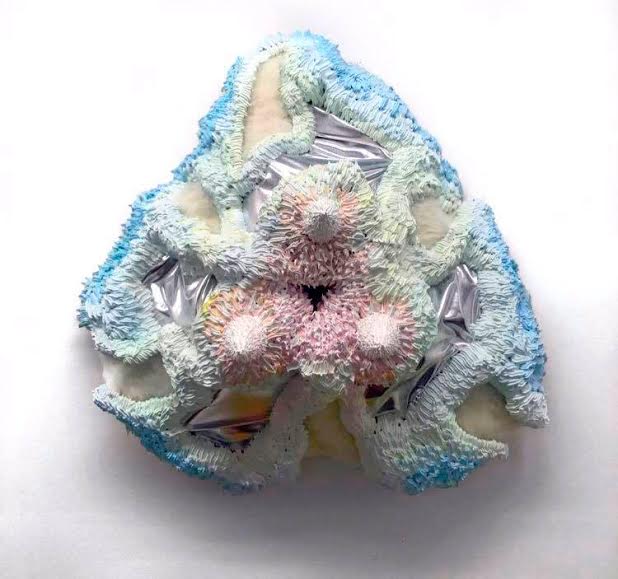 Alt + Esc was founded by Alison Sirico and Irina V. Makarova. Sirico is a veteran organizer at The Silent Barn, and has contributed to shows such as Death By Audio's signing off gallery show, Death By Art. Makarova is a curator and journalist who has written for art publications including Creators. Together they've been publishing a monthly digital magazine since May 2016, featuring interviews with emerging artists that often become their first in-depth profile. In June they began curating events at small galleries and DIY spaces, including the first No Vacancy, which launched the bi-annual print edition of Alt + Esc. In less than a year they've worked with artists ranging from MSHR and Molly Soda to Alfredo Salazar-Caro and Peter Burr, and drawn on that growing pool for their curatorial process. "These are all artists we have interviewed, friends or friends of friends," Sirico explains to Creators.
Permanent New York City gallery spaces, which must to sell art to pay towering monthly rent prices, tend to show work that does well on the market. Some are even abolishing their public spaces to sell exclusively online or by appointment. No Vacancy II is part of a movement of low-budget groups helping make space for artists who aren't a safe bet for the remaining physical galleries. "It's important to have physical spaces because you lose information when transferring images online," says Makarov. "You lose the conversation and the narrative, which is equally important for the artist and the viewer. Not all work can be photographed, and there are artists who make work specifically for that reason."
Peter Burr and Mark Fingerhut
A panel on Saturday, moderated by Creators Editor-in-Chief Marina Garcia-Vasquez, addressed the form and function of these spaces. The 90-minute discussion brought together Spring/Break Art Fair founders Ambre Kelly and Andrew Gori, Satellite Art Fair's Brian Andrew Whitely, as well as Mignanelli, Makarova, and Sirico. The six panelists discussed not only how they're able to find spaces for art in New York City—hint: get drunk with landlords and don't be afraid of credit card debt—but also why it's important for people to take those risks.
Kelly and Gori's eight-years-running Spring/Break Art Fair is a juggernaut in this DIY world. They specialize in finding empty spaces for large groups of artists to show their work, each year pulling off a fair that rivals the concurrent Armory Show in art world buzz. Last month they packed 120 artists into the former Condé Nast office space at 4 Times Square. The year before, they occupied a run-down section of the Moynihan Station US Post Office adjacent to Penn Station.
The first Spring/Break was in a church, which donated its space while New York City was still reeling from the 2008 financial crisis. Kelly, who spent years as an art fair fixer before teaming up with Gori, explained, "Sales weren't our priority with the show, but then sales started happening.We learned we could be a resource for artists and curators who aren't dealers, and actually make a business providing important services. We could basically be the gallery, so the artists don't have to deal with tax liability and everything that goes into actually making sales." Alt + Esc is now at a similar developmental stage as Spring/Break was then, with similar goals.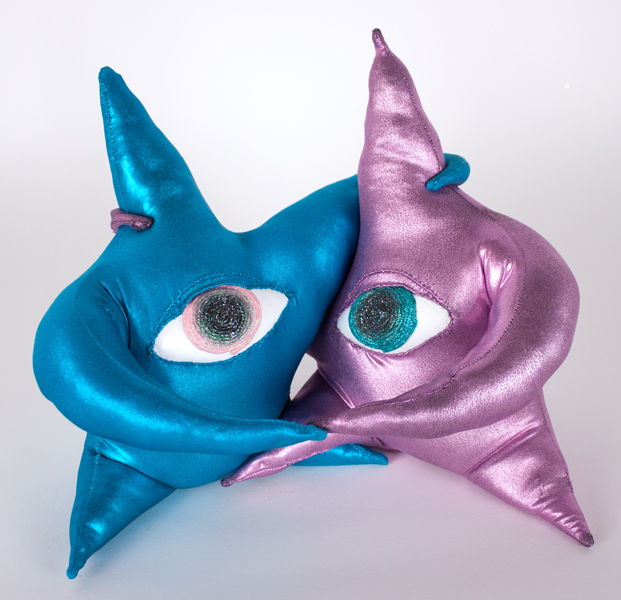 During the panel the conversation turned to the personal worth of risky and demanding DIY events. The cost isn't just monetary, but personal—Makarova and Sirico were maintaining afterparties until at least 4 AM every night No Vacancy II was open. As Mori says, "Freedom is a blessing and a curse. Freedom means you can do whatever you want. It also means that anything you do, if you fuck yourself over it's your own bad." With their freedom, Makarova and Sirico put on a show that never would have happened otherwise, and there are more on the way. Makarova said Alt + Esc is just getting started. "We are on the lookout for real estate, definitely more large-scale exhibitions in new spaces. A Home Depot would be great."
Check out more pictures from No Vacancy II below.