On a recent Saturday afternoon, Jared Kushner's sister stood in a Beijing ballroom and promised Chinese millionaires legal status in the United States—for a steep price. Thirty-four-year-old Nicole Meyer was ostensibly pitching the opportunity to invest in a luxury New Jersey high-rise building called One Journal Square, scheduled to begin construction next year. But everyone gathered for the meeting knew the subtext of her PowerPoint presentation: The Kushner family's White House connections, coupled with a renewal of the EB-5 visa program just the day before, meant Meyer was basically pitching an easy route to citizenship for oligarchs.
"[This project] means a lot to me and my entire family," she told the audience of about 100, according to the New York Times.
At this point, it's safe to say America is not equipped to deal with a dynasty that controls both the government and a sprawling real estate empire. Watchdogs have been anxiously waiting for months to see how this whole Trump thing will play out, but we already have a pretty good idea of what a licensed presidency looks like. Two weeks ago, Ivanka Trump—Kushner's wife and a power player in her own right—came under fire for having hawked a development in the Philippines when her president dad invited the bloodthirsty leader of that country to visit. But she only represents one tentacle of what might be the most dangerously corruptible family in modern American history.
Millennials have been demonized as lazy, entitled, narcissistic, and materialistic virtually since the generational category entered the lexicon. At 36, Jared Kushner just barely makes the cut for America's most contentious demographic, and yet somehow embodies all of those stereotypes. He's your spoiled Manhattan-dwelling friend with no qualms about his parents getting him into an elite university or paying his rent; the only difference is that Kushner now works in the White House, where his job isn't "freelance designer/DJ," but fixing the government and the entire Middle East.
"It's like the bank robber giving back the money after he gets caught and saying, 'I didn't do anything wrong, did I?'"
Meanwhile, Kushner's response to criticism of his sister's bizarro pitch for the Jersey luxury building underscores how American democracy is upheld by precedent and little else. After the media backlash, his old firm—from which he has formally separated by dumping many, but not all, of his assets into a family trust—issued what barely qualifies as an mea culpa. "Kushner Companies apologizes if that mention of her brother was in any way interpreted as an attempt to lure investors," a spokesperson said. "That was not Ms. Meyer's intention."
And while Kushner's sister also canceled forthcoming appearances on behalf of One Journal Square, the damage was already done. "The Trump ties are the attention grabber and the biggest selling point," one property developer told CNN Money this past Sunday.
"It's like the bank robber giving back the money after he gets caught and saying, 'I didn't do anything wrong, did I?'" mused Fred Wertheimer, president of the watchdog group Democracy 21, which has relentlessly pursued Kushner over his conflicts of interest in China. "That was pretty brazen to say the least and the apology was about as insensitive and inappropriate as it gets."
---
Watch Sean Spicer try to defend Donald Trump's Twitter rant about Nordstrom ditching his daughter's clothing line.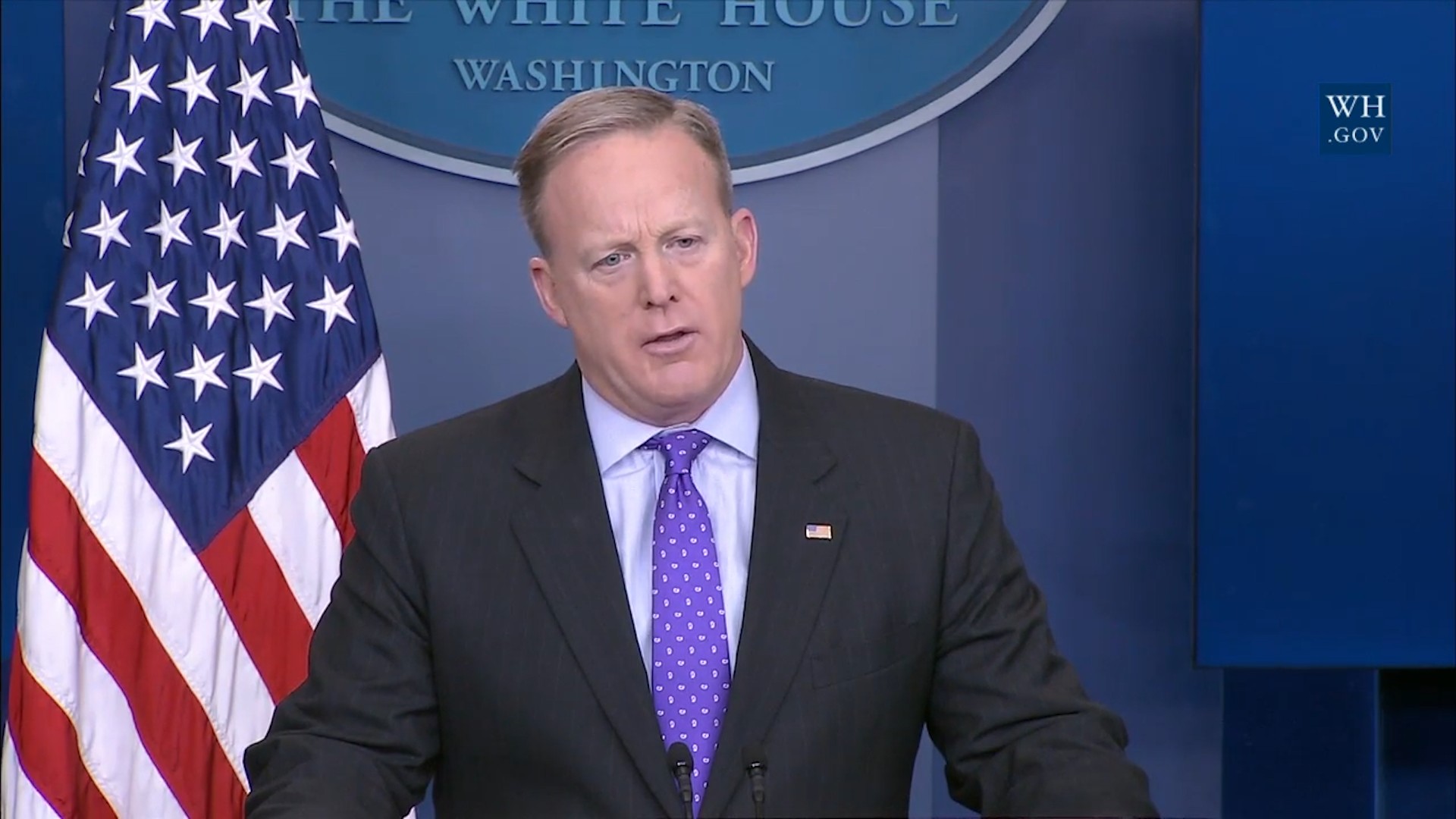 ---
Kushner is the descendant of Holocaust survivors from what is now Belarus. As dutifully recounted in a recent New York magazine profile, his grandfather became a builder in New Jersey, and his father, Charlie, expanded the family business from suburban holdings to more ambitious projects like hotel and commercial real estate. Charlie soon developed political aspirations and became a big-time Democratic donor and benefactor of then-mayor Jim McGreevey, who became governor.
With the attention came scrutiny. Chris Christie, the US attorney for New Jersey at the time, eventually indicted Charlie Kushner for campaign-finance violations. The probe humiliated the family by uncovering that Charlie had successfully set up his brother-in-law with a prostitute, filmed their encounter, and used the footage as blackmail in a failed attempt to prevent him from cooperating with the feds. (Incidentally, the whole thing also helped take down McGreevey, as Kushner had sponsored a work visa for an Israeli man with whom the governor was having an adulterous affair.) Charlie Kushner pleaded guilty to witness tampering, tax evasion, and filing false campaign reports, and got two years in prison.
Jared Kushner's age and boyish looks have always made it tempting to assume he's a social progressive at heart, someone who's simply been overpowered by the promise of immense riches or proximity to power. But his motivations may stem from a simple desire to redeem the public image of both his family and himself. Besides the formative experience of seeing his father behind bars as a kid, young Kushner was put on blast in 2006 by a book about how rich people buy their way into Ivy League schools. The Price of Admission reported that his father Charlie donated $2.5 million to Harvard right before his academically unremarkable progeny scored a coveted spot there.
"There was no way anybody in the administrative office of the school thought he would on the merits get into Harvard," a former official at Kushner's high school told author Daniel Golden. "His GPA did not warrant it, his SAT scores did not warrant it. We thought for sure, there was no way this was going to happen. Then, lo and behold, Jared was accepted."
Another telling detail from the New York profile: Kushner's favorite book is The Count of Monte Cristo, which the reporter helpfully described as "the story of a wronged man who escapes prison, becomes rich, and uses his wealth to stealthily visit vengeance upon his unsuspecting enemies." Part of taking back your family's name means controlling how they're portrayed in the media—something that may help explain why Kushner snatched up the unprofitable but respected New York Observer in 2006. The paper has since shed its most venerable staffers and lost its luster as an insider's guide to the New York elite, but still serves as a mouthpiece for Kushner's powerful friends.
Around the same time he got into the journalism biz, Kushner invested much of his family's fortune into a behemoth of a building located at 666 Fifth Avenue. At just 26, he made waves by putting down $1.8 billion for the glass tower. It was the largest sum ever paid for a Manhattan office building, and the transaction was largely financed by debt. At the time, the real estate site Real Deal gushed about Kushner's "decisiveness" despite his age and praised his "high-profile triumph." But rather than turn the young scion into a power-broker as planned, the purchase backfired when the market crashed.
"The big question now is how solvent Kushner is," Jeff Hauser, executive director of the corruption watchdog group the Revolving Door Project, told me. "And how much of his behavior is just a brazen effort to get paid—not out of greed, but necessity."
In the years since his disastrous bet, Kushner has managed to claw his way back and then some. In 2009, he married Ivanka, burrowing into a family that makes money by slapping its name on buildings. Then, in 2012 and 2013, Kushner snatched up a bunch of apartments in Lower Manhattan, though he's since come under fire for allegedly neglecting rent-stabilized apartments to the point that tenants wanted to give up and move out.
Now that his father-in-law is in the White House, Kushner is at the peak of his influence, taking meme-worthy trips to Iraq and pow-wowing with heads of state. But the new gig has presented a slew of embarrassing snags. For instance, the cash Kushner threw into those downtown apartments was provided in no small part by an Israeli developer named Raz Steinmetz—a guy whose uncle has been the subject of a long-standing federal investigation for allegedly bribing government officials in Guinea to give them favorable terms for their diamond-trading business.
Around the time Trump took office, Kushner resigned as CEO of his real estate company and divested from a large swath of his assets in order to become senior adviser to the president. "Like other government employees, Mr. Kushner will recuse from particular matters that would have a direct and predictable effect on his financial interests and will comply with financial disclosure requirements," White House spokesperson Hope Hicks said in an email to ProPublica back in March. Meanwhile, Kushner's Democratic lawyer—whom he shares with his wife—has claimed that any remaining conflicts of interest are "pretty narrow and very manageable."
When his conflicts draw scrutiny, Kushner has a habit of responding with a half-measure disguised as absolution. So as he was launching another project in Jersey city bearing his father-in-law's name in late 2014, that meant scrubbing a Steinmetz-affiliated company from his website's list of partners, the Times reported.
Kushner's plan to revive the property at 666 Fifth Avenue has also been mired in controversy. Back in January, the Times reported on an impending deal between Kushner and the Anbang Insurance group, which has close ties to the Communist government in China. It was eventually called off after Democratic lawmakers wrote letters to the Office of White House Counsel expressing fear of a violation of federal ethics laws, and suggesting that a meeting between Trump and Chinese President Xi Jinping might color the deal. (In a bit of a fuck you, the meeting ended up taking place on the same day that Ivanka pushed through a bunch of lucrative trademarks in China.)
"Her assets are his assets," said Wertheimer at Democracy 21. "It's as if he has the trademarks and the trademark applications pending in China while at the same time he's responsible for policy matters with regards to China."
And this is just what we know. The financial disclosure forms Kushner filled out to take his gig in the White House were incomplete, and as of last month, he was still in the process of divesting his assets. One might argue it's (almost) unfair to pick on the guy because America's laws assume much less wealth and far fewer complications on part of people who go into government than what this Jersey boy has on offer.
"They're designed to say how much money someone has in a Vanguard mutual fund," Hauser said. "They're not designed for someone with complicated interest in a trust which has an interest in a trust in the Cayman Islands which has interest in a bank of Cyprus."
Follow Allie Conti on Twitter.